The IX Sierra Titán Cádiz Triathlon
On September 14th, we will celebrate the 9th edition of the Titan Triathlon in the Sierra de Grazalema. Starting and finishing in Zahara de la Sierra, the race, which has attracted about 300 athletes, offers up a distance that includes a 2000 metre swim, a 90km bike ride and 21 km on foot.
The beauty of the Puertos, the passage through the towns, the easy curves of the road, the nature one takes in at every step of the race, all combine to invite athletes to participate or submit proof.
To encourage you to join us, we present a chronicle of one of the participants and some photos from the latest edition of the race.
They breathe in the pure air of the orchard of our Sierra, the marsh water that is surrounded by mountains – like a fish swimming through out midst…. To swim. El Puerto de las Palomas, is a row of white ants that winds up towards the heaven and then like Boyars and then like popcorn – flying. At Algodonales, they are lost at the end of the race, stride after stride – to run. Looking to infinity with concentration, knowing it may have gone well or fallen short of expectations, but certainly that it smells like victory on the way up to the Zahara castle.  Marking one's destiny – a destiny that has been a mix of dream and obsession born of training. Not, coming to the finish, one raises their arms, dreaming a dream and the following the stubborn pursuit of an obsession.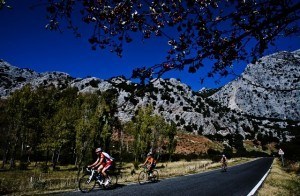 In next week's entry, we will look at five of the most important routes on our mountain.
For more information: http://www.triatlontitan.es/