RICE, CHILLED SALMOREJO SOUP AND THE SEA, A PERFECT SUMMER TRILOGY
Savour this combination at Fuerte Marbella's Beach Club grill restaurant, which has kicked off the season with a completely new look
Marbella, 20 May 2016. If there are some things that almost all holidaymakers look for when they head South, they are sun, the beach and fine cuisine; among the most sought-after dishes are different types of paella and chilled salmorejo soup, acting as the "yin" and the "yang", the first contributing warmth and the texture of grains of rice, and the second freshness and regional flavours.
One of the best places to savour this trilogy is Soleo Marbella, an emblematic seafront location, right on Marbella's promenade and part of the Fuerte Marbella hotel, the second establishment to open its doors in the capital of the Costa del Sol, around 60 years ago.
New design and decoration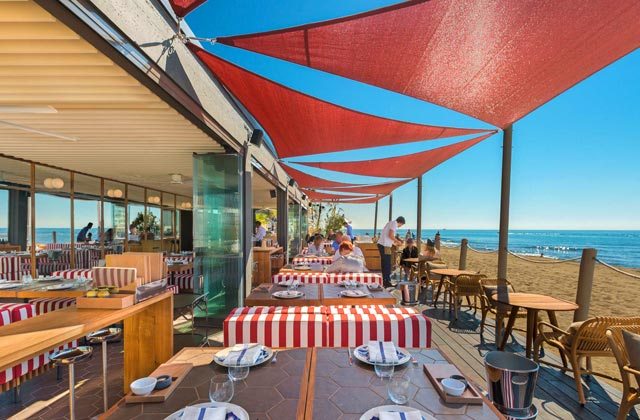 This restaurant, very well-known among Marbella's residents and tourists spending their summer holidays in the area, has just kicked off the season with a new design, combining modern style with decorative materials that are very in keeping with its setting: the beach.
Its brown, white and blue tones bring to mind the sea, heard lapping against the beach in the background, and the sand's golden colour, ever-changing during the day; teka floors and furnishings give the premises the same seafaring style that has always been a feature of the restaurant, from its opening to the modern day.
A menu with Andalusian classics and a touch of innovation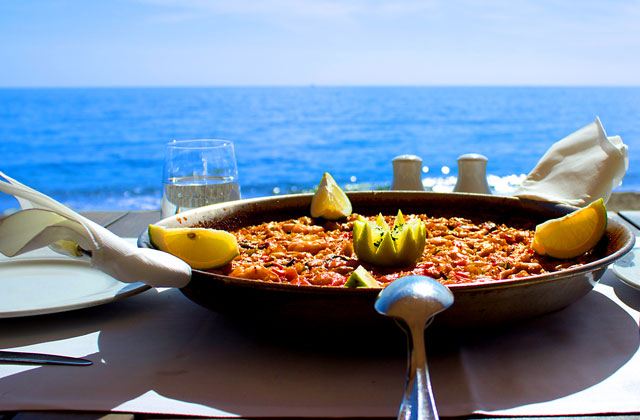 Major attractions on the Soleo Marbella's menu are fresh fish (sea bass, bream, halibut) and exquisite Malagan sardine espetos, as well as rice dishes (mixed paella, rice with beef and vegetables, rice with seasonal vegetables, black rice with squid and shellfish, and noodle fideuá with red tuna, shrimps and leek).
Other regional specialties add to the wide range of options on the menu, such as chilled salmorejo soup, fried squid and fresh white anchovies, and shoulder of lamb with rosemary; there are also some more innovative dishes, such as sea bass ceviche and tuna tataki with soy and ginger, capable of satisfying the most sophisticated of taste buds.
The sea and sunsets as a backdrop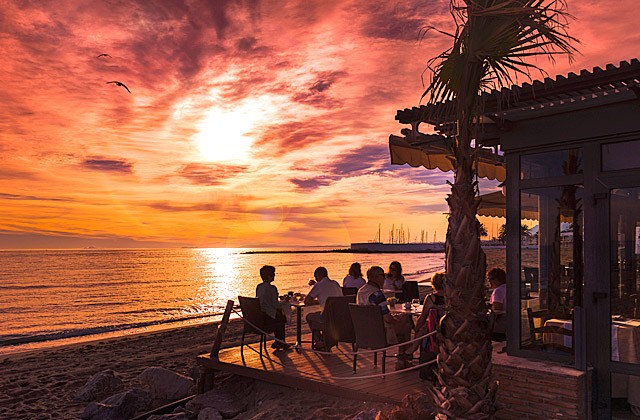 Another Beach Club classic, which for years has been attracting families from the local area, and holidaymakers from Madrid and overseas alike, are its views – both during the day, with the continuous lapping of the Mediterranean as a backdrop; and in the evening, when visitors enjoy the gift of one of the Costa del Sol's best sunsets.
ENJOY THE VERY BEST OF SUMMER AT SOLEO MARBELLA
At the Hotel Fuerte Marbella – (access along Marbella's seafront promenade)
Opening hours: from 11.30 am to 5 pm. In high season (from 15 June to the end of August), from 8 pm to 11.30 pm as well.
Specialities: fresh fish, sardine espetos and rice dishes
Address; Av Duque de Ahumada, 29602 Marbella, Málaga, Spain.