Discover Cadiz's wine harvest by bike
Get away to the south and combine two of your favourite pastimes: cycling and wine tasting 
Visit the Sancha Pérez winery and sample its fine wines and olive oils when they are at their best
18 July 2018. Most people associate Cadiz with sun, sea and sand, but its wines and rural landscapes are more than a match for the region's coastline. Thanks to the Fuerte Conil-Costa Luz hotel, located right above the beautiful Fontanilla Beach, you don't have to choose. If you take a break there in September you can still enjoy the sea along with your other favourite pastimes: cycling and wine tasting.
Enjoy an excursion organised by the hotel to the Sancha Pérez Winery, located close to Vejer and known for the high quality of its red and white wines, as it has recovered native varieties like Tintilla de Rota. The winery also has its own oil mill which, as with the grapes used for its wines, uses an ecologically farmed genus of olives.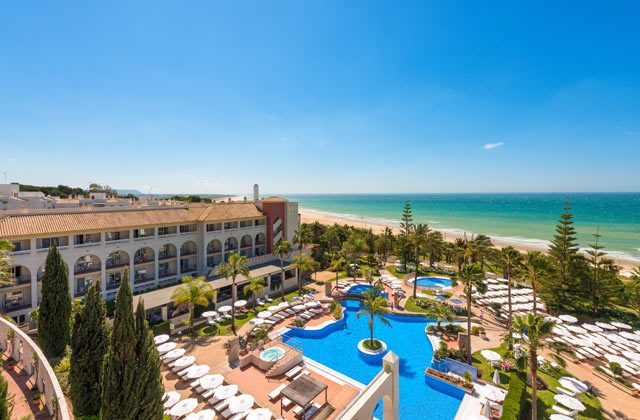 The tour is by bike to get maximum enjoyment from the Cadiz countryside, particularly when it is at its most radiant around the time of the wine harvest. After hiring the bikes from a shop next to the hotel, the ride commences and lasts for around 40 minutes, during which a member of the hotel's entertainment staff gives guests explanations about prominent features of the environment and the fauna and flora that inhabit it. Upon arrival at the winery, the guests enjoy a tour around its facilities to learn a bit about its history and the wine and olive oil varieties produced there, followed by a tasting session of both products. Perfect for getting an idea of the quality of the products before safely returning to Fuerte Conil-Costa Luz on two wheels.
WINE AND CYCLING IN THE CADIZ COUNTRYSIDE
Accommodation at Fuerte Conil Costa Luz 
Double rooms with breakfast and free Wi-Fi from 182 euros per night
Bike tour to the Sancha Pérez winery (duration of 3.5 hours): 20 euros per person (including bike hire and a wine and ecological olive oil tasting)
For more information and bookings: www.fuertehoteles.com or 900.82.82.10