Fuerte El Rompido promotes the integration of young people from vulnerable groups in the workplace
The emblematic hotel in the province of Huelva, which features amongst the Top 10 establishments in Spain in terms of hotel restoration and sustainability, has participated in the "Aprender Trabajando" (Learn at Work) programme, allowing 15 young people aged between 18 and 30 to complete their internships at different departments at the hotel
The internship, which ended with an emotional closing ceremony during which diplomas were awarded, has allowed individuals from vulnerable groups to receive training with a view to accessing the job market
5 of the participants have already obtained employment at Fuerte El Rompido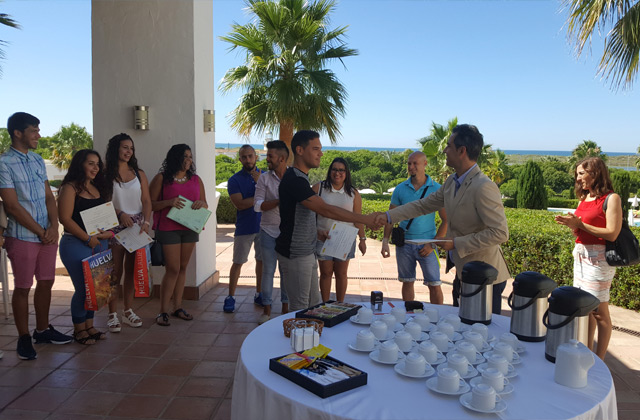 Marbella, 15 July 2016. Yet again Fuerte El Rompido (Huelva) has shown its desire to collaborate in a major social project in the province in which it is located. The 'Aprender Trabajando' programme is an initiative organised by the Spanish Red Cross and the Gypsy Secretariat Foundation, in collaboration with Obra Social "La Caixa", the main objective of which is to promote the integration of vulnerable groups in the workplace. On this occasion, the 15 participants in the programme received training in skills relating to the essential departments of a hotel: maintenance, kitchen, restaurant, reception, housekeeping, entertainment and spa. Following their internship, which has lasted 6 weeks, students ended their time at the hotel with a Closing Ceremony held last week, as part of which the corresponding diplomas were awarded.
In the words of Tomeu Roig, Director of Fuerte El Rompido, "we are very proud to have been able to participate once again in this interesting initiative, thanks to which youth people aged between 18 and 30 will be able to find work and become involved in the tourism sector, which is such an important industry in our country". To this end, he added, "we're even more delighted about the fact that 5 of the students from the course will take up positions with us".
El Fuerte Group believes that the cultural, social and economic environment in which it develops its activities is a treasure that must be preserved. That is why the Group's hotels offer the most traditional features of each region, thus allowing guests to experience local culture. Additionally, they implement a range of development programmes and cultural projects that serve as a catalyst to the local economy. Furthermore, via Fundación Fuerte, they help to improve the quality of life of those with special needs.
About Fuerte Group Hotels.
Fuerte Group Hotels the hotel division of Grupo El Fuerte, a family company based in Andalusia established in 1957 by José Luque Manzano. Following the inauguration of Fuerte Marbella that same year, the first hotel establishment in the centre of Marbella and the first hotel in the Fuerte Hoteles chain, the company embarked upon an expansion process, culminating in its current portfolio of six 4-star holiday hotels and 1 apartment complex, all located in Andalusia (in the provinces of Málaga, Cádiz and Huelva). In 2016, it launched a new brand of hotel, Amàre, targeting an adult audience, whose first establishment was the remodelled Fuerte Miramar, now known as Amàre Marbella Beach Hotel.
Grupo el Fuerte, which also owns Agrodesarrollo, an agricultural holding company, We Company and the Fuerte Foundation, is renowned for its sustainable development strategy, which incorporates management systems that ensure a minimum impact on the environment; promotes the local culture and economy; and places a particular emphasis on the well-being of its employees, customer satisfaction and the development of disadvantaged groups.
For further information:
Fuerte Group Hotels               

Communication Officer: Paula Negro

C/ El Fuerte s/n

29602 Marbella (Málaga)

Tel.: (34) 952920019 – Ext.10701

E mail: communication@fuerte-group.com

Internet: www.fuertehoteles.com

Twitter: @fuertehoteles

Facebook: Hoteles Fuerte

MCG Comunicación

Mónica Cerdá

Joan Miró, 262, piso 14C

07015 Palma de Mallorca

Tel/ Fax: 971.91.33.14

Móvil: 649.87.89.87

E mail: monicacerda@ono.com

twitter: @mcgcomunicacion

facebook: Mcg Comunicación