Fuerte Hoteles launches an environmental website aimed at raising awareness of its environmental activities
Fuerte Hoteles is turning to new technology to publicize all the environmentally friendly measures and protection activities that it has been applying for over 50 years, as one of the cornerstones of its social responsibility. José Luque, managing director of Fuerte Hoteles, states that the major challenge is "making guests realise that these measures are contributing to a more sustainable world".
The hotel chain is now launching a new website (http://www.fuertehoteles.com/responsible-tourism/), which provides graphics to explain all of these guidelines to ensure that guests and suppliers are aware of the number of aspects, relating to environmental care and respect, that are taken into account for the day-to-day running of the hotels.
Structured into six sections, the website provides details of a range of measures, such as the integration of hotels into their surroundings (selective waste collection, use of mineral-based paints on façades, ecological waterproofing and the use of renewable energies), or the use of ecological chlorination for swimming pool maintenance. It also explains innovative concepts used at Fuerte Hoteles, like zero gardening – techniques for saving irrigation water – that ensure minimal impact. In addition, the consumption of raw materials (particularly those that are hazardous) is minimised, recycling is encouraged and the most ecological suppliers are chosen.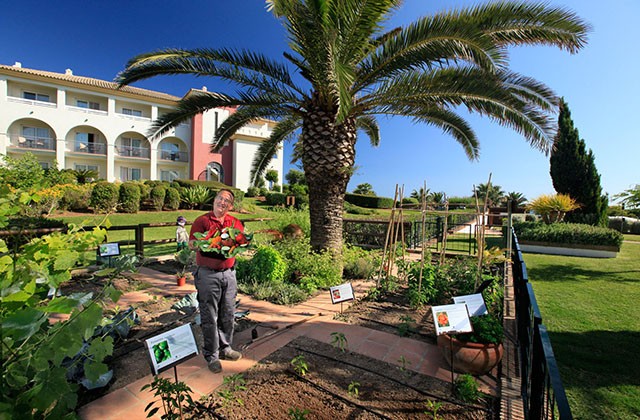 This new micro-site offers a virtual tour through the different parts of a hotel – the exterior, rooms and restaurant – during which icons can be clicked on to display descriptions of each of the improvement measures applied by the chain.
Furthermore, when inside a room at any of the chain's hotels, guests can verify that energy efficient light bulbs are installed, that the equipment is efficient and double glazing is fitted; they can check that the bed linen and towels are washed in an environmentally friendly way and that the least hazardous cleaning products.
As part of the chain's commitment to raising awareness, information about energy saving and efficiency measures is already left in guest rooms; however, this new website makes it easier to communicate information about sustainability measures applied by Fuerte Hoteles, which is provided in a far more attractive, participative and intuitive way. This website is aimed at guests, suppliers and employees.
Sustainability report
As part of its continuous commitment to corporate social responsibility, Fuerte Hoteles has been evolving every year to take on new obligations. Therefore, in its Sustainability Reports it sets out its commitment to responsible tourism and the implementation of management systems that ensure minimal environmental impact. Because people and the environment come first for this family business.
Fuerte Hoteles holds an UNE-EN ISO 14001 Environmental Management  Certificate, guaranteeing that the company works to combat environmental impact, as well as an UNE-EN ISO 9001 certificate, determining the responsible use of  products and services.
This commitment to caring for the planet has been accredited by a range of international recognitions, such as the TUI Umwelt and Travel Life awards and the TripAdvisor Certificate of Excellence.
This hotel chain always invites guests to experience the areas surrounding its hotels, and guarantees the promotion of the local culture and economy. As a result, guests are provided with information about open air excursions and activities, as can be seen on the company website.