DEEP EXFOLIATION BESIDE THE SEA
If you want to show off cleansed, renewed, smooth and rejuvenated skin this summer, ready to soak up the first rays of sunshine and achieve a beautiful tan, set aside a spring weekend and get away to the Fuerte Estepona Spa to sample the Prelude Marin ritual by Thalgo
27 April 2017. There is no greater pleasure that peeling off the layers and feeling how the sun's rays gently caress your skin. If this sounds like you, and you love wearing bikinis that show off part of your body, don't forget to exfoliate.
An expert says
According to Natalia Fernández, director of the Fuerte Estepona Spa (Málaga), which is located right on the sea front and has just signed an agreement with the renowned marine cosmetics brand Thalgo, "exfoliation is one of the first steps towards achieving a beautiful tan". It's important, she adds, "to undergo a deep treatment a couple of days before you start sunbathing, to remove dead cells, activate micro-circulation, oxygenate the epidermis and smooth the skin to ensure an even tan". Another advantage of exfoliation, she concludes, "is that it facilitates hair removal, as it prevents the formation of ingrown hairs; it also helps a lot when it comes to applying anti-cellulite creams, because it enhances their reducing effect".
What is the Prelude Marin ritual?
It is a ritual that combines mud and sea salts, which can regenerate, re-mineralise and balance the skin, leaving it ready for tanning. It has hydrating properties and gives the skin a great glow.
What does it include?
This fantastic treatment, which lasts for 75 minutes and costs 75 euros, includes 5 steps:
Body wrap with warm Dead Sea muds.
Warm fusion with sea salts.
Deep exfoliation.
Colour therapy shower.
Relaxing application of nourishing oils.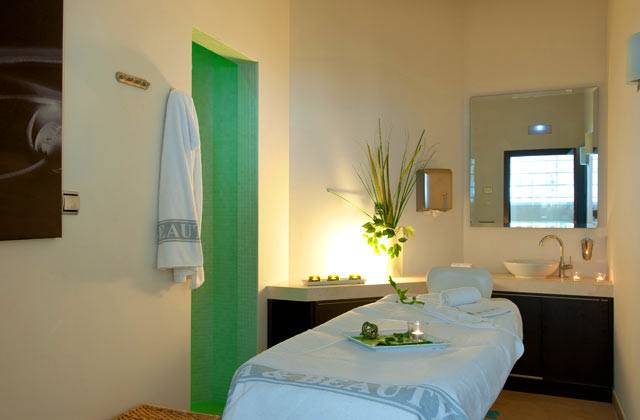 The plus
If you want to get even more out of this ritual, for just another 15 euros you can customise your mud with either a reducing or revitalising concentrate.
A final recommendation
After exfoliation it's essential to use a good quality sun protection cream to keep the skin hydrated and protected, and to ensure a beautiful and long-lasting tan. Depending on your phototype, your Spa Fuerte Estepona therapist will recommend the Thalgo SPF (sun protection factor) that is most suitable for your skin.
BEFORE SUNBATHING, EXFOLIATE
At Spa Fuerte Estepona by Thalgo at the Fuerte Estepona hotel
Price: 75 euros
Duration: 75 minutes
For more information and bookings: www.fuertehoteles.com or 900 82 82 10
Note: double room with bed & breakfast from 191 euros per night