SOLEO: SUMMERS IN THE SUN
The beach club restaurant at the emblematic Fuerte Marbella hotel has been reinvented to coincide with its 60th anniversary
Designed by renowned interior designer Isabel López Vilalta, who once decorated Celler de Can Roca, Soleo mirrors the ships sailing the Mediterranean that can be seen from its terrace
05 April 2017. Marbella's mythical seafront promenade has a new beach club restaurant that is just a few days old: Soleo. It's location is not new, as it forms part of the emblematic Fuerte Marbella hotel, which this year is celebrating its 60the anniversary. But its decoration, under the auspices of renowned interior designer Isabel López Vilalta, who once decorated Celler de Can Roca, and its menu, have been completely revamped.
Back to Marbella's past
The result is an elegant return to the past, to 1957, when Marbella was just a small fishing village and where José Luque, founder of Fuerte Group Hotels, decided to open a hotel on the seafront promenade, the first to open in the centre of Marbella Village.
This is why its interior, as well as its well-appointed terrace with Mediterranean view, mirrors an elegant ship, using nautical fabrics; light reddish colours, like the sunset; solid Iroko wood; tiled tabletops; sail-shaped awnings and bulrush and bamboo on the chairs. All of this, together with the ebb and flow of the waves lapping on the shore, give its visitors the feeling of enjoying an authentic seafaring experience. This experience becomes real when you look at the mirrors on the walls, which bring diners close to the magic of the water surrounding them.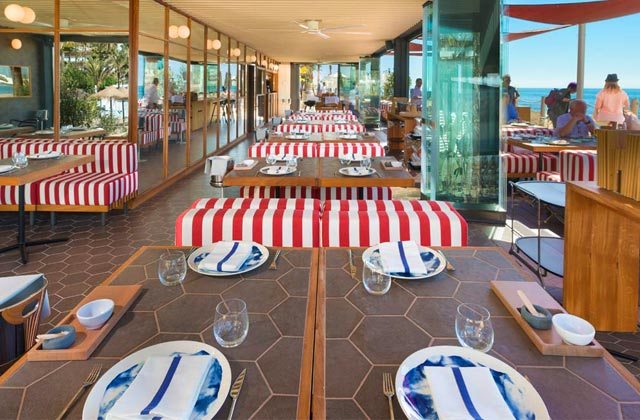 Fusion cuisine to recover the glamour of Marbella
Another aim behind the reinvention of this Marbella classic was to bring back some of the glamour for which Marbella's seafront promenade was noted for many years. This has been achieved through an innovative menu with Mediterranean inspired dishes and a touch of fusion, combining traditional recipes such as rice dishes, fried fish and shellfish, with other more modern and up-to-date recipes; as well as a range of healthy options. Just like Marbella, it's a latticework that brings together the best of the seaside and mountains, sealed with fire.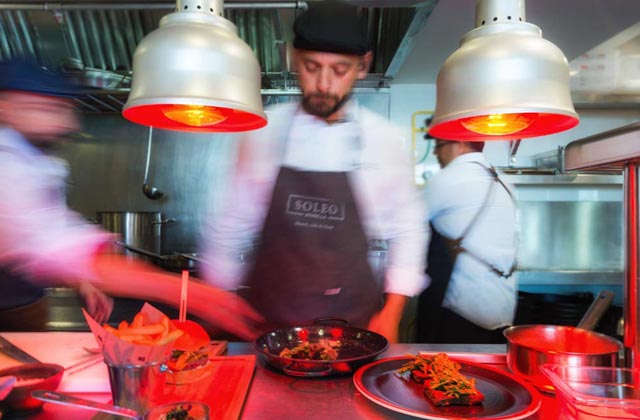 Soleo: summers in the sun
This refurbishment has also included the sunbathing area, with the addition of a new sunlounger menu, whose products can be ordered easily by beach-goers, without moving from their elegant sunloungers, thanks to the "Press and go" service.
Sun, sun bathing, tanning, "Soleo", the new "must-visit" location in Marbella for a culinary experience with plenty of personality and a marked seafaring flavour. We're looking forward to seeing you!
SAVOUR YOUR BEST SUMMERS IN THE SUN AT SOLEO
At Fuerte Marbella (access along Marbella's seafront promenade)
Opening hours: from 11 am to 6 pm. In high season (from 15 June to the end of August), from 10 am to midnight
Specialities: fresh fish, fried and rice dishes
Average price: from 15-20 euros per person (not including drinks)
Address; Av. Duque de Ahumada, 29602 Marbella, Málaga, Spain.
For more information: http://www.soleomarbella.com/