SUNNY DAY & MOONLIGHT NIGHT
2929The perfect plan for next spring
Or how a connection with nature can help you recharge your batteries
28 February 2017. At this time of year, a lot of people are feeling the effects of a sedentary urban lifestyle, such as:
Vitamin D deficiency due to lack of sun.
Nose blockages caused by pollution, which reduce the sensitivity of smell.
A few extra kilos and more saggy
Fatigue.
Stress.
If you recognise these symptoms and want to put an end to this synergy, sign up for a "NATURAL PRINT" style holiday, where a connection with nature will help you recharge your batteries. Look for a seaside destination, surrounded by nature, with a hotel where everything is done for you, with rich cuisine and massages to help you forget your routine and concerns. Looking for ideas? Choose Huelva and the Fuerte El Rompido hotel, selected in 2016 as one of the most sustainable establishments in Spain.
Its "Sunny day & Moonlit night" will restore your energy and put an end to the burdens of winter. During the day you can enjoy a 2 hour boat trip, including an aperitif; after lunch (remember that this year, Huelva is the Spanish Capital of Gastronomy) we recommend a stroll through the magical natural environments in the area around the hotel, such as the Odiel Wetlands or the Enebrales Natural Park. For the icing on the cake, enjoy a unique and unforgettable experience, particularly on full moon nights (12 March, 12 April, 10 May): immerse yourself in the warm waters of the Spa's water circuit and enjoy the enchanting light cast by the moon.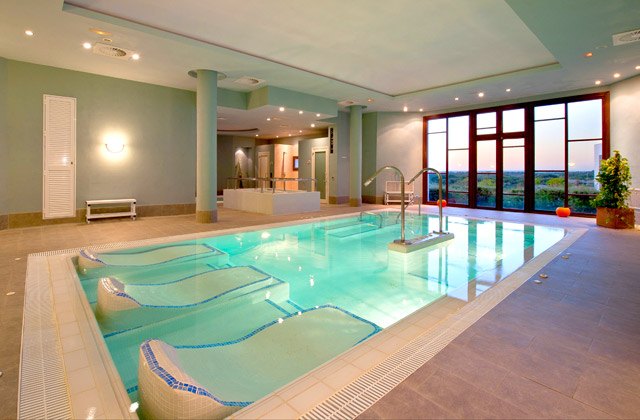 What are the outcomes of this "NATURAL PRINT" getaway?
Golden and youthful looking skin, and stronger bones thanks to the sun's rays that give you vitamin D, and salt from the sea.
An explosion of the senses, thanks to the fresh air, allowing you to get much more enjoyment from your senses of smell and taste, and therefore from the delicious food in the Huelva region.
You'll feel yourself loosening up as you stroll on the beach, do a bit of hiking, cycling or swimming; your muscles will reactivate and you will notice how your tone and heart rate recover.
Sleeping all through the night and waking up to birdsong, along with a few days in contact with nature, will get rid of your fatigue.
Taking life at a slower pace, if only for a few days, will reduce feelings of stress and make sure you go back home with your batteries fully charged.
Don't hesitate and sign up for "NATURAL PRINT" this spring!
SUNNY DAY & MOONLIT NIGHT
The perfect plan for enjoying a holiday in contact with nature
At the Fuerte El Rompido hotel
Double front sea view room with breakfast and Wi-Fi: from 171 euros per night
Includes:
2 hour sailing boat tour, including aperitifs
One NIGHT TIME hydrotherapy circuit, per person, per stay.
15% discount on SPA treatments
2 pm late check out (subject to availability)
For more information and bookings: www.fuertehoteles.com or 900 82 82 10
Note: Minimum stay 2 nights. Package not valid during Easter Week. Please book your activities before arriving at the hotel, by calling reception (Tel.: 959 39 99 29).