Suspension bridges, canyons and straits on the road along Cahorros del río Monachil
Just 10 minutes away from Granada there is an amazing destination known as Los Cahorros de Monachil, the perfect place to experience a rural adventure while crossing through spectacular trails and great suspension bridges strategically located for visitors to experience all the natural great sites found here.
Monachil and the nature reserve of Cahorros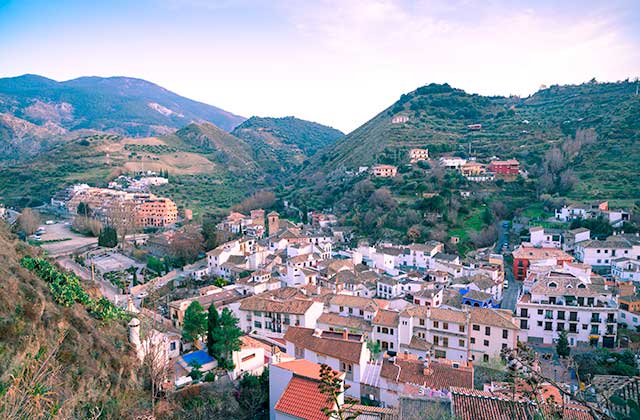 Sierra Nevada has many footpaths and landscapes that vary depending on the chosen route. Walking through them will make you lose track of time as you get deep into hidden places with unique charm. For the warmer seasons, the hiker always looks for mild temperatures in those trails that run through the high peaks, leaving the harsh winter trails that wander through the lower and middle mountain massif.
Los Cahorros are in the low mountains, not higher than a thousand meters above sea level. It is visited during spring time, when the flowers bloom and everything looks green, although autumn and winter are not bad seasons to admire this beautiful landscape.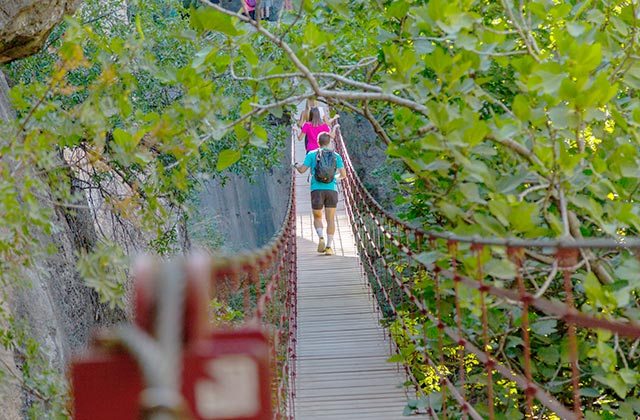 The area of Los Cahorros belongs to the municipality of Monachil, a town that even today still maintains its customs intact, despite its proximity to Granada. This beautiful limestone canyon is nestled within the limits of the Natural Park of Sierra Nevada, and in turn it is closely located to the National Park, which surrounds it.
The route along los Cachorros of the Monachil river
Starting our route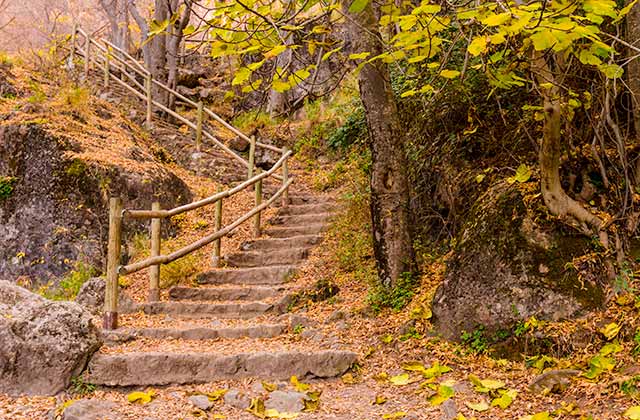 To begin our hike, and once we arrive at Monachil, we will; follow the signs that will lead us to Los Cahorros. If we came by car, we can leave it at the end of the dirt track, but if you go for a weekend in spring or summer, it is best to leave it at the Era de Portachuelas, which is an esplanade located a few hundred meters above Puntarrón bar.
Once we get reach the end of track, we will see a narrow path opening next to a wall block, it is here where we start our walk. Soon we will pass by two cypresses, to briefly get to an area with a small olive grove. We continue walking in a straight line and we will find a wooden sign informing us we are on the right path.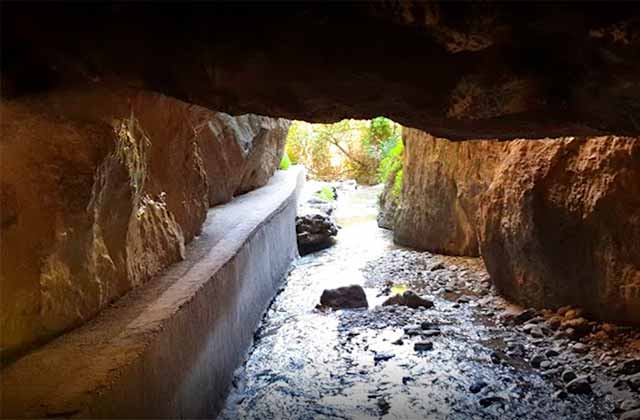 Now we will walk along a canal omitting a staircase that descends on our right side, soon we will arrive to a suspension bridge which will helps us reach the right side. We will then hear and see the Monachil river , feeling the coolness of its proximity and the thunder of its descent. We are surrounded by large limestone dolomite type walls, where it is not uncommon to find climbers dancing.
The trail runs up some stairs, which are interrupted for a short distance by a smooth flat area, to continue our upward using other steps. Again we will face another suspension bridge, putting our agility and balance on stroller to the test.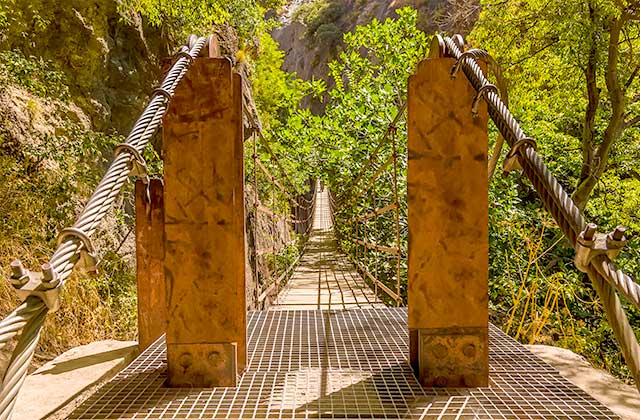 Once over the bridge, we bump into the ruins of a house, turning to our right we find another huge suspension bridge about 80 meters long. It is the oldest bridge (almost 100 years old), which after many renovations looks solid and safe, avoiding unpleasant shocks and instability.
Across the bridge we see a waterfall, then another one on our right, arising from a ditch that runs through the rock. From here we enter a narrower space, walking on a concrete wall and passing a huge rock wall where we will find some advanced difficulty routes for this climbing area. We continue walking through some rock ledges that threaten to push us into the river, with skill and ability we will go past them, and after a turn, we will have arrived to Las Palomas Cave.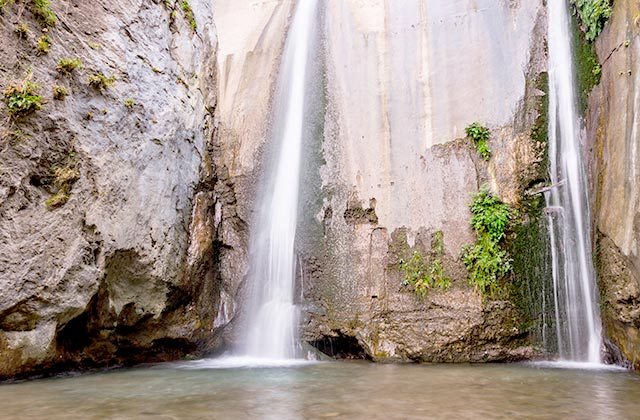 The picturesque landscape of Los Cahorros impresses the visitor as we complete the journey, with its very beautiful views. This is the case of Las Palomas Cave, it is surprising to see how the river flows through this chaos of rock. Wwe go inside to cross the gap, continue between gorges with rounded forms moulded by the passage of time.
The road continues very clearly marked, we are still stepping on the concrete wall until the landscape opens up and we leave the wall to step down a dusty path that runs between bushes. We come across a small hut which has a fountain in one of its sides, known by the name of Las Azuelas, to the left over another another suspension bridge we go to the opposite side, to follow the path.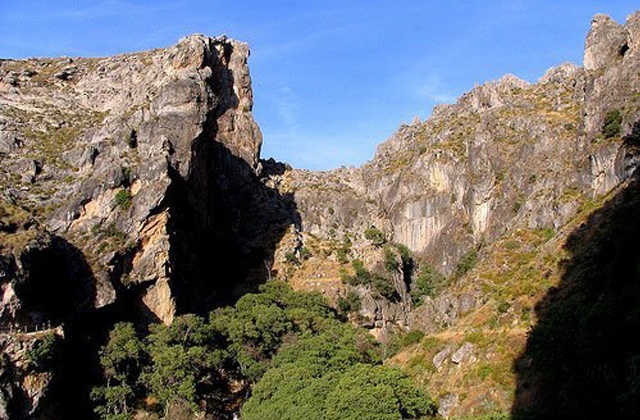 The trail has constant changes of gradient and curved lines on either side, the steep cliffs are scarce, we walk on the sunny side looking for a new river crossing, continuing along the path until we reach the hydroelectric plant La Vega, where we will end our itinerary.
The way back
The return can be done following the same route we did on the way there, or step back and return following a track that starts near the las Hazuelas fountain, and then take a path on the left that wanders higher and offers views from the large limestone walls.
Sinuously up and down, treading on sandy white terrain that reflects the sun rays. We follow it until we reach a small settlement of houses, passing under it we walk a decline that starts next to another wooden sign. From here we will enjoy beautiful views of Los Cahorros, as well as the valley, the village of Monachil or Granada.
We continue without losing sight of the threshing floor to our left, heading our way towards them in a long and tiring descent. Once we get there, the path descends as we are surrounded by olive trees. Finally we will arrive to the start of our tour, with a landscape that will be very familiar.
A walk for the whole family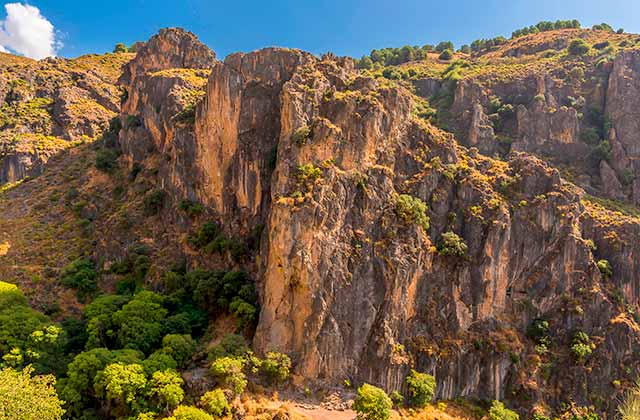 Children will not need to be rushed. This walk will become a real adventure in the best Indiana Jones style. Walking over the suspended bridges, crawling through tunnels and caves (Cueva de las Palomas) with plenty of places to stop, have a swim or enjoy a good picnic. A fantastic day for the whole family.
Although suspension bridges may seem very daunting at first sight, considering that the longest is 55m and hangs 15m over the river, they are very safe. While crossing we will notice some movement and shaking, but this adds to the fun. If you suffer from vertigo you may not feel so sure.
If you decide to do the whole route, you have to cross four suspension bridges. The longest of all will be the first, then we will find a couple of them, with some sections in bad shape, but they are generally examined and maintained.
Restaurants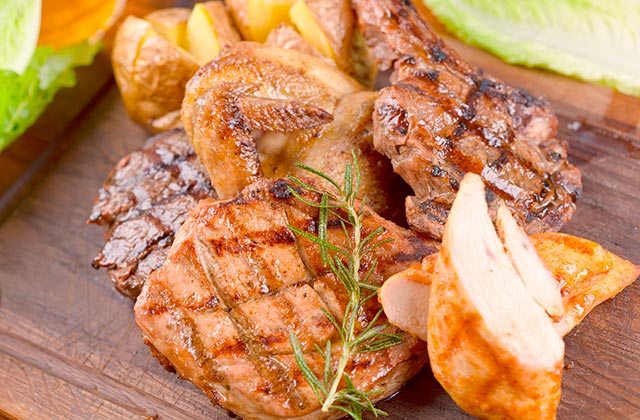 Restaurante El Río
P.º del Río, 9, 18193 Monachil, Granada
Tel: +34 858 12 51 16
Web: elrioloscahorros.com
Google Maps 
Restaurante La Cantina de Diego
Cjón. de Ricarda, 1, 18193 Monachil, Granada
Tel: +34 958 30 37 58
Web: restaurantelacantinadediego.es
Google Maps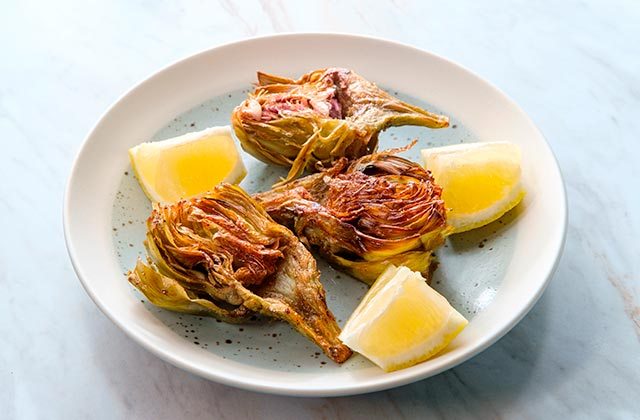 Restaurante El Puntarron
C/ Puntarrón, 2, 18193 Monachil, Granada
Tel: +34 958 30 18 71
Web: puntarron.es
Google Maps
Merendero San Garrito
Unnamed Rd, 18193 Monachil, Granada
Tel: +34 607 63 00 59
Google Maps
A story tale experience: the 15 most charming towns in Granada
Andalucia, a paradise full of wonders
WHERE TO STAY
The best option for enjoying the Mediterranean Sea and visiting Los Cahorros is Fuerte Hoteles. The chain has places where you can, in addition to its services, enjoy the best of each part of the region. 60 years experience are the best guarantee. In this case the flats in Olée Holiday Rentals, between Torrox and Nerja, are the perfect place to experience this route, just an hour away from the resort (located on the beach).