Soleo breakfast, a unique experience by the sea
The Soleo Marbella beach club restaurant, with its fantastic location right on the beachfront on Marbella's seafront promenade, opens early at 8:00 in the morning to offer breakfasts full of flavour, made with top quality ingredients. 
Sourdough toast, detox juices, XL fresh fruit salads, a range of sweet and savoury crêpes and free-range eggs all come together in an experience for connoisseurs
29 March 2019. If in 2018 Soleo Marbella established itself as one of the best options on the Costa del Sol for sampling exquisite cuisine beside the sea, and as a very special place for seeing out the day at the pace of spectacular sunsets over the Mediterranean, this season it has gone even further by opening at 8.00 in the morning to serve up what will become the best breakfasts with sea views in the centre of Marbella.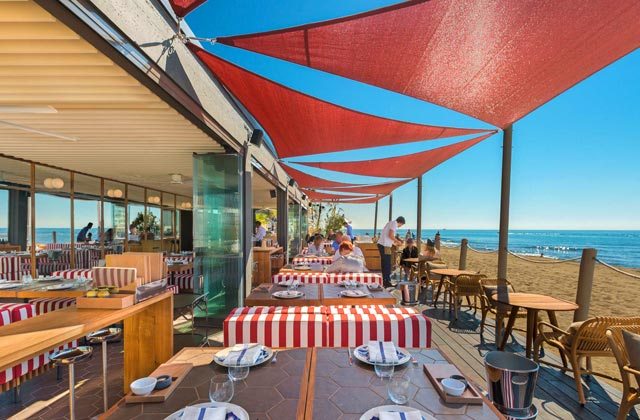 Until 11.30 am all week, guests at this well appointed designer beach club restaurant will be able to sample a nutritious and high quality range of cuisine, including sour dough toast, yellow, red and green detox juices, XL fresh fruit salads, a wide range of crepes with healthy ingredients such as hummus, quinoa and aubergine, and local flavours such as Iberian sandwiches, along with exceptional free range eggs prepared in different ways to suit the tastes of diners.
"Our aim with this initiative was to take a 360º approach, by adding a breakfast option to our lunches and dinners that we have been serving up ever since we opened in 2017. The feature shared by all of our specialities is that we use high quality products with exceptional flavours to create them. During preparation we place great emphasis on the importance of guaranteeing elegant aesthetics to achieve a fully-fledged and unforgettable culinary experience", explains Soleo Marbella's chef, Jorge Serrano.
HEALTHY BREAKFASTS WITH SEA VIEWS
At the Soleo Marbella restaurant beach club.
(On the beach next to Fuerte Marbella, accessed along Marbella's seafront promenade)
Breakfast opening hours: from 8.00 am to 11.30 am. Beach club opening hours: from 6 pm (until midnight from 12 April onwards)
Price: from 10 euros per person (guests at Fuerte Marbella only have to pay a supplement).
Address; Av. Duque de Ahumada, 29602 Marbella, Malaga, Spain
For more information and bookings: 951.562.887 and www.soleomarbella.com/