'NATURAL ESTEPONA': 10 HIKING TRAILS FOR COMMUNING WITH NATURE
Estepona is a blessed city not only because of its traditional Andalusian beauty and gardens, which make it stand out on the Costa del Sol, but also for its beautiful coastline and natural wealth. It is precisely this natural wealth that gave rise to "Natural Estepona," a programme in full swing that connects hiking trails in Estepona with those that will take you hundreds of miles through enclaves in the heart of Estepona's nature. So, we have several trekking options in Estepona, so that you can enjoy the clean air and outdoor activities while you enjoy some spectacular views. There are several trekking options, with different distances, landscapes and tours. Here is a small collection of the best hiking trails in Estepona:
1.     Paseo de los Pinsapos and Integral de los Reales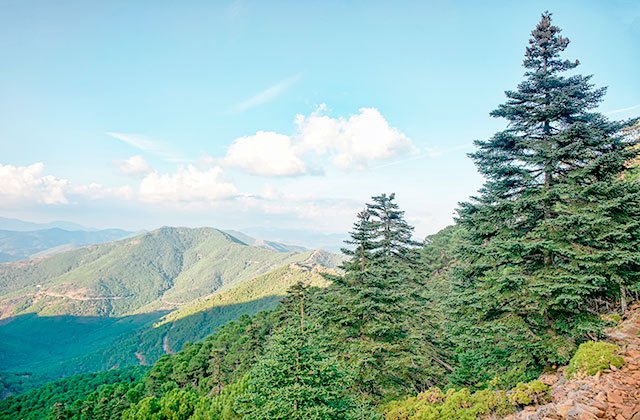 The popular route known as Paseo de los Pinsapos is a straight path that wanders between the only Spanish fir trees on peridotites that exist in the world. The Spanish fir is one of the botanical jewels of Sierra Bermeja. It is a sturdy fir up to 30 feet tall with a pyramidal crown. This is a Tertiary relict tree.  In other words, it has witnessed major events that occurred in the Mediterranean area for over 10 million years.
The 750-metre Paseo de los Pinsapos trail has a well-defined path but an uneven floor (common to the area where it is located) with constant ups and downs, steps and stones so you'll need to wear appropriate and comfortable footwear. After crossing a short bridge that passes over the Garganta del Algarrobo, the walk ends at a place known as the plazoleta ("square") where some of the poetry of Federico García Lorca decorates a mural.
2.     Pico de Los Reales Trail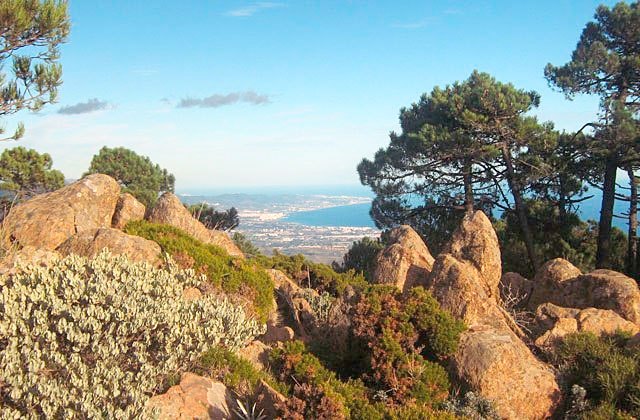 Although the road rising up to Los Reales de Sierra Bermeja, or the Agustín Lozano Refuge has some exceptional views, there is also a path that leads to the highest peak of the mountain – Andalucian local trail 168 – which reaches to 1,452 metres above sea level at its highest point.
There is flora typical of Sierra Bermeja: resin pines, Kermes oaks, gorses, grasses and botanical gems, such as the Spanish fir, as the trail gains height, or several endemic species that give significance to this important southern peninsular area.
The temperature is often 10° less than the waterfront, so think about whether you want to take something warm.
3.     Ruta Fuente del Porrejón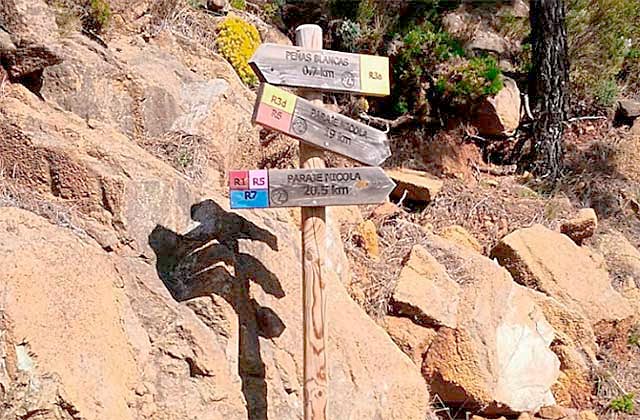 Simple, straight path leading to the Fuente del Porrejón touring dense resin pine forests that have had an important place in the economy of Estepona, especially in the first quarter of the twentieth century, through the exploitation of these forests by the Unión Resinera Española in order to produce resins in a factory in the area.
The Porrejón fountain is mentioned in the newspapers of naturalist Simón de Rojas Clemente Rubio who, in October 1809, visited Sierra Bermeja as part of a trip through the Kingdom of Granada (currently the provinces of Málaga, Granada and Almeria).
An ideal family route where your children can enjoy the environment easily and naturally.
4.     Casa de los Guardas route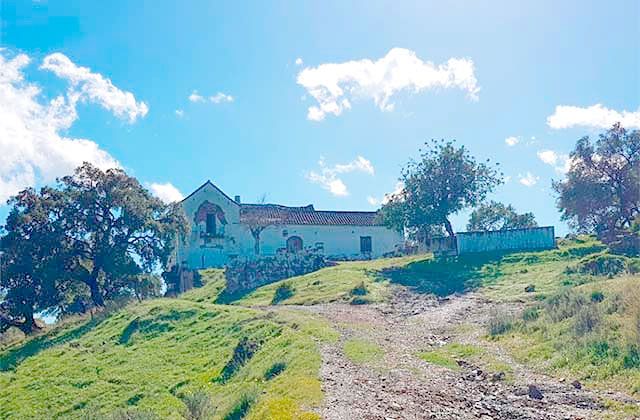 This route is very simple and can be performed either on foot, by bicycle or on horseback. After the initial 20-metre ascent, the route continues to rise at a constant but not very steep slope and a fairly consistent floor. Over these first few miles, there is a beautiful cork oak forest where the Cortijo de Nicola is located, where we arrive after climbing the first few slopes.
After about 3.6 kilometres, we reach the objective known as the as Casa de los Guardas. This building was used for the public forest rangers of Estepona. The return to the starting point is along the same route. There are no points where water can be found so don't forget to bring your water bottle.
5.     Camino de la Artesa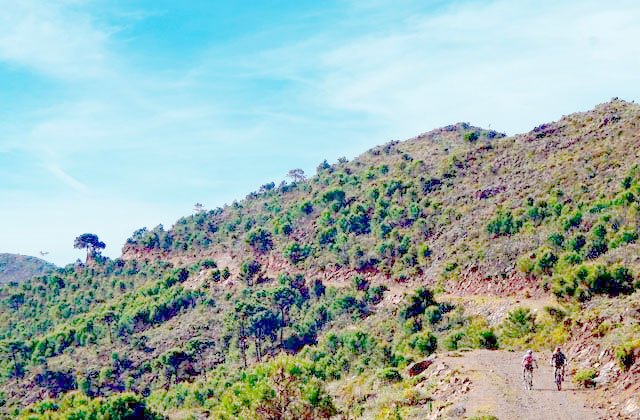 Straight route through the highest parts of the "Artesa-Altabacales" circuit through dense pine trees on a path that will allow you to see the basins of the rivers Velerín, Castor and Padrón, spotting the valleys from privileged vantage points. The route takes its name from the port of Artesa, a place mentioned in the Castilian chronicles of the sixteenth century. This route can be done in two ways, upwards or downwards, and can be covered on foot, bike or horseback.
When ascending on foot or by bicycle, the degree of difficulty is high because it is a forest track climb of nearly 20 kilometres in length, while the altitude increases by more than 860 metres in total. The horse route requires animals working regularly to overcome the same distance. The entire track is in good condition except for an intermediate point between the fountain at Velerín Alto to the Puerto del Alacrán.
6.     Camino de los Altabacales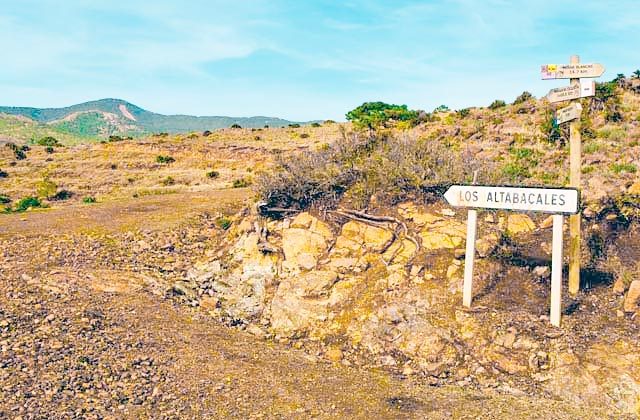 This trail can be done on foot, horseback or by bicycle. This is a linear route for experienced athletes which runs through one of the most popular routes through Sierra Bermeja, the Altabacales route, a route opened in the early twentieth century for the exploitation of the resins from local pine trees. If the path sloping upwards is taken, the difficulty is very high because it is a forest track climb which is over 20 kilometres long and which rises by over 750 metres in total.
Going downwards by bicycle is more accessible because in the nearly 21 kilometres down, there are only a few steep slopes, totalling a little over 200 metres.
7.     Puerto de la Artesa route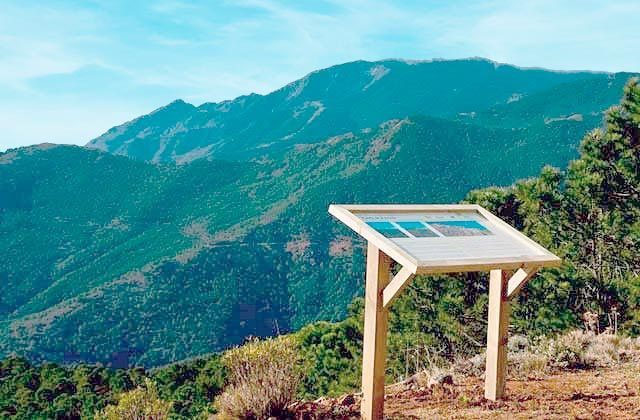 Linear round route with a low difficulty rating, this almost flat trail is highly recommended for the whole family. It is an easy route by bicycle and makes for a leisurely stroll by horse. The path does not have any complications and is generally flat with gentle slopes that do not exceed a total of 200 metres of slope.
If you walk, the difficulty is average, not because of the slopes but because it is 14 kilometres long. The choice of how to tackle this path depends on what you like because you can choose the type that you most fancy.
8.     El Alcornocalillo – Altabacales Route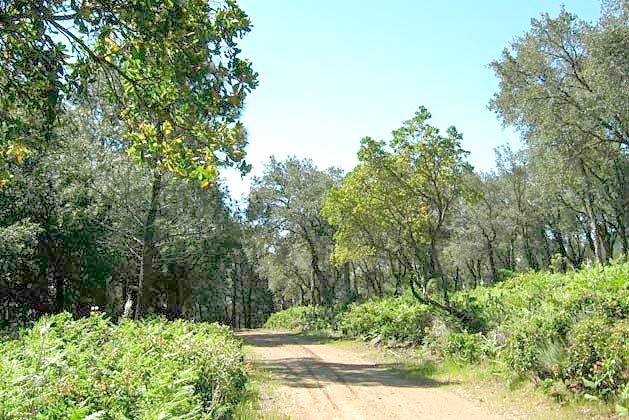 Lineal descending route of medium difficulty for cyclists and horse riders, and high for hikers. It traverses a beautiful little cork oak grove to continue the descent down the popular Altabacales path to the Paraje de Nicola, where another cork oak grove reflects the changing soil type along which the path runs.
By bike or horse, it is a medium difficulty route because, although it is generally declining, the total length of the route is over 21 kilometres of dirt roads with uneven ground, so cyclists should be used to this sort of distance and riders need to have worked with their horses regularly. For hikers, the main difficulty is not in the type of soil but in the distance, so that the difficulty has been estimated as high.
9.     Port of Peñas Blancas and refuge of Los Reales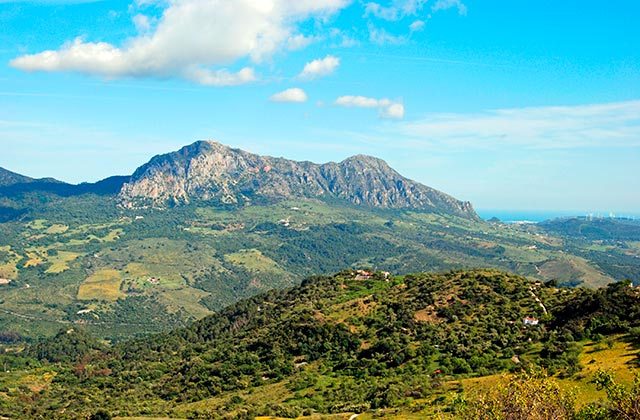 This route is designed to be done by bicycle. The ascent to the Reales de Sierra Bermeja, without being an excessively hard climb in terms of slopes, is difficult because of the length of the port and the accumulated rise.  In the traditional ascent to the refuge of Las Reales, the height difference reaches 1289 metres over only a little over 19 kilometres of distance.
Once in Puerto de Peñas Blancas the climb continues along a paved path in good condition that goes up to the refuge of Los Reales, where the slopes rise in some stretches to almost 10%, with slopes averaging between 7.5 and 8.5%, although many hairpin curves make this last stretch of the climb to the refuge a little easier.
If you want to do this route, you need a good physical background otherwise it may be too difficult. If you're up for it, fill your canteen with water and discover this unique place.
10.  Route Integral Estepona – Peñas Blancas- Valle del Genal- Estepona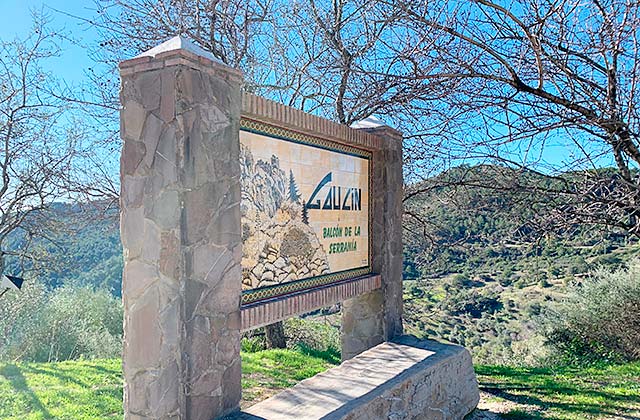 This circular route is also made by bicycle and is designed for the more daring because of the high degree of difficulty. The path leaves from Estepona ascending to the Puerto de Peñas Blancas to pass the north face of the Sierra Bermeja where, through Jubrique, you reach the heart of the Valle del Genal at the confluence of the municipalities of Jubrique, Genalguacil and Algatocin.
Crossing the River Genal, it ascends to Algatocin and then turns south to one of the most picturesque villages in the Serrania de Ronda, Gaucin, where you down again toward the River Genal and climb to Casares. The return from Casares to Estepona begins by provincial road down to the coast before taking a detour before reaching the coast along a paved cattle route that reaches the starting point, without passing along any roads at any time.
In total, it covers 88 kilometres and, during the trek, there are several intermediate points where you can find water.  In addition, as it passes through five villages, there is a guaranteed chance for rest.
Tips for enjoying hiking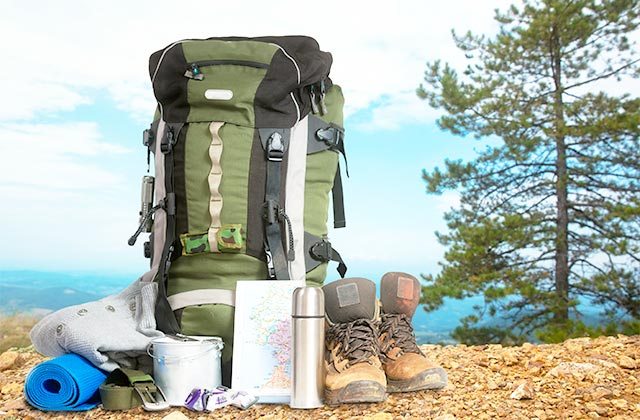 Prepare the route. The most important thing before doing a hiking trail is to be very familiar with where it starts and where it ends, how many miles it is and how long it takes. It is also important to know if the weather conditions will be favourable.
Hiking footwear and clothing. The ideal thing is to wear footwear that is suitable for the mountain (thick sole, good grip and waterproof). Clothing must also be comfortable and breathable, and you must wear a coat in case the weather changes unexpectedly.
Map and directions. Even if we know what the route is like, it is also advisable to bring a map to guide us (it is also a good idea to take a mobile phone or GPS, but make sure you have enough battery).
Trekking pole. Many think that a pole is something we can do without, but the reality is that it helps us keep our balance and reduces fatigue, as well as the risk of sprains.
Eating and hydration. For any walk, we must take at least one litre of water or isotonic drink. Foodwise, it is advisable to eat something light during the journey, in addition to eating foods with a high sugar content beforehand.
Caring for the environment. We must not forget that nature belongs to us all. So, you must remember that you need to respect the natural setting and that you must take everything you bring back home with you. Above all, do not make fires and be very careful with native flora and fauna.
So now you know, if you are considering Estepona this summer, don't discard the possibility of outdoor activities. In addition to these routes, you can also do water and air sports so you can always do whatever you feel like. Alone, with family or friends, there is always an option for you within "Estepona Natural".
Put on your boots and explore the 20 best Grazalema hiking trails
ACCOMMODATION
The best option to stay in the province of Malaga and adventure yourself in Sierra Bermeja is Fuerte Hoteles. The chain has places where you can, in addition to its services, enjoy the best of each part of Andalusia. 60 years experience are the best guarantee. Marbella or Grazalema are some of the sites where you can find these amazing hotels, an exceptional starting point for your private tour around Sierra Bermeja.