SHOPPING IN MALAGA
Shopping in Malaga is one of the most common activities for many visitors. The souvenir stores and the ones that sell typical products from Malaga are part of the touristic tour of the city.
The stores blend in with the places and monuments of artistic value of Malaga's old town. It is easy to find all kinds of stores to buy gifts or souvenirs. What is difficult is finding the most interesting, exclusive, and original ones, those where one can enjoy the process of shopping as well as the special items finally purchased.
Larios street is the most popular one and where all major brands want to be. Here, you can find almost everything you could find in any shopping mall and important city.
If you want to shop in Malaga for something different and unique, you will have venture into the commercial streets found in the surroundings of Larios street.
Guide of different and unique stores in Malaga
Mapas y compañía. La librería del viajero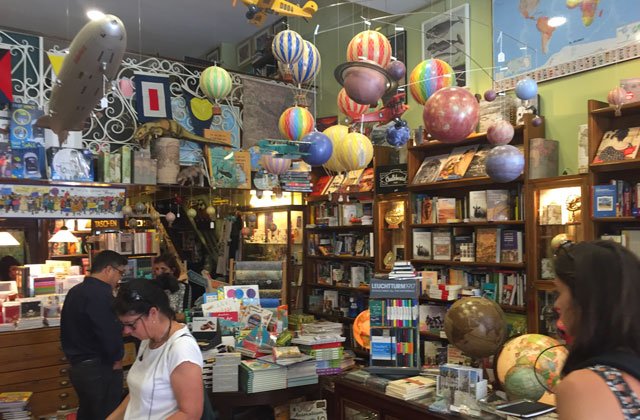 This is a nice bookstore with a unique personality, serving customers since 1993. This store sells mostly tourist guides and maps. It also has a unique selection of travel literature, old navigation tools, hot-air balloons, and a wide collection of world globes and small stationary details not seen anywhere else. It also has a nice selection of children's literature, puzzles, mobiles, seesaws and other items for the little ones.
It is one of those stores in Malaga that possess a certain charm and are worth a visit. Even if you do not buy anything, you will enjoy the place and the attention of its owners.
Golden Tips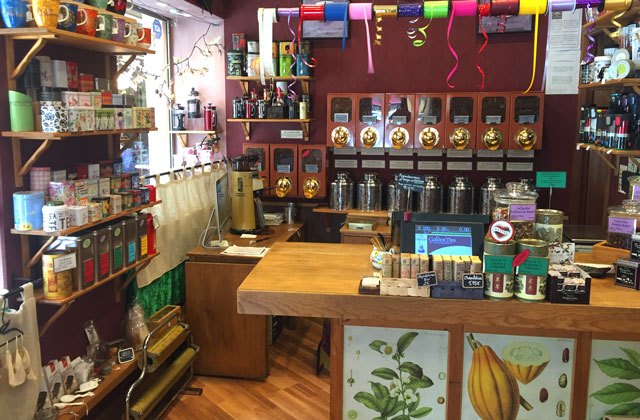 A nice boutique that specializes in tea, coffee, chocolate and all accessories necessary to enjoy the smell and the taste of these culinary delicacies. It was established in 2003 by two tea-loving business partners.
Here, they will make every effort to cater to your specific taste and needs. They take the time to how to make the perfect tea and coffee so you can enjoy to the fullest. This store offers a personalized service.
Its current tea menu offers more than 200 varieties of tea, all of which personally curated, and some of them even created by the owners of the store. Their selection of coffee is all roasted in a traditional way, and their chocolate selection is very different from what you could find in other stores.
Their motto is quality, exclusivity and originality, which is reflected upon their products and the way they treat their customers.
El Almacén del Indiano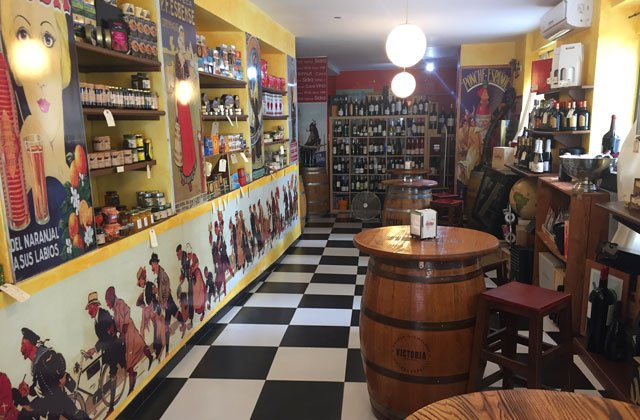 This is the typical grocer's shop where you can taste and buy from an exquisite selection of wines, craft beer, ham, cured pork, cheese, oils, and picklings from the Andalusia and other regions of Spain. Here, you can also buy typical sweets and high-quality preserved food.
Some Thursdays, from 9:00 p.mm, there are wine tasting events to let public know the very good but not-so-well-known Spanish designation of origin wines. In addition, with the same objective, they organize oil-tasting events.
This is the perfect place to go for tapas in your tourist tour through Malaga. Here, you can also buy the products to enjoy the tapas back home.
Sac Parfums Paris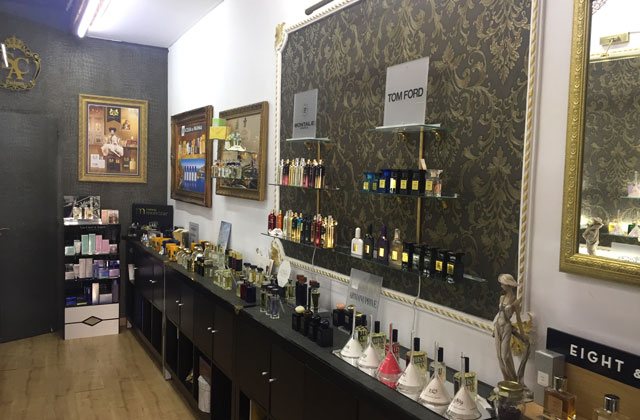 Small and nicely maintained store where visitors can buy the most exclusive and luxurious perfumes in the market. A perfect place to get familiar with world of high-class perfumes, of signature perfumes. Items that cannot be seen in other establishments. This store also offers cosmetic products of the most prestigious brands in the market.
Enjoy the beauty of the establishment, its exclusive products and the personalized attention provided by the owners.
Ten to Nine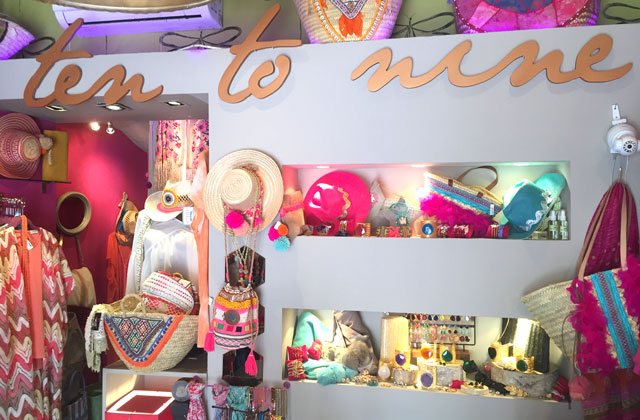 Opened to the public for more than three years, this store was designed thinking of the women who want to wear jewellery and accessories that are unique, fresh and have style. Most items are made in their shop, located in the upper level of the establishment. They make hats, jewellery, beach baskets, robes and shirts, among others.
They have designs for every moment of the day and different environments.
They offer urban, beach, and evening looks.
Their clothing items are commercialized under the Smach brand and the accessories under the Boho brand.
Bless This Mess Vintage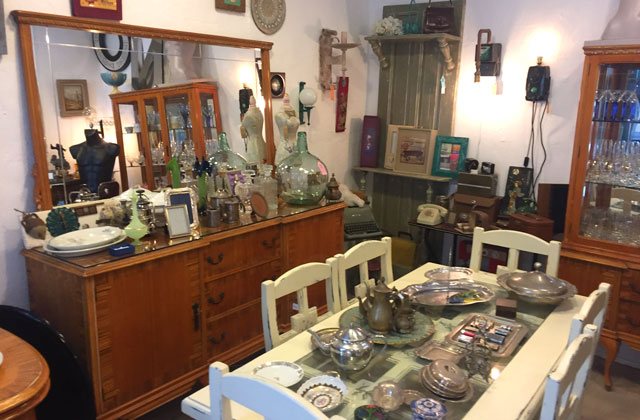 This is a second-hand furniture and decor store. This is a spotless store; its owner says that you can find things here that are not going to be seen anywhere else. Furniture and small vintage decor items that, in many cases, are transformed by the owner to provide them with a new life.
They are also distributors for Chalk Paint in Malaga, a special type of chalk paint for furniture.
Calamita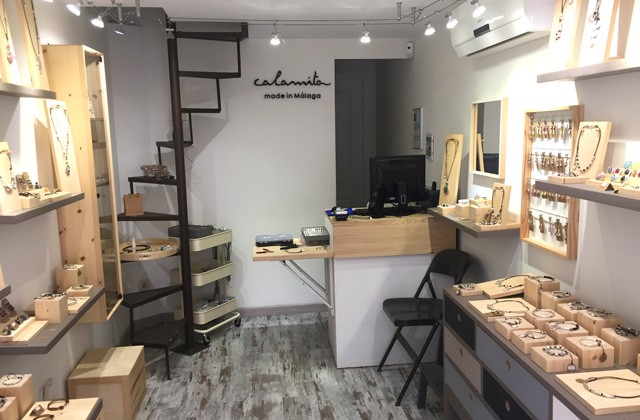 If you like silver jewellery matched with leather, you are most likely to find something for yourself or to give as a gift.
It is owned by Nora Zurita, a young jewellery artisan. After four years of selling her designs in craft markets, she decided to open her own establishment in downtown Malaga.
It offers a nice collection of pieces made out of an alloy of non-allergic metals (nickel and lead free) and silver-plated finishes all mounted in leather.
Época Vintage & Second Hand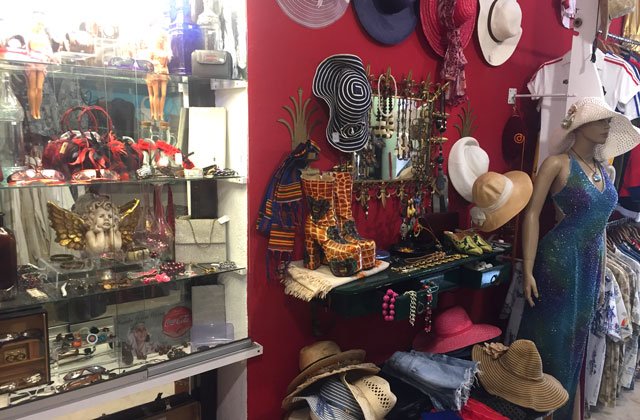 This is a store to buy unique clothing and accessories of any time, mostly from the 40s onwards. Customers can find stuff that are not going to be seen anywhere else, as its owner, Marina, says. Some of their items are vintage or just second-hand. These items are well preserved and "ready to wear." People can find in this store: bags, hats, some shoes, festive dresses, blouses, jackets, jewellery, among other things.
La Princesa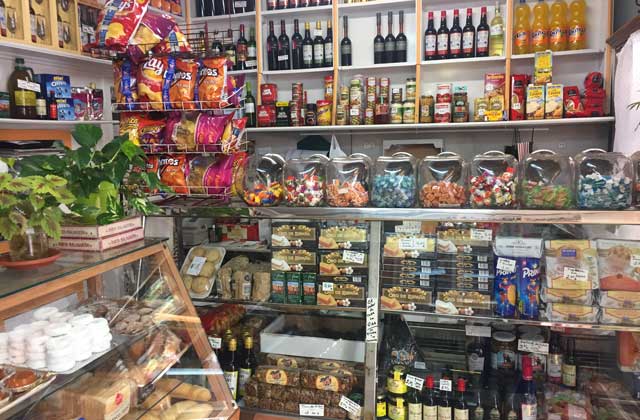 This is one of the stores with the longest tradition in Malaga, opened to the public for more than 80 years.
The food and sweets store has always been there, where people can buy the most typical food products of the province of Malaga. The variety of sweets includes loquitas, borrachuelos, cakes of Algarrobo, mantecados de Antequera, roscos de vino; as well as different types of oils and wines from Malaga, raisins and figs, among others.
If you are of a certain age, this store will take you back to your childhood years.
V.O. Málaga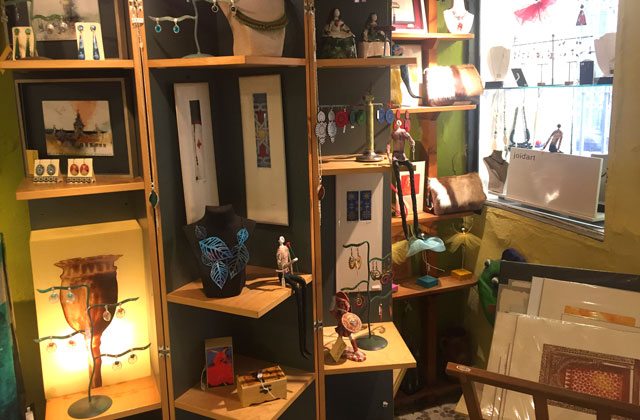 Versión Original Málaga has been selling crafts made in Spain for more almost 20 years. Here, you can also find articles made in a shop in France and another one in Portugal. Customers can buy jewellery, textiles, ceramic pieces, original numbered prints, etc.
Its fine endeavours has earned this establishment the distinction of being selected for the Michelin Granada and Malaga Guide.
Extravirgen Olive Oil Store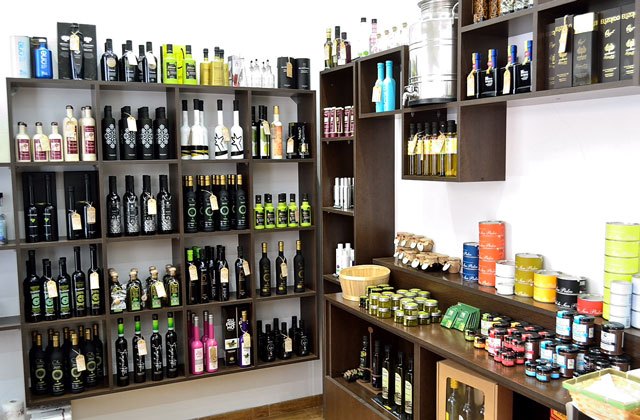 This is a small store dedicated to high-quality extra virgin oil conceived by young entrepreneurs from a family of a great olive tradition.
They sell products from more than 300 of the best brands of AOVE (Extra Virgin Olive Oil, for its acronym in Spanish), mostly Andalusian. It features an area designed for oil tasting events for their clients.
This is the ideal store to start up in the wonderful and unknown for some world of AOVE.
Alfajar. Arte en cerámica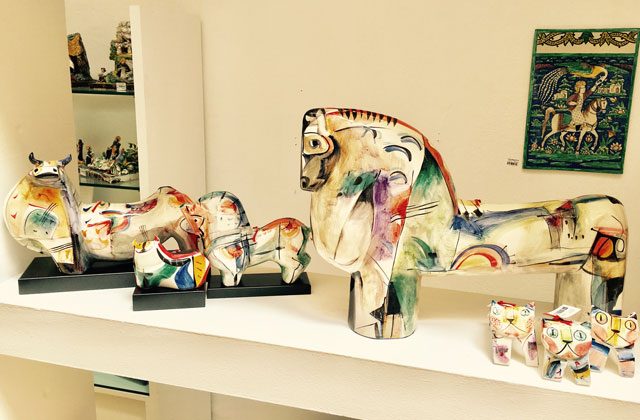 The perfect store for lovers of handcrafted signature artistic ceramic-decor articles. Each of the pieces have received an individual treatment and are signed by its author. These characteristics make these articles unique and unrepeatable.
The catalogue of Alfajar includes sculpture, plates, trays and murals of small and big size. They also make custom-made pieces, taking as starting point the idea of their clients. This store is perfect for family and company gifts.
Taste Of America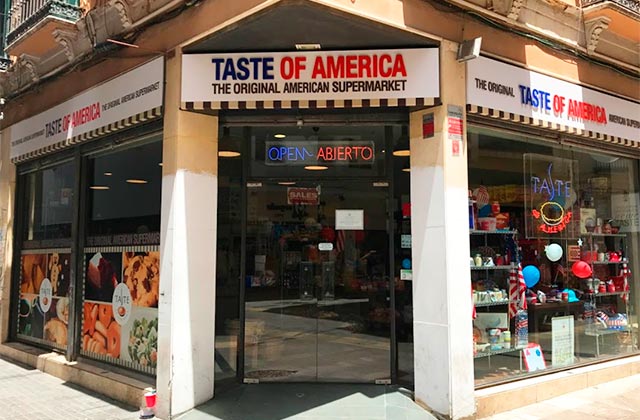 If you wish to buy American food products without crossing the Atlantic Ocean, Taste of America is the store you are looking for. This store features more than 2000 products of exclusive brands like Pepperidge Farm, Celestial Seasonings, The Jelly Bean Factory, Mississippi Belle and many more.
This store also offers its customers tableware and kitchenware, ideal for preparing any traditional American recipe.
Where to park in downtown Malaga
Here is a list of the public and private parking lots located in old town Malaga or very close to this area:
Shopping malls close to old town Malaga
Among the advantages of shopping in Malaga we can count how easy it is to find a parking space, even a free one. Moreover, if the parking space is indoors, you do not have to worry about the weather.
Larios shopping mall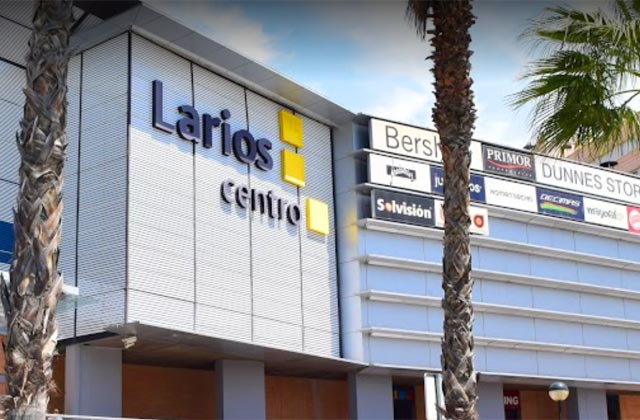 Located close to the bus and train stations of Malaga, this two-story mall features 153 stores that include the most popular establishments of fashion, restaurants, hair salons, gift shops and decoration from national and international brands.
Malaga Plaza shopping mall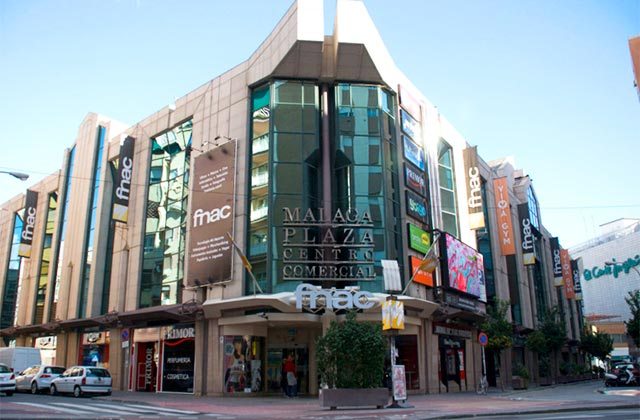 A small mall located next to El Corte Inglés. It features well-known stores such as Fnac, Imaginarium and Movistar, among others. It also offers a gym of almost 1,800 m2.
Vialia shopping mall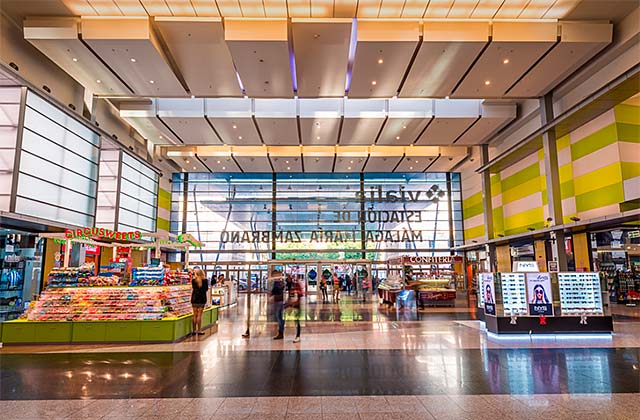 Located within the building that houses the Train Station of Malaga. Among the stores this mall offers, we can mention: Media Markt, H & M, Mercadona, Swarovsky, Kiko Make Up Milano, Calzedonia, Intimissimi and Yelmo Cine, among others.
Málaga  street markets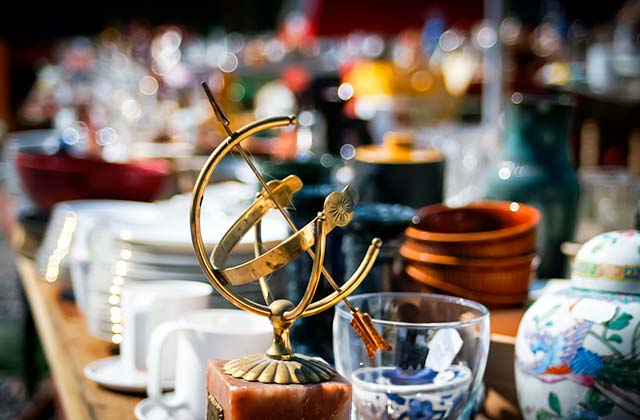 Rastro de Málaga
Sunday
Recinto Ferial – Cortijo de Torres
De 9:00 a 14:00
Mercadillo Arroyo del Cuarto
Saturday
Calle Argentea
De 9:00 a 14:00
Mercadillo de Colonia de Santa Inés
Wednesday
Calle Tamayo y Baus
De 9:00 a 14:00
Mercadillo de El Palo
Saturday
Plaza Virgen de la Milagrosa, El Palo
De 9:00 a 14:00
Mercadillo de Miraflores de los Ángeles
Friday
Calle Marqués de Oviedo
De 8:00 a 14:00
Mercadillo de Los Corazones
Friday
Calle del Corregidor Pedro de Zapata
De 8:00 a 14:00
Mercadillo de Cruz de Humilladero
Thursday
Calle Conde del Guadalhorce
De 8:00 a 14:00
Mercadillo de Ciudad Jardín
Thursday
Avenida de Jacinto Benavente
De 8:00 a 14:00
Mercadillo de La Paz
Wednesday
Avenida Virgen de Belén
De 8:00 a 14:00
Mercadillo de Huelin
Wednesday and Saturdays
Avenida de Europa
De 9:00 a 14:00
WHERE TO STAY
If you decide to come to Marbella, make sure you stay at Fuerte Hoteles. Fuerte Marbella is a true symbol for the city and has over 60 years' experience. The establishment has 263 rooms, all soundproof and equipped with air conditioning, satellite TV, free WiFi, safe and private bathroom with amenities and a hairdryer, among other services. It is also surrounded by gardens, with unbeatable sea views and two outdoor pools.