Enjoy a trip through the stars in these 10 Andalucian enclaves of astrotourism
The Andalucian sky is opening itself up to visitors for stargazing. Astrotourism is increasingly in fashion and what better way to enjoy this discipline than travelling to southern Spain. This spring, Granada became the Spanish capital of astronomy, a subject that is becoming ever more interesting to the people of Andalucia. Wild beaches, natural spaces and corners with zero light pollution make this region a meeting point for lovers of the science of the stars. We recommend 10 places and activities you mustn't miss if you decide to organize a getaway to find out more about other universes.
Fun facts about astrotourism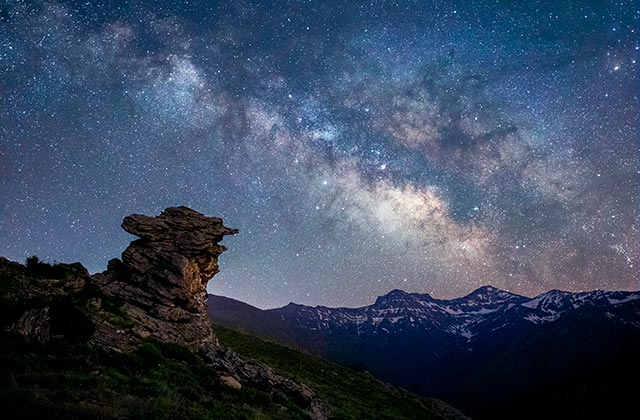 The best time to observe the night sky is during the new or crescent moon. On these days, the moon is not visible in the sky, which allows for better visibility of stars and other celestial objects.
Observing the night sky can also be a therapeutic activity. "Star therapy" is a practice used to reduce stress and anxiety and improve sleep quality.
Astrotourism can also be a social activity. Many groups organize trips and excursions to observe the night sky together. This can be a great opportunity to meet new people and share a unique experience.
Astrotourism is not limited to observing stars and planets. You can also observe phenomena such as auroras, meteor showers, and solar eclipses.
Spain has some of the cleanest and darkest skies in Europe, making it an ideal destination for star observation.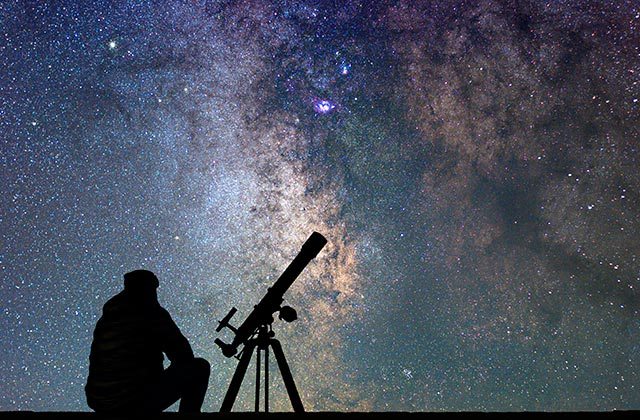 Spain is home to a large number of astronomical observatories, such as the Teide Observatory, the Calar Alto Observatory, and the Sierra Nevada Observatory.
Andalucía has several ideal destinations for star observation, such as the Natural Park of the Sierras de Cazorla, Segura and Las Villas, the Doñana National Park, and the Sierra de Grazalema.
In the province of Granada, you can find the Sierra Nevada Observatory, which is the highest observatory in Europe and has several telescopes and night-time observation programs for visitors.
Andalucía has a wide range of accommodations and tourist services specialised in astrotourism, such as hotels with telescopes in the rooms, rural houses with terraces for sky observation, or astronomical hiking activities.
1. El Torcal de Antequera (Malaga)
If you want to find out about the universe, there's no place better than El Torcal de Antequera. If you have a passion for astronomy, you simply must visit one of the most suitable places to be wowed by the stars. It is here in this natural karstic landscape that you will find the El Torcal Astronomical Observatory that is open to the public so it can enjoy and make use of its perfectly equipped facilities with powerful observation instruments, guided by expert personnel with knowledge of the sky and experience in teaching and dissemination.
2. Sierra Nevada (Granada)
The Sierra Nevada is one of the best enclaves for stargazing. On one of its low ridges is the Astrophysical Observatory, where activities are organized for the public so it can use its equipment and facilities. But you don't even need to use specialised material. The observatory's privileged location enables the constellations to be distinguished perfectly. This place offers a unique experience if you like this field of knowledge and at the same time enjoy nature, so make sure you don't miss this opportunity to see the universe reflected in the snow.  
3. Granada Science Museum
One of the most spectacular activities at the Granada Science Museum is the Planetarium. There you can see space in a circular room enjoyably and simply. Do visit if you like this area of knowledge. What's more, if you decide to travel as a family you should know that there are special tours for little ones that use a story to introduce them to the study of the stars. Plus, the museum has started using the fulldome video system, the latest digital video projection technology that replaces slides and enables a single video image to be projected onto the entire dome to make an educational Introduction to this science. All in all, a unique experience you mustn't miss.
4. Royal Navy Observatory, San Fernando (Cadiz)
This infrastructure fulfils the specific functions of an astronomical and geophysical observatory, as well as being a higher education centre for scientific personnel from the Spanish Navy. But these facilities also want to attract the general public to the passionate world of astronomy and educational days are organized for all those who wish to learn about this subject. This important Andalucian observatory is opened to the public during Science Week when educational activities are usually organised.
5. Calar Alto Observatory, Almeria
Located in the Sierra de los Filabres, this observatory has the advantage of the Almerian climate that provides dry, clear skies, enabling observation of the sky over 200 nights a year. Here you can access the scientific dissemination days they organize to learn first-hand about the mysteries of our universe. It is a place of research that opens its doors on educational days to bring the passionate world of astronomy to the general public. If you decide to travel to Andalucia, don't forget about this enclave, where the absence of light pollution brings you closer to the furthest away constellations.
6. Playa de Cortadura in Cadiz
Cortadura Beach in the area of Gallega (Cadiz) is a place with zero light pollution. Each year, hundreds of people gather to see the Perseids that take place in August. One of the advantages of this place is the almost total absence of artificial light, as well as being able to park cars and caravans on the beach just before the u turn on the motorway linking Cadiz to San Fernando. If you want to gaze at the Cadiz sky, make sure you visit this part of the coast.
7. Sierra de Grazalema
There is no tranquility that compares to enjoying the stars in the middle of nature. If you have a passion for astrology, grab your telescope and visit the Sierra de Grazalema. This rural destination stands out for the wealth of its flora and fauna. The scarce light pollution means you have the universe right at your feet, adorned by the beautiful native fir tree that is one of the treasures of the place. Don't miss out on this landscape if you want is to observe the constellations and the most beautiful moon.
8. Entrerríos de Mijas (Malaga)
As well as the observation of the stars, there are other areas that attract attention for other reasons. If you have a passion for mystery, make sure you pay a visit to Enterríos in Mijas, considered to be a UFO zone. Many lovers of the paranormal world pass through the place in summer to try to see stars with their telescope and at the same time try to make out any strange objects. Don't miss this opportunity that mixes these two sciences in a privileged enclave of the Costa del Sol.
9. Guided Tour of the Night Sky in the Sierra Nevada (Granada)
In the course of an hour to an hour and a half, the "Guided Tour of the Night Sky" will bring you closer to the wonders of the universe by combining enjoyable explanations using astronomical equipment in the Sierra Nevada, Granada. Adults and children will be blown away by all manner of celestial objects, from solar system planets and their satellites to galaxies, globular clusters, planetary nebulas and multiple star systems. This activity is as unusual as it is innovative and will transform your stay at the Sierra Nevada into an even more enriching experience. Observing the night sky is an unforgettable, relaxing and enlightening experience, which can be done in both Spanish and English.
10. Astronomical Observation for all, El Torcal (Malaga)
One of the activities organized by the El Torcal Astronomical Observatory is "Astronomical Observation for All." These are sessions in which visitors can enjoy, as a family and in a magical setting, this natural night landscape, the spectacular vision of the sky seen by the naked eye, as well as observing bodies of the solar system and deep sky (galaxies, nebulas and clusters) through powerful telescopes. Don't miss this activity if you like this area of science and want to learn as you practice one of the oldest areas of science in the world.
Make sure you travel to Andalucia if you want to experience this land from another perspective: space. It places a world of possibilities at your feet to put stars and planets within your reach.
WHERE TO STAY
If you are thinking of doing some astrotourism, we recommend you stay at a Fuerte Hotel. In addition to the privileged location of these establishments aimed at enjoying natural spaces and, in this case, tranquil places for skygazing, they have the benefit of over 60 years' experience in the tourism sector. Marbella, Conil, Grazalema, El Rompido and Torrox are just some of the places where you will find this amazing holiday accommodation.