Have a good time with your children and visit the top playgrounds in Málaga
The playgrounds on Costa del Sol are ideal for those who visit this area with the little ones of the family anyone that has young children knows, the parks for children in Malaga are a must. Many of them are located in extensive green areas, with skating rinks, lakes, and lanes for bikes or bridges … you will find playgrounds in Malaga dedicated to children's drawing characters such as Pocoyo and all his friends. Or inspired by the famous treasure island of Stevenson.
Here we leave you a complete guide with many options scattered throughout the province that will delight the smallest of the house … take note!
Málaga playgrounds
Paloma Park, Benalmádena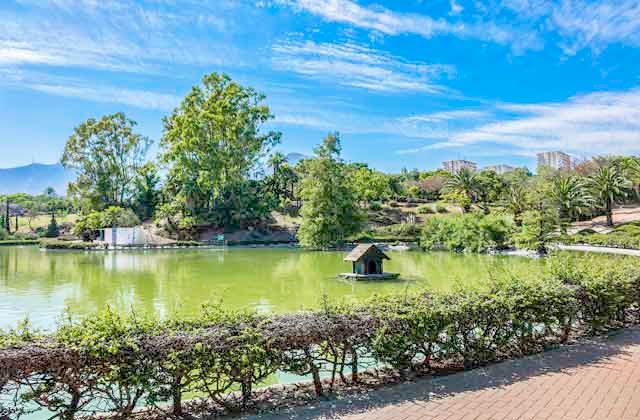 Paloma Park is located in Arroyo de la Miel in Benalmádena, next to the Municipal Library. It is one of the top places for families with children on the Costa del Sol thanks to its breadth and the lake where you can feed the fish and watch the swans, geese and ducks. Dwarf rabbits, chickens, ducks and peacocks hang around on the lawn and children can approach them. If the children are young, there are also some swings in the park for them to play on.
La Batería Park, Torremolinos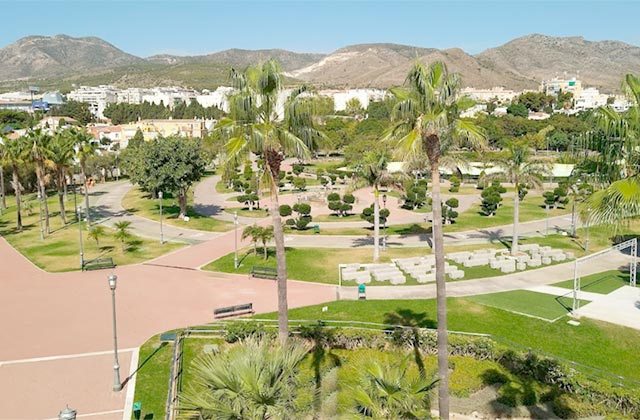 La Bateria Park is located in Montemar, Torremolinos, and has a huge lake where kids can ride in a boat. It also has areas with trampolines and swings so a great time can be had by all. Feel free to bring your children to this space where you can also find several cannons which were used during the Spanish Civil War, as well as an area with passages and underground bunkers for storing shells which can be visited and which will definitely awaken your curiosity.
Poniente Park, Fuengirola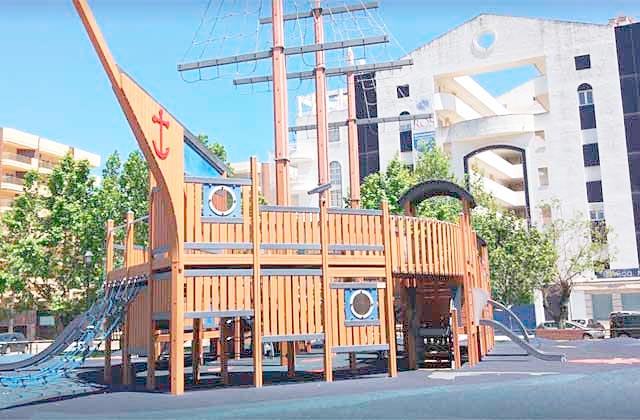 To the west of Fuengirola lies Poniente Park, an area very popular with the children of the city. If you travel with your family to the Costa del Sol, come to this area where a huge pirate ship dominates the park. Kids can go up and down the slides and the ropes this nice boat has. The boat sits on wave-shaped padding to avoid any accidents. Meanwhile, if you fancy it, drinks are available while watching your children play from the cafeteria.
West Park, Málaga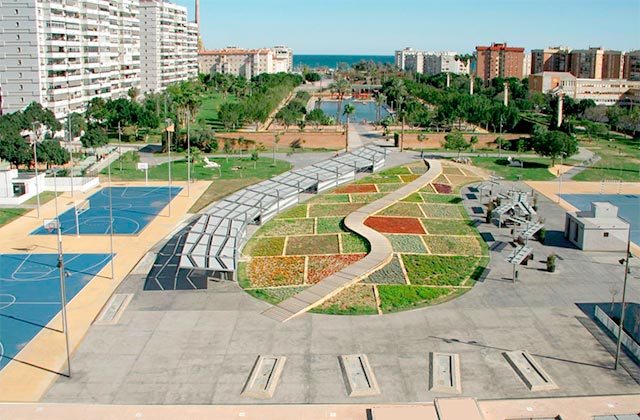 If travelling to the Costa del Sol with your little ones, take them to enjoy the West Park in Málaga. The huge lake with a geyser is one of the most colourful points with 45 sculptures, some mythological, by Stefan von Reiswitz, a German artist based in the city. Another touch of colour is brought by ducks of different species, Bennett's Wallaby and other animals like the emu, which are a favourite attraction for walkers as the park is considered to be a kind of zoo. The elderly also have their place with health-promoting exercise equipment.
Cinema Park, Málaga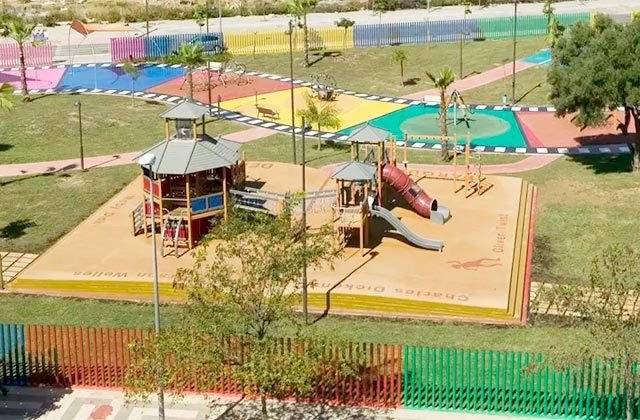 The Málaga neighbourhood of Teatinos has one of the most unique parks in the province. This is the Parque del Cine (Cinema Park), a green space inspired by the world of the Seventh Art, and where we can find little nooks dedicated to the world of books. Paths drawn as if they were colourful film rolls, yellow brick roads like in the Wizard of Oz, or a walk of fame like that in Hollywood are some of the aesthetic elements that will leave your kids with their mouths open. There is also a playground for the younger ones and another for slightly older children where they will find a zip line among other attractions.
La Alcua Bird Park, El Borge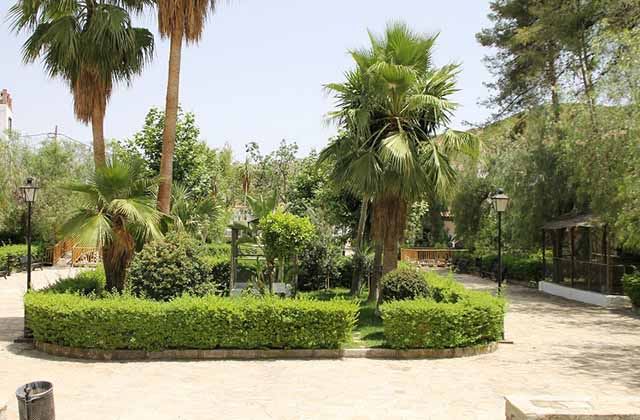 In the heart of the Axarquia in Málaga is La Alcua Botanical and Bird Park in El Borge. This park is ideal for a family walk and for children to enjoy a multitude of variegated species of birds. The nature found is here is not strictly local, so you can enjoy many kinds of plants such as plane trees, bamboo, roses, pepper tree, Pacific flowers, ferns, jasmine, yuccas and palms with your little ones. If you have time after this tour, make sure you visit this town of whitewashed narrow streets, the undisputed king of Málaga.
Molino de Inca Botanical Garden, Torremolinos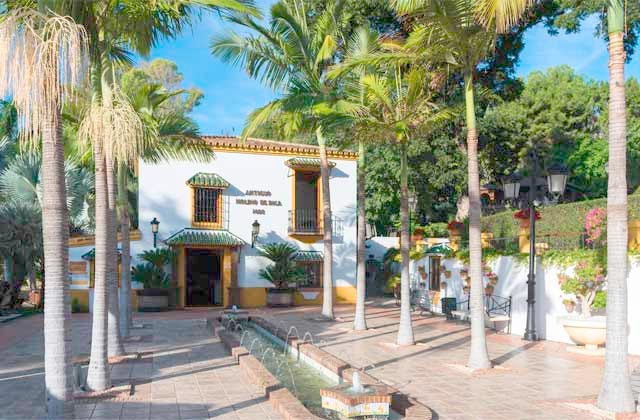 El Molino de Inca Botanical Garden in Torremolinos was built around the flour mill bearing that name and took advantage of the energy from falling water provided by the Springs. The nicest area in the place is the ponds where aquatic plants and fish thrive. If you go with young children, one of the things that will draw their attention is the natural hedge maze, about 50 metres in diameter located in the central part of the grounds, and into which they will be tempted to run and play hide and seek. Do you dare to step into it?
Alameda Park, Málaga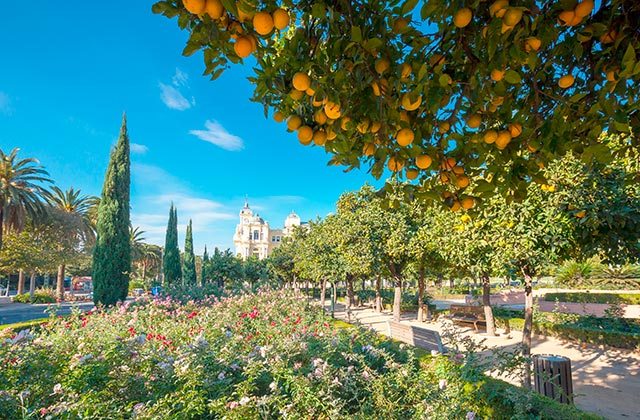 This is a walk with Renaissance and Baroque gardens on both sides. The design is that of a Mediterranean garden with many subtropical species, making it one of the most important public parks in Europe in terms of exotic flora. Your children will enjoy this walk which extends longitudinally and where they can discover the importance of vegetation between their games. Go with them and enjoy the good weather in this natural urban area.
The Three Gardens Park, San Pedro, Marbella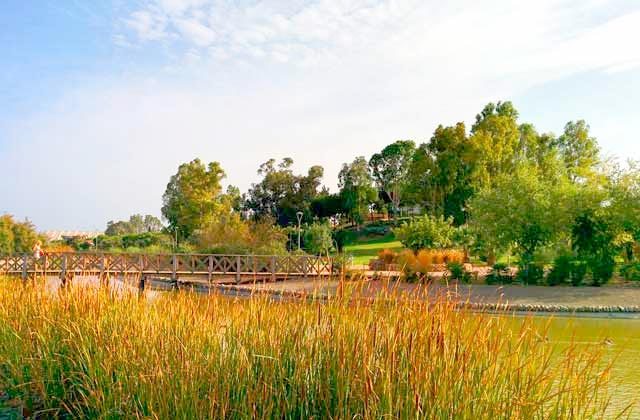 The Three Gardens Park is located in San Pedro Alcántara, particularly in the former garden centre. It is the first eco-park in Andalusia and the largest forest park in the province. Take your children to this environment where there is a playground and, together as a family, see the three gardens that give it the name: the Mediterranean, the subtropical and the Arabic ones. A fun place where you can have a good time and where we suggest you bring your little ones.
Bow Wow Parks, Fuengirola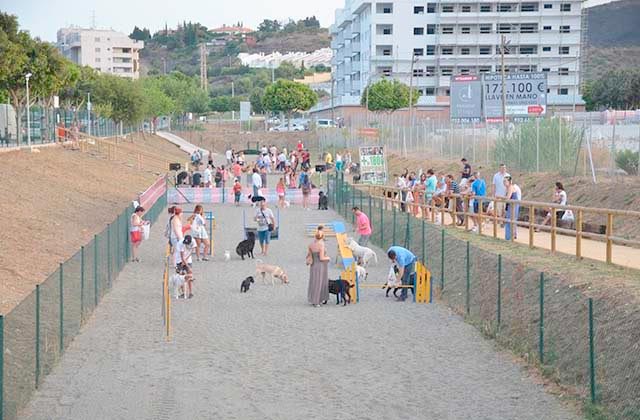 If you love animals and are travelling with your pet, do not miss Bow Wow Parks in Fuengirola. These canine spaces are designed to let animals roam free and your children can run with your dog in a day of fun. One of the areas includes dog exercise equipment if you want your pet to get in shape.
Treasure Island Park, Malaga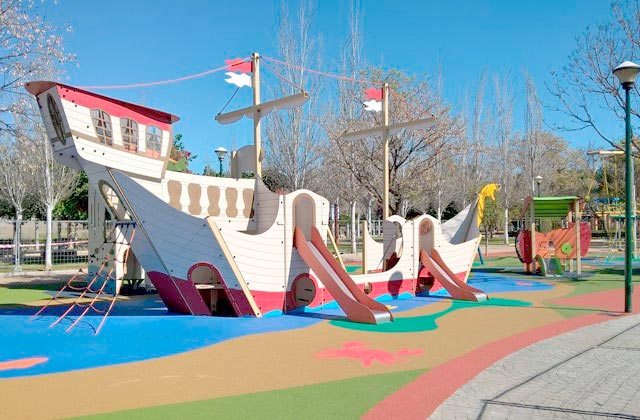 This children's theme park is inspired by the famous book by Robert Louis Stevenson. It opened in 2013 and is located in the El Tomillar neighbourhood of Malaga's Puerto de la Torre district. Its official name is Victor Hugo Children's Park, after the square where it is located.
The playground area on the hill has slides with a tower, a ship mast with climbing ropes and nets to climb the island.
Litoral Park, Malaga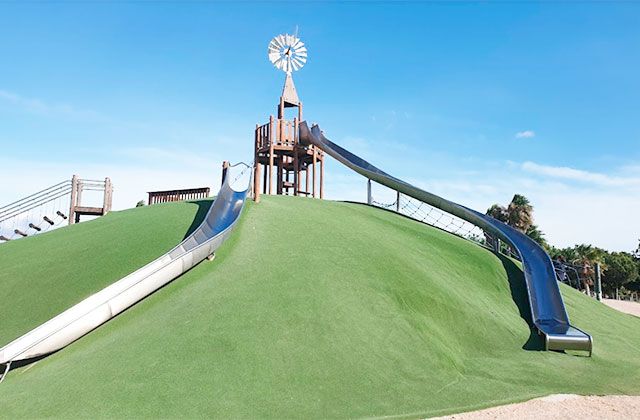 This park is ideal for kids and their parents. It is located on calle Villanueva de Algaidas, very near the Martín Carpena Sports Palace. The kids' area is split into three zones for different age groups.
In addition to its slides, it has a sports field, an outdoor gym area and several green zones. The kids' area is located on a hill with a small wooden viewpoint. It is open from 8.00 a.m. to 10.00 p.m.
San Miguel Park, Malaga
This park has a small kids' area suitable for children under 10. It also has a grassy area, trees, two sports fields and urban furniture.
It is located in the centre of Malaga.
Alegría Park, Malaga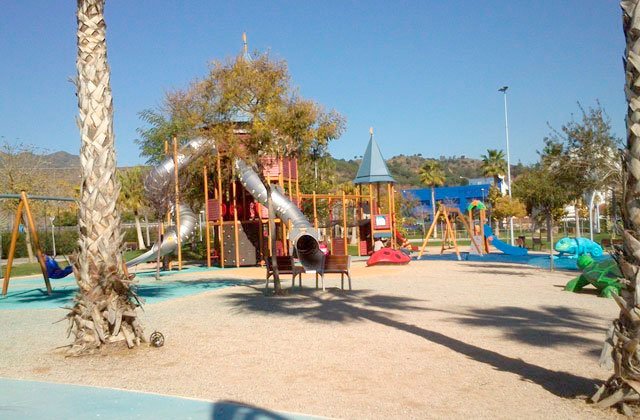 This park occupies over 49,213 square feet and is located in the Ciudad Jardín district. It opened in 2011 and is ideal for kids and their parents.
In addition to the playground, it has a pond with sculptures, a gym for adults, a running track, a cycling path and over 90 different plant and tree species. It is one of the Malaga's green lungs.
Arroyo de la Represa Park, Marbella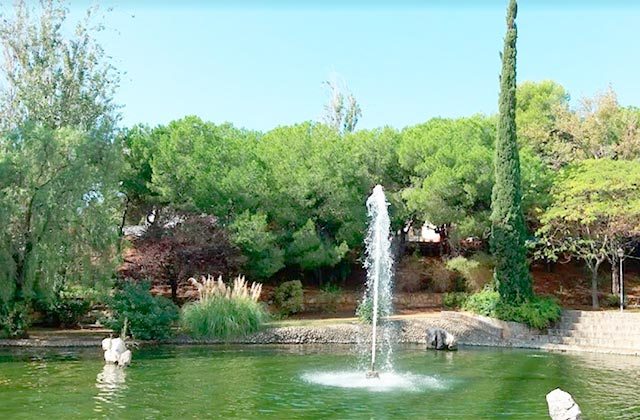 It is located bang in the centre of Marbella. It is also known as Parque del Puente, in reference to the bridge that crosses one of its two artificial lakes that are home to turtles, fish and ducks.
As well as the playground, it has a skate park and several areas for doing other sports. It is also home to a museum dedicated to the bonsai and numerous species of native and exotic trees.
Almost 164,000 square feet given over to outdoor for kids and their parents. It has won awards on two occasions as the best urban park on the Costa del Sol.
Nagüeles Park, Marbella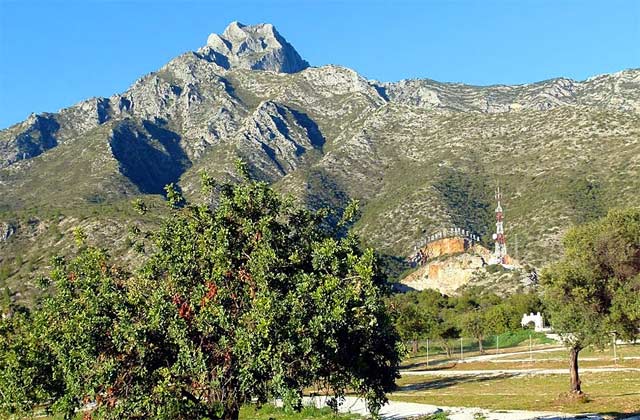 This is a park surrounded by a pine grove that has a playground with tube slides and padded rubber on the ground. Ideal for spending a day in the countryside with the family.
It is very near Marbella's historic centre.
La Negrita Park, Antequera

The most striking aspect of this playground are its large tube slides that are as much as 36 feet high and 26 feet long. It also has trampolines, jumping pads, a zipline and swings for kids with reduced mobility. For adults, there is a green zone with an exercise area. It is open 24 hours.
Alameda del Tajo Park (Ronda)

In the heart of the city of Ronda you can enjoy a spectacular botanical garden of the 19thcentury. The Alameda del Tajo is a pedestrian park from which you have an incredible view of the surroundings of the monumental Ronda. However the most impressive aspect of this park are not its views but the important botanical legacy that you can find there, as well as a gigantic stone pine, you can also enjoy an acacia with three thorns or a cedar from the Himalayas.
Jardín Oriental Bienquerido (Alhaurin de la Torre)

Opened in 2011, this green area and Japanese inspiration has pagodas, oriental style bridges and beautiful waterfalls, as well as an area for the fun of the little ones.
La Libertad Park (Alhaurín el Grande)

Located in one of the ends of the urban helmet of Alhaurín the Great, this park has spectacular waterfalls, several native trees and shrubs and a zone of leisure thought specifically for the infantile public.
San Agustín Park (Coín)

In the heart of Coín, you can enjoy one of the most emblematic green spaces of the province, which is the Park of San Agustín, where we can be observed several types of indigenous trees of India and others of the easternmost Mediterranean. This park is a small orchard located in the heart of the Guadalhorce Valley
Las Albarizas Urban Park

The boulevard of Arroyo Primero or also called the urban park of Las Albarizas is a boulevard of 40,000 square meters with green areas, an auditorium, playgrounds and a multitude of fountains.
San Pedro Boulevard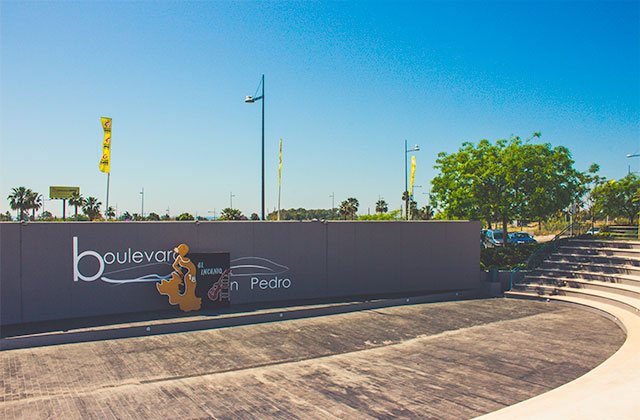 It is an area of 54,000 square meters that has become the meeting point of San Pedro de Alcántara. This park has a large catwalk, a spectacular amphitheatre with capacity for 500 spectators, three cafeterias, and a large skating rink. It also has playgrounds and rest areas and a bike path.
Similarly, in this park gastronomy occupies a privileged place, which is why it has been endowed with a fantastic 'gourmet' market.
Ten theme parks for families that you mustn't miss this winter in Malaga
ACCOMMODATION
The best option to stay in the province of Málaga and to see its parks up close with your children is Fuerte Hoteles. The chain has branches where you can enjoy the best of each area throughout Málaga, in addition to its services. They are also ideal for family living and travelling with children. Its more than 60 years of experience are the best guarantee. Marbella or Torrox are some sites where you can find this amazing accommodation.