Discover theme parks in Málaga for the best family plans in winter
December comes around and with it the aroma of Christmas and holidays. The little ones start their most special break of the year. They leave school behind for a few weeks and now is the time to enjoy, make plans to enjoy some family time and switch up the routine.  Dedicating time to our children and making different and fun plans where they lead the way is a gift for the little ones in the family. However, sometimes we do not know which family attractions are the best for having a memorable day.
One of the ideas that children like most are amusement and theme parks. Spending a day playing, and having lots of fun and laughs are the perfect ingredients for a perfect Christmas day out. There are numerous amusement parks in Málaga, where you can take the kids at this time of year to have endless fun. This is why we have put together a list with different theme parks in Málaga for a very special family day.
Selwo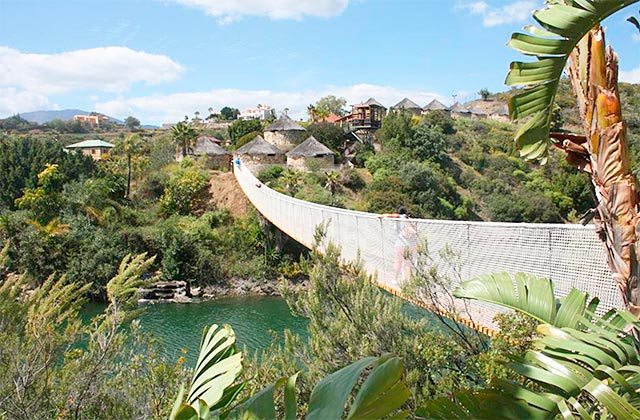 Children and animals have had a special relationship since ancient times. They are passionate about them and what better way to get close to them than at Selwo Aventura in Estepona. It is a theme park with over 2000 different examples of wildlife which live in a manner similar to their natural habitat in semi freedom. Bengal Tigers, elephants, white rhinos and lions are some of the animals that can be found here. This place also organises activities to enjoy a more pleasant way to visit. Across the Costa del Sol, in Benalmádena, you can find Selwo Marina, another park owned by the same company but this time dedicated to sea animals. The penguins are the kings of the place together with dolphins and sea lions.
Bioparc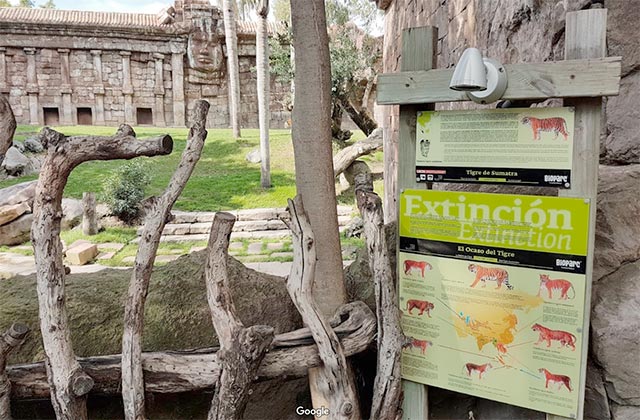 Bioparc Fuengirola is a new zoo concept based on respect for nature and the preservation of its species. The architectural design of the place favours immersion because it immerses visitors in the animal environment. Its 25-metre-high baobab is well-known as one of the world's largest artificial trees. Bioparc recreates habitats from all five continents and, at certain times of year, holds ethnic events that make us forget that we are in the Costa del Sol, transporting us to other parts of the world. The birds and mammals exhibition is combined with monitors in a sort of narrated tale that explores the drive we have to reach other natural places unknown to us.
Crocodile Park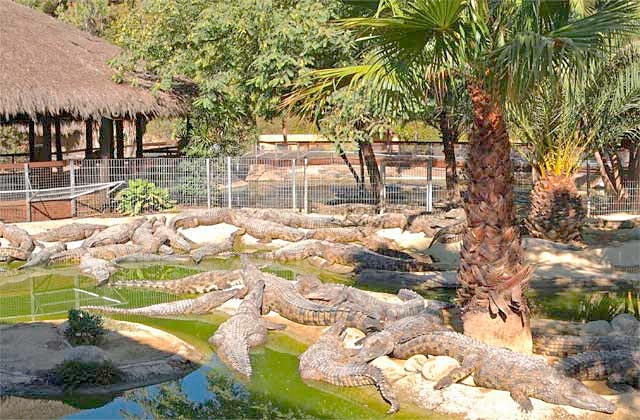 If you want a wild experience with your little ones, go to Torremolinos and visit its Crocodile Park. These reptiles are the absolute stars of this place where children can enter the world of these reptiles. The park also features a media room where you can find out information about these animals. Don't miss the opportunity for your children to be photographed with these animals resting in eight lakes fitted with vegetation from their habitat. An experience for all the family.
Skate Park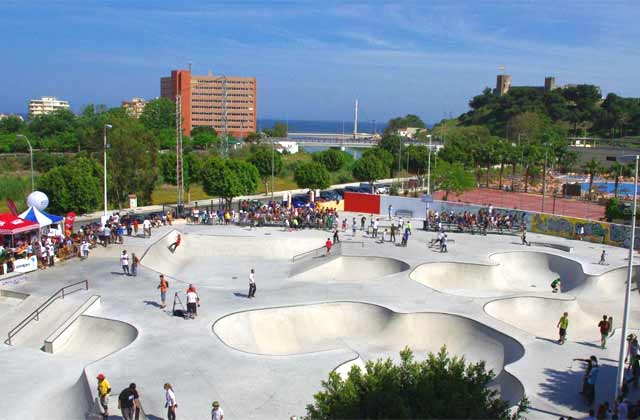 Add fun and sport together in one of the most complete Skate Parks in Spain. In Fuengirola, you will find this place where children and teenagers share their passion for skating. Whether skateboarding, cycling or using inline skates, the facilities here are suitable for doing all kinds of tricks. Different ramps, three bowls and flat decks are some of the elements that make up this area. If you take your children, don't forget they must wear helmets and knee pads, because in an environment like this, it's better safe than sorry.
Lobo Park (Wolf Park)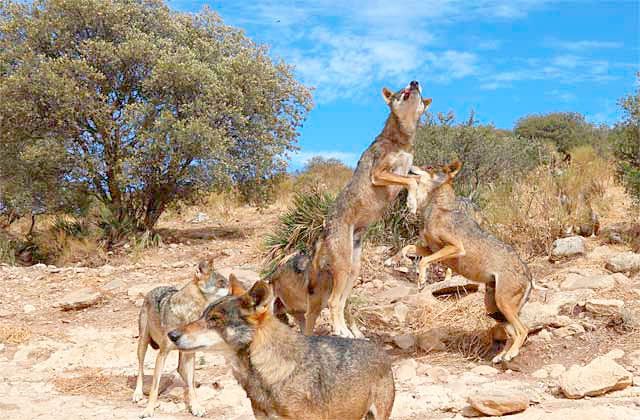 As mentioned above, the relationship between children and animals is very close and so in the province of Malaga there are several parks where they can stay in touch. One of them is located in Antequera and is very special for having an animal which is feared yet loved by children. It's "Lobo Park", a new way of approaching and loving the wolf, this fairy-tale animal. The tour of the park can be done on horseback and from there you can hear the howls and see the beauty of the different races. Kids can learn more about this animal on Lobo Park Farm where, in an entertaining way, they can find out more about this animal and see it living together with other more friendly animals like pot-bellied pigs, ducks and chickens.
Butterfly house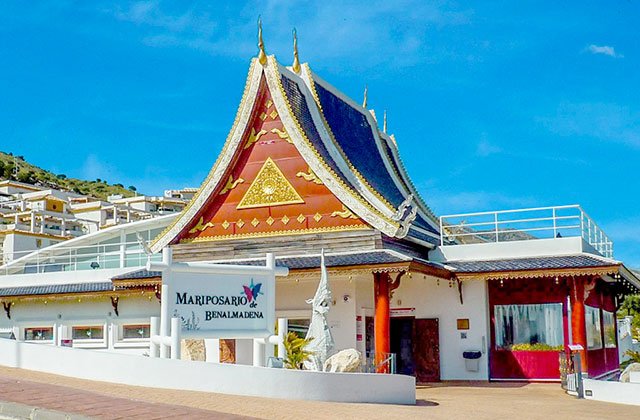 If you want to offer your children an array of colours for their eyes, stop by the butterfly house in Benalmádena. Located next to the Buddhist stupa, this room includes all species of this winged animal. Given that the life expectancy of butterflies is a couple of weeks, the population of this zoo is renewed naturally every fortnight. Take your little ones to this room where they can immerse themselves in a world of fairies. While these small insects flit around children, they can learn about their behaviour and role in nature.
Florentine Carousel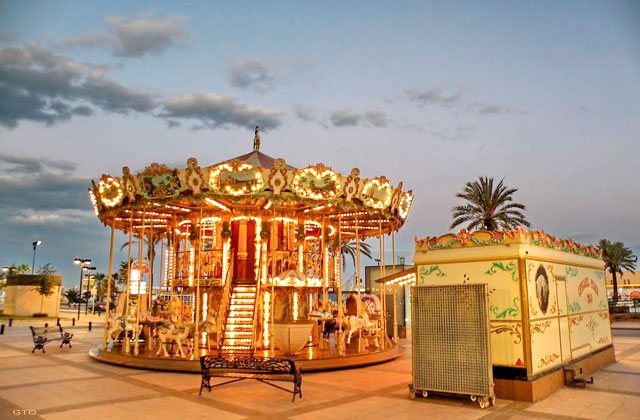 In Fuengirola, there is a nice attraction for your kids, especially if they are three or four years old. This is the Florentine Carousel on the city's boardwalk. The horses and carriages hark back to these typical Italian attractions. Its rococo appearance transports us to a dream world, in great part thanks to the musical accompaniment offered on each ride. A beautiful attraction that will provide you with some treasured photos with your children.
Sea Life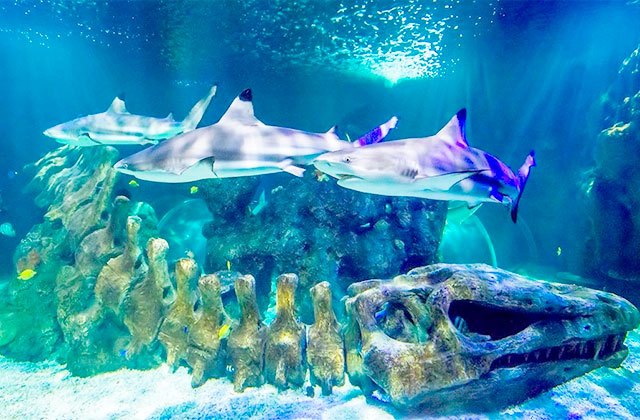 Benalmádena holds an original aquarium in the heart of the Costa del Sol. If you like the underwater world, don't hesitate in coming to this place with your children where they are sure to enjoy the mysteries of the deep sea. One of the most interesting points of this visit is the tunnel which is home to the sharks. If you walk through it, you'll find yourself surrounded on all sides by these feared animals of the ocean. Octopuses are some of the most acclaimed smaller species. This tour is done in an entertaining, interactive and informative way with an accessible audio-visual system.
Sould Park Fuengirola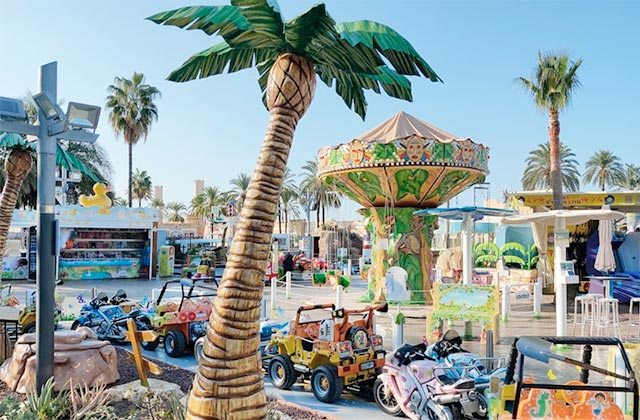 This theme park in Fuengirola has a long list of rides and activities; the little ones in the family won't know what to do first. From trains, scalextric, trampolines, motorbikes and bouncy castles, to duck fishing or drop towers.
One of the most popular parks with families in Málaga, since there are rides and activities for all tastes and ages from two years, and it is located right in Fuengirola port. Sould Park has eating and drinking spaces where you can have lunch or dinner, or take a little break to recharge your batteries. It is the ideal place for little ones, since they can enjoy a multitude of activities surrounded by family and friends.
This famous park located on the Costa del Sol is the perfect place to celebrate birthdays, in addition to being a perfect option for a family Christmas day out.
Tips
Aventura Amazonia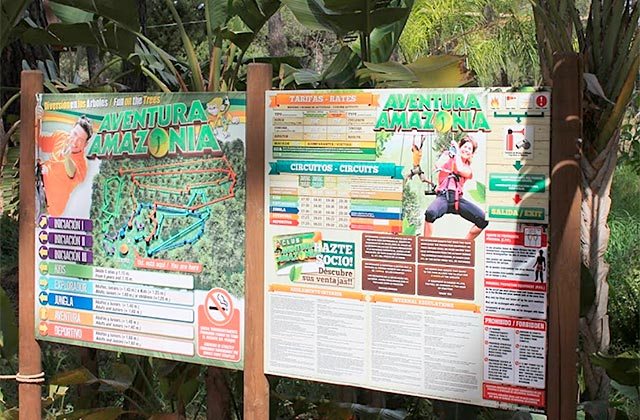 One of the best options for spending some family time is nature. A natural setting always offers a multitude of possibilities and that is something that Aventura Amazonia is well aware of. A park in the middle of nature and very close to the beach in Marbella, where you can enjoy a day of adventures that you and your little ones will never forget.
Different adventure circuits and the biggest zipline amidst trees in the whole of Andalusia.
If your family is into adventures and likes to be surrounded by nature, this Marbella adventure park is a must on those days when children have their Christmas holidays.
Tips
Funny Hill Kart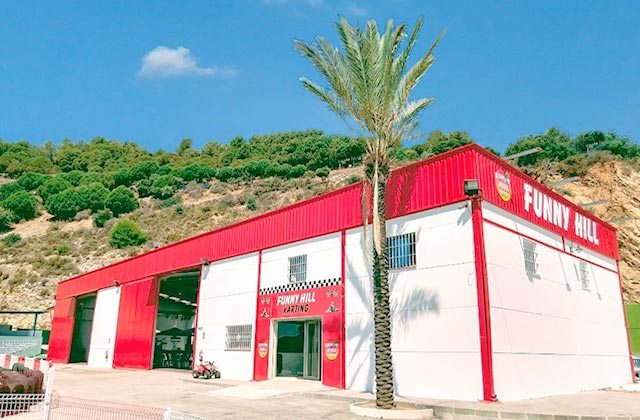 Many boys and girls are big fans of cars. This is why this Christmas we suggest surprising the little ones in the family with a day of go karting.
Funny Hill Kart in Marbella is one of those places where many children fulfil their dream of driving a car on a track. What's more, this park offers more different activities in case your children prefer trampolining, riding bumper cars or ball pits, riding the kiddie train, or having a virtual experience as a true racing driver. Yes, this go karting park gives you the chance to be your favourite driver for a few moments and feel the adrenaline of this sport. We think Funny Hill Kart is an amazing option, where all the members of the family can enjoy themselves and have a great day to remember.
Tips
VR Fun Málaga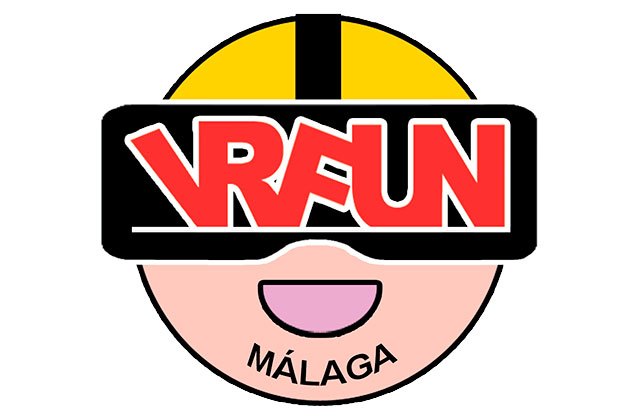 Being a space pirate, fighting zombies or reaching the bottom of the seabed seems like mission impossible. However, your children get carried away by their imagination and are able to envision fantastic worlds with all types of scenarios. Well, you can now offer them those scenarios to experience as if they were real. VR Fun is a virtual reality park in Málaga, where little ones and not so little ones come to virtually experience zombie attacks, attacking a castle, adopting an electronic dog or enjoying an escape room with different levels of difficulty. This park offers boys and girls a multitude of virtual realities, where they can choose and experience using a computer that simulates their perfect scenario.
If you want your children to have a super different day and experience virtual reality first-hand, with endless possibilities and quality simulations, this is without a doubt an exceptional option for those little ones who enjoy the most fantastic scenarios.
Tips
Reservatauro Ronda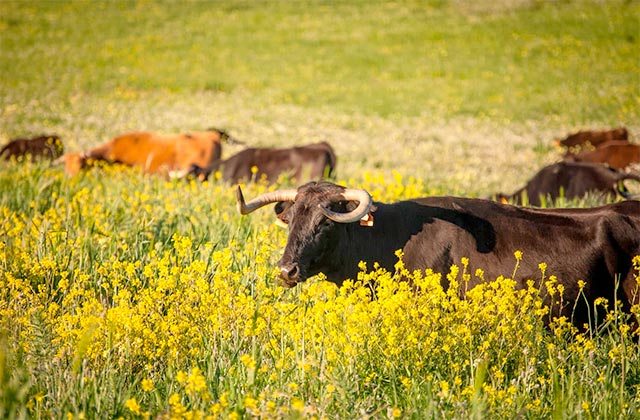 There are many plans to make in Málaga province during the Christmas holidays. And the best thing is there is something for all tastes. Here we propose a plan for animal and livestock lovers. If your family loves visiting animals, finding out how they live and are raised, then Reservatauro Ronda is the ideal setting for this. This space in the middle of the Ronda nature is famous for spending a day surrounded by your loved ones while they visit horses and wild bulls, and learn about how they are raised and how livestock farming works. It is the ideal setting in a Mediterranean meadow where you can have guided tours.
Reservatauro offers different tours for all ages, where the littlest ones and lovers of these animals can also learn more about them, while they enjoy a day in the country. You also have the chance to try some of the most characteristic tapas of the mountain region or take private tours, should you so wish. We think that a day in the country, surrounded by your family and animals, is without a doubt a perfect option for the Christmas holidays.
Tips
Beach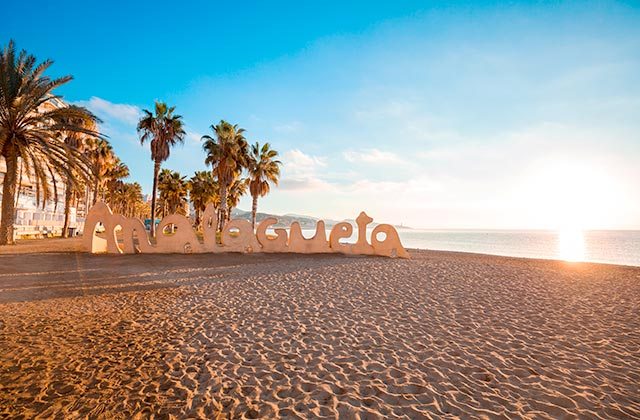 One of the most important leisure spots for children in the province of Malaga is, without doubt, the beach. The long Malaga coast offers children the chance to play and enjoy themselves at any time of year. There are areas designed for sport and for rest. There is no better way to encourage creativity and family activities than building a sandcastle. An excellent way to have fun with your children in a natural setting.
Now that Christmas is coming, don't hesitate in offering your kids activities that they will never forget. They will learn and have fun at the same time. Contact with animals is also very rewarding for them and for you, and don't forget that this time of year should be enjoyed as a family.
Have a good time with your children and visit the top playgrounds in Málaga
ACCOMMODATION
The best option to stay in the province of Málaga and to see its parks up close with your children is Fuerte Hoteles. The chain has branches where you can enjoy the best of each area throughout Málaga, in addition to its services. They are also ideal for family living and travelling with children. Its more than 60 years of experience are the best guarantee. Marbella or Torrox are some sites where you can find this amazing accommodation.