Enjoy the winter at Sierra Nevada. We give you 10 essential points you must know
Each time of year has its own charm. Winter, apart from its low temperatures, brings one of the phenomena most eagerly awaited by many: Snow. Andalucia has one of the major snow fields in Spain: Sierra Nevada, expectantly overlooking the beautiful city of la Alhambra. Here, and up to Granada, thousands of ski amateurs and professionals travel every year. Do not hesitate to make a short trip to this snow station, and enjoy all it has to offer. We give you 10 essential points you must learn about Sierra Nevada.
1. Ski Lessons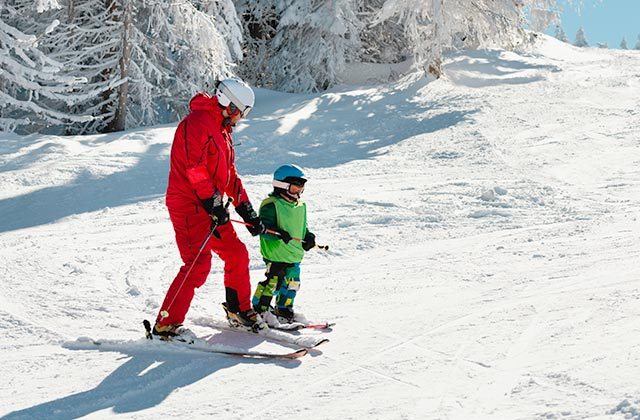 If you don't know how to ski, don't worry! At Sierra Nevada you can learn what you want about the white sport, either with private instructors or in group lessons. Previous knowledge is not a problem: don't let this prevent you from having a fun snowboard or ski session. You can only improve, and there are slopes adapted to different levels. If you visit Sierra Nevada you can start your ski adventure in a privileged environment, so: keep your balance and let yourself go into a world of sensations.
2. Equipment Rental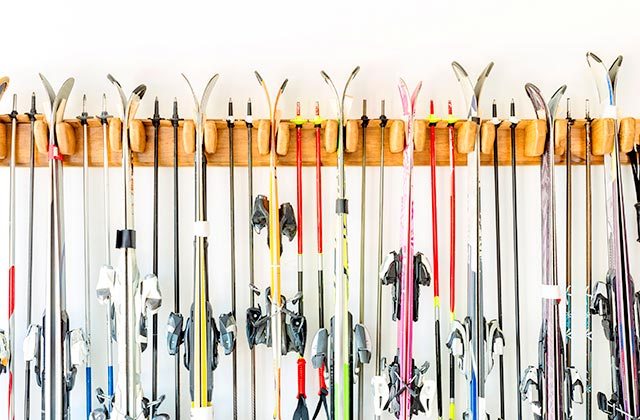 Skiing at Sierra Nevada does not mean spending money on equipment. Some ski gear are quite expensive, but you have the option to rent them. Who knows, if you like the experience and plan to ski often, you can then make an investment; but in the meantime, you have nothing to worry about. Besides, you can even book your equipment on the Internet. The comfort offered by Sierra Nevada to those without prior knowledge of this sport, and involving equipment rental, can be found in the "Borreguiles" (Newbies) area, a slope for beginners, so you don't have to carry your equipment over a long distance.
3. Ski Passes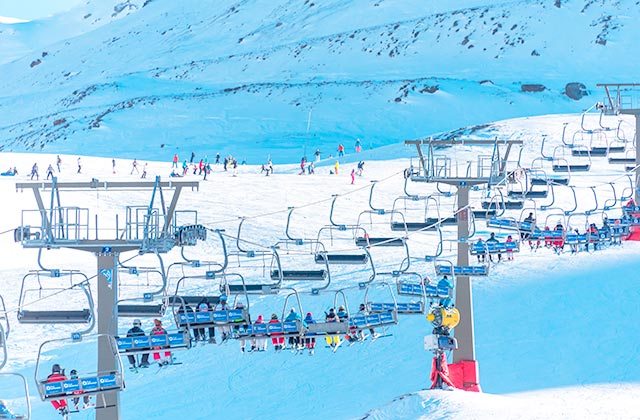 If you want to ski, what you need is a "pass", meaning a permit to use the slopes. You can choose from one-day, several days, weekly, long-term or season passes, depending on your interest and the number of times you wish to repeat the experience. There are also tickets which you can use in different Spanish ski stations. You must consider this and not forget your pass. Anyway, you can still enjoy non-skiing snow in the lower hill areas.
4. Night Skiing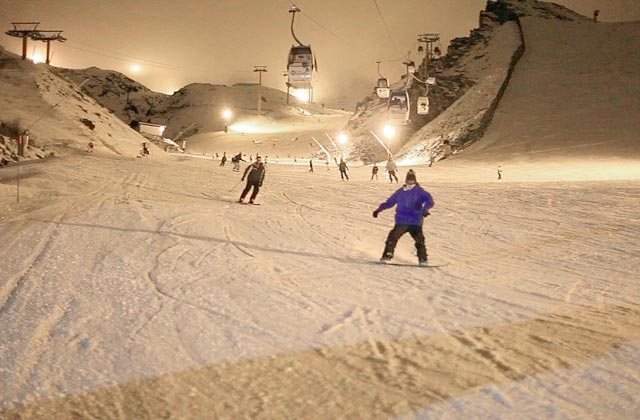 Sierra Nevada offers you the experience of skiing under the stars. The illuminated "Río" slope allows us to practice this sport at night, which involves a unique mix of sensations. The tour stretches from the "Borregulies" up to the "Pedrollano" area. This time, there are many activities prepared for you. One of the most interesting is the "Star Observing Workshop", and the bonfire at the foot of the cable car for light purposes. If you don't feel like putting on your skis, you can simply take a stroll around this place and enjoy the contrast between ice and fire.
5. Cycling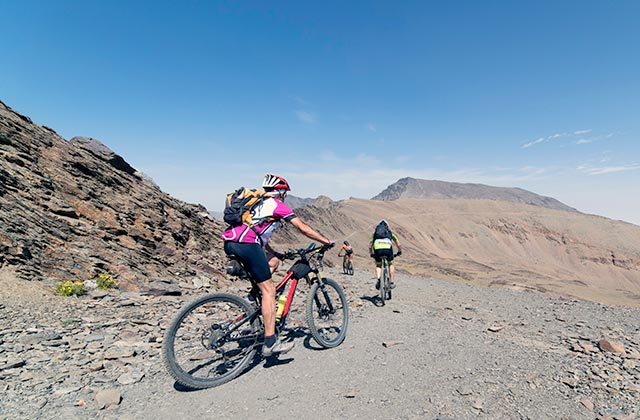 The way up to Sierra Nevada is a very famous mountain pass among cycling tourists. The ascent can be quite physically demanding, so, if you decide to do it you must be well-prepared. You can go up through many different slopes; the most well-known are Monachil and Güéjar Sierra. This pass is really popular, and on many occasions it was selected as the final stage for the Cycling Tour of Spain. If you do not have a mountain bike, you can rent one at the ski station.
6. Trekking
Apart from ski and snowboard, Sierra Nevada offers many more sport options. One of them is trekking. This widespread practice can be carried out in this beautiful white field, through signposted routes especially adapted for this purpose. There are many alternatives, but the most famous are "la Vereda de la Estrella" and the "la Ruta Sulayr". If you decide to go trekking, do not forget to put on warm clothes and, particularly, to wear appropriate snow-friendly footwear.
7. Russian Sleigh Ride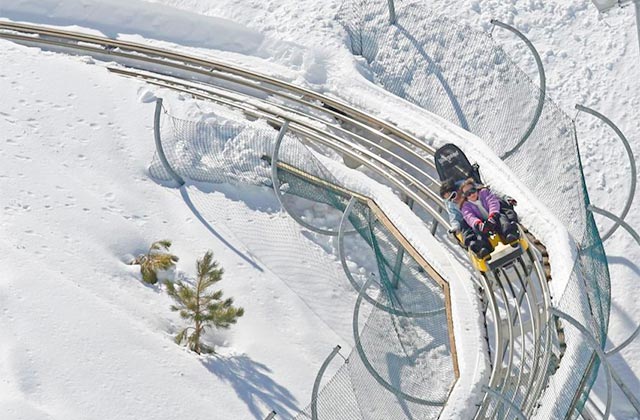 Sierra Nevada offers a wide range of leisure and fun activities. One attraction is the "Russian Sleigh Ride", to be enjoyed by adults and children. This sleigh-based vehicle runs along rail lines, and you can control its speed via control commands. The downhill stretch is 550 meters, and maximum speed is 40 kilometers per hour. This activity will surely amaze your children, allowing you to enjoy an adrenaline rush in a safe and efficient manner.
8. Family Holidays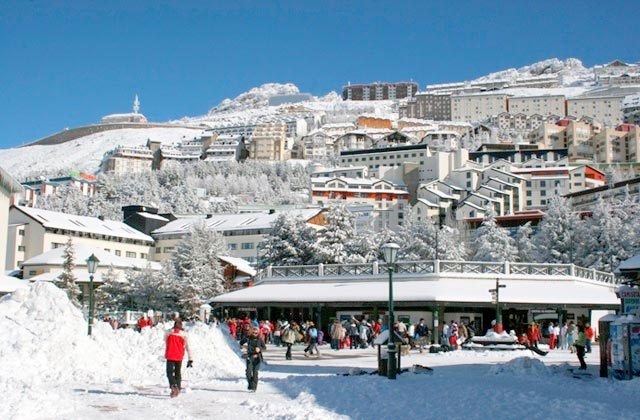 Without a doubt, the best way to travel to Sierra Nevada is with friends and relatives. Apart from all the options offered by this ski station, you can take pleasure in a beautiful snowy landscape, and its rich flora and fauna. A common typical snapshot is parents and children making snowmen, or simply sliding on plastic boards down the slopes. Sleight tournaments, snowball battles, and many other things you cannot miss for an unforgettable family day.
9. Snow with Sea Views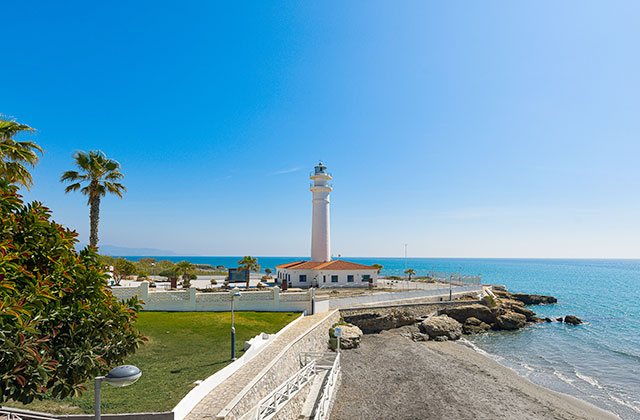 Sierra Nevada has a prime location, bringing you closer both to the snow and the sea. You can spend your day skiing, snowboarding or riding on a sleigh; and, when the sun sets, you can have a fine dinner by the beach, enjoying a more pleasant temperature, and you can even go swimming in the sea on the following day. All of this is possible because, at a 1-hour distance, there is Torrox, a small Malaga seaside town with the best weather in Europe. An explosive mixture that allows you to choose whatever you want to do at each moment.
10. People with Disabilities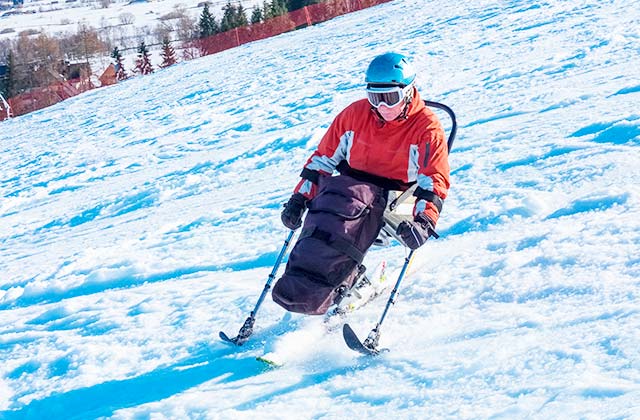 People with disabilities or with reduced mobility should not miss this experience in Sierra Nevada. For this reason, the organization has strived to remove the existing architectural barriers and adapt the ski station to the fullest in order to suit the needs of this particular group. There is a diagram of entrances available, and specially adapted toilets and ski gear. This allows for equality of opportunities, so that we can all enjoy together such a special and unique snow field as is Sierra Nevada.
Interesting Facts About The Sierra Nevada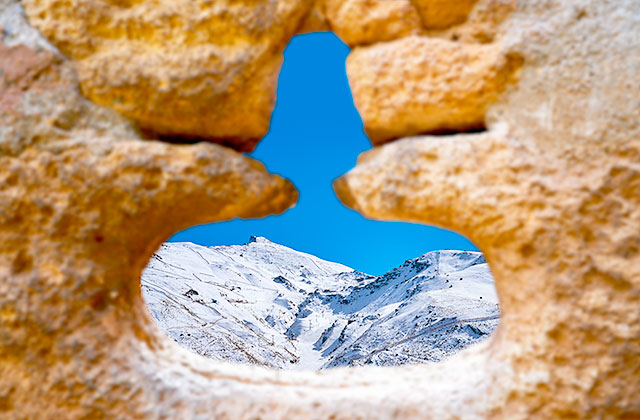 From the Sierra, you have the perfect view of Africa
On clear days, you can spot the mountains of Morocco.
Biosphere Reserve
The Sierra Nevada was declared a "Biosphere Reserve" by UNESCO in 1986.
The highest peak of the Iberian Peninsula
The Mulhacén peak is the highest point of the Iberian Peninsula, at a height of 3,481 m.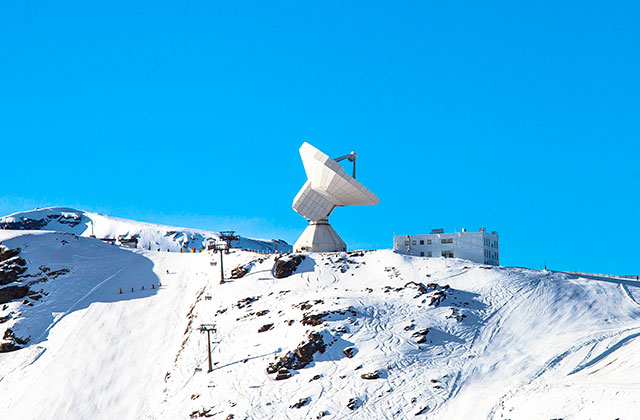 Europe's most southerly ski resort
The only ski resort in southern Spain, it has 125 slopes, making up a total of 126.8 km.
In Sierra Nevada, there's a giant radio telescope.
On the Loma de Dilar, at an altitude of 2,850 m, there's a 30 m single-dish telescope dedicated to the study of cold matter, both in the Milky Way and in other galaxies.
Dreamlike starry nights
The peaks of the Sierra Nevada, free from light pollution and right in the heart of nature, are the perfect place for astronomical observation with the naked eye, and astro-tourism in general.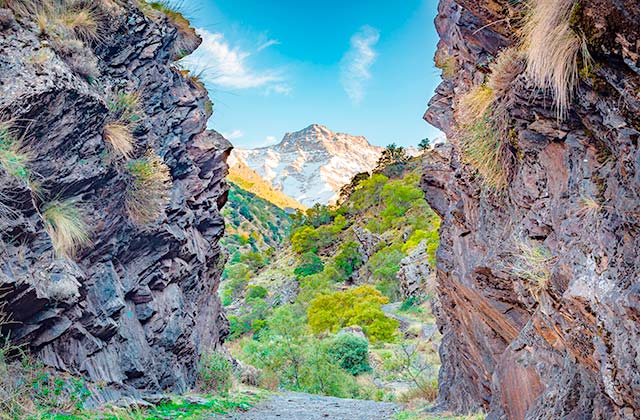 Natural Park and National Park
In the Sierra Nevada, you'll find multicoloured forests and a microclimate all to itself. It also has more than 200 species of endemic insects and more than 2,100 plant species.
Go on a short trip to this magnificent site in Granada, and enjoy all it has to offer. Remember, it's not only about enjoying snow, but also the advantages of its prime location, and its gastronomy, not to be missed. Sierra Nevada is the ideal destination for this winter, and for any time of the year.
WHERE TO STAY
The best option for staying in Costa del Sol, enjoy the Mediterranean Sea and make the most of the snow is undoubtedly, Fuerte Hoteles. The chain has places where you can, in addition to its services, enjoy the best of each part of the region. 60 years experience are the best guarantee. Marbella and Torrox are some of the sites where you can find these amazing hotels, an exceptional starting point for your private tour to Sierra Nevada.