15 of the best surfing beaches under the andalusian sun
The best surfing beaches in Andalusia are on the Cádiz coast. Beaches like Los Lances in Tarifa, de Caños de Meca in Barbate or La Fontanilla in Conil are famous among surfing lovers.
During the summer period, some of these Cádiz beaches only permit surfing outside bathing times. Summer is also when the waves are suitable for beginners. Perfect waves for experienced surfers usually occur in winter.
There are also amazing surfing beaches on the coast of other Andalusian provinces. Beaches in Málaga, Huelva and Granada are frequented by surfers of different levels. Places with perfect waves for beginners, more advanced surfers and experts.
The Andalusian coast is full of surfing and other water sports schools, so you won't have a problem if you want to learn to surf in Andalusia. These schools are usually located on beaches with perfect waves for beginners. This is the case with Playa Punta del Río in Salobreña, which usually has waves every day that are suitable for beginners.
We invite you to discover 15 of the best surfing beaches in Andalusia.
1. Cabopino Beach, Marbella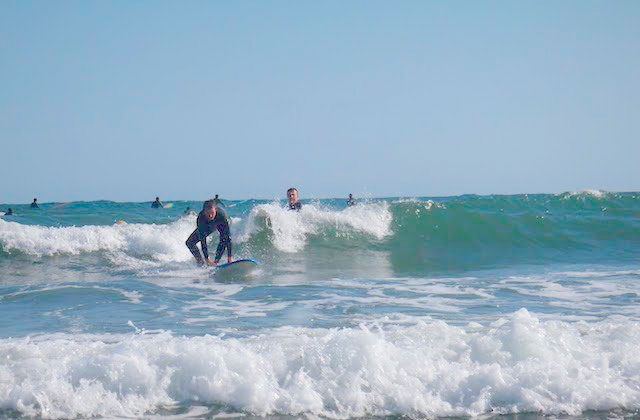 Cabopino beach is the perfect beach to practise surf and for beginners to want to get better at it. The waves are moderate and the place has schools in the city that teach you all the tricks to be able to learn. It is ideal if you are travelling with kids, so that they can also have fun with their surfboard. You will also have the opportunity to play the sport of the moment: paddle surf.
2. Santa Amalia Beach, Fuengirola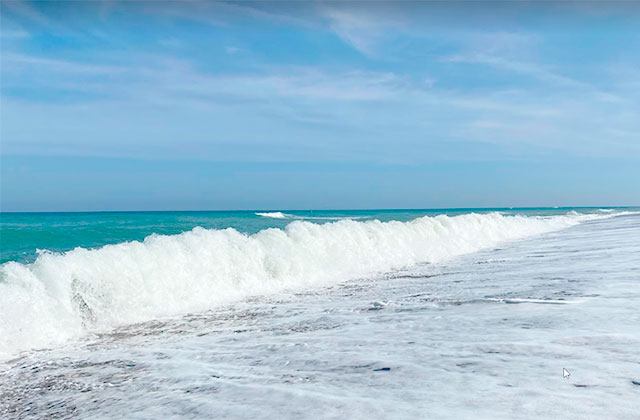 Surf has a fixed settlement in Costa del Sol all year round: Santa Amalia beach in Fuengirola. Surf lovers travel to this town to do their best. The colourful surfboards under the water creates incredible images in a place you cannot miss if you really love surf. Besides, there are shops which specialise in this sport at the promenade, where you will be able to find everything you need. Will you come?
3. Los Lances de Tarifa Beach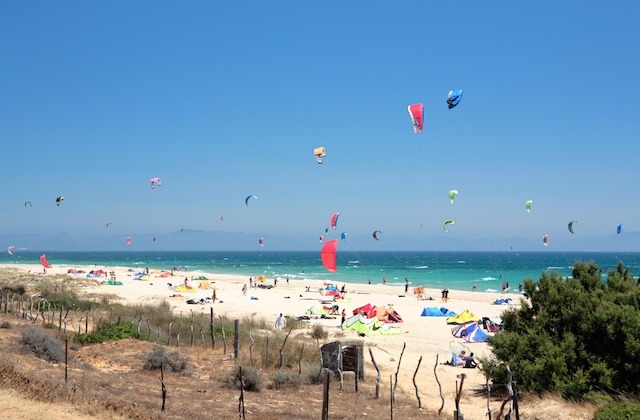 Los Lances de Tarifa is a beach located between the Atlantic Ocean and the Mediterranean Sea, a unique place to practise surf. Only 14 kilometres away from Africa, this part of the coastline turns into a never ending pilgrimage of surf lovers from around the world. The strong wind blowing in the area creates high waves, which is perfect to try the different surf moves. If you love surf and would also like to see beautiful scenery, don't think it twice and come to Tarifa.
4. Bateles Beach, Conil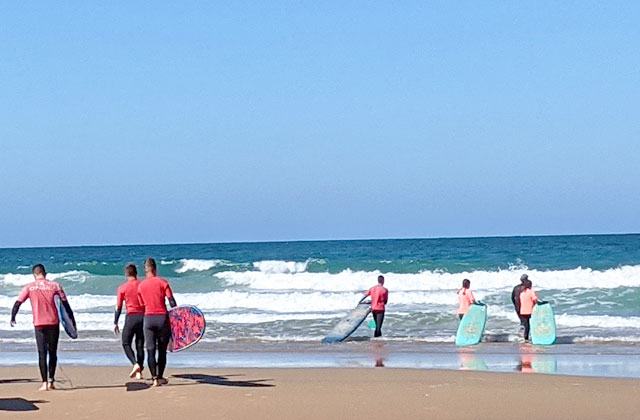 Beaches with thin sand and waves are everyday things in the coasts of Conil de la Frontera. To practise surf there is nothing better than Los Bateles Beach, where the waves will let you reach the sky. Around the area there are several schools that teach this sport so that all the beginners who have not yet started surfing can acquire the necessary skills to get into the exciting world of surf.
5. Cortadura Beach, Cadiz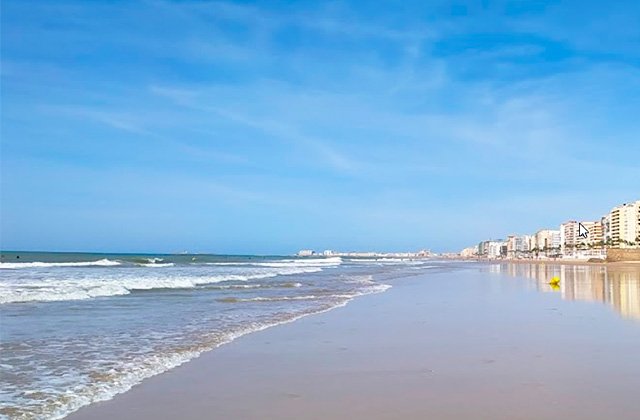 The coastline of the capital of Ccadiz is a great place to have your first contact with surf, since the waves there are soft and the beaches are not dangerous, since the sea floor is sandy and generally there are no currents. Cortadura Beach is the perfect place, where you can also enjoy and view some wild vegetation. The best conditions imply medium tides and northern winds. If you want to start practising this sport, you know the place to go.
6. Atalaya Beach, Estepona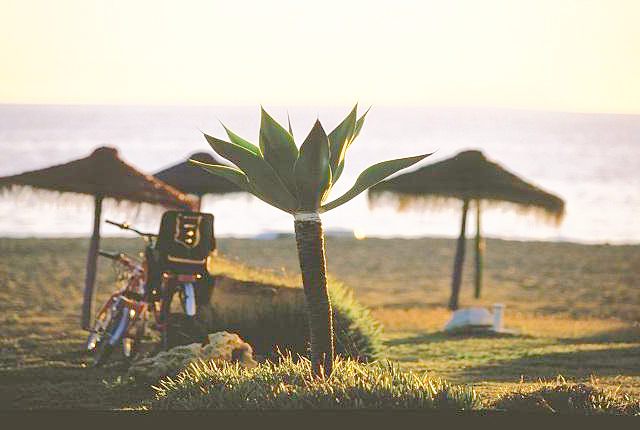 Apart from having an impressing historical centre, Estepona has a varied coastline for everyone. From those who wish to go to the beach to relax, families to those who want to practise water sports. It is exactly in Atalaya beach where you can do all these sport activities, such as surf. Many young people visit this area in order to make the most of the best waves in the Mediterranean.
7. Yerbabuena Beach, Barbate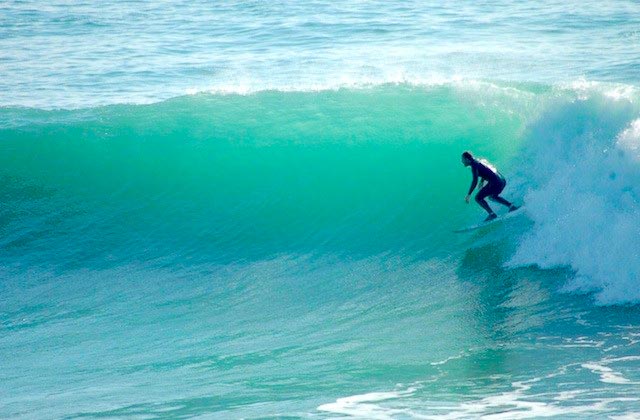 Surf in Costa de la Luz is famous worldwide. Located in the province of Cadiz, especifically in Barbate, Yerbabuena beach is perfect for surfers. The wind raises the waves while the colourful surfboards leave beautiful images on the surface of the sea. Visit this beach if you like the sport and the local food, a wonder almadraba red tuna is the perfect meal to recover the energy you spent practising surf.
8. El Palmar Beach, Vejer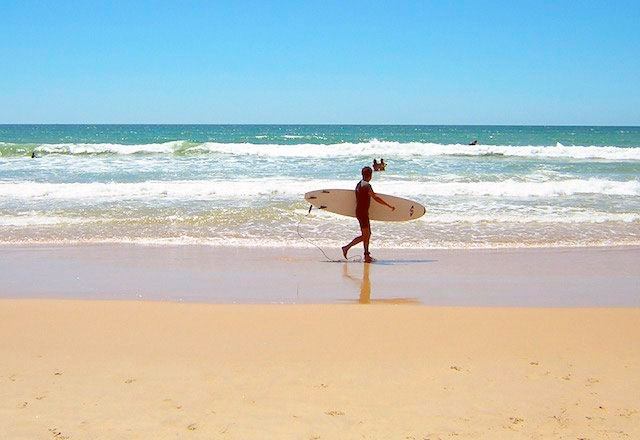 Surfing in Ccadiz has its own name: El Palmar. This beach located in Vejer de la Frontera has waves of almost three metres, and is also the largest meeting point for Spanish surfers. In fact it always appears in the lists of the best beaches in Spain if you want to practise the sport. If you like this atmosphere and you want to enjoy surfing, come and visit El Palmar. The culture of surfing is rooted in this town, and many bars and shops have become experts in the activity.
9. Punta Umbría Beach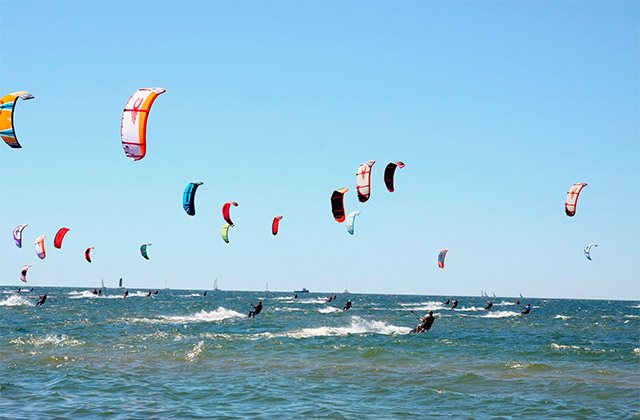 The coastline of Punta Umbría is ideal to practise surf, in fact many competitions are held here throughout the year, including also bodyboard contests. The strong winds of the Atlantic Ocean and its general weather conditions turn this place into a perfect meeting point. Besides, there are several beach bars and bars in the area, visited by surfers and a fantastic atmosphere.
10. Mazagón Beach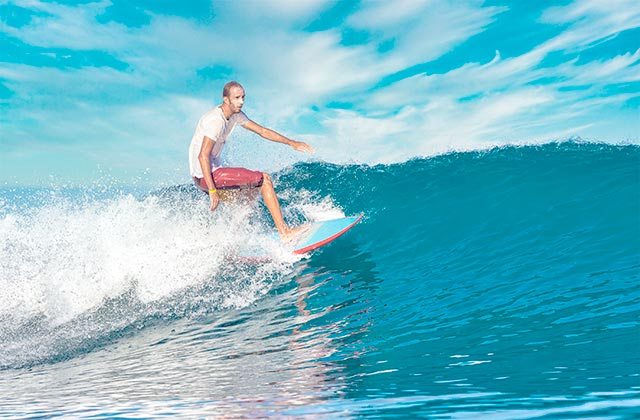 Mazagón is very popular due to its large beaches and the pine trees that protect it just next to Parque de Doñana. Surfers from all over Spain visit this site to make the most of its waves and let their bodies in each acrobatics. Bathed by the Atlantic Ocean, this beach has a fantastic atmosphere. Also, as it is located in the province of Huelva, there is nothing better than regain energy after surfing by having some of the traditional prawns.
11. Beaches in Caños de Meca, Barbate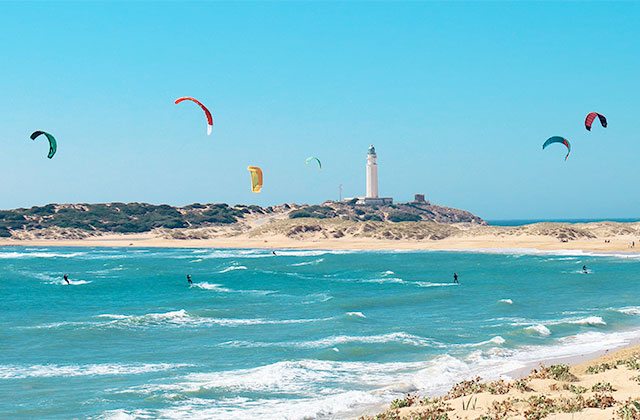 Caños de Meca has some of the best surfing beaches in Andalusia. Rocky with several types of surfable waves very close to the shore. They are perfect beaches for mid- and high-level surfers, but are not suitable for beginners.
12. Playa del Carmen, Barbate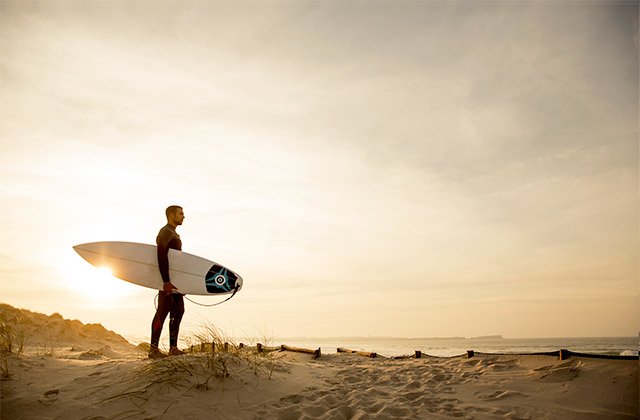 In the area near the mouth of the River Barbate of the municipal urban beach. Sandy, without currents and with long, gentle waves, this beach is a good option for beginners and mid-level surfers who want to surf in Andalusia.
13. Playa de la Fontanilla, Conil de la Frontera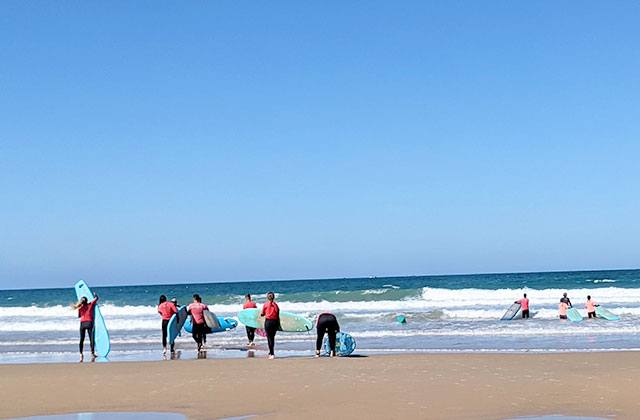 Playa de la Fontanilla in Conil de la Frontera is very well known among the best Andalusian surfers. It is where the score tests for the Championship of Spain have been held for years.
Its cliffs protect it from the wind and it offers good right and left peaks. It does not often have tube waves.
In summer, surfing is only permitted outside of bathing times. It is one of Conil's main urban beaches.
14. Playa Punta del Río, Salobreña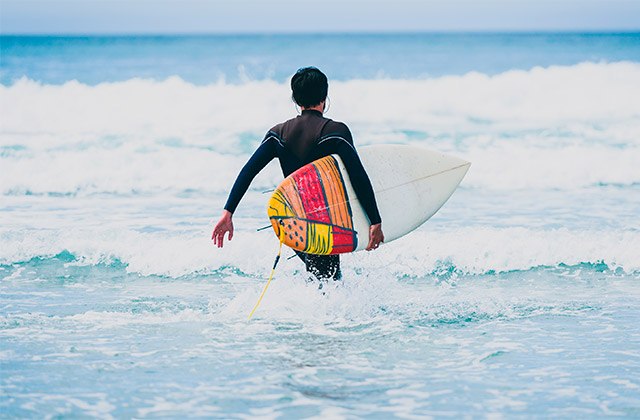 Playa de Punta del Río is one of Costa Tropical's surfing points. You will find it in a hidden corner on the coast of the municipality of Salobreña, on the boundary with Motril.
It is a shallow beach located at the mouth of the River Guadalfeo. Perfect for beginner and mid-level surfers. The waves do not usually rise higher than one and a half metres and break very close to the shore. Also, there are waves almost every day of the year. Waves for expert surfers usually occur less frequently.
15. Playa de la Chucha, Motril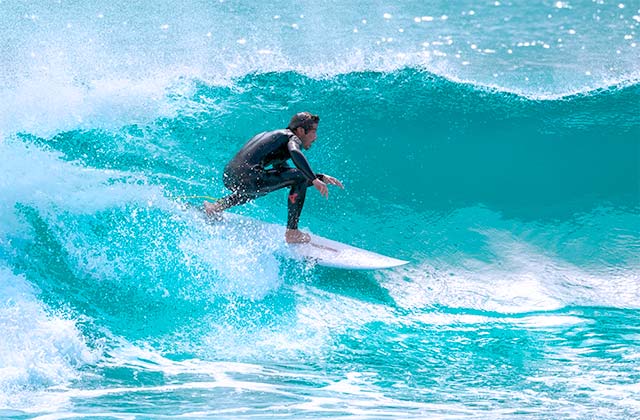 Playa de la Chucha is another point in Costa Tropical that is perfect for surfing. It is located in the municipality of Motril. If offers waves of mid- to high-level difficulty; tube waves like the famous Hawaiian ones.
What are the best beaches in Andalucia?
Top Beaches on the Costa de la Luz
The best Costa del Sol beaches
WHERE TO STAY
If you want to practise surf in Andalucia, stay in the best hotels. The best option certainly is Fuerte Hoteles. The chain has places where you can, in addition to its services, enjoy the best of each part of Andalucia. More than 60 years of experience are the best guarantee for taking the time to pactise surf. Marbella, Conil, El Rompido or Torrox are some of the sites where you can find these amazing hotels which are close to the beaches we recommended.