What are the best beaches in Andalucia?
09One of the main characteristics that marks the difference between Andalusia and other tourist destinations is the quality of its waters. Andalusia beaches are formed to the east by the Mediterranean Sea and to the west by the Atlantic. The light on Cádiz beaches, thevirgin state of the Huelva coast, the wonderful cliffs and coves of the Malaga coast and the radiant colour of the Granada coast.Being alone with just one of the wonderful Andalusian beaches is practically an odyssey, since each one has a special and particular charm. Nonetheless, we are going to try to take you on a tour of the 20 best beaches in Andalusia. Enjoy!
The best beaches in Andalucia
Playa de Bolonia, Tarifa (Cadiz)
This is considered one of the last virgin beaches in the southern Iberian Peninsula. It stands out for its crystal clear waters and fine white sand. Located in the municipality of Tarifa, from its shores you can make out the Moroccan city of Tangier. It has one of Spain's most important natural monuments, the Bolonia Dune. It has some of the best ratings on TripAdvisor and is only a few feet away from the Roman site of Baelo Claudia. An unbeatable place if you want to spend a few days in the sun and swim in clean heavenly waters.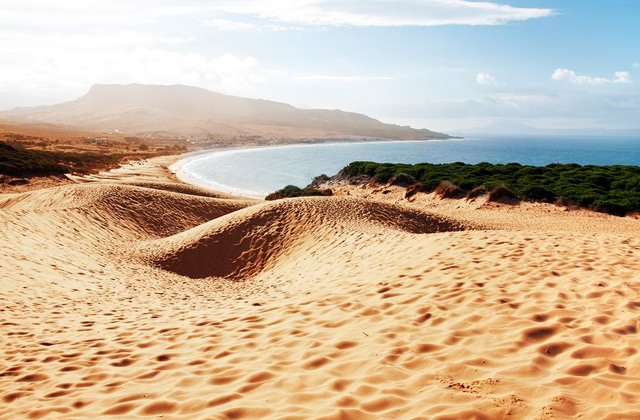 Playa La Barrosa, Chiclana (Cadiz)
The municipality of Chilana de la Frontera is home to one of the beaches best rated by reviewers on TripAdvisor, La Barrosa. The Sancti Pietri Castle is visible from its shores amid intense blue waters. This area gets an average of over 300 days' sunshine a year, making it a fantastic tourist destination whenever you visit. Don't miss this corner of the Costa de la Luz, where the particular landscape and its native vegetation will help you to escape the world for a few hours.
Zahara de los Atunes (Cadiz)
This beach is one of the most famous in Spain and the ultimate destination for Spain's politicians and celebrities. Its origins come, as its name indicates, from tunny fishing, since it is one of the most important tunny fisheries in Andalucia. The sunsets that open up the African continent and its natural mud which is perfect for skin treatments are two of the characteristics that make this place stand out. Reviews on TripAdvisor have rated it as one of the most important beaches in Spain and if you want to rest and enjoy nature, make sure to pay a visit.
Playa de El Rompido (Huelva)
Don't forget your camera if you travel to El Rompido, since you won't want to ever forget the image of this bewitching coast located in Cartaya, Province of Huelva. The virgin vegetation, dunes and pine groves that accompany it make this spot a fantastic place to come for the peace and quiet we all need to disconnect from daily life. One of the distinguishing features of this coast is what is known as Flecha de El Rompido (El Rompido Arrow), a unique sand formation that opens out into the Atlantic Ocean like a tongue from a virgin beach that can be accessed by boat.
Playa de Maro in Nerja (Malaga)
This beautiful cove, located in the Malagan municipality of Nerja, is one of the best rated in Andalucia. Its cliffs and rocky formations give it a wild look that bewitches all who visit it. This very romantic place is bathed in the waters of the Mediterranean Sea so, if you want to spend a few days in the sun, make sure you pay a visit. Surrounded by beautiful typical Andalucian villages, the most spectacular of which is Frigiliana, its dark sand gives it an Arabic atmosphere. Don't miss this fantastic place that enriches this part of the Costa del Sol.
Playa de Cabopino in Marbella (Malaga)
This fine sandy beach is one of the most famous on the Costa del Sol, where part of it is used by nudists. If you want to swim in the Mediterranean waters and feel the fine sand against your skin, you must visit this coast, which will free you of your problems. Located in a protected natural zone, it is home to the Artrola Dunes. This place offers an exquisite opportunity to read a good book in the sun surrounded by this unparalleled natural spot.
Playa de Carvajal in Fuengirola (Malaga)
At the end of the Fuengirola promenade is its most singular beach, Carvajal. This part of the coast is urbanised, which is why you can drink a cool beer while you enjoy the sea. Its fine golden sand is another of its most outstanding attractions. This beach is ideal for families since you can swim for a long way without the water getting too deep, making it ideal for little ones. Do try to visit this enclave of the Costa del Sol. It's a great place for some rest and relaxation.
Playa de Isla Canela in Ayamonte (Huelva)
Located in the district of Isla Canela in Ayamonte, this beach encompasses the border with Spain's neighbour Portugal. Its golden sand is bathed by quiet refreshing waters from the Atlantic Ocean, which can be enjoyed under the sun in this fantastic landscape. Its surroundings are home to salt marshes, water channels, sandy spots and dunes that give it a personal character. Not to be missed if you want to enjoy a magnificent Andalucian beach.
Playa de Punta Umbría (Huelva)
This beautiful urbanised beach lets you enjoy the sea at the same time as a drink or appetiser at one of its refreshment stalls. If you're a sports lover, you can windsurf and paraglide in this area. This extensive zone is home to natural riches with three protected spaces: the El Portil Lagoon, Enebrales de Punta Umbria Natural Landscape and Odiel Salt Marshes, a natural spot declared a Unesco Biosphere Reserve. This place majestically combines peace and quiet with a wide range of services.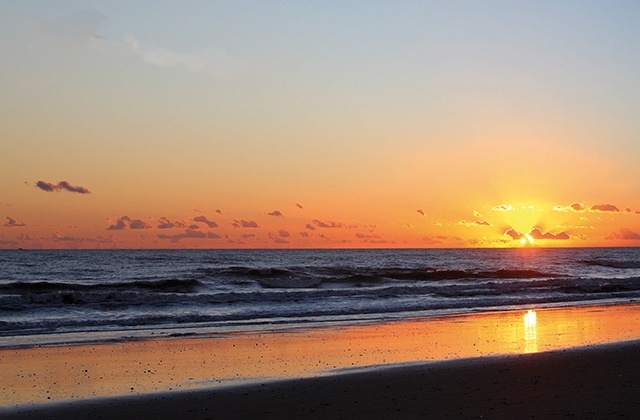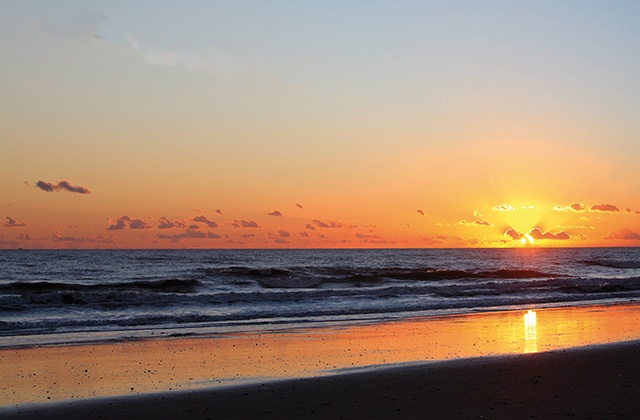 Playa de La Rada, Estepona (Malaga)
This beach is one of the most popular on the Costa del Sol. Given the Q for Quality award and the Blue Flag on several occasions that certify its hygienic and environmental conditions, this part of the coast has an exceptional supervision operation and is steps away from the main streets of Estepona. An intelligent way of combining the services offered by a city with a few hours relaxing in the sun, If you travel to Andalucia, don't miss this area with its warm water that will leave you with the best memories of southern Spain..
Playa El Palmar (Cadiz)
Palmar Beach is located in Vejer de la Frontera, in the province of Cadiz. This is an excellent beach about 8 kms in length and an average width of about 50m. The sand is fine and golden and the water is very clean and shallow. It is one of the few remaining unspoilt beaches along the coast of Cadiz, Andalusia, as there are no developments nearby and the area offers amenities not usually found in a beach town. It is a very quiet beach and is separated in many of its areas by natural dunes.
Take special care to enjoy its beautiful sunsets with deep reds reflecting against the sea.
Flecha El Rompido (Huelva)
The reputation of the beaches in El Rompido is undisputed: the sand spit that stretches between the Atlantic and the River Stones is considered one of the most precious jewels of Spain's study of natural organism and their relationship to their natural surroundings. Known as La Flecha del Rompido, its fine golden sands and gentle waves allow moments of total relaxation in a way you may have never experienced before. The dunes, pine forests and long beaches help create one of the most charming landscapes of the Costa de la Luz.
Calas de Roche (Cádiz)
The Calas de Roche is a series of small coves that lie between the port of Conil and the Roche urbanization. They are characterized by rocky beaches and beautifully, impressive reddish cliffs. They are coves that run between them when the tide is low.
These very private coves offer incredible beauty, especially at the end of the day when you can admire the beautiful sunsets. This view makes the beach an especially popular destination during the summer months when couples arrive seeking tranquillity and a chance to enjoy the impressive natural environment.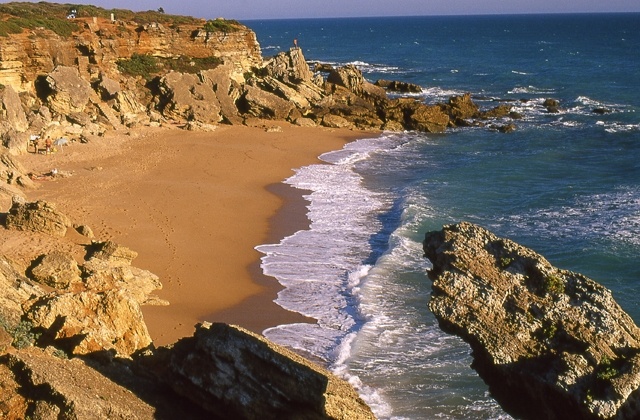 Doñana Beach Park (Huelva)
Sixty Miles of Beach – this is what can be found on the shores of the Natural Park and the Doñana National Park. While the Doñana National Park beach is restricted between Mazagon and Matalascañas, you can enjoy the virtually untouched beaches and open access on the coastline that runs along the Doñana Natural Park. Among them, you'll find the Torre del Loro beach, which owes its name to the remains of an ancient watchtower, running about 3 km of fine golden sands. There you can enjoy spectacular golden cliffs and a brisk sea. Access is quite simple and you can find collections of shrubs and even water from a small stream.
Caletilla, Almuñécar (Granada)
Almuñécar is practically the capital of Costa Tropical. Its coastline covers 12.4 miles of coast, so here you can enjoy around 30 beaches, of which Caletilla stands out in our opinion. This beach is located between El Peñón del Santo and Puerta del Mar Beach. It is a narrow strip of dark sand and gravel that is 49.2 feet wide that extends for around 787.4 feet. Its waters are calm and crystal clear.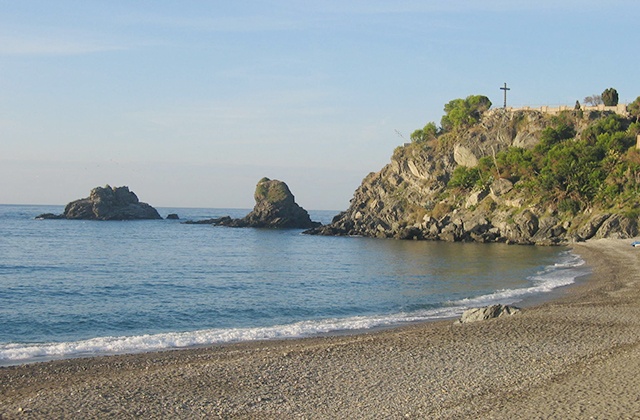 Playa de Matalascañas (Huelva)
It is one of the most famous beaches in Huelvaprovince. It is around 3.1 miles long and has fine white sand. It is a beach with a great family atmosphere and has many services and amenities, along with a promenade, from which the old Torre de la Higuera can be seen, which dates back to the 1755 Lisbon earthquake.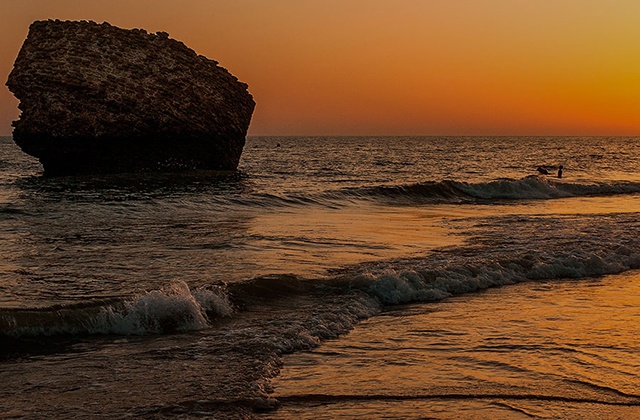 Playa de la Caleta (Málaga)
In Málaga, both the neighbourhoods of La Caleta and El Limonar appeared when the Malagan bourgeoisie started to build mansions to flee the city's urban centre. This is how this beach acquired its name. La Caleta covers half a mile, with very fine sand so it is usually pretty busy. Its approach is also adapted and here you will find all you need to spend a great day of sea and sun.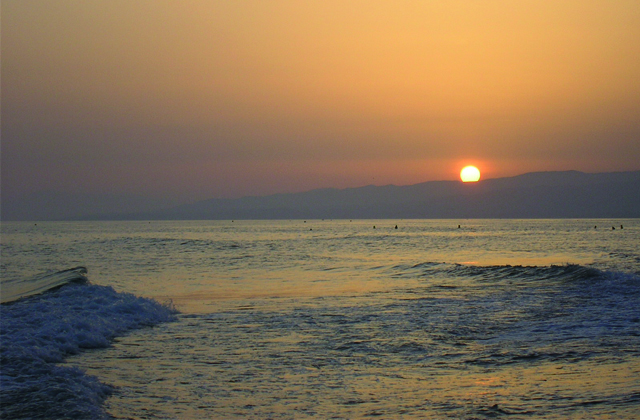 Playa de Bajamar, Vélez-Málaga (Málaga)
Bajamar Beach is located in Vélez-Málaga and while small (barely 2,625 ft long and 82 ft wide), its sand is quite dark. The best thing about this beach is that its visitor numbers are quite low, so it is ideal for enjoying a day away from the hustle and bustle of other zones, and is one of the Málagabeaches where nudism is permitted.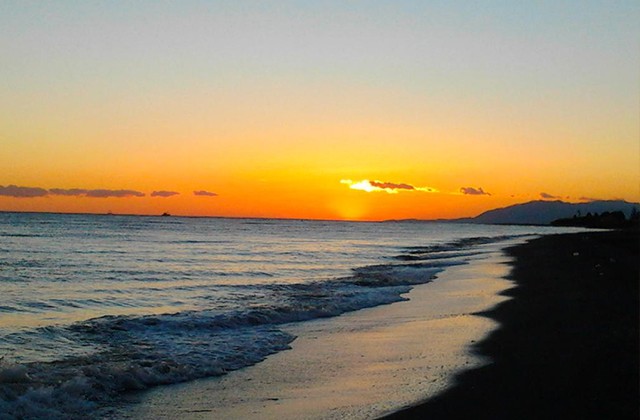 Acantilado de Asperillo, between Mazagón And Matalascañas (Huelva)
In the locality of Almonte, in the heart of Doñana Natural Park, we can find one of the most unique coastal formations on the entire peninsula. This is Acantilado del Asperillo, totally virgin fossil dunes that occupy around 29.6 acres. Here you will find a beautiful landscape panorama, since walking along its coast and enjoying the different ochre, orange and black hues of the stratified levels is a quite a crazy sight. And the icing on the cake is that you can enjoy all the peace and quiet you want.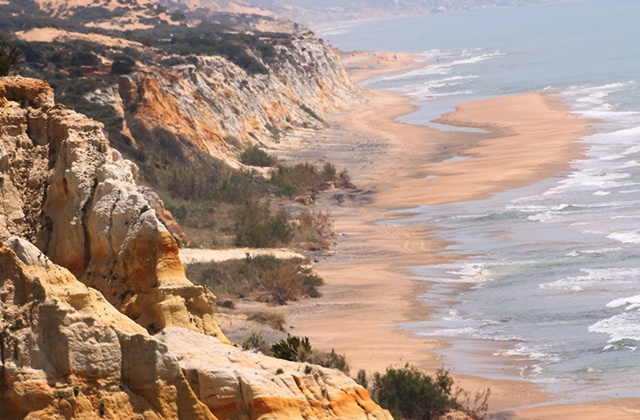 Zahara de la Sierra (Cádiz)
Who said it was not possible to enjoy the sea in the mountains? For those who want to combine the typical ocean breeze with the air you find in the valley, the unique Zahara de la Sierra beach is located in the heart of the Sierra de Grazalema Natural Park.
This is a wide space between orchards and fruit trees that has followed the course of the river to create a special, small beach. It has a bar and restaurant, a barbecue and recreation areas. The water is treated and in perfect condition and the temperature is ideal to ease the intense heat, especially during the summer months.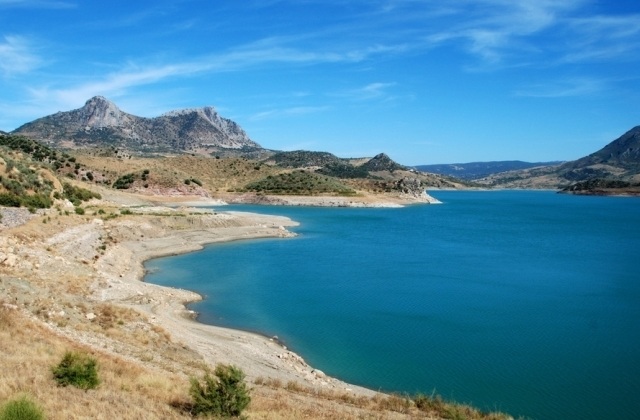 If you want to enjoy southern Spain's almost year-round pleasant climate, you must visit its heavenly beaches. Both the Mediterranean Sea and the Atlantic Ocean have great examples on their coasts that will make you leave the world behind during your holiday.
WHERE TO STAY
If you are looking for good beaches, Fuerte Hotels are definitely the best option for spending the night. The chain has beachfront establishments where you can enjoy its services and the best of each coast. Its 50 plus years' experience is the best guarantee for spending your time just relaxing and enjoying the sun. Marbella, Conil, Grazalema, El Rompido, Estepona and Torrox are just some of the places where you can find this amazing hotel accommodation.