Discover 15 places to refresh with the best mojitos in Andalucia
One of the most refreshing summer cocktails has to be the mojito, which is made using Cuban rum as a base with mint, crushed ice and sugar. A drink that, if made well, cools you down in summer and makes the bad weather sweeter in winter. In recent years, we have seen how mojito bars have become popular along our coast, making it the most in-demand summer drink. Refreshment stalls, restaurants and late-night bars prepare their best recipes, to which they add strawberries, watermelon, coconut or blueberries to give it more flavour. But, where can you drink the best mojitos in Andalusia? Relax, since we have some of the coolest suggestions to enjoy the best mojitos in Andalusia brought straight from Cuba to your table:
1. La Cubana beach, between Benalmádena and Fuengirola
Just in the limit between Fuengirola and Benalmádena, in Ccarvajal beach, we find this beach bar which assures it makes the best mojitos of Costa del Sol. Its music takes us to the 80s and 90s, and the cocktail flavours can vary from the traditional Cuban one to strawberry and coconut. While you refresh with this drink you can sunbathe in your hammock. Are you going to miss it?
2. El Jacaranda, Conil
If you want to have the best mojito in Conil, go to El Jacaranda. The establishment is decorated with rustic elements that take you back to that traditional Andalusian village. A charming place where you can quietly enjoy a tasty cocktail at night.
3. Surf Bar, El Portil (Huelva)
El Portil is located in Punta Umbría, Huelva, and has a hamburger restaurant where the best mojitos in the area are prepared. If you are looking for the perfect day, there's nothing better than spending the day surfing and have a well deserved dinner at night to get your energy back. Surrounded by pines, this is the perfect place to relax.
4. Amare, Marbella
Amare Beach Club
Amare Beach Club is a little treasure bathed by the Mediterranean and full of flavours, excitement and a lot of music…
After passing along the wooden walkways that will guide you through its exclusive beach, you will enter another world, a space where you can get comfortable on one of its spacious beds so that you can enjoy a wonderful mojito or any other cocktail you can think of, since Amare has one of the most complete and original menus when it comes to cocktails. Feel free to ask its waiters for whatever you fancy because.
Also, each evening the beach turns into a big stage when its DJ starts his live session. Amare offers music, good cocktails and a lot of fun. What more do you need!
Belvue Rooftop Bar
At Belvue Roof Top Bar, the Costa del Sol and Mediterranean Sea stretch out before you from up on high, with simply wonderful views of the Marbella horizon. This terrace offers an extensive menu of cocktails and beverages with which to accompany one of the most impressive sunsets on the entire coast. This experience is usually accompanied by the sound of the Spanish guitar live, a pleasant chill-out vide that invites you to enjoy Marbella from another perspective. But the possibilities don't end there. If you prefer to be more at beach level, this hotel offers, from its Amare Beach Club, the perfect place to enjoy a mojito while you feel the sand on your feet as you lie on your hammock or after a dip in the Mediterranean. Music, chilling out and a good selection of beverages and fusion cuisine.
5. Nikki Beach, Marbella
If you wish to enjoy the most luxurious and coolest mojito in Costa del Sol, then what you need to do is visit Nikki Beach in Marbella. Huge swimming pools and glamorous deck chairs during the day, parties and fun at night. A combination of high-standing tastes that have captivated the rich and the famous. Get your purse or wallet ready if you wish to enjoy the luxurious atmosphere of this internationally famous beach club.
6. Bloom Beach, Torrox
In the middle of Torrox's coastline marina we find Bloom Beach, a small simple bar where you can taste a refreshing mojito as you lose yourself looking at the sea. During the day, cold coffee is the speciality of the place, whereas at sunset, cocktails become the protagonists of the night. A great place to have a mojito and relax.
7. Taco Way, Tarifa
The best mojitos in Tarifa are found in a small but very famous bar: Taco Way. Decorated in a Mexican style, its colourful walls, chairs and cushions emanate good vibes. You can't leave the city without trying its mojito. The bartenders liven up the place and laughter has the leading role.
8. La Buena Vida, Estepona
Estepona has a special place by the seaside where you can drink and enjoy the best mojitos in town. A fantastic place to relax surrounded by the marine breeze. The bar has sofas full of cushions for the enjoyment of the clients, not to mention some excellent views of the sea. When the night falls there is nothing better than a cocktail to cheer up and finish the day.
9. Habana Café, Cádiz
The historic centre of the capital of Cadiz features Habana Café, an enchanting corner that serves the best mojitos in Cadiz. This part of the Caribbean has been offering all kinds of cocktails from the other side of the Atlantic for twenty years. A special place where you can enjoy the most genuine mojito, with a very lively atmosphere that encourages conversation.
10. El Horizontal Beach Club, El Rompido
Elegance and sophistication are the main features of El Horizontal Beach Club in El Rompido. A unique atmosphere facing the sea where you can taste exquisite mojitos while seating on comfortable armchairs and sofas facing the sea. The decoration has many Buddhist elements and the colour that predominates is white, a symbol of tranquility.
11. ALHAMA CLUB
This beach club is a point of reference on the Costa de la Luz. It is located at El Palmar and from here you can enjoy a fabulous panoramic view of Conil's natural setting.
In addition to its Balinese beds, it offers an extensive cocktail menu where, as well as a fantastic and tasty mojito, you can find others such as the margarita or cosmopolitan. There are also a large number of activities you can enjoy if you decide to visit this place, since you will have the chance to take Latin dance classes and delight in its magnificent live flamenco performances. A real luxury for the senses.
12. CHIRINGUITO AGUA
Agua in Tarifa is undoubtedly one of the best beach clubs in Tarifa. It is located right on Lances Norte Beach and, though quite small, be assured that if you decide to visit it you will fall in love, since it is the ideal place to unwind and enjoy a fabulous cocktail or a delicious mojito while you enjoy the most relaxing music.
Its ambience is also very young, so laughter and fun are guaranteed.
13. CAFÉ DEL MAR TARIFA
Café del Mar is a Tarifa beach club with the purest Ibiza style, since here, in addition to enjoying an extensive food menu prepared using the best produce and taking the greatest care, you can also have a bop to the beat of the best electronic music of the moment while enjoying the most refreshing cocktails.
Also, something very particular about this club is that it enjoys good a relationship with the artistic world, so there are live performances and exhibitions of artists from all over.
14. FASHION BEACH CLUB
At Punta Umbría, you can find a fabulous place where you can enjoy a relaxed vibe in a chill-out space that will awaken your senses. Here you can eat, dine under the stars or just have a snack. Whatever you want, since Fashion will meet all your needs. What we will say is that if you come to this beach club, its entire setting and attentive service will make leaving especially difficult, more so if you have a mojito in your hand.
15. BEACH CLUB MARINAS IN NERJA
Marinas de Nerja is located at the heart of El Playazo Beach. Its extensive menu offers the option to choose from a wide range of cocktails, coffees, wines and teas. If you decide to come here, in addition to enjoying a relaxed atmosphere next to the Mediterranean, you can also enjoy an amazing international style.
WHERE TO STAY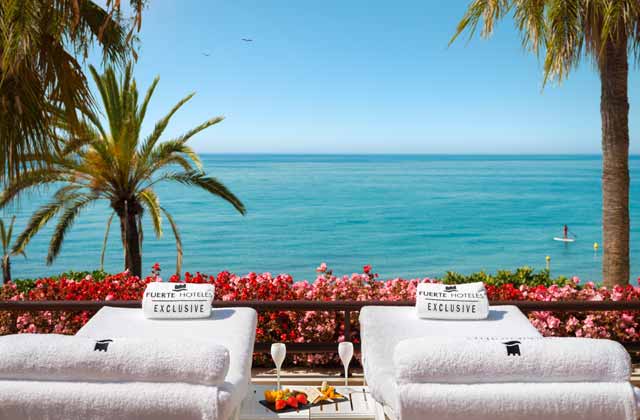 If you want to discover and enjoy the best mojitos in Andalucia, stay in one of the most well-known hotels. The best option certainly is Fuerte Hoteles. The chain has places where you can, in addition to its services, enjoy the best of each part of Andalucia. Over 50 years experience are the best guarantee you need to relax, practise sports, read and of course, try all the mojitos we recommended. Marbella, Conil, Grazalema, El Rompido, Estepona or Torrox are some of the settlements where you can find these amazing hotels which are close to all these cocktail bars.