Gluten free travel tips: restaurants and hotels that cater to those with coeliac ailments
May 27th marked Spain's National Celiac Day – a condition that now affects 1 in 100 Spaniards. Its certain that if you do not suffer from the ailment yourself, it is likely that you know someone who does.
For you who have not heard of it, it is the permanent intolerance to gluten, a protein found in grains such as wheat, barley, rye or oats. The consumption of gluten by a person who is intolerant could have a very unpleasant reaction, so more and more hotels, restaurants and other establishments have begun offering a special menu without gluten.
According to data released by Spain's Federation of Celiac Associations (FACE), many suffering from this ailment do not have much faith in food offerings when our shopping or dining. According to them, many restaurants do not take the necessary precautions to prepare gluten-free dishes, making travelling or dining out increasingly difficult for celiac sufferers or those dealing with other food allergies.
To help address this situation many hotel chains strive to offer gluten-free dishes to all travellers that still capture the flavours of Andalusia, proving that a gluten-free diet does not have to be a boring diet. Rice, corn, millet, quinoa or buckwheat are other grains and seeds that do not contain it, offering alternative options to help create healthy alternatives that match the taste of those containing gluten.
TRAVEL RECOMMENDATIONS 
For those facing a gluten allergy, it's important to get the facts before booking a hotel.
Once you've chosen a hotel for your holiday, its good to look at what restaurants are nearby that offer gluten-free dishes in the area.
However, it may be helpful to bring some food along with you to make sure you have options if you or a child lives with such a condition, including breads, sweets or food that may be difficult to find locally.
If you are already on holiday without something that you brought along and are out to eat, look for an information sign at the entry of each restaurant to tell you if they offer a gluten free menu. If no sign is available, check with a waiter to see if they provide specific gluten-free dishes or menu.
While eating out, breaded foods should be avoided, including pasta, béchamel, pastries, cakes, crab sticks, sausages, roasted nuts and of course bread and beer.
Also, be careful with wines and curries as they often posses flour thickeners, dyes or stock cubes with gluten. Additionally, watch out for pates, cheese spreads, preserves, meatballs, ice cream and chocolate substitutes.
When all else fails or is uncertain, the most convenient dishes are salads (without croutons and sauces), boiled or grilled vegetables, rice (provided it has no stock), cooked vegetables (without sausage), grilled meat or fish, chips, eggs, natural yogurt and fruit.
You should always make yourself clear to the restaurant staff that your food should be prepared with oil kept separate from that used to cook other food, as any contact with food containing gluten can cause cross contamination.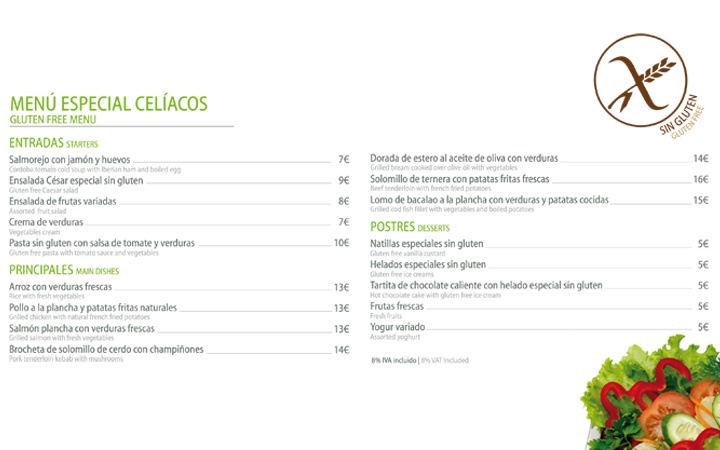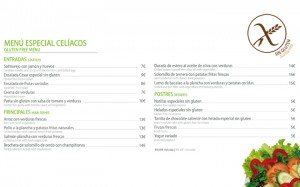 Many hotels and restaurants already offer a special menu for those with a gluten allergy that meet the standards of the Spanish Federation of Celiac, providing safety and security to travellers so they can enjoy their vacation without more concern than fun.
Have a Happy Gluten-Free Journey!