Clubbing in Marbella: 20 clubs and hot spots you cannot miss
Marbella's nightlife is famous across Spain and worldwide. Thousands from around the world gather in this city year after year to enjoy its spectacular nightlife. The quality offered by Marbella is unique and increasing numbers of tourists are coming to the city. Marbella is the destination for taking it easy and relaxing on its beaches and in its hotels, and enjoying the excellent gastronomy and climate. However, if this Mediterranean city is famous for something, it is for its legendary parties at the best nightclubs. Marbella remains the destination par excellence for enjoying a good night out where elegance, good taste and quality are guaranteed.
This is why, taking into account that its list of clubs is extremely diverse, we offer you a list of the best nightclubs in Marbella so you can enjoy a fantastic night out in the city of glamour.
Marbella Nightlife, nightclubs in Marbella
Nikki Beach
The Nikki Beach is a popular location on the Marbella beach front and is frequented by both national and international celebrities. Only 15 minutes from the city centre, this property offers you the opportunity to sunbathe while enjoying a glass of champagne under swaying palms.
At night, the place comes alive with renowned DJs playing funky house and Latin rhythms. The entertainment is assured until morning. Party under the stars in a classy place with exquisite food.
Linekers
If you're a sports fan and enjoy a great night out in Marbella, this is the place for you. Linekers is a sports bar by day and the type of club that never goes unnoticed by night. Its dance floor regularly attracts celebrities and VIPs who don't hesitate to show their face there and enjoy the electrifying atmosphere.
If you've spent the whole night dancing and fancy a break, on the second floor can be found a bar, a pool table and a more chilled-out atmosphere. For great music, comfortable VIP enclosures and friendly staff, Linekers shouldn't be missed if you're on a night out in Puerto Banús.
Funky Buddha
Located just off the Golden Mile, home to the rich and famous of Marbella, it's no surprise that this elegant London-style nightclub attracts the most attractive people on the coast and, of course, those who enjoy a high purchasing power.
As the name suggests, it is decorated in an oriental style with figures of Buddha, Indian rugs and colourful cushions that provide it with a particular elegance. This is an expensive place where you can enjoy a huge dance floor and several VIP tables to reserve.
TIBU
TIBU is right in the centre of the luxurious Puerto Banús. Inside, the dancers occupy podiums while DJs mix a funky rhythm. The drinks are reasonably priced despite being an exclusive spot and usually has a young and fashion loving audience. The elegant and secluded VIP areas are perfect for escaping the bustle of the dance floor and relaxing with friends or someone special.
Pangea
If you like house music, another spot to visit is Pangea located on the marina in the heart of Puerto Banús. This property features an outdoor rooftop that oozes luxury and offers unrivalled panoramic views of the Mediterranean, the Strait of Gibraltar and North Africa. In summer, you can dance to sensual rhythms while enjoying a cocktail in the moonlight.
Lemmon
This enterteining place is a fantastic bar of glasses with an enterteining and exclusive environment and a particular enough design that you cannot stop seeing. It is the perfect place to begin the night among friends listening to good music and taking the first glasses. This place in addition as strong point has that it is in the habit of organizing thematic holidays and concerts in acoustic in order that this way every night that you go you spend it to yourself in big.
Ocean Club Marbella
The famous Ocean Club Marbella is located at the foot of Puerto Banús Beach, more specifically at the end of Avenida Lola Flores. This club is without a doubt one of the most exclusive and is full of VIPs from the entire Marbella coast. It has live music and a spectacular swimming pool in the centre, and its very famous parties are some of the most anticipated events for all visitors to the city.
Olivia Valere
One of the most luxurious and popular clubs in Marbella is the Olivia Valere. A long list of celebrities such as Bruce Willis, Enrique Iglesias, Joaquín Cortés and Dolph Lundgren, among others, have visited this club that offers all kinds of music. The hotel has a fine restaurant, "Babylon", and spectacular outdoor patios with Moorish arches that give off an aura of magic. An unforgettable experience that you should have if you visit Marbella.
Maya Marbella
The disco Maya is one of the most popular fashion nightclubs in Marbella in both summer and winter. The room is not too big but, at night, the terraces of the pub are combined with the disco to create a nice atmosphere, especially for the environment that is none other than the Marbella promenade.  If you are with a group of friends who want to have a great time, make sure you come to Maya.
La Suite Marbella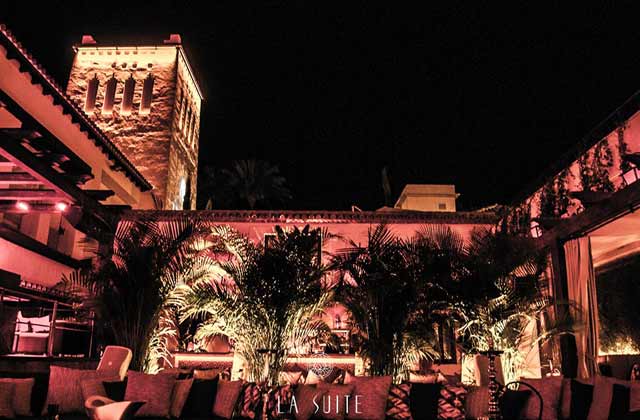 Enjoy the Marbellian nights in La Suite Club, the trendiest nightlife spot in Marbella.
La Suite Club is a sophisticated nightclub and an event space in Marbella. Drawing inspiration from the well-known Studio 54 of New York, the seductive decoration of this club of 600m2 successfully fuses the hotel's Roman heritage with the industrial-feel of a New York Studio.
La Suite is the place for stars in Marbella, where the local jet set and celebrities that come to Costa del Sol each year can enjoy the best music and an exceptional ambience.
The open-air terrace, La Térrasse offers an unmatched space for guests to enjoy drinks and lounge music during all year long.
Boasting dedicated table service, world-renowned DJs, performers and the highest level of hospitality, La Suite caters to the most fashionable of partygoers.
NEWS CAFÉ
News Café is one of the hot spots in Puerto Banús. It is very close to Tibu Banús and has a very similar and exclusive atmosphere. If you're a fan of celebrities, make sure you come here at weekends because you can find people like DJ Bob Sinclair or CSI Miami actor Gary Dourdan.
You will want to stay for the atmosphere and music: the best of funky, house and R&B. The Marbella night opens before you, with the boats on the harbour below you on one of its two terraces.
News Café has a capacity of 100 to 250 people and is open every day of the week. Monday to Thursday from 9:30 pm to 3:00 am, but until 4:00 on Fridays, Saturdays and Sundays.
TEATRO MARBELLA
This club is located just minutes away from Marbella's main tourist attractions and also has direct vehicle access, exclusive parking and a valet service. What more could you ask for?
Marbella Theatre is a completely new concept. It's a place where nothing is what it seems and where things happen that go beyond conventional limits. Its main concern is to continually surprise and impress its clients. If you decide to go to the theatre, bear in mind that it's a fully fledged leisure option involving a culinary experience fully of shows and entertainment (the team includes 44 artists who are primed to stage anywhere between 15 and 20 micro-shows every evening). Those who want to carry on partying can visit the  Dreamers club, located next door.
SEVEN
Dream about the Far East in Seven. The decor is inspired by India with Buddhas, oriental-style chandeliers and dim lights which take us to an idyllic and exclusive place.
 The roof terrace on the top floor, makes Seven a jewel within the Marbella nightlife. The club is open all week from 22:30 to 4:00 am, with live music by the best DJs.
SCREAM
If you're looking for entertainment venue in Marbella, stop by Scream. It one of the places which has been in Puerto Banús for the longest time. It has recently been remodelled and is a must for lovers of loud music as the club's name indicates. It is a place mainly frequented by young people, where you can dance until the wee hours of the morning (it is open from 23:00 to 6:00 all week and, on Friday and Saturday, it closes at 7:00).
KUBE
Kube is one of the latest clubs to open its doors. It is located at the end of the port, just behind the Louis Vuitton boutique, and is a place of extreme luxury and glamour. Nights at Kube are so spectacular that will be hard to forget an evening at this Marbella nightclub.
You can book one of the VIP sections and enjoy the evening just having a cocktail or wine while dancing or lounging on your private couch.
Mirage
In the heart of restored Puerto Banús is Mirage. A club where luxury and prestige make this place a unique experience. This Marbella nightclub is recognised as the city's best and has THE WORLD'S FINEST CLUBS accreditation.
Mirage has two clubs in one, divided by a glass wall, and offers the chance to enjoy a VIP night in a smaller setting where you can hear a different style of music from the main one if you prefer. Not to be outdone, the main club offers the highest quality in Marbella nightlife.
Bless Marbella
This place is exclusive to Marbella. In the purest style of the city, this nightclub is characterised by offering the best nights out with the best music, whose terrace decor invites you to have a great night.
Open from midnight to 7 a.m. (Friday and Saturday), Bless is the key to the city's nightlife where you will enjoy the legendary party that Marbella is famous for.
Taok Marbella
Guests, DJs, live concerts, shows, Latino nights… right in the heart of Marbella, making for an unforgettable night. Open every day (except Tuesday and Thursday) from midnight to 6 a.m., making the party last longer til 7 a.m. on Fridays and Saturdays.
Taok Marbella is a young and lively club with all the variety you could expect, where Saturdays are Rumours, Wednesdays are Havana and Sundays are called Staff Sundays. The fun of Marbella nightlife is another level at this nightclub, which offers you a unique experience.
Old Vic Latino Marbella
If your plan is to have a drink to the sound of Latino music (reggaeton, salsa, bachata, merengue), we have found the ideal nightclub in this city.
An impressive place for fun lovers where they can hit the dancefloor and enjoy a pleasant night of Latino rhythm. Old Vic opens its doors from Thursday to Sunday from midnight to 7 a.m., and you will have a night that you will surely not forget.
Momento Marbella
Are you looking for a place with good music to spend an impressive night with good food? We have found Momento where these three requirements (and many more) are met.
In Marbella city centre, this club offers lovers of good music a unique atmosphere with international artists, premium cocktails and Nikkie cuisine. At this sophisticated spot you will find a mix of different cultures, where you can enjoy gastronomy and the best music selection. No wonder it is called the "temple of music". If you would rather enjoy some peace and quiet, Momento invites you to its outdoor courtyard, ideal for summer nights. The exclusivity and elegance of this place make it one of Marbella's most impressive clubs.
The best beach clubs of Marbella and surroundings
WHERE TO STAY
The best option to stay in Marbella and get to know the city is, without a doubt, El Fuerte Marbella or Amare Beach Hotel Marbella . These accommodations enjoy an exceptional location in the centre of Marbella and on the beachfront just a few steps from the old town in an area full of shops and restaurants with terraces. Its more than 60 years of experience are the best of guarantees.