Nightlife in Nerja. Bars, pubs and discos where to party
Nerja is one of the towns in Malaga that is characterised by its diversity of tourist options. From spending a few days on holiday on its spectacular beaches such as Maro, this town on the Costa del Sol is also an enclave chosen by many to visit its famous and emblematic Balcón de Europa, to going out for a night out.
Nerja's nightlife is well known all along the Costa del Sol, as there are many discos, bars and pubs that start their day for the enjoyment of night lovers. There are discos for all tastes and the offer is so wide that you will be able to choose the pub that suits you best where you can dance, have a drink and the best cocktails. The busiest and most popular areas for partying in Nerja are the Plaza Tutti Frutti, Calle Antonio Millón and the surrounding area.
Come and enjoy the nightlife in Nerja!
To start the night

A night out has to start with a full stomach. That's why, as Nerja is a city full of contrasts where you can enjoy everything, gastronomy is another of the things you can't miss in this city.
The list of bars and restaurants where you can enjoy a good dinner or tapas is long, as well as the different types of food. Nerja has restaurants ranging from international styles such as Italian or Indian, to the more traditional Spanish cuisine.
The best known bars where you can eat typical food such as fried fish are: Pulguilla (Almirante Ferrándiz street), Dolores "El Chispa" bar (San Pedro street), La Marina seafood restaurant (Castilla Pérez street), Raw Lounge & Tapas (Paseo de Burriana), El Refugio (Diputación Provincial street), Food Karma (Prímula street), Los Barrils (San José street) and many more.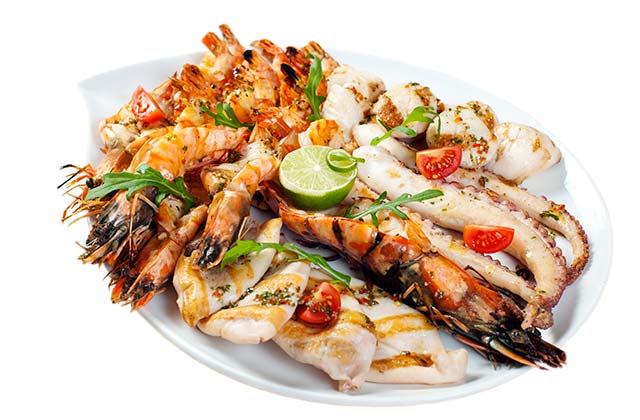 However, if you are one of those who prefer to try other flavours from outside our borders, the options of La Bottega (avenida Castilla Pérez), SomSom Delicias Asiáticas (calle Almirante Ferrándiz) or Pahuna Nepalese & Indian Restaurant (calle Filipinas) are some international restaurants in Nerja where you can have a great culinary experience.
The gastronomic variety in Nerja is so wide that you can enjoy everything from local and international cuisine at affordable prices, to lunch or dinner in more special restaurants that are a real luxury.
Plaza Tuttifruti

This is one of Nerja's liveliest areas par excellence. It is mythical in this coastal town for its nightlife and the atmosphere of the Tutti Frutti square is a real attraction for a night out.
Discotheques of all kinds, pubs and bars where you can have a drink, a glass of wine or the best cocktails in town can be found in this square, which is the busiest. A multitude of terraces open the night in Nerja and then you can continue in the early hours of the morning if you feel like going to pubs looking for the best music. Rock, flamenco, commercial music, house, and all the styles you are looking for can be found in this square.
In the Plaza Tutti Frutti you can stay up all night if you want, as the closing time will be at 4 or 7 in the morning, depending on where you go. What is clear is that you will be able to enjoy yourself until dawn in this magnificent square which is the epicentre of Nerja's nightlife.
Clubs, pubs and bars in Nerja
Among the places we recommend are the following:
Cochran`s

In the heart of Nerja 'Europe's Balcony', on the descent to 'El Salón' beach you will discover this magnificent and huge terrace overlooking the sea, where you can taste the best dishes of international cuisine in its restaurant, enjoy a drink with the taste of sea on the terrace of this Irish Pub, or in the indoor bar, exquisitely decorated in the purest Irish style.
You will enjoy your favorite drink and a wide selection of beers as they are the official Guinness Pub, they also have giant TV screens to see your favorite sports in a pleasant and carefree and attended by the best professionals.
H2O

If what you want is to spend a night in Nerja in style, check out H2O club. The main lounge has a great place to dance and also seats and tables to drink. Theme nights include hip-hop, R&B, pop, dance or electro.
It is a place, mainly frequented by young people, where you can dance until the wee hours.
Jimmy's

Jimmy´s is the club where you will enjoy Nerja's evening. It is the best choice just to stay there or to end the night. It is one of the best known Nerja clubs, has always a queue of people willing to enter at its door. But if you go before 2:45 am, it is very likely that you can get in for free, unless in the case of a special event.
Rockefeller Lounge

This club – lounge with two VIP areas and the latest technology in sound and light offers an unbeatable atmosphere, where you can enjoy various types of music such as latin, house, r&b, without forgetting the themed parties.
Hemingway's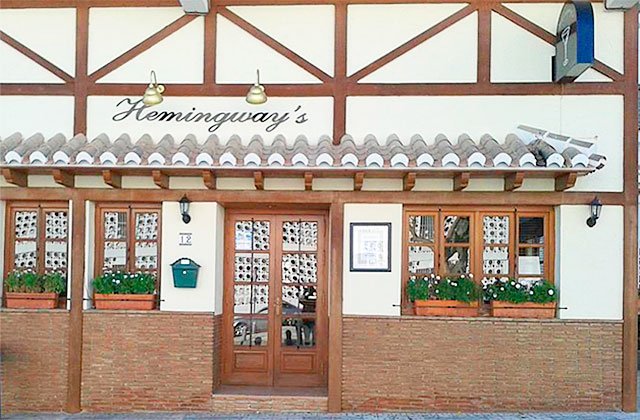 Tasting one of the best cocktails in Nerja is within the reach of everyone who visits the city. In this small pub they care about the customer experience and the quality of service, and that is why they make the most exquisite cocktails in town.
The atmosphere at Hemingway's is ideal for a drink on the terrace and also for meeting people from abroad, as it has a large number of foreigners.
El Burro Blanco Flamenco Bar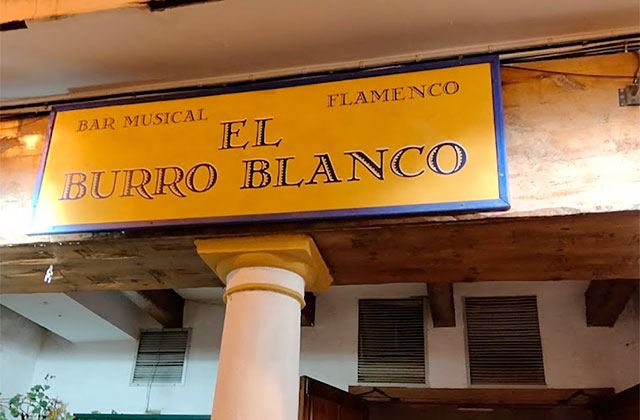 The flamenco style of this pub attracts lovers and the curious of this art. Nerja's nightlife has something for everyone and if you want to enjoy a flamenco show, El Burro Blanco has dancers, singers and guitarists to liven up your most special flamenco night.
The staging of the artists and the art that is breathed in this place, makes it one of the recommended places for those who prefer to spend a night in Nerja bewitched by a luxury show.
Bar el Fuego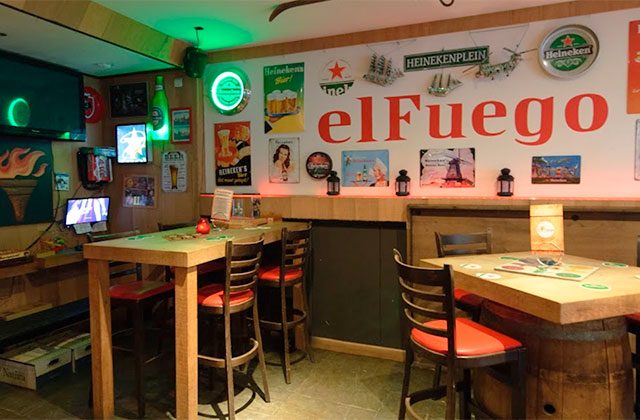 Having a drink in front of the beach is a sure hit. El Fuego is located right in front of Burriana beach, one of the liveliest beaches in Nerja.
This pub has billiards, screens to watch sports and different types of food to have a snack. The Bar El Fuego is a meeting place for friends and visitors to spend an evening in the best sporting atmosphere and drink one of the countless types of beer available.
Irish Harp Pub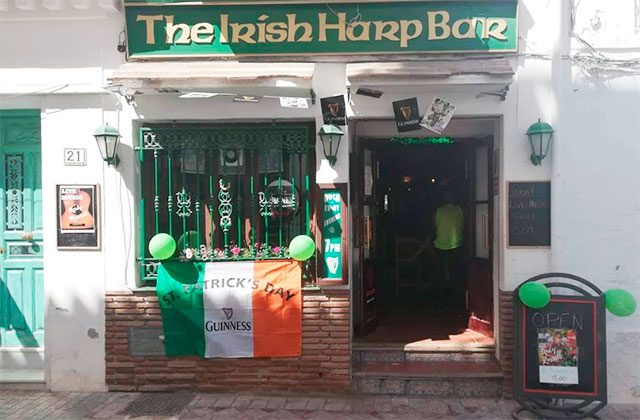 This pub is in the purest Irish style. Beers of all styles, spirits and a pub to watch that rugby or football match.
As well as being one of the most visited pubs to enjoy a game and soak up the Irish atmosphere, you can meet new people from all over the world.
Fitzgerald's Bar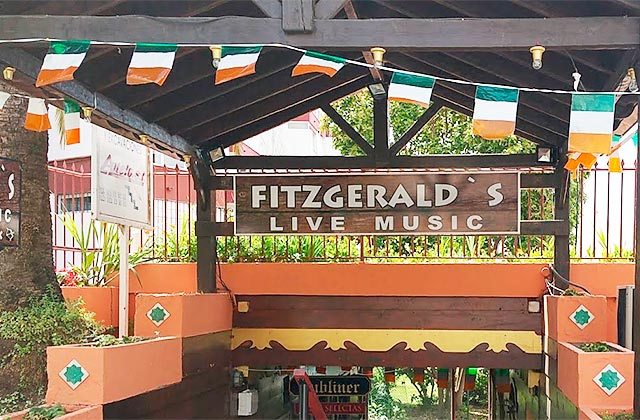 Nerja's nightlife is very varied and being one of the towns with an influx of foreigners, finding Irish pubs and bars is very easy. Each with its own particular and unique style, this one in particular is all about an evening with live music.
This live music can also be accompanied by a good snack, as it has a high quality restaurant to make your night out in Nerja a perfect combination.
The Circles Cocktail Music Bar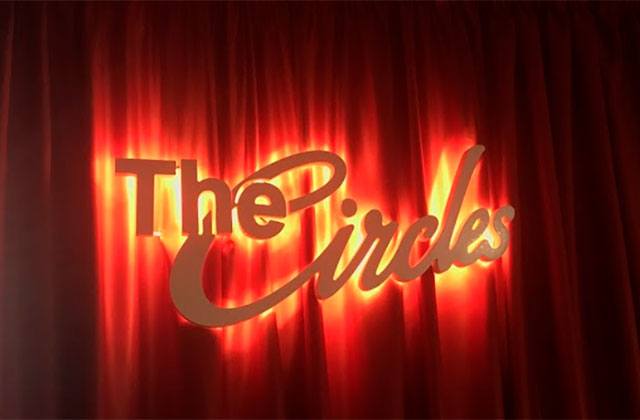 Taking care of the details to the maximum makes a place much more pleasant. The decoration, the service and the cosy environment of this pub in Nerja, makes it a real attraction for those who like special places.
The Circles Cocktail Music Bar also offers live concerts of different styles of music, Rock, 90's are some of them, so that your evening will be unforgettable in any of the corners of this warm place and with the perfect hosts.
Terraza Buddha Lounge Bar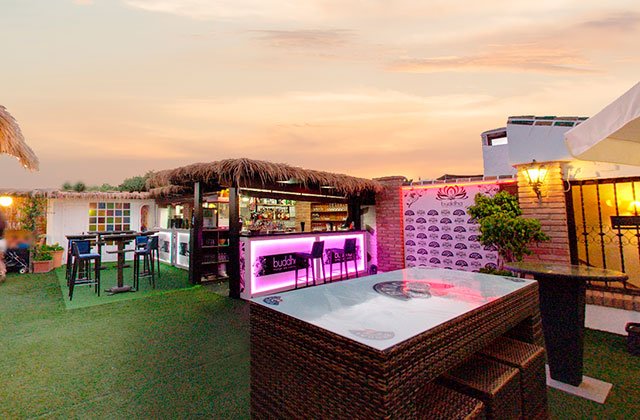 Terraces are the place par excellence when the good weather arrives. And this bar in Nerja in particular also has a rooftop where you can enjoy the views of the city and the sea.
Cocktails and drinks are their speciality and you'll feel right at home, as you can relax and make yourself comfortable in some of their very special armchairs.
WHERE TO STAY
You can rely on Olée Nerja Holiday Rentals to help you enjoy your trip to Axarquía, where you can stay in accommodation nestled on the eastern Costa del Sol between Torrox and Nerja, traditional Andalusian towns with the best climate in the whole of Europe. It offers you peace and quiet while giving you access to a large number of activities and places to visit. The complex has air conditioning, a spacious living room with satellite TV and a modern kitchen equipped with oven, dishwasher and washer dryer. Some units have a terrace and wonderful views of the Mediterranean Sea. You can also stay at Fuerte Marbella, a hotel nestled in the city centre and right on the beach, just a few steps from the old quarter in an area full of shops and restaurants with terraces.