Tarifa: all you need to see and do in the Wind Capital
Being the peninsular windy paradise par excellence has over time led to Tarifa becoming one of the most fashionable tourist destinations when summer comes. It is a town full of tradition and charm that has made thousands of visitors fall in love with it. There is a lot to see in Tarifa, so whoever visits once is left wanting more. This locality is in the south of southern Spain and has it all. There is a lot to do in Tarifa, from family or adult leisure to fun proposals for youngsters, so we want to give you this complete guide with all the great plans to enjoy tourism in Tarifa to the max.
How to get to Tarifa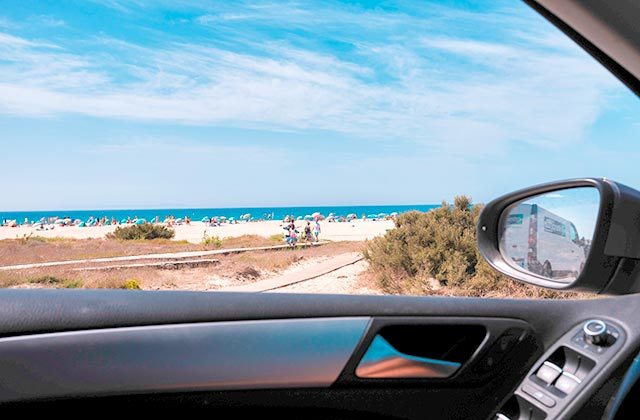 To get to Spain's wind paradise from Málaga, we will take the Autovía del Mediterráneo, connecting Algeciras with the N-340. It must be said that this road is very busy during the summer months, especially at night, since many tourists come home along this route after spending an intense day at the beach on this coast.
If we decide it is a better idea to go by bus, Tarifa bus station is on calle Batalla del río Salado and has very good connections with the large localities of the Costa de la Luz, as well as Seville, Málaga and Jerez.
Conversely, if you decide to travel to this tourist enclave by air, be aware that Tarifa has no airport, though there are several cities barely two hours away. So, once your flight arrives, airports such as Málaga, Seville, Gibraltar and Jerez are the nearest and you can book a transfer, which is quicker and more comfortable.
Google Maps – Malaga – Tarifa
Google Maps – Sevilla – Tarifa
Google Maps – Jerez – Tarifa
Google Maps – Gibraltar  – Tarifa
The weather in Tarifa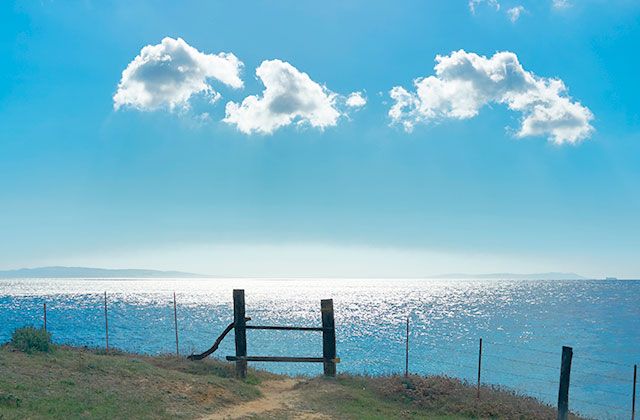 While in summer in some parts of Andalusia temperatures can reach 40°, Tarifa enjoys a much more pleasant climate thanks to the wind and sea. It is also unlikely to rain, since here you will enjoy over 300 days of sun a year.
WHAT TO DO
Shopping in Tarifa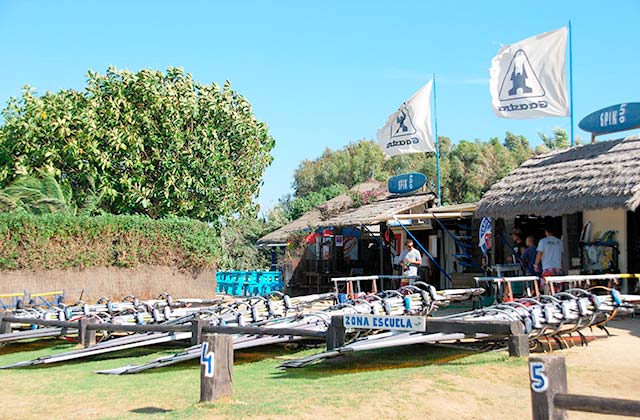 A very curious fact about Tarifa is that even with only 18,000 inhabitants, it has more surf shops on its streets than Maui  in Hawaii, so if you want to stock up on equipment to enjoy the best and most fun water sports, be sure to come to Tarifa, since it has loads to offer and you will definitely find what you need.
Some of the brands you can find here are:
There are also several supermarkets like Mercadona, Lidl and Día that are open 24 hours, though if you need to do some shopping, we recommend you go to the Supply Market in the historic centre.
Gastronomy, bars and restaurants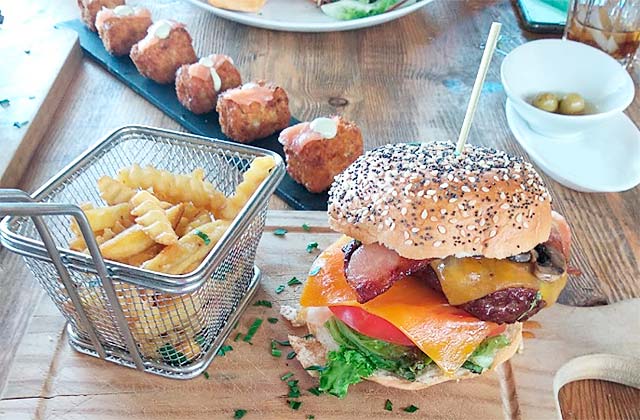 As in other localities on the Costa de la Luz, visitors to Tarifa will fall in love with its food. Being a coastal area, sea food plays a leading gastronomic role in its bars and restaurants.
Tarifa has many good restaurants where you can enjoy the best culinary proposals. One of the best is Pachamama, where you can enjoy a relaxed atmosphere and an extensive, delicious menu. It also has a swimming pool and we can assure you that you will want to use it on those very windy when it is impossible to be on the beach.
Another highly recommended restaurant is Mandala, since here you will enjoy both excellent food and personalised and professional service. Mandala is the ideal place to eat and then enjoy a coffee and a drink while you take a dip in its swimming pool with sea views.
Conversely, if you opt for Souk, you will enjoy the best mix of cultures, since here you will enjoy the perfect fusion of different gastronomies, from Moroccan specialities to Asian dishes with chopsticks.
Nightlife in Tarifa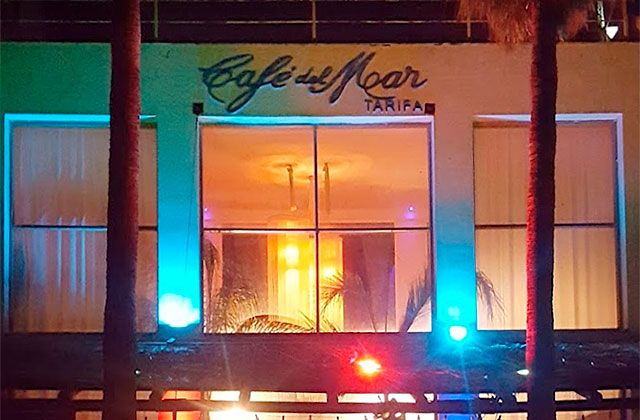 While Tarifa is a relatively small town, the number of pubs, bars and discos is on a par with other much larger places, though it should be said that before 9.00 p.m. no one goes out for dinner or tapas, since visitors usually stay late on the beach.
The party starts after a good dinner or a fun pub crawl with wine, beer and tapas, of course. We will start at the places in the historic centre. Due to the large amount of visitors it receives, Tarifa has everything from Flamenco places to bars with electronic music- All these places are open to 1 or 2 a.m., which is when the discos open until they close at 7.00 a.m. or 8.00 a.m.
Adventure sports in Tarifa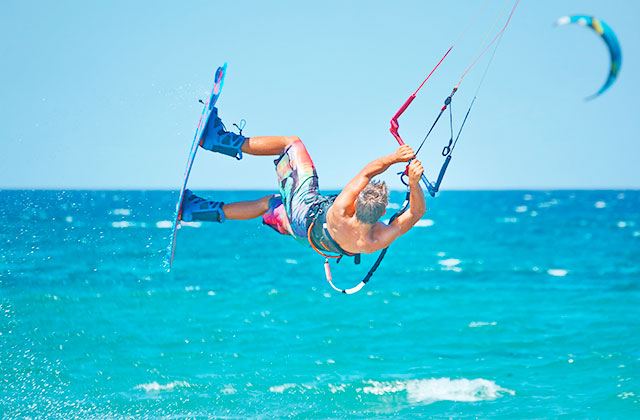 Tarifa, as we have already said, is the Capital of Wind, but this place goes far beyond windsurfing or kitesurfing, since here you can also enjoy a wide range of fun outdoor sports.
In addition to kitesurfing, surfing or windsurfing, this locality also allows you to enjoy other activities like scuba diving, climbing (on Monte Betis, the mountain separating Bolonia from Tarifa, there are over 200 marked trails of different and varied levels), scuba diving, golf, paddle boarding, horse riding, mounting biking, tennis, hang gliding and hiking.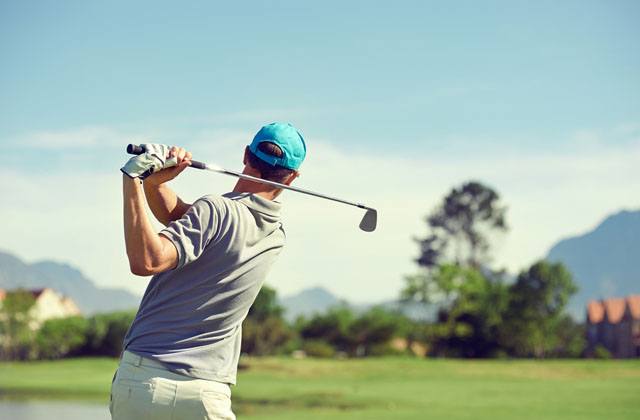 Do you prefer playing golf? No problem, since you can find big clubs near Tarifa. It should be said that heading towards Cádiz, the nearest is La Dehesa de Montenmedio, with its impressive 18 holes and beautiful views. Conversely, if we head to Málaga, there is a wide range of high level clubs, one of which is Sotogrande, which is only 45 minutes by car.
In any case, here are a few recommendations for you to choose the one you most like:
Another sports activity you can't miss if you come to Tarifa is enjoying Gran Recorrido 7. This trail is the second famous path on national territory after Camino de Santiago, of course. GR 7 crosses the entire Iberian Peninsula from Tarifa to Andorra and its stages go through cities like Cádiz and Málaga, allowing hikers to enjoy landscapes like Grazalema and Ronda, among others.
Cádiz and Tarifa's beaches have become famous for being the best on the entire Iberian Peninsula and an example of this is that here you can take a dip on some of the country's most impressive ones.
WHAT TO SEE
Dream beaches
Bolonia Beach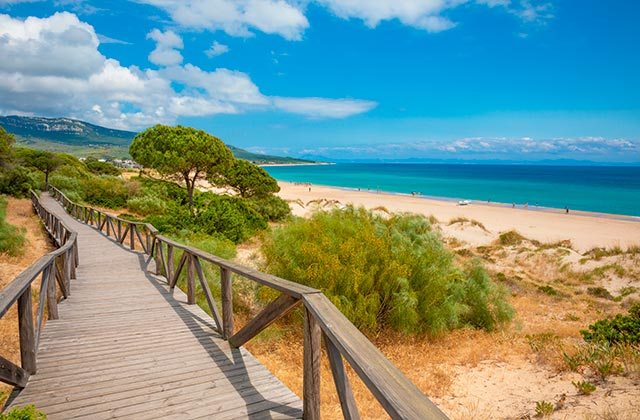 This beach is amazing, almost certainly one of the best on the entire Costa de la Luz. It is almost 2.5 miles long and next to the remains of the ancient Roman city of Baelo Claudia. On the western part is a dune area that in 2001 was declared a national monument. A unique place that is worth visiting.
Punta Paloma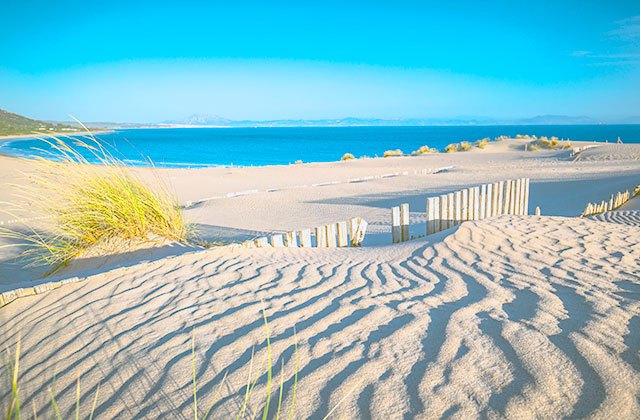 This area is located around 6.2 miles from Tarifa and is very much worth seeing, since you can enjoy spectacular views of the locality from its extensive dune. So, put aside a couple of hours from your holiday to pay a visit to this fabulous place.
This area is also home to many places both for taking a dip and tour without stepping on dry land, since you can pass through Los Lances, the part of Dos Mares, Arte Vida and Valdevaqueros. The latter is the favourite of water sports lovers.
Touring the alleyways of Tarifa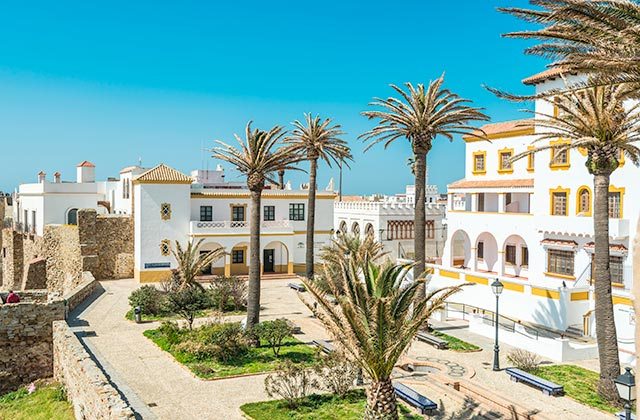 If you visit Tarifa, you must take the time to wander its streets, since this will allow you to enjoy such beautiful places as the Cárcel Real, Casino, Town Hall or Guzmán el Bueno Castle, which we will talk about below.
Visiting Guzmán Castle
In Tarifa, more specifically on calle Guzmán El Bueno, you will see one of the best-preserved castles in the whole of Andalusia. It was built in 960 by Abd-ar-Rahman III. However, it currently bears the name Guzmán el Bueno, the Christian governor who defended the city from the 1294 Muslim incursion, even sacrificing his own son. A tour of its walls will cost you €4, though if it is clear, you can also enjoy an amazing panoramic view of Africa.
Isla de las Palomas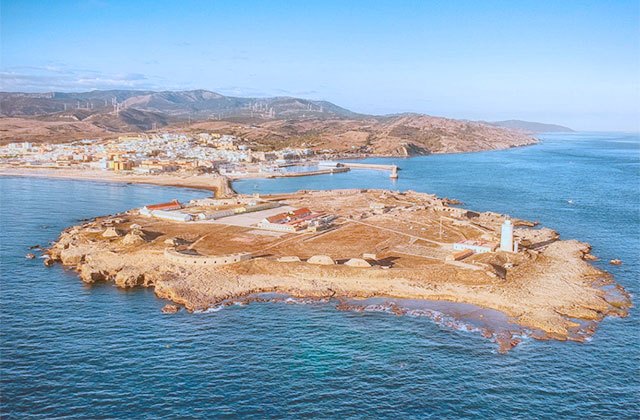 After visiting Guzmán el Bueno Castle, you can take the road to Isla de las Palomas. This place is the road that was planned to connect this island with the Peninsula and will take you to a military base. This is the end of the section, since its access is very restricted, however, there you will see a poster indicating that you are at the southernmost location in the whole of Europe with the Mediterranean on one side and the Atlantic on the other.
El Estrecho Viewpoint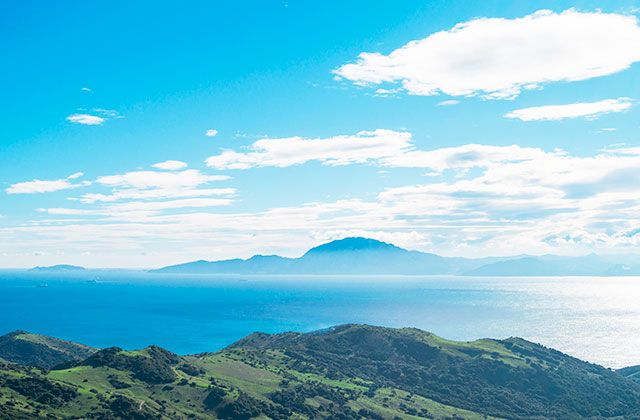 El Estrecho Viewpoint is located around 3.7 miles from Tarifa historic centre, so it is an ideal walk without getting too tired. Visiting this landscape is well worth it, especially for the impressive views you can enjoy, since you can see the coast of Africa and the Jebel Musa, one of the Pillars of Hercules. They will take your breath away!
Baelo Claudia Ruins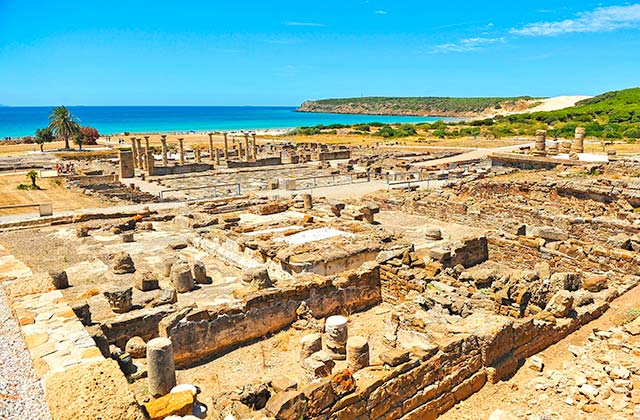 These famous historic remains are located in Bolonia and an important Roman architectural vestige. There you will discover the remains of an old basilica, a Roman theatre and some fish salting workshops and manufacturing sites of a delicious sauce called garum.
Puerta de Jerez
The Puerta de Jerez is one of the most important and emblematic monuments in Tarifa. It is an arch that serves as a passage for the Historic Centre and Supply Market. It is tremendously pretty to stroll through its alleyways, some of which are really narrow, and see the traditional limestone houses. Many of these streets are also full of bars, where you can take a break and enjoy a snack and then continue with the route.
Where to stay
Fuerte Conil-Resort is a hotel located opposite one of Spain's most beautiful beaches, La Fontanilla, just 10 minutes by foot from the centre of Conil de la Frontera and 40 minutes by car from Tarifa. It stands out for its exclusive Andalusian style, its 82,000 plus square feet of gardens, 4 outdoor swimming pools, jacuzzi, tennis courts and a fully equipped spa. The high degree of customer satisfaction and its commitment to responsible and quality tourism are backed up by different national and international commendations, as well as companies like Booking and TripAdvisor.