Marbella: health and wellness tourism in a luxurious environment
Marbella is not just parties, concerts, cocktails and night clubs. The city hides other calmer side where you can spend a luxurious holiday in a relaxed atmosphere. The Costa del Sol town, Queen of glamour and ostentation, offer a wide range of high-class services for those looking for a few relaxing days away from the hustle and bustle. And the fact is that health and wellness tourism is experiencing a remarkable boom in the Costa del Sol. There is nothing better than to just getaway to relax and balance body and mind. We offer nine ideas to unwind in Marbella and improve your health in a haven of pure luxury.
1. Buchinguer Clinic
The well known Buchinguer Clinic, is accustomed to providing wellness and nutrition to their customers, where many stars of the silver screen and of the most selected of the elite come every year to lose those few extra kilos and receive therapies and relaxing massages to renew them inside and out. Feeding is one of the basic pillars of the physical well-being and in this spot, in addition to helping with weight loss; they teach their customers how to educate their nutritional habits. Therapeutic fasting is one of the techniques used by the clinic.
2. Shanti Som
The healing philosophies and trends arrived from the East are what makes Shanti Som the most chic place for a spiritual retreat in the province. It has luxury facilities on the Marbella Highway, far from the madding crowd. There, the image of Buddha and the recreations of the gods who came from India and Nepal chair the relaxing exercises that leave the participants in the different therapies without a drop of anxiety. It is a place to think and to find peace and tranquility.
3. Spa & Beauty by Germaine de Capuccini – Amàre Marbella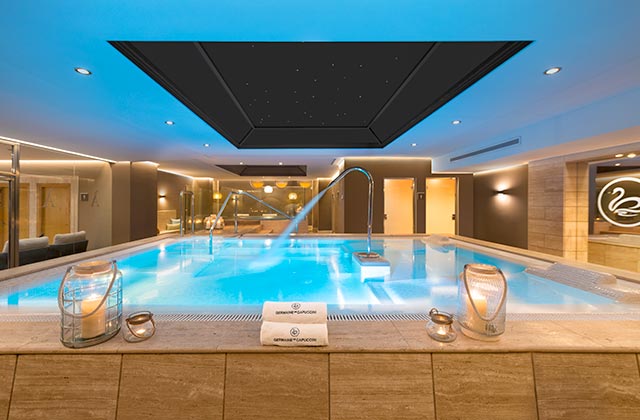 Spa & Beauty by Germaine de Capuccini is located inside the Amàre Marbella Beach Hotel, on the beach. A bath of sensations where you can choose the best circuits of hydrotherapy, treatments, massages and relaxation areas to take care of your health, beauty and wellness. If you like, you can also enjoy the fitness facilities. A cleansing of your body you cannot miss if you are in Marbella.
4. Marbella Care App
Marbella features the first application, for mobiles, on health tourism in Europe. This application allows the international tourist to plan his/her tourism and health trip from its origin without leaving the app (buy flight tickets, hire a rental car, and make an appointment at the hospital, among other services). This Costa del Sol town has a large number of hospitals and private clinics that are an international rendezvous point for all those people who want to control their health in specialized centers and place themselves in the hands of great professionals.
5. Hedionda Baths, Casares
Julius Caesar ordered to condition the Hedionda baths after verifying the healing properties of its waters. Tens of visitors submerge in them daily and they serve as a spa or natural spa to all the neighbors. Its main property is based on the improvement of the skin, and many people with this type of problems have approached this place to improve their pathologies. A natural bath a few kilometers from Marbella that serves as a therapy for your body and you can't afford to miss out if you are traveling to the Costa del Sol.
6. Golf Coursess
The more than 300 days of sunshine per year there are in the Malaga coast, make outdoor exercise to be one of the main attractions of its cities. Undoubtedly, the star sport in the province of Malaga is golf, not in vain its Costa del Sol is known worldwide as Costa del Golf. If you are looking for a destination with good weather where you can play sports this winter, do not hesitate to come to Marbella and enjoy its magnificent golf courses and the benefits that this activity reverts to your health. Thus it improves the cardiovascular system, tones muscles, oxygenates the blood, burns calories and strengthens the mind.
7. Urban Health
Urban Health is a physiotherapy clinic located in the heart of Marbella with personalized and individualized treatments, depending on the needs of each patient. In addition to different muscle treatments with all kinds of technology, this center conducts a study to prevent injuries. To do this, it uses the most ancient techniques such as acupuncture and traditional Chinese medicine, with manual and mechanical physiotherapy techniques and the most innovative electronic equipment for treatment and physiotherapeutic diagnosis. It is a great option to put your body in shape and know what your weaknesses are and thus be able to look after them with especial care.
8. Hilu Medical Center
This clinic is located in the heart of the city of Marbella, and provides consultation and medical supervision, as well as complementary biological treatments paying special attention to the knowledge of the cause of the diseases. From the center, the treatment of oncothermia that allows the combination with any cancer treatment is carried out, optimizing it, multiplying its effectiveness and reducing its side effects more effectively reaching the tumor in a more effective way. Patients from all points of the European geography come here to improve the situation of their disease.
9. Physiosalud Marbella
The specialty of this center is lymphatic drainage. Beauty and health are linked in many occasions and if you go through an operating room to have an aesthetic touch up at this clinic, they help you with the recovery. They mainly perform monitoring and recovery treatments of cosmetic and reconstructive surgery: liposuction, breast augmentation, breast reconstruction, facelift, blepharoplasty and abdominoplasty, with the objective of accelerating the process of resorption of the edema, reduce postoperative discomfort and promote the recovery process.
Hot Springs Tourism: find the best baths, spas and hammams in Andalucia
WHERE TO STAY
If you decide to come to Marbella do not hesitate in staying in Fuerte Hoteles. Fuerte Marbella is a symbol for the city with more than 60 years experience at your service. The hotel has 263 rooms, all soundproofed and equipped with air conditioning, satellite TV, wireless Internet access and private bathroom with free amenities and hair-dryer, among other services. It is also surrounded by gardens, with superb sea views and 2 outdoor pools.