Walking along 20 unmissable Blue Flag beaches in Andalucia
The European Environmental Education Foundation awards an annual prize named the Blue Flag which represents the quality of the beaches and ports that meet all environmental regulations. Andalucia has a large number of these flags, offering the safety and the international support that its beaches can boast. If you're thinking about a few days of sun and sand, choose Andalucia. We provide you with the opportunity to get to personally experience these ten Blue Flag beaches where you can enjoy the sea with all its benefits.
1. Artola (Cabopino), Marbella (Malaga)
This beach is surrounded by a dune landscape, the Artola, and is a small example of what this part of the Andalusian Mediterranean coast once was. It is a spacious beach with golden sand and crystal clear waters. The dunes are home to a reminder of Roman military defence and architecture, the Torre Ladrones, declared to be of Cultural Interest. Also nearby is the Port of Cabopino. Some sections of it are often used as nudist beaches. This is just one example of blue flag quality you shouldn't miss if you travel to Marbella.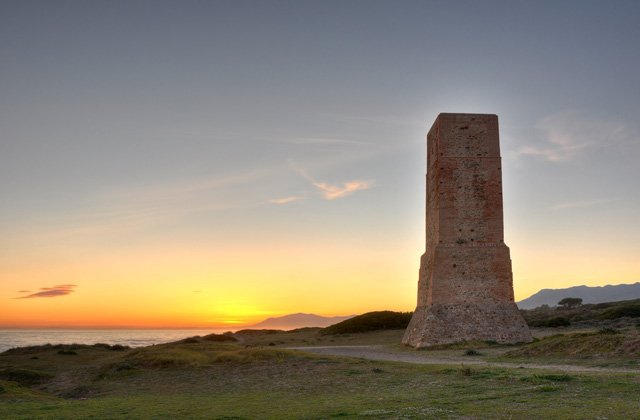 2. La Rada, Estepona (Malaga)
La Rada beach at Estepona has also been awarded the Blue Flag. Its fine grey sandy coastline makes this an ideal place to take your towel and relax under the sun. One of its great advantages is that it is a stone's throw away from the town's main streets, being very comfortable for those who wish to visit the town after a day on the beach. The promenade extends along its entire three-kilometre length where all kinds of activities take place in the summer months.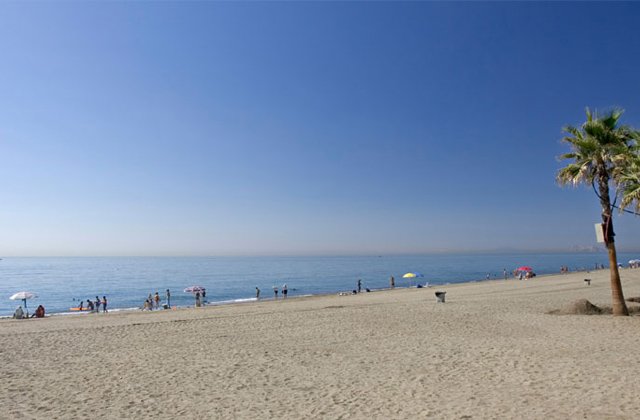 3. Torre del Mar, Velez Malaga (Malaga)
The quality and cleanliness of its waters have been the keys to the Torre del Mar beach winning the Blue Flag. This Malaga coastline is ideal if you are travelling with your family and children. A perfect plan if you just want to relax while the kids play in the sand and enjoy a summer dip. In this area, you can also find bars where you can sip a beer or eat some fish tapas.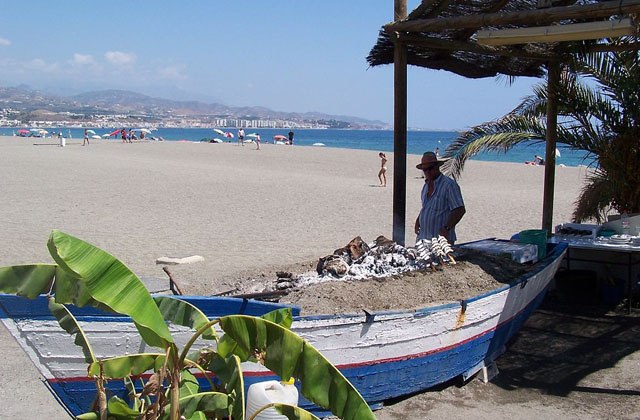 4. El Roche, Conil (Cádiz)
The beach at El Roche has been awarded the Blue Flag once again. It's a long, wide beach, measuring about 2 kilometres. It has watchtowers, a first aid station, beach cleaning, access gateways and other services. If you come to this part of the Cádiz coast, you can find a beach bar at the end of the beach where you can sip a cold beer while contemplating the sea.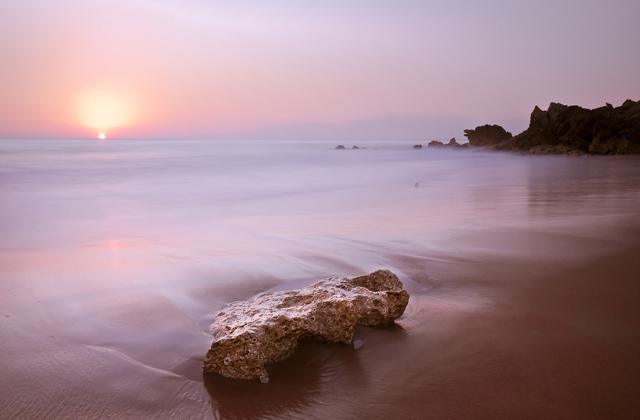 5. El Portil, Punta Umbría (Huelva)
Located in El Portil Laguna Nature Reserve, a small lake formed by the eruption of the dune leading to the sea, this urban beach, with its golden sands and calm waters, has a cosy atmosphere with a width of 40 meters which includes almost four kilometres of coastline. Having been awarded a Blue Flag, these cool Atlantic Ocean waters are the perfect place to soak up the sun while reading a good book. An unmissable experience you should consider if you are in the province of Huelva.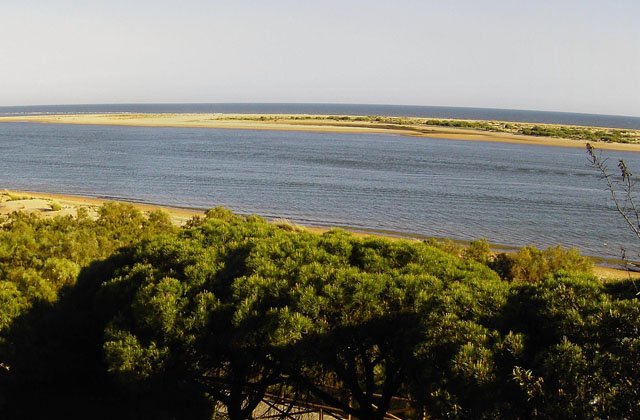 6. El Faro, Marbella (Malaga)
Marbella has received seven blue flags this year, the Andalusian town with the most of this type of award. One of the award winning beaches is El Faro located in the heart of the city. This place is small but has a great atmosphere in summer. Near the Marina, there are also a lot of seafront restaurants where you can sample typical Andalusian tapas. In addition, its location offers you the chance, after bathing, to walk closer to the town centre to have a coffee in the shade of the naranjos (orange trees) in the main square with that name. El Faro is one of the main Marbella beaches you should not miss if you decide to visit this town in the Costa del Sol.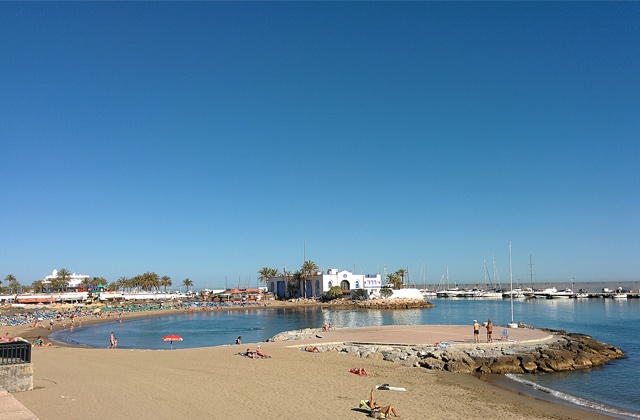 7. El Padrón, Estepona (Malaga)
This beach is 2 kilometres from the town and is one of the most visited locations. The hospital group Hospiten is located a few metres away and the area of El Padrón has a shopping centre that you can enjoy if you like. Restaurants, snack bars and all kinds of stores are at your fingertips, a few metres from the sea. The waters of this beach are mild and the sand is fine, making it ideal for children to take a bath and play with the lilos.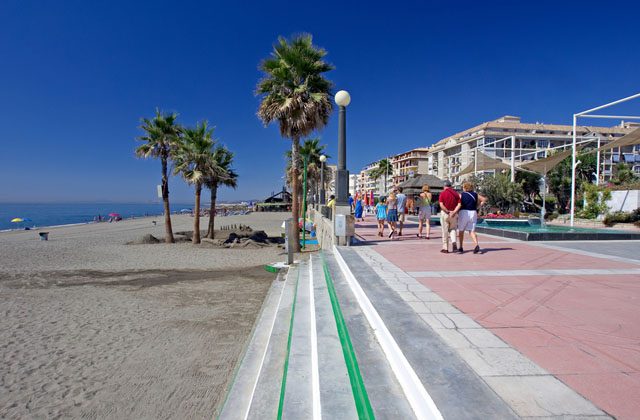 8. Islantilla, Lepe (Huelva)
This family friendly beach has all the safety and communications services, as well as a Blue Flag which certifies the quality of its waters. If after a swim in the sea you fancy a walk, we recommend that you start from Islantilla and visit the traditional fishing village of El Carmen, which is very quaint thanks to the fishermen which set off from the sands of the beach. Next is La Antilla beach which continues until the Port of El Terrón and El Rompido as the colours of the sea and sand become increasingly spectacular and the quality of the coastal dynamics and natural ecosystem increases also.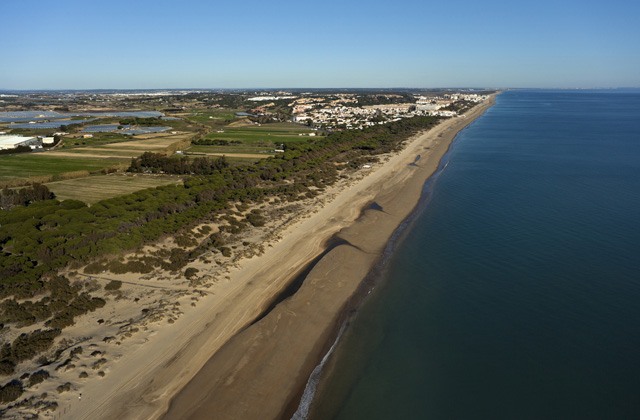 9. Venus Bajadilla, Marbella (Malaga)
La Bajadilla beach marks the beginning of the Marbella promenade and is located right next to the fishing port. Its width and shallow depth make it suitable for kids, but it is important to remember that there are some stones when entering the water. It is one of the busiest beaches in town. This part of the coast carries its blue flag as a symbol of the quality of its waters. Here you can also find a wide range of services that make this urban beach one of the most comfortable in the city. Do not hesitate to come to this area if you are in Marbella, especially if you do it together with your children.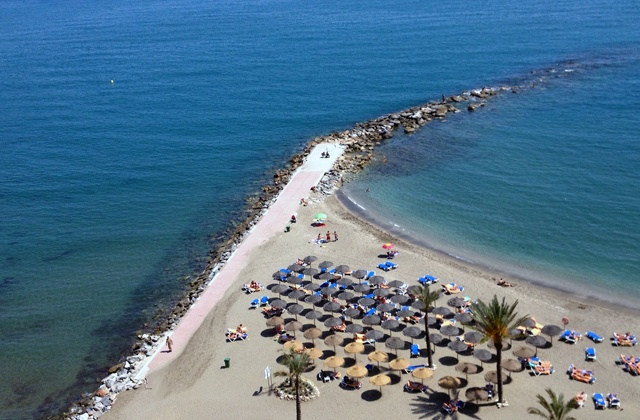 10. La Caleta, Cádiz
La Caleta is a beach located in the historical centre of the city of Cádiz and was a natural harbour where Phoenician, Carthaginian and Roman boats were anchored. This is the smallest beach in the area and is isolated from the rest. The castles of San Sebastian and Santa Catalina flank it on either side, and it is opposite the old Hospital de Mora in La Viña. It is one of the most emblematic places in Cádiz and it flies the blue flag, a symbol of the quality of the Cádiz coast.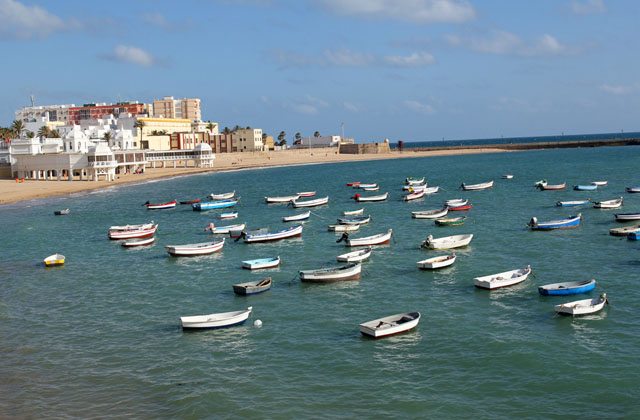 11. La Barrosa, Cádiz
La Barrosa Beach, located in Chiclana de la Frontera, Cádiz, is one of the best beaches in Cádiz and meets all the criteria to be a blue flag beach. With almost 5 miles of light sand and very clean water, the beach has many amenities that have led to it being among those selected almost every year since 1987. La Barrosa is usually split into three parts: Track One, Two and Three. They are all very pretty, but at dusk, head to the area where Sancti Petri Castle is. The sunsets with reddish tones and the shade of the tower are spectacular.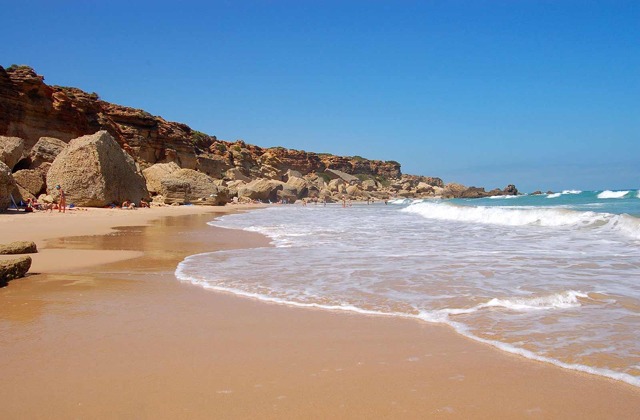 12. Ferrara Beach, Málaga
Beach located in Torrox, Málaga. It is 3,937 feet long by 98 feet wide. On average it is very popular. The sea usually has moderate waves. A very extensive, well-equipped beach with a family atmosphere. It has multiple amenities, since it is in the centre of Torrox Costa. It basically has a family atmosphere and is usually very busy in summer. It has many amenities. Disabled access.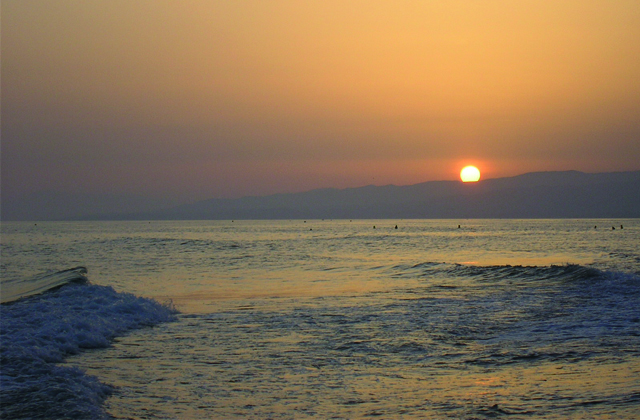 13. Santa Ana, Málaga
Located very near Puerto Marina, this is a beach that belongs to the urban centre of Benalmádena and runs parallel to its promenade. The football and volleyball facilities that have been installed on the sand stand out.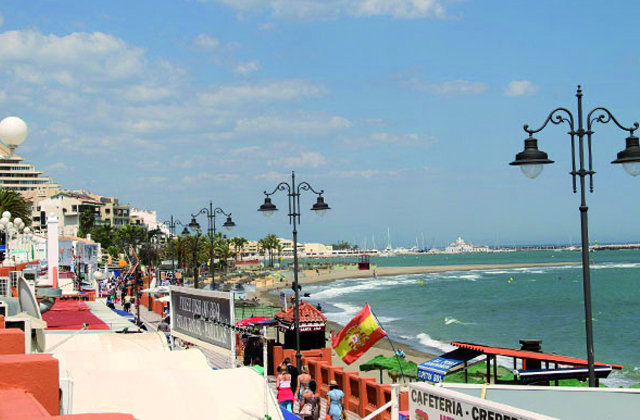 14. Torreguadiaro, Cádiz
Beach located in San Roque in the middle of the Costa de la Luz. It is 4,265 feet long by 98 feet wide. On average it is very popular and it is a semi-urban beach with a promenade, primarily comprising dark sand. The sea is usually calm.
Torreguadiaro Beach is a sandy and pebbly beach that is located in a fishing zone, where the luxury flats and marina of Sotogrande stand out.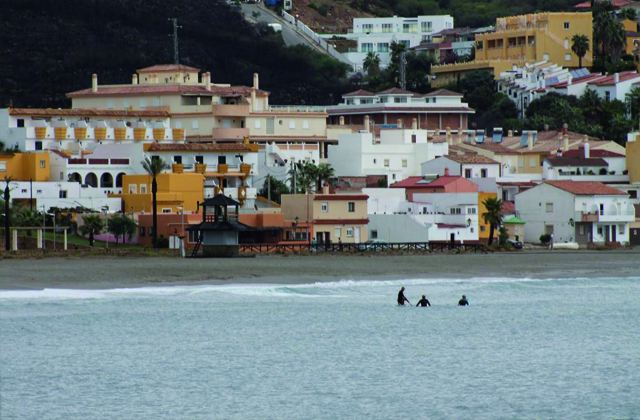 15. Matalascañas, Huelva
Over 2.5 miles of beach that belongs to Matalascañas fill up with people with the arrival of summer. One end of the beach is marked by the zone where the Higuera Tower is located. There are many amenities along the entire beach, including showers, lifeguard and first aid services, disabled access, hammocks and parasols for hire, pedalos, jet skis, etc., as well as bars, restaurants, terraces and refreshments stalls.
From Matalascañas Beach is the only access on foot to Doñana National Park. White sand, crystal clear water and dunes are just some of the most alluring features. Many people flock to the beach in summer so we recommend you arrive early.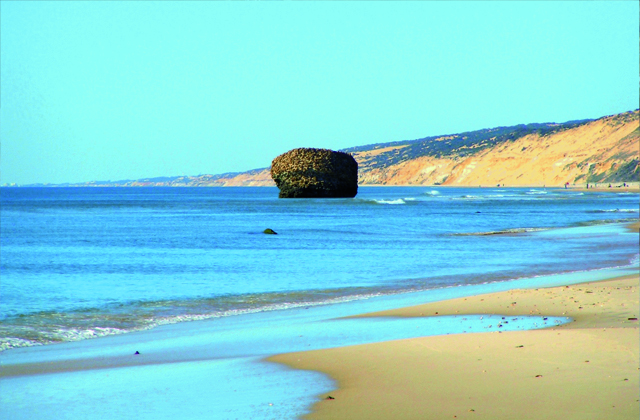 16. Tres Piedras / La Ballena, Cádiz
This is the southern-most beach that borders the municipality of Rota. It is a shoal beach with sand at the back that is currently directly connected to the Rota-Chipiona motorway. It has lifeguard facilities, separate women's, men's and disabled bathrooms and an information point and loudspeaker. In the area called La Ballena, it has two access ramps.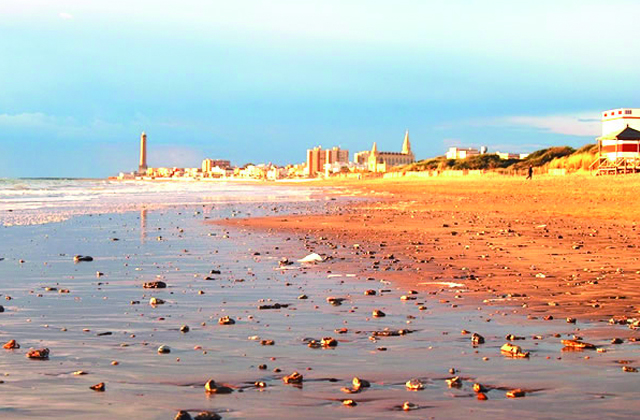 17. El Rompidillo / El Chorrillo, Cádiz
Beach located in Rota, Cádiz. It is 5,577 feet long. This is an urban beach located between Puerto de Rota Port and Puerto Militar, with strong winds and, therefore, good for wind surfing and sailing aficionados. This beach has the usual amenities, such as a bus, bathrooms, showers, telephone, water sports, yacht club and marina.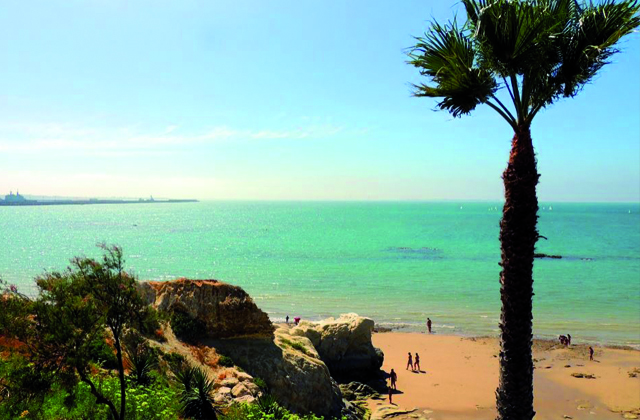 18. El Parador Beach, Huelva
This beach is at the foot of a cliff surrounded by pine forests. Has 2 km in length, has the distinction of left exposed at low tide, discovered hundreds of meters of fine sand, punctuated by small freshwater streams that leave furrows marked on it. The services offered by the extraordinary quality of its waters and the environment, has made this beach is awarded the blue flag.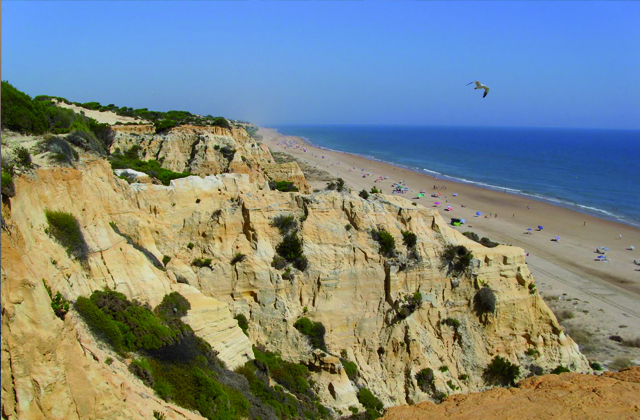 19. Benajarafe, Málaga
Beach located in Vélez-Málaga. Along with Valle Niza Beach, it forms an extensive dark sandy beach. Benajarafe Beach has the usual amenities, such as a bus, parking, showers, telephone and parasols, hammocks and deckchairs for rent, and is ideal for practicing water sports. It is also accessible by car and has disabled access.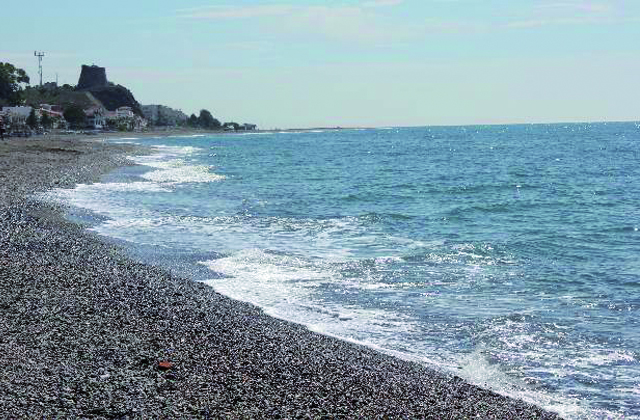 20. Calahonda Beach, Málaga
This rather well-equipped beach is located opposite the Calahonda development. It has different zones, from the most urbanised with houses and refreshments stalls to more virgin beach with abundant vegetation. You can do diving and fishing, for which many use the wooden handrail it has. It is narrow and distinguished by its incoming and outgoing, small and irregular, south-facing handrails.
This summer, come to approach the Andalusian coast and enjoy all of its beaches. Having been awarded the blue flag, they are a clear example of the care and dedication with which the inhabitants of southern Spain take care of its coastline. An excellent choice for a few days off in the sun.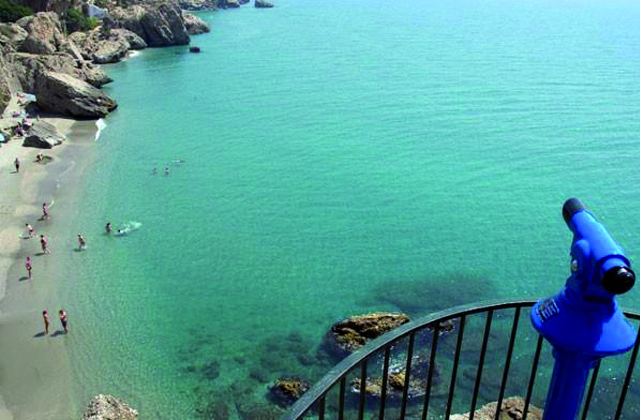 ACCOMMODATION
If you are looking for the best beaches on your holiday, the best option is Fuerte Hoteles. The chain has branches where you can enjoy the best of each area on the Andalusian coast, in addition to its services. Its over 60 years' experience are the best guarantee for taking the time to just relax and enjoy the sun and sea. Marbella, Conil, El Rompido or Torrox are some of the sites where you can find this amazing beachfront accommodation where you can enjoy the best views.