Adventure Activities: Would You Dare To Take A Zip Line From One Country To Another? Well, You Can.
Lovers of thrilling experiences have a new way to travel and enjoy an unforgettable experience: the Zip Wire. This is a zip line with a very special feature – you start in one country and land in another. Originality and adrenaline come together in this adventurous experience that is increasingly finding followers. Would you like to give it a try? We can tell you where.
This new way of 'crossing borders' is spreading across Europe but one of the most sought after opportunities is in Spain. The small town of Sanlucar del Guadiana Huelva is the starting point for a zip line journey to neighbouring Portugal. The wooden platform looks out over from a hundred metres from the white houses that make up the town, marking the beginning of the zip line experience. This is accessible with a 4×4 and requires a harness as soon as you arrive.
Do you like nature? Because from up here, before you launch yourself into space, you can breathe in the fresh valley air before taking off. The natural environment around this activity is spectacular and is no less impressive than the other side, in Portuguese territory. Those who have tried it say that this experience is as close as you can get to flying over this beautiful natural setting.
So, once all the safety and security measures are in place, the only thing left to do is fill your lungs up with air and jump. This act hits you with a thrilling adrenaline rush as you reach speeds up to 75 kilometres per hour during the 50 second ride. This provides a truly unique way to "cross borders" that is increasingly popular among lovers of adventure activities.
Across the valley awaits the Portuguese municipality of Alcoutim, taking only about one minute to arrive, but ending up with one hour less than when you left, with a different language, different customs. A zip line ride becomes a means of travelling through time. With that, we recommend finding a way to enjoy either side of the border.
Huelva and Algarve offer a number of activities, attractions and exquisite dining.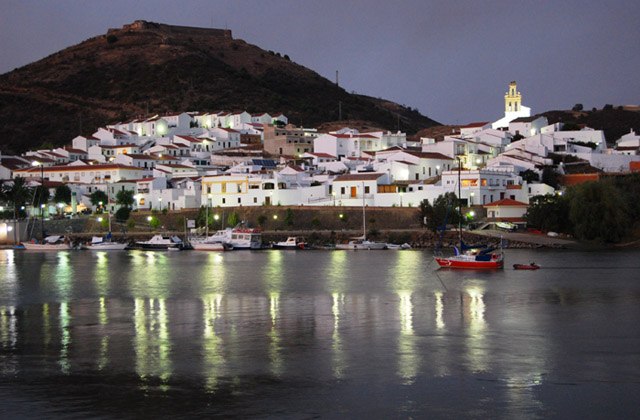 Sanlúcar del Guadiana, Flamenco sound
The Huelva Province is known for its folklore and its exquisite cuisine based around seafood. Sanlucar del Guadiana is a small village nestled in a lush, green valley. From the Castillo de San Marcos, one can glimpse views of the Guadiana and of our neighbour, Portugal.
The entire area of Southern Spain possesses a special appeal. Small towns present personalities all their own. One of the most important branches of Flamenco was born in this region. If you find yourself in the province of Huelva, you have to track down a "tablao" to hear the well-known Flamenco sound.
This province also has a very distinctive seafood cuisine that comes from the very heart of the Atlantic Ocean. White shrimp are the most exquisite snacks you can sample as an accompaniment to Iberian cured ham, one of the most recognised in Spain.
Moreover, the beaches of Huelva are known for their quality. Virgin landscapes like El Rompido are the ideal setting to relax and get in touch with nature.
Alcotium, The Neolithic Route
The Portuguese Algarve offers a wide range of opportunities to enjoy nature, especially, the northeastern area where you can find Alcotium. The Guadiana River is the fourth longest on the Iberian Peninsula and offers visitors the opportunity to explore a stretch on a power boat departing from this village Portuguese.
This area is protected to conserve the wealth of flora and fauna it hosts and you can enjoy it all through guided tours. There are very interesting walks through the grassland areas as well as Neolithic ruins, offering a glimpse of cultures long since passed. Beside Alcotium, there is also the salty Vila de Sao Antonio Swamp Nature Reserve, where you can witness a number of migratory birds passing through.
As you can in the Huelva Province, you can eat very well in the Portuguese Algrave. Seafood is the centrepiece of the menu and squid (known as lulas) is one of the most famous dishes. Meat is a culinary strength of Southern Portugal and a clear example of this is the "grilled sucking pig". The local wine, served with cheese in oil, is a celebration of Portuguese gastronomy.
So, now you know, if you decide to cross the border on the zip line, don't forget to take some time to enjoy both sides of the Guadiana. Both sides offer the chance to be close with the environment, take part in local customs and taste fine cuisine. Here is to a new way to visit the South of the Península Ibérica.