Discover the most unusual corners of Andalucia in these 15 spots we recommend for you
If Andalucia is famous for something, it is for being a community that is home to the simplest and, at the same time, the most unusual corners of these lands. Although its monuments, its nature, its beaches and its white towns with narrow streets and flowerpots in the balconies are its most famous attractions, the south of Spain is home to curious and unusual sights that transport us to a world of fantasy and to strange settings difficult to witness in other latitudes. It is something unexplainable but true. There is plenty to see in this land, where you will find some of the most unusual places of Andalucia.
Here, we provide a list of the 15 most spectacular Andalucian corners that will not let you remain indifferent:
1. Río Tinto (Huelva)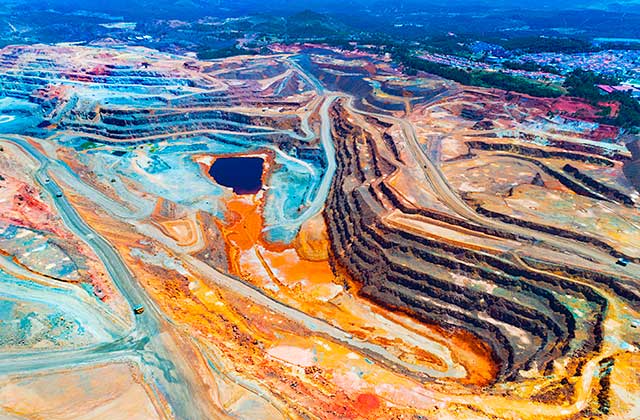 Río Tinto mines in Huelva are known worldwide for their curious imprint. The heavy metal in this riverbed gives the water a red color which surprises us with its originality. Throughout history, different towns settled in this area, living from mining. The great diversity of microorganisms adapted to extreme habitats has led the NASA to conduct studies in the area with the aim of exploring its parallelism with planet Mars. Being the object of flamenco chants like the fandango of Huelva, of international photographers and of landscape painters, Río Tinto has become one of the most unusual spots in the province of Huelva and Andalucía. If you travel through Southern Spain, do not hesitate to come to this place and take your picture in one of the most original landscapes in the world.
2. El Torcal de Antequera (Malaga)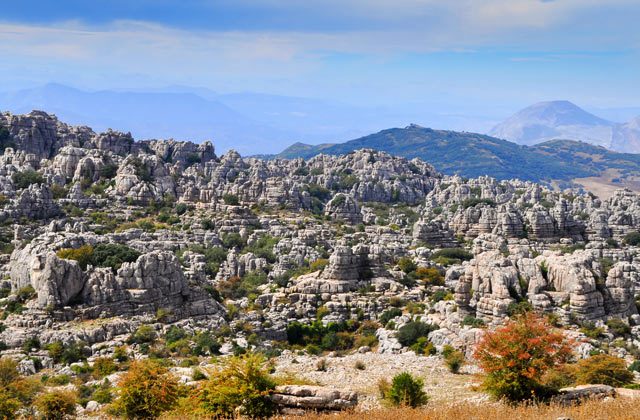 One of the most significant examples of karst landscapes can be found in the heart of Malaga province, specifically in Antequera. At El Torcal, limestone rocks have gradually formed with the passing of time, adopting curious shapes that stand out from any other landscape. Its marine origin has caused numerous prehistoric fossils of inestimable value to be found in this spot. Its champignon-shaped rock formations and its most famous rock, "el tornillo" (the screw), make up a singular picture where, as well as the unusual landscape, you can watch the stars through the observatory, or in various excursions. If you are curious, this is a must-see for you, which you will enjoy to the fullest due to its beauty and natural richness.
3. Arrecife de las sirenas (Mermaids Reef), Cabo de Gata (Almeria)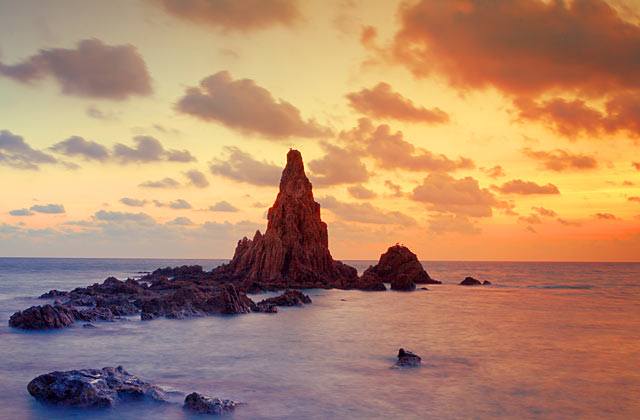 The Mermaids Reef hides a fascinating story. It consists of the remains of an old volcanic vent; this is, the duct that joins the magma chamber and the outer side of the volcanic crater, which underwent an erosion process. At present, this has left one of the most unusual landscapes in Andalucía. Located in the Cabo de Gata Natural Park in Almeria, it gets its name from the presence of a colony of monk seals in the 20th century, which fishermen used to refer to as mermaids. A particularly interesting spot if you are seeking to see the most magical side of Andalucía.
4. Cave of Nerja (Malaga)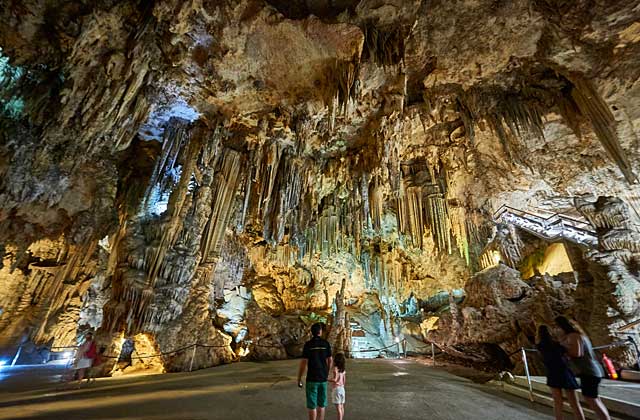 If you want to travel to the past and go back to Prehistoric times, do not hesitate to visit the Cave of Nerja. The stalactites and stalagmites formed throughout the years will transport you to another world, taking you by the hand to discover the origins of Man. Here, paintings of seals as old as 42,000 years old were found, which could be regarded as one of Mankind's first works of art. The cave, of considerable size, is one of the most curious pictures of Andalucía. If you decide to travel to the South of Spain, come to this enclave where you will enjoy the remains left by our oldest relatives in a magical and rare environment.
5. Island of Sancti Petri, San Fernando (Cadiz)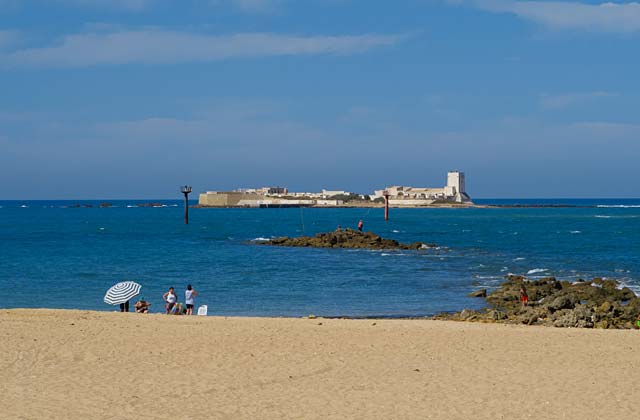 The Island of Sancti Petri has a magical story that has become a cradle for Andalucian symbolism. The most famous Western temple of ancient times was situated in this Cadiz spot. The Temple of Hercules was probably a group of buildings, with a main building and a patio, accessed by means of a gateway flanked by two large columns. Precisely this symbol is reflected in Andalucía's flag. After being restored as a castle against pirates in the 16thCentury, in the early 19thCentury, they installed a lighthouse in the tower, already out of use. All this history is kept in a unique spot of the Spanish geography, because if you bathe in San Fernando beaches, you will be able to see this island in front of you, together with this centenarian fort. A bath of mystery at the foot of a legend.
6. Dunes of Bolonia (Cadiz)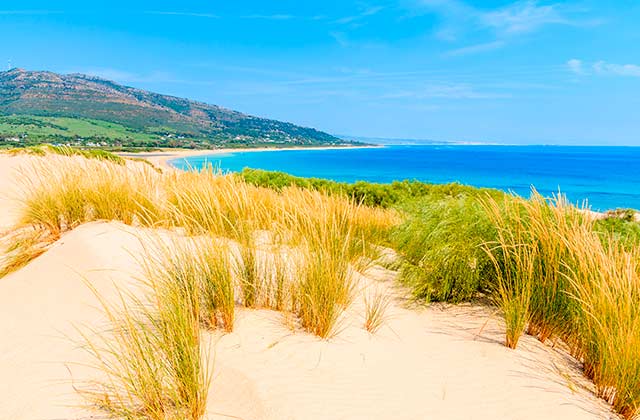 If you want to travel to the "1001 Nights", do not hesitate to come to Bolonia. Its dunes take you to a desert with fine, golden sands. An unusual landscape that ends with a sea of crystalline waters, perfectly blending in an incomparable view. Additionally, Bolonia holds yet another peculiar feature, as it has the Roman ruins of Baelo Claudia, also looking out to the Atlantic Ocean, creating curious views and images that cannot be found anywhere else. A magnificent chance to watch the sea from the foundations of our Western culture, within a magical Eastern desert environment.
7. Río Chillar, Nerja (Malaga)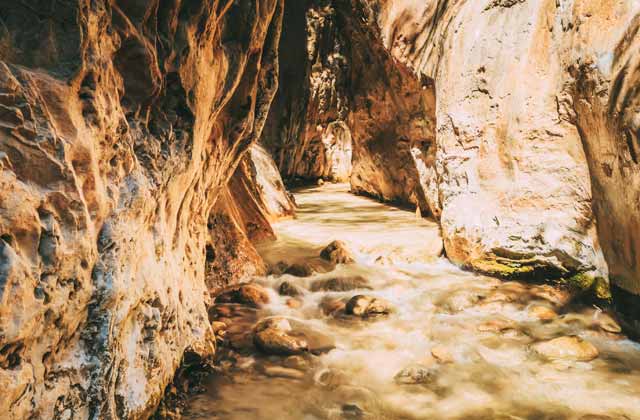 Huge rock corridors, natural stone arches and crystalline waterfalls are the most well-known features of Malaga's Axarquía of Río Chíllar. The path that borders the river and allows us to see exceptional natural views. This path, almost in its entirety, goes through a deep gorge of domolitic marble, creating a singular landscape in the Andalucian geography. If you would like to live this experience, don't hesitate to visit Nerja, which is the starting point of this path, and don't forget to take appropriate footwear to walk near the water. A unique experience in a unique spot.
8. Los Banquetillos Lunar Landscape, Vejer de la Frontera (Cadiz)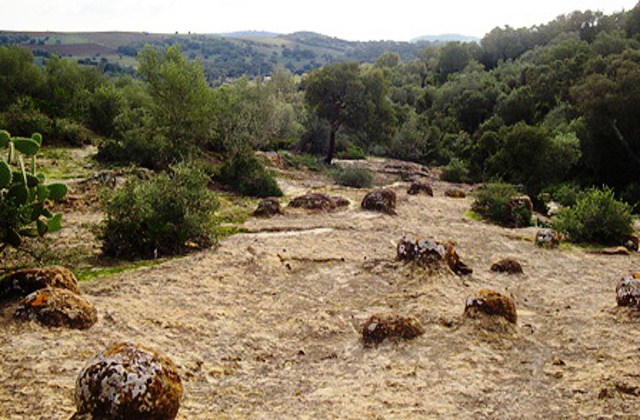 Like being on the Moon. That's what happens when we approach Los Banquetillos lunar landscape, in Vejer de la Frontera. This spot houses four anthropomorphic graves carved in stone with Christian symbols, which could be attributed to the small communities of former inhabitants. But what's really attractive about this place is its craters, formed by the erosion of rocks, reminiscent of the images of our satellite. If you travel around the area, do not miss this spot in Malaga, where a supernatural mystery overflies this strange natural environment of Andalucía.
9. Pinsapar (Fir Forest) of Sierra de Grazalema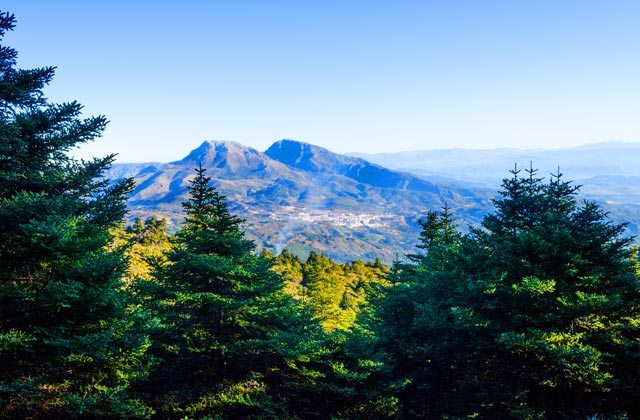 Between the provinces of Cadiz and Malaga there is Sierra de Grazalema, which houses one of the most unusual species of the natural world, the pinsapo or Spanish fir. Mainly concentrated in Sierra del Pinar, as it is the rainiest place in the Peninsula, this species descends from the Central Europe firs which formed large forests in this area during the Ice Ages. Today, these firs live only here, at the Natural Park of Sierra de las Nieves and in Sierra Bermeja (both in the province of Malaga), hence their uniqueness. An unusual picture that you can only see in this spot, and that will give you one of the most curious and memorable images of nature.
10. Setenil de Bodegas, Cádiz
This town is located in the province of Cádiz, although just 14 kilometers away from Ronda. Due to its curiosities, Setenil has become a tourist destination everyone must visit. The biggest singularity of this town is that its dwellings are located under, in or on top of rocks. They are not caves, though, they are more dwellings "sheltered under the rocks".
Visiting Setenil is definitely an experience because of the different heights of the streets, which follow the river from the Nasrid Castle to settle at the mountainside, forming unique corners such as the ones of the Calle Cueva del Sol Street or the Calle Cuevas de la Sombra Street. Its very unusual and incredible houses are this town's main attraction.
11. Ronda, Malaga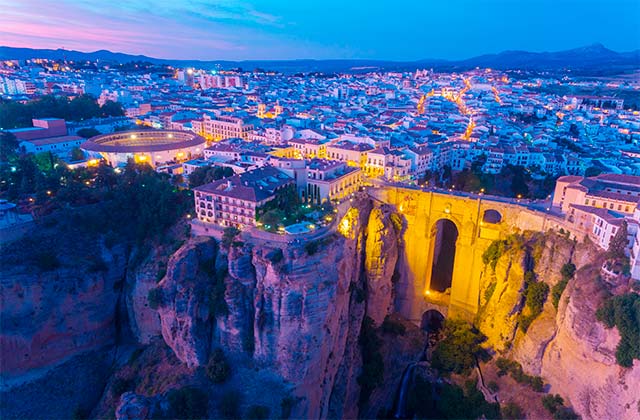 Visiting Ronda, at the heart of the Malaga mountain range, is always a treat. If you want to really enjoy this location, which combines nature with man-made constructions, make sure to see it from the Tajo River. From there, the view will show you a town sitting at the edge of an abyss, a truly amazing sight. Ronda is the perfect place to gaze upon gorgeous landscapes while enjoying the finest cuisine. Not in vain, Ronda is home to a tapa route that takes you through charming little streets and hidden squares.
12. Meadows of the Sierra Morena (Córdoba, Jaén and Sevilla)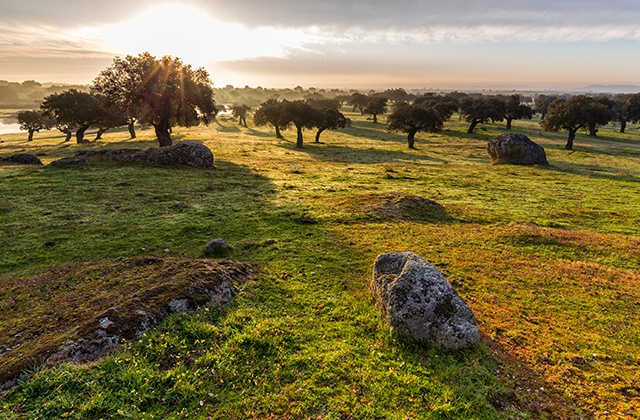 There are numerous meadows in different parts of Spain and Andalucia; however, the most beautiful ones are found at the south of the Sierra Morena. There is nothing as wonderful as walking along Los Pedroches of Córdoba, the North Sierra of Sevilla or the Andújar Mountain Range during spring. Enjoy the panoramic views of the meadows when they bloom, filling the landscape with a multicolored rainbow. It is one of the most beautiful sensory experiences you will have in your life, we guarantee it!
13. El Cerro del Hierro (Iron Mountain), Sevilla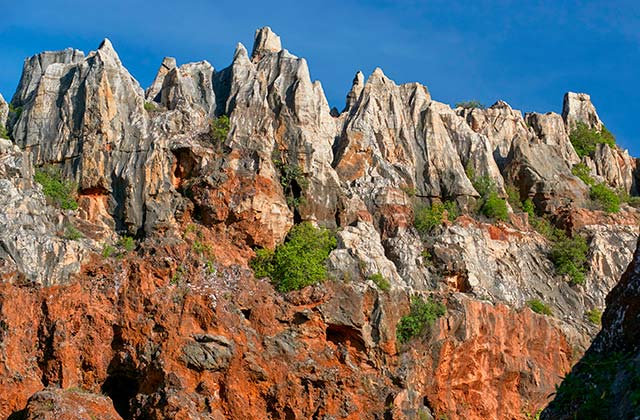 The Cerro del Hierro Natural Monument is located to the north of the province of Sevilla, reachable by horse from the municipalities of Constantina and San Nicolás del Puerto, very close to the Cascada de Huesta (Huesca Waterfall) National Monument. It is home to a spectacular landscape that combines nature and man-made structures in what some say resembles the porous surface of the Moon. This particular topography is due to ancient seafloors that were rich in sponges and reefs that have calcified with the passing of millions of years to transform into a white mountain range.
14. Castillo de la Iruela (la Iruela Castle), Jaén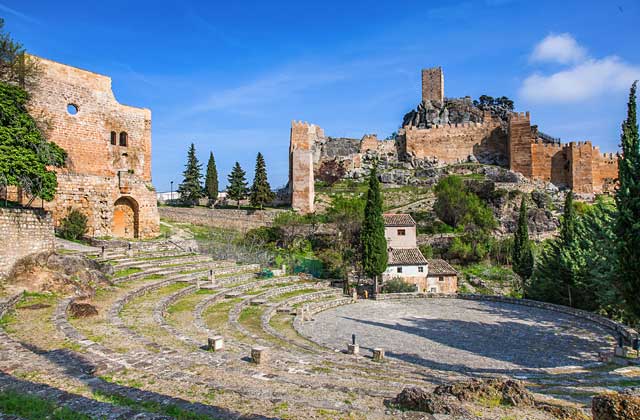 This site is spectacular because the fort is located atop the magnificent Sierra de Cazorla. The mountain range seems to humble under the highest tower of the castle, which commands a steep cliff. While watching it, one cannot stop thinking how challenging it was for the builders of that time to build such a castle in a location such as this, at the beginning of the sixteenth century. We recommend that you visit this location during the patron saint festivities dedicated to the Virgen de los Desamparados (Our Lady of the Abandoned Ones); hopefully, you will let us know your opinion.
15. Caminito del Rey (The King's Little Pathway)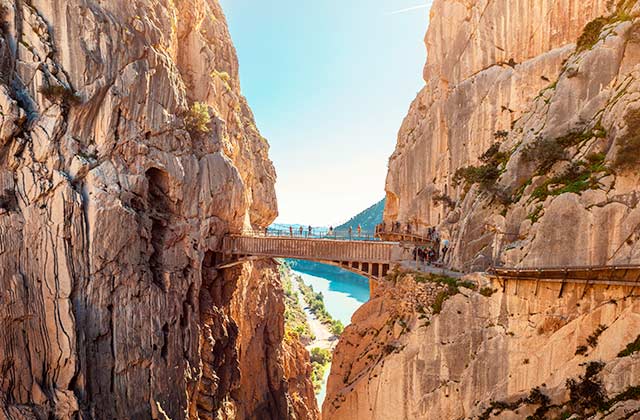 We could not end this list without including this amazing place; a pathway formed by concrete footbridges, one meter wide, located 100 meters above deep sheer drops of the Guadalhorce River, in the beautiful Desfiladero de los Gaitanes (Gaitanes Gorge). This pathway, of approximately 7.7 kilometers, 4.8 kilometers of accesses and 2.9 kilometers of footbridges, was built to connect the two ends of a cutting-edge hydroelectric waterfall at the beginning of the twentieth century.
If you have carefully read these options, you surely have realized that Andalucía, apart from its usual landscapes, has some unusual corners that take us to other worlds and other regions. If you are coming to Southern Spain, do not miss this other side, you will be pleasantly surprised.
WHERE TO STAY
If you wish to discover this unusual  side of Andalucía, don't hesitate to stay at the best hotels. Without a doubt, the best option is Fuerte Hoteles. The chain has facilities where, apart from the regular services, you can enjoy the best of each spot in the Andalucian geography. Its over 50 years' experience is the best warranty so you can devote your time to discovering these unusual corners. Marbella, Conil, Grazalema, El Rompido, Estepona or Torrox are some of the places where you can find amazing accommodation facilities near the spots we have recommended for you.