We give you 11 reasons why you should not miss El Torcal de Antequera. The most original natural place of Malaga.
El Torcal is one of the most interesting tourist destinations in Andalusia. It is located in the municipal terms of Antequera and Villanueva de la Concepción, in the province of Malaga.
It is one of those must visit places in Andalusia. A destination that will not leave you indifferent. Ideal for all types of people. No matter how old you are or what your tastes are. Surely you will find something worth visiting. And you will most likely want to return on future occasions. One day is not enough to see, know and enjoy the wonders of El Torcal de Antequera and its surroundings.
Its impressive and original Karstic landscape is one of its greatest attractions. It also has many other natural and cultural elements of interest that have earned it the declaration of World Heritage of Humanity by Unesco.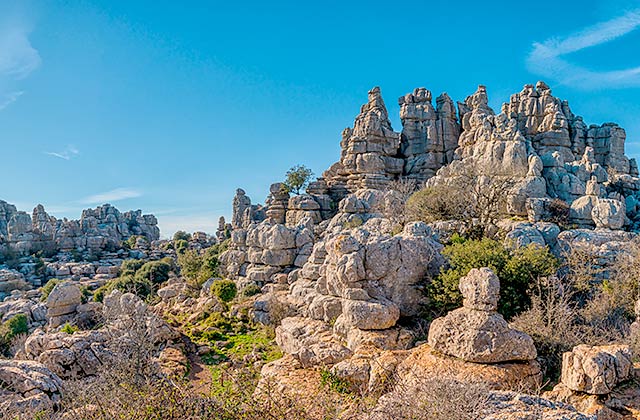 In El Torcal de Antequera you can admire the beauty of a unique natural environment. A surprising landscape that will awaken your imagination and your curiosity. Result of thousands of years and a set of natural phenomena that have been transforming it into an extraordinary visual spectacle.
El Torcal also has a thousand caves and chasms. Places of special interest for lovers of caving, history of mankind and nature.
Numerous species of vertebrate animals also inhabit El Torcal de Antequera. These include birds such as the golden eagle or the griffon vulture.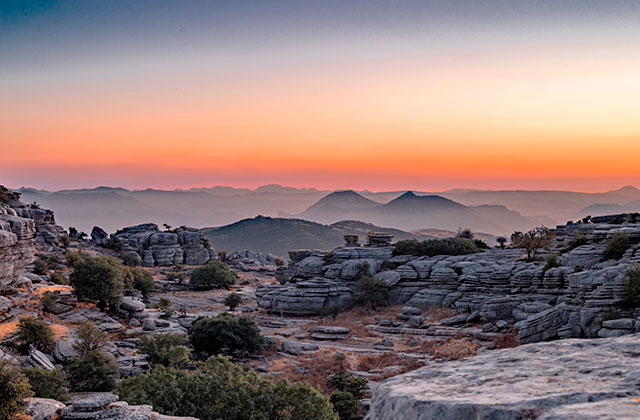 The varied and rich flora that grows and lives in El Torcal has a special interest for lovers and botanists.
The archaeological sites located in El Torcal national park show the presence of man in the area for centuries. Remains of the cultures of our peers from thousands of years ago.
One of the things to do in El Torcal is to visit one of the few astronomical observatories that exist in Andalusia. A perfect place to know and contemplate the stars that populate the night sky visible from this part of Andalusia.
You can find all the information and help to enjoy this unique and incomparable place to the maximum in the Visitor Centre of El Torcal. The routes that you can make, the most outstanding places, the schedules and requirements to attend the numerous activities that are scheduled throughout the year. The best tips to get the most out of your visit to Torcal de Antequera.
We recommend you start your tour of El Torcal de Antequera in the Interpretation Area of the Visitor Centre. You can get an idea of the different wonders that this place of Andalusia has. It will be visual, entertaining and didactic.
We present you 11 reasons why you should visit El Torcal de Antequera. Different reasons why it is one of the must visit places of Andalusia for any type of people.
1. The Karst Landscape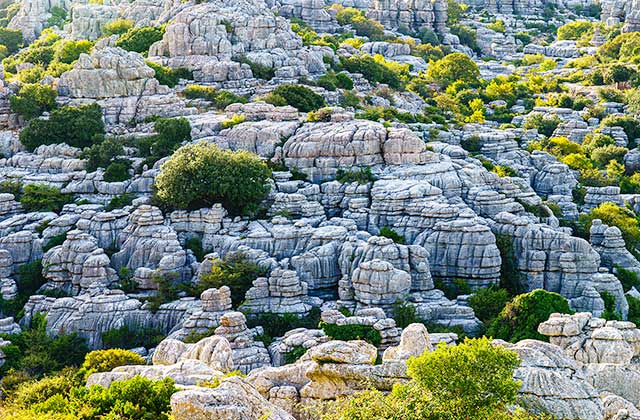 The Torcal de Antequera is characterised by a stunning Karst landscape, known as a terrain that spent more than 200 million years submerged by the sea. The collision of two tectonic plates caused the local land to emerge from beneath the water in a slow process, which brings about valuable fossils. Over the years, meteorological agents, including water, ice and wind have all helped to shape this limestone into a spectacular landscape.
All of these forces have combined to form structures known as "mushrooms" for the characteristic shape of rocks in the Torcal, with a wide top supported by a thin base. The result is a stunning view and an absolute treasure for nature photography lovers, attracting professionals and amateurs alike.
 2. Fossils of El Torcal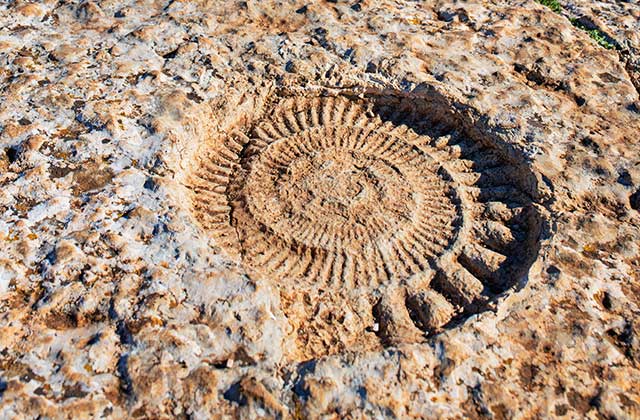 Throughout the year the Visitor Centre of El Torcal organises exhibition days, which showcase the natural and cultural value of this space. As if they were travelling back in time, visitors can discover the marine origin of the natural area's first inhabitants: the Ammonites and Belemnites. Through this activity, visitors can learn about the area's varied fossils, how to appreciate them and even value them. In addition to glimpsing these findings, participants can view fossilised footprints from animals, exactly where they left them in the limestone. This initiative is a truly rewarding experience for the study of prehistoric fauna.
 3. The Route of the Ammonites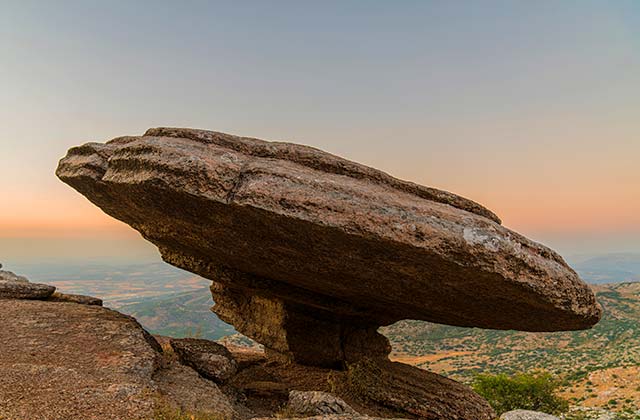 El Torcal offers the chance to explore this beautiful natural setting while you learn. An example of this is the famous "Route of the Ammonites". This is a walking tour that takes place along the former "Red Route". This area has restricted access and you need special permission from the regional government, so if you plan on taking part, you need to make a reservation with the Visitors Centre. The highlight of this activity is undoubtedly the views, including the four cardinal points, offering a bird's eye view. To the south you can see the Costa del Sol. To the east, you'll find the Sierra Tejeda and Sierra Nevada. And to the north, the beautiful city of Antequera and West El Chorro.
Panoramic views include both sea and snow, blending to make this an unforgettable experience. Besides enjoying this tour of their views, you can learn alongside professional guides about the region's characteristic geology, anthropology and prehistoric fauna. If you want to take this route, it's important to remember to look for iconic limestone figures, including "The Bold", the "Sombreito" and the "cofre". Don't forget to wear comfortable sports clothing and set aside about two hours to complete the route.
 4. Hiking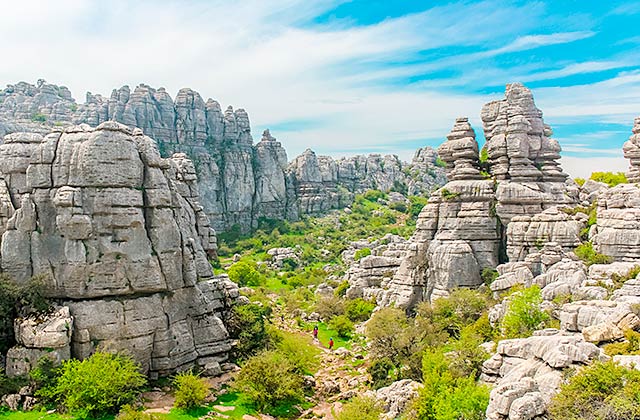 In addition to guided tours, El Torcal offers hiking trails that are marked and open to the public. Visitors who want to take this approach can find out everything they need to know about each trail's difficulty at the Visitor's Centre, making sure you pick the one that suits you best. You can find trails that will require from 45 minutes to a minimum of three hours. For all of them, hikers need to bring suitable footwear for mountaineering and it is also important to wear comfortable and sheltering clothes. Given the altitude of the area, the temperatures can be very different from the city. On this tour you can admire the Karst landscape and local animals in their natural habitat.
 5. Guided Tours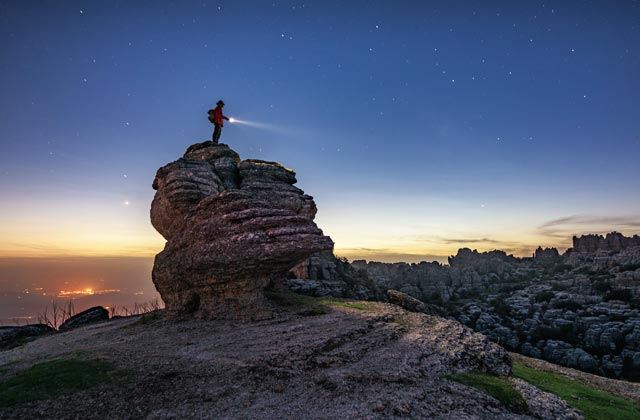 The El Torcal de Antequera Visitors Centre has a range of professional guides for those who prefer to visit the area and learn about each curious and significant detail about the landscape while they hike. Each guided tour is tailored to the needs of each visitor. Older visitors or those with a physical disability may require alternatives to the services available – changes that can be easily made and adapted according to their specific needs.
 6. Astronomical Observations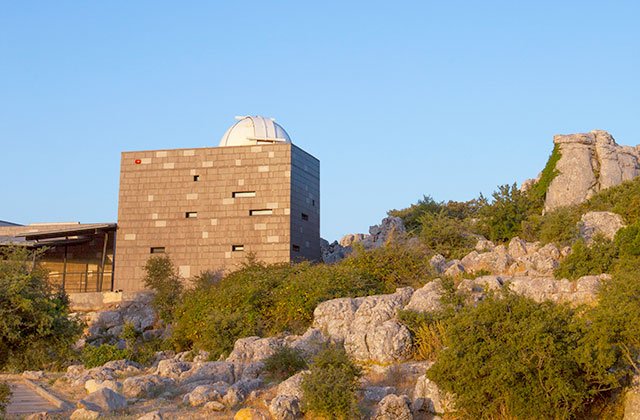 El Torcal is a prime location for exploring the universe. In this natural setting sits the El Torcal Astronomical Observatory whose main objective is to allow visitors to enjoy and make use of a   fully equipped facility with powerful observation tools, all guided by a skilled staff. This activity helps the study of astronomy in an educational and entertaining. Throughout the year, nighttime sessions are also organised to help inform the public as well.
 7. Interpretive Area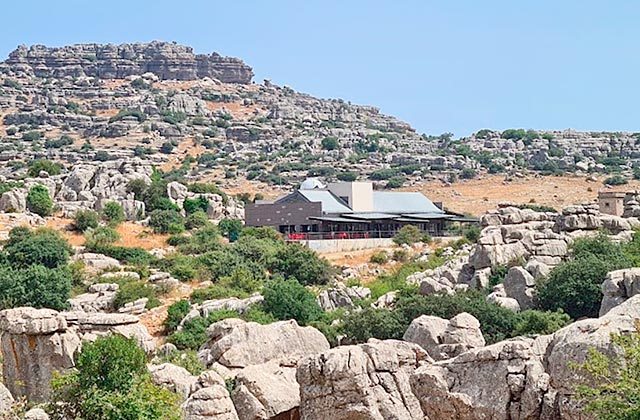 To become more familiar with this unique Karst area, the Visitor's Centre has a reading room. This virtual museum has audio-visual equipment to facilitate the visitor's learning about the most important characteristics of El Torcal. If you like to learn in a fun and visual way, this is the best option to soak up the fauna and flora of prehistoric Southern Mediterranean.
 8. Health Benefits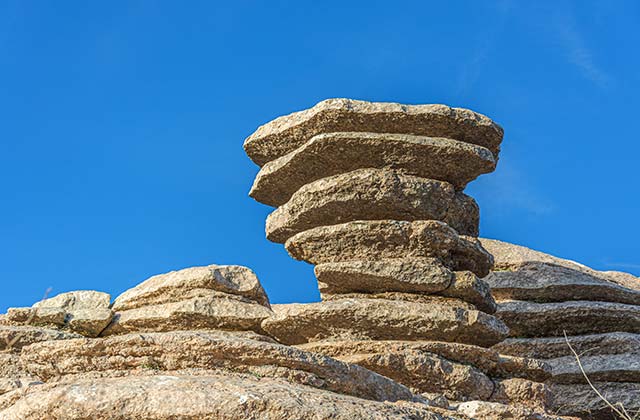 El Torcal is located almost 1,200 metres above sea level. If you want fresh air while admiring magnificent views, this area is perfect location for cleaning out your lungs. Many lovers of yoga and Eastern philosophies come to this environment to perform their exercises and traditions. The orientation and geographical location helps positive energy currents flow, helping to establish an energy bridge.
9. Typical Gastronomy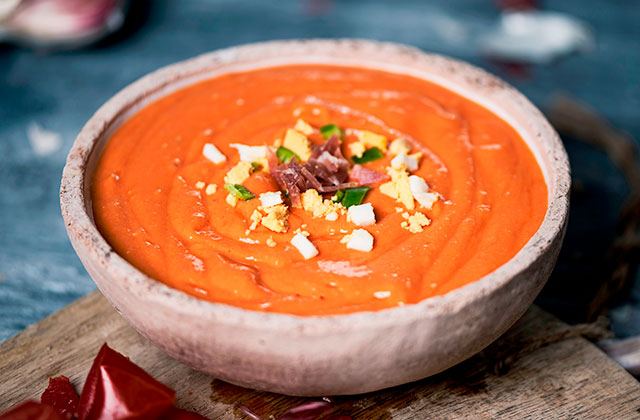 If you're looking for something typical from Andalucia, one must consider the region's fine food. If you are a foodie, you can not miss El Torcal. As seen in the Antequera natural setting, the selection is wide and varied. The area's typical dish is the "la porra antequerana", which is a thick, cold cream made with tomatoes, olive oil and bread. Migas (fried bread) is one of the typical dishes of the region in addition to goat cheese. The more adventurous can also enjoy the popular dish of the mountains based on eggs, potatoes, sausage, peppers and tenderloin. But if Antequera is known for anything, it is the monastic sweets, which highlights the " bienmesabe" .
Restaurante Torcal Alto
Paraje Natural Torcal de Antequera, 29200 Antequera, Málaga
Tel: +34 952 24 33 24
Google Maps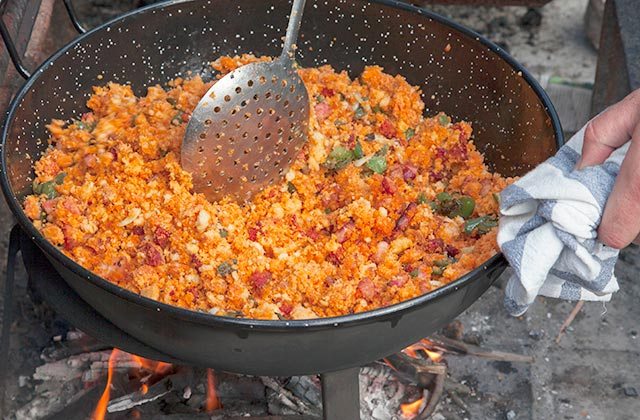 Restaurante Museo Molino Blanco
Carretera Del Torcal, Km 5 A-7075, 29200 Antequera, Málaga
Tel: +34 952 11 12 76
Google Maps
Venta Los Patos
Diseminado Poligono 163, 10, 29200 Antequera, Málaga
Tel: +34 951 48 081 6
Google Maps
Restaurante El Mirador de Antequera
Km 0,5, Carretera el Torcal, 29200 Antequera, Málaga
Tel: +34 952 84 45 23
Google Maps
10. A Visit to Antequera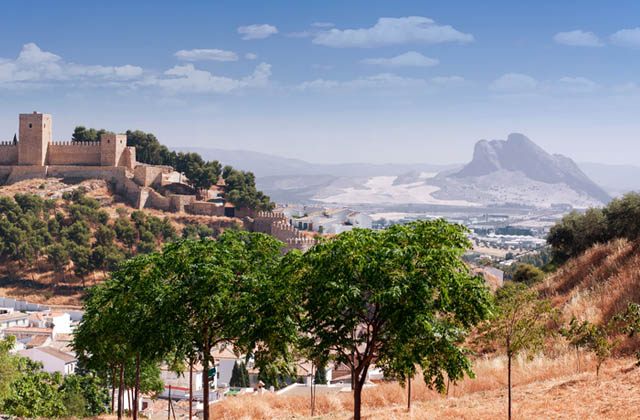 El Torcal is located near Antequera, one of the most beautiful cities in the province of Malaga. If the area's natural views are not enough to impress you, the charm of this monumental city certainly will.  This enclave of mediaeval Andalucian aesthetic has one of the most important prehistoric monuments in Europe, the "dolmens", along with a rich architecture, including stately homes, churches, palaces and convents.
If you are planning on giving yourself a break, this is certainly an interesting destination. El Torcal offers a wide range of activities bathed in the beauty of its natural setting. A corner of Spain to enjoy nature in a most original way.
11. Visit the municipality of Villanueva de la Concepción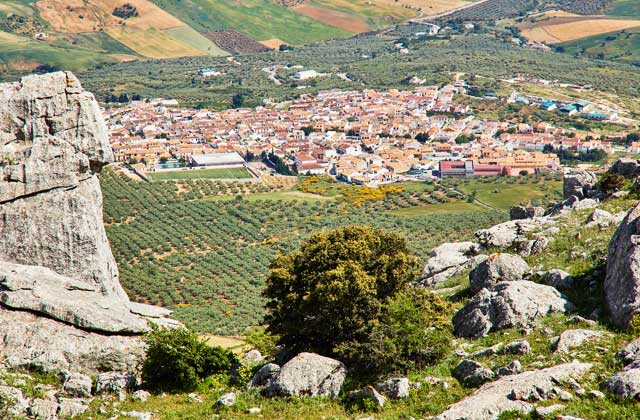 It is the 101st municipality of the province of Malaga. Until 2009, its lands belonged to the municipality of Antequera. It is the nearest town to El Torcal, located on its south side and visible from the Mirador de las Ventanillas.
Villanueva de la Concepción is the typical narrow streets white Andalusian village. Its places of major architectural interest are the Church of Nuestra Señora Inmaculada de la Concepción, the bridges of El Horcajo, El Paraíso and El Garrayo, and the squares of Andalusia and García Caparros.
Can you think of any other reason to visit El Torcal de Antequera?
What are the natural wonders of Andalucia?
WHERE TO STAY
Olée Holiday Rentals Apartments  are found on a perfect spot on the western Costa del Sol, between Torrox y Nerja, typical Andalucian towns with the best weather in all Europe. The 87 apartments that make up the complex, have air conditioning, a wide living room with satellite TV and modern kitchen equipped with an oven, dishwasher, washing machine and dryer. Some of them have a balcony and wonderful views to the Mediterranean Sea.