Cycling holiday in Grazalema: the cycling routes you must not miss
Being able to enjoy the stunning natural park of Sierra de Grazalema is a pleasure, more so if you do so by touring it via its amazing cycling routes. A cycling holiday in the Sierra de Grazalema is an activity we highly recommend, since in addition to keeping fit, you will be able to delight in some of the country's most beautiful spots.
Here you will find excellent cycling routes, whether via mountains, main roads or the new gravel cycling routes. Long but easy ascents alternate with short but demanding summits that will make up for it with amazing descents. Fear not though, since if your plan is to take it easy, there are also routes adapted for beginners and families with children. Indeed, a cycling trip in Grazalema is an amazing way to enjoy your holiday or weekend and, unlike what you may have been told, you don't need to do long routes or have the latest in technology. All you need is the desire to enjoy and a mind that is open to adventure.
Rules for using your bike safely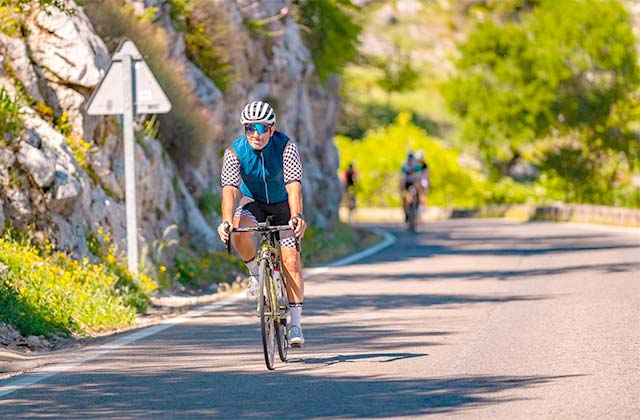 You are driving even though you are on a bike, so follow the rules of the road. As soon as you get on the bike, you are driving and more so when you are on a public road, so respect the traffic rules.
Helmet above all. Wearing a helmet, even though it is not always obligatory, is advisable, since it will protect you from any potential impacts that may cause injuries in serious cases.
Be seen. Wear and use reflective or brightly coloured items in order to be seen. And if it is nighttime, use luminous items both on the front and on the back. You must see and be seen.
Indicate your movements. Bikes, as you well know, do not have flashing lights, so you must let the other drivers know of any movements you are going to make.
Do not drink and drive (even if you are on a bike). Remember that if you are on a bike you are another driver, so the permitted alcohol limit is the same as for everyone else. Do not drink and drive, even if you are on a bike, since you are putting your safety and the safety of others at risk.
Before setting off, what should I check?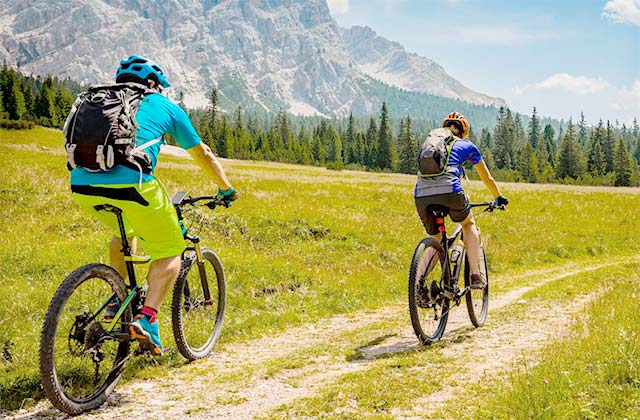 A loose handlebar can mean that your trip quickly goes downhill, since you may lurch from one side to the other while pedalling, making you focus much more on controlling the bike rather than cycling at a constant rhythm.
Poorly adjusted gears are annoying when we are cycling all day, so it is extremely important to check them before you set off to make sure there are no sudden gear shifts.
Tyre pressure. Just as it is important to check car tyre pressure when we travel, we also need to do this when we travel by bike.
Before you start each route, check your helmet to make sure it fits properly.
Tips for enjoying a safe cycling trip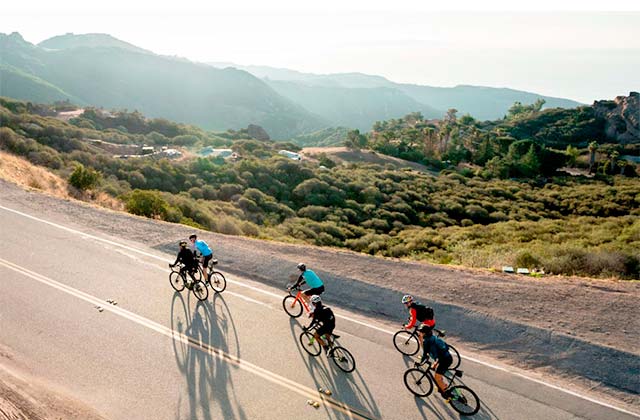 Wear suitable clothing. When riding a bike it is very important to wear suitable clothing that dries easily, since pedalling uphill will make you sweat.
Eat and drink fluids during the ride. When you are cycling it is important to constantly take small sips of water. That way you will avoid cramps. It is also important to eat snacks along the route, since these will be your fuel.
Take your rubbish with you. Never leave rubbish in the forest. It is very embarrassing to see our natural spaces polluted with rubbish that many throw away along way.
ROUTES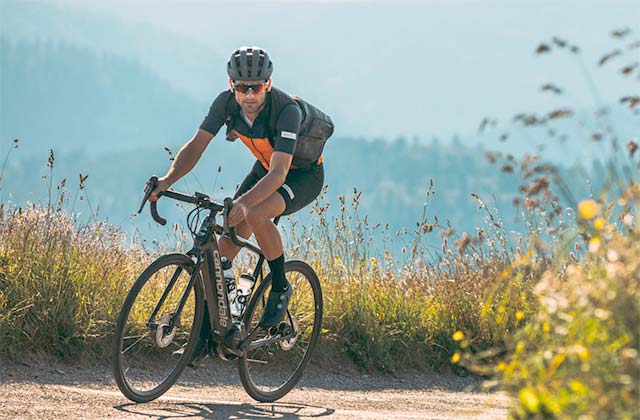 El Pinsapar
This route is 7.5 miles long and starts on the path that runs from Grazalema to Benamahoma, ascending along the north side of the Sierra del Pinar. From this point, you can make out Grazalema, Ronda and the Sierra de las Nieves, and, on a clear day, we should be able to make out the Sierra Nevada, an absolutely stunning view. Almost the entire cycling route is surrounded by Spanish firs, initially spread out and then becoming a tight and dense forest.
Llanos de Rabel
This route is also called Llanos del revés. It starts from Puerto de los Acebuches and enters the natural park reserve, so bear in mind that you must request in advance a special permit to go through from the Council. This route that runs for 6.2 miles from the Spanish fir forest to the home of the Griffon vultures of the Garganta Verde is stunningly beautiful.
Charca Verde
This circular, 8.5-mile route starts with an ascent until it reaches Pozo de las Presillas, where you can enjoy some amazing views of Los Navazuelos. Arriving at Charca Verde, we can make out the lagoon with a mountainous horizon well worth enjoying. The path is beautiful but is not cordoned off, so be careful.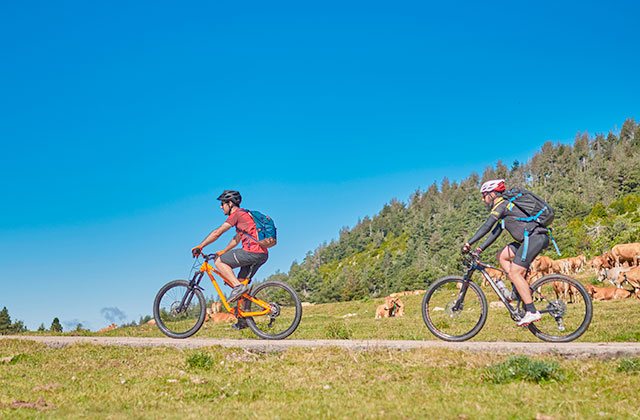 Hotel Fuerte Grazalema – Puerto del Boyar Circular Route
This 30-mile plus route is of medium difficulty. It will allow you to enjoy landscapes as beautiful as the Roman road and Puerto de los Alamillos, and you will pass through Benahocaz, a picturesque town that will make quite an impression. Also, if you opt for this route, don't worry about getting back since it is circular.
Vuelta del Puerto de la Ribera
This 18.6-mile route starts at the Hotel Fuerte Grazalema in the direction of Ronda. We will cross an oak forest with beautiful views of Grazalema, and will pass through Bodega Jorge Bonnet. Then we will leave the oak forests and start enjoying Gaidóvar Valley, pass by the ancient grist mills and the mat factory, and will be able to fill our water containers with the waters of the Fuenfría source.
The charm of the Malaga interior: the prettiest towns in the province
Cycling holidays in Huelva: 10 unmissable cycling routes
WHERE TO STAY
Fuerte Hoteles is the best accommodation option if you decide to take a cycling tour of the beautiful Sierra de Grazalema. The Hotel Fuerte Grazalema is one of the most beautiful hotels in the area due to its spectacular location, in addition to an architecture in perfect harmony with its environment. An ideal spot for relaxation and sport surrounded by nature.