All you need to know to practice standup paddleboarding in Marbella
Summer is the "holiday season par excellence" but that's no reason to let our sport routine fall by the wayside. Indeed, among all the benefits of sport, one that stands out is the creation of endorphins that produce a sensation of happiness that releases us from tension and stress, which is so good for us at this time of the year and will help us forget our obligations during the summer period.  So, for our happiness, in Marbella we can combine enjoying life with sport by practicing standup paddleboarding. The purpose of this booming activity is to make our holiday at this destination different, healthy and unforgettable.
Schools have opened in Marbella where SUP can be put into practice, and we can put ourselves in the hands of experts to get the best instruction on standup paddleboarding courses and enjoy this sport with the best guarantee.   We will also find the best standup paddleboarding shops that have all the gear we need for our experience in Marbella to be the most enriching.
Have you also been bitten by the bug?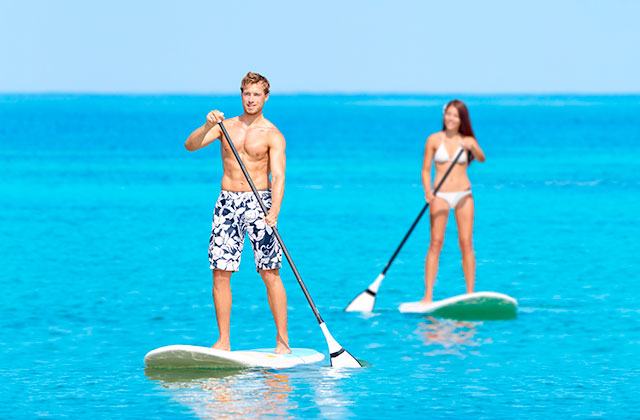 1. Origins
Stand up paddle surfing is an old form of sliding in which the navigator uses a paddle to move along the water while remaining standing on a surf board. Its most recent history dates back to the 1960s when surfing instructors on Waikiki Beach in Hawaii used their rudimentary canoe paddles to take photos of their pupils. It also enabled them to have better visibility of their group and easily announce the arrival of waves. And so a new form of entertainment was born that has lasted to the present day under the name of stand up paddle surfing.
2. Muscle toning
Keeping your balance and managing to move while standing on a surf board with the help of a paddle makes you move a large number of body muscles. Glutes and abdominals are the most involved, so now you know that if you want to get in shape make sure you head to Marbella to do this sport; a safe bet for sculpting your figure for those summer days that are fast approaching.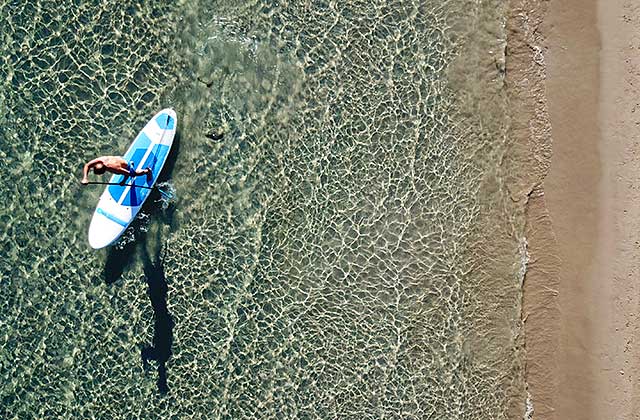 3. Weight loss
If you're a few pounds overweight, this sport is perfect for losing weight. In just one hour you can burn 480 calories at the same time as you work the arms, chest area, abdomen, thighs, legs and glutes. The effort of staying on top of the board and the effect of paddling is what makes us sweat and, therefore, lose that extra weight.
4. Stand up paddle surfing school (SUP)
Marbella has schools specialising in standup paddleboarding, where you can learn to practice this sport activity at all levels, as well as routes and trips to do as a family or with friends. These schools offer all the options, whether you want to practice standup paddleboarding or not. If what you want is to practice or learn this sport and its different forms in this Costa del Sol city, the schools offer the best training with specialist instructors. If, on the other hand, you don't fancy doing sport, they offer the option to relax at a pleasant refreshment stall while you enjoy a cold beer and watch your family practice standup paddleboarding.
5. Reduce stress
Clear your mind and recharge your batteries. Contact with the water and the force of the wind generate a feeling of freedom in the person practicing this sport. This exercise helps with coordination and to achieve a psychosomatic balance that combats and reduces stress. If you're overwhelmed with work and the stresses of your day-to-day life, make sure you head to Marbella to practice stand up paddle surfing.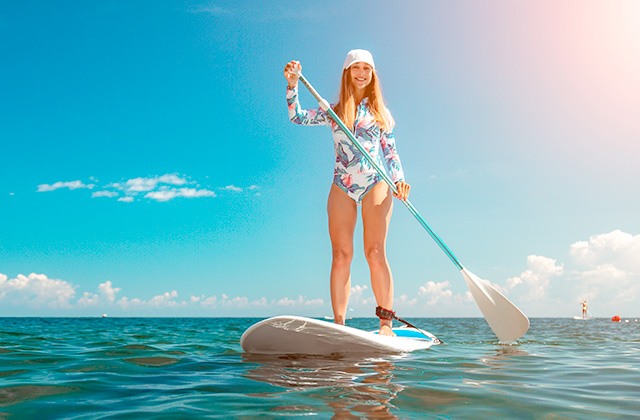 6. For all ages
One of the advantages of this sport is that it can be done as a family because it is suitable for all ages. Both parents and children can practice it together. Furthermore, it allows us to enjoy different landscapes, since you can paddle on the sea, in ports, on lakes, rivers or any large water mass.
7. Health benefits
It is obvious that stand up paddle surfing offers great benefits for our body, since it uses every single muscle. It is also recommended to prevent hip, knee, ankle or back problems. So it helps to work the coordination of our body through isometric exercises that facilitate and strengthen joint movement.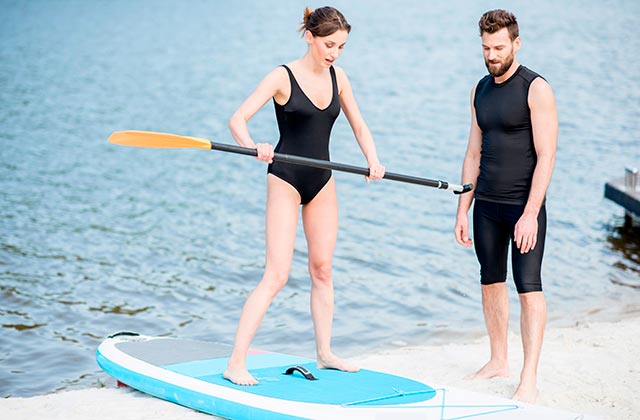 8. Lessons
If you need lessons, the Stand up Paddle Surfing School in Marbella are experts that we recommend. They also organise outings in May and June to the River Guadiaro, which flows into Sotogrande in the Province of Cádiz. This is a great opportunity to practice this sport on fresh water.
9. Characteristics
Two characteristics are very important in this sport. First of all, it is practiced on a board that is constantly moving, since it sits on water affected by swells, currents and the wind, in other words, an unstable surface. Second, the board requires paddle propulsion with repetitive movements that generate force applied on the water, therefore, it is necessary to keep your balance when on an unstable surface with the added force applied to the water.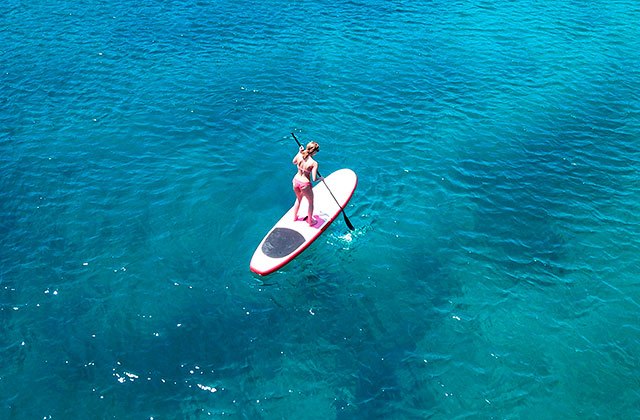 10. Marbella
If you decide to do stand up paddle surfing, head to Marbella this summer. This Costa del Sol city has become a true paradise and the Province of Malaga's main focal point for tourism. Its old quarters bear the marks of the great beauty that sums up the charm of typical Andalusian towns. This is a place where you can find all kinds of shops and a variety of leisure activities for all tastes. The traditional seafood is another of this town's charms.
So now you know that doing sport while you have fun, keep trim and enjoy the beauty of the Mediterranean Sea are just some of the things you can do at this wonderful place. Go on, try it. Get in shape with this new sport!
Standup paddleboarding tips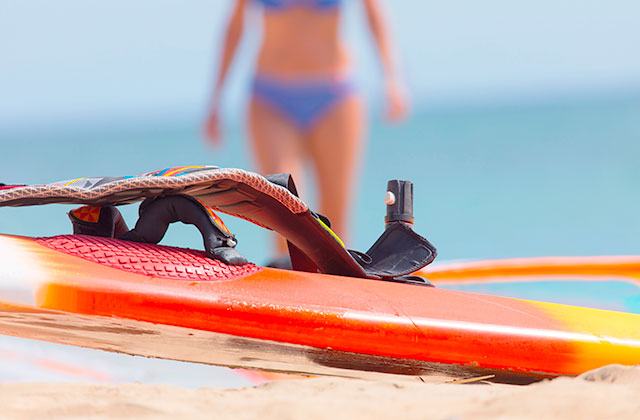 Practicing standup paddleboarding is more accessible than other water sports. Nevertheless, here are some tips to make the experience unforgettable and safe.  The first tip is if you are new to this sport, you should do exactly what the school instructors say in the training. However, if you are more of a standup paddleboarding veteran, you should consider the following:
To ride waves facing backwards and avoid falling, adjust your trajectory so that, before the wave breaks, you paddle to the side on which the wave has yet to break.
Put your right foot forward and your left foot behind, in the surfing position, and direct the board by turning your head and shoulders in the direction you want to go in.
For the more daring who want to go long distances, sit down in the axis of the wave to trace large S movements.
And finally, try to feel the fluidity of the waves and offload all the adrenalin you're carrying inside to enjoy this water experience to the max.
Standup paddleboarding classes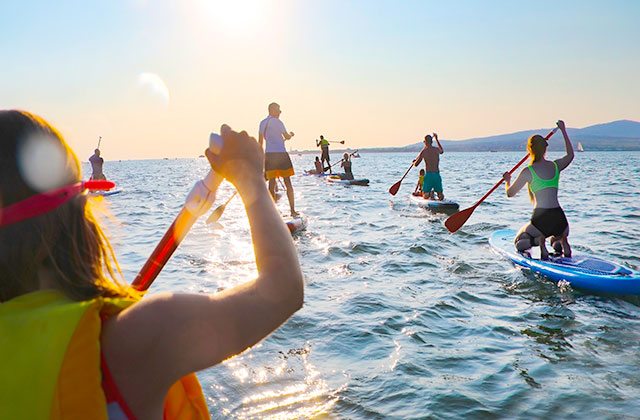 There are several standup paddleboarding schools that offer their services in the city of Marbella. We have found the best ones where you can train safely with the complete guarantee of professionalism, quality and fun.
PaddleSurf Marbella
Specialists in standup paddleboarding, this school has experience in organising group activities seven days a week.
NaluSur
NaluSur is a water sport activities centre offering adventures in settings surrounded by nature with the best guides for routes.
Windsurf Marbella
This school not only offers standup paddleboarding classes, but also has excellent windsurfing, kayaking and catamaran sailing training for all levels, from the most basic to the most professional.
The standup paddleboarding and windsurfing classes at these three schools offer a multitude of services within the reach of anyone looking to have adventures in Marbella's waters. Endless adventures, instruction and experiences with the assistance of the best professionals.
Standup paddleboarding shops and rentals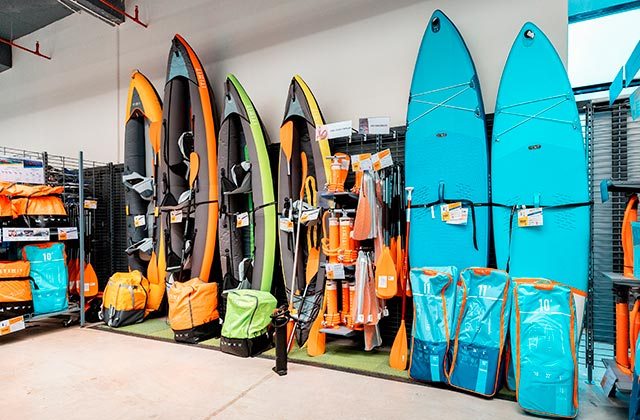 To practice a sport like standup paddleboarding, we need good gear where safety and fun are guaranteed. So, we have selected some shops where you can buy or rent all you need for your experience to be memorable.
Samoa Surf Shop
This shop is characterised by its experience and specialisation in water sports and bicycles. It also works with quality summer clothing, footwear and accessories brands. Its services are of the highest quality and safety, whether you are buying or renting gear for this sport or many others.
The Hawaiians SUP Center
This centre specialising in SUP and kayaking offers great quality gear so that you can enjoy water sports to the full. Its services in Marbella also include summer camps for kids that offer plenty of summertime adventures.
Maui Watersports
This is one of the expert shops in Puerto Banús, where we will find the gear and clothing we need for any sport. Its passion are water sports, but it also offers the best skateboarding and scooter gear, in addition to bringing its customers the best in surfer fashion and other accessories every year.
Worth a visit: discovering the best beaches in Marbella
WHERE TO STAY
The best accommodation option in Marbella is undoubtedly Fuerte Hoteles. This chain with over 60 years' experience offers you excellent service and is a leader in quality. There are holidays for couples, families or groups of friends and however you travel can be perfectly adapted to these hotels, where you can practice loads of outdoor activities as well as this new sport, stand up paddle surfing. And for the little ones, the hotels have fun and entertaining children's programmes. Make sure you stay at Fuerte Marbella and Amàre Beach Hotel Marbella  if you are travelling to this Costa del Sol city.