Enjoy Marbella and its surroundings on a bicycle with these seven cycling routes
Sustainable transport is increasingly in vogue and there is nothing better than to know a city by bike. Marbella offers this possibility in natural areas as well as through its promenade, with the opportunity to visit nearby routes designed for more experienced riders. If you decide to visit this area of Costa del Sol do not hesitate to look at this option and rent your own bike. A healthy way of touring and a perfect time to exercise if you like this sport. Discover with us seven routes that will surprise you.
1. Bike tour in Marbella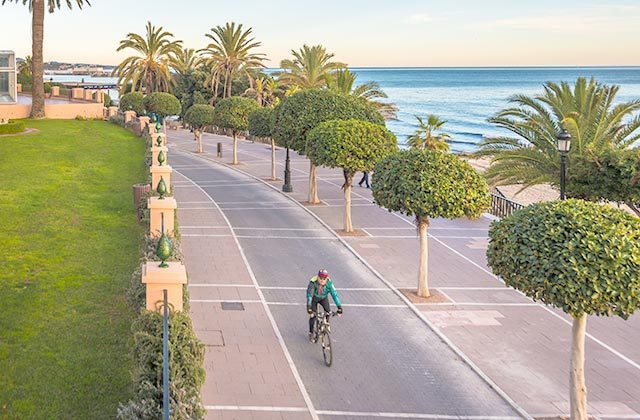 One of the options you can choose if you want to know Marbella on your bike is one of the organized tours of Marbella. In this way, in addition to the best-known sites, you'll enjoy the daily life of the city.
The meeting point for these tours is usually located opposite the Tourist Centre, right on the promenade. A guide will be responsible for explaining the history along with the stories and legends of the town monuments.
The tour starts at the beach and takes you through the parks and the narrow streets of the old town along with the emblematic Plaza de los Naranjos. Other attractions such as monuments, Salvador Dalí Park and the ancient Church of the Incarnation are mixed with more traditional snapshots of Marbella's daily life.
This choice is ideal, especially if you travel with the family as given its simplicity, it is suitable for all kinds of people regardless of their physical condition or age. So your kids can take part in this unique experience.
If you finally decide to do it. do not forget you have to book the tour before. Another advantage is the wide range of languages offered for the tour. The explanations of the guides are available in English, German, Spanish, Dutch and Russian.
2. Puerto Banus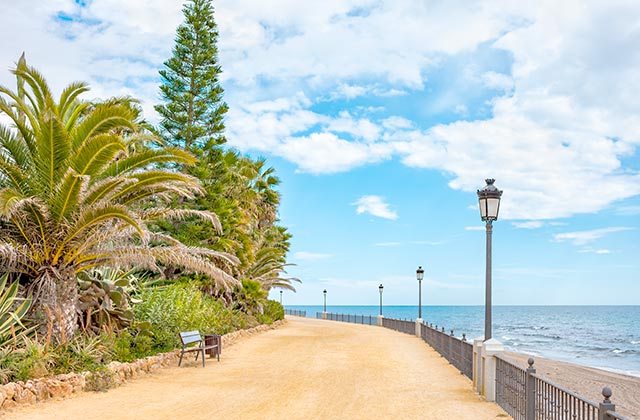 As in also happens in Marbella, the experience of seeing the town on your bike can be done in Puerto Banus. A perfect formula to see the glamour of this area and discover the most prestigious boutiques, the glitzy yachts and chic restaurants. Mingle with luxury cars and enjoy the paradise of the jet set.
The starting point is the Tourist Office of Marbella but this time the destination is Puerto Banus. During the tour you will visit the most significant sites of the city and you'll see how this destination was transformed into a place with luxurious homes and summer holidays for celebrities.
3. Subida al Juanar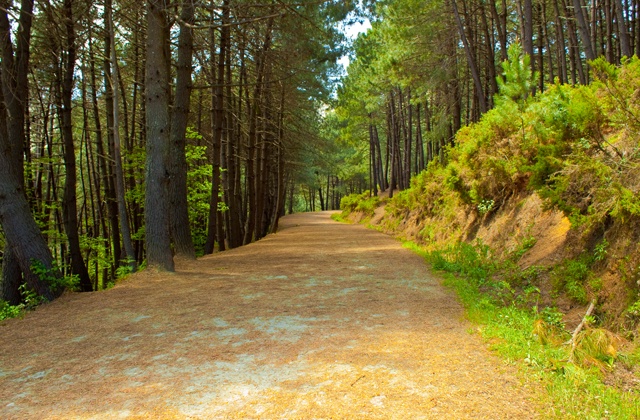 If what you're looking for is pure and simple sport and you are a trained cyclist, do not worry because there are several mountain routes for you. One is the climb from Marbella to El Juanar Shelter throughout Ojen mountain. The road is 34 kilometres long and takes two hours approximately.
The starting point is located on Padre Paco Ostos street, next to the bus station in Marbella. The landscape of this environment will surprise you. You can download the Wikiloc route to your mobile device and follow it during the journey.
The mountains of Ojen have a great Mediterranean forest of oaks, cork oaks, pines, agaves and cacti, which extend to the edge of the road. As for the wildlife that inhabits the place, we should mention the Spanish ibex, a protected species which is virtually extinct, and the golden eagle.
Once you reach the destination just a kilometre and a half away you will spot the Mirador del Juanar, which can be accessed through a wide dirt track. Here you can see observe the Mediterranean Sea at your feet and Marbella as well as a monument to the Spanish ibex. An unforgettable experience that you can do if you love biking or being in contact with nature.
4. Marbella- San Pedro Alcántara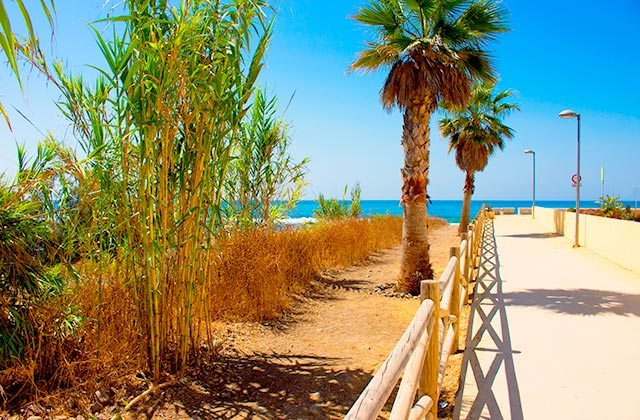 The promenade passable currently consists of a 17 kilometres trail by bike, connecting Marbella and San Pedro Alcantara passing through Puerto Banus. If you would like to ride quietly by the sea, this simple trail is perfect for you. Moreover, your children will also have the possibility to do this route with you and observe the sea at all times while riding. You can take the opportunity to buy some not too heavy souvenirs and have a picture of your favourite sport next to the Mediterranean.
5. Marbella – La Mairena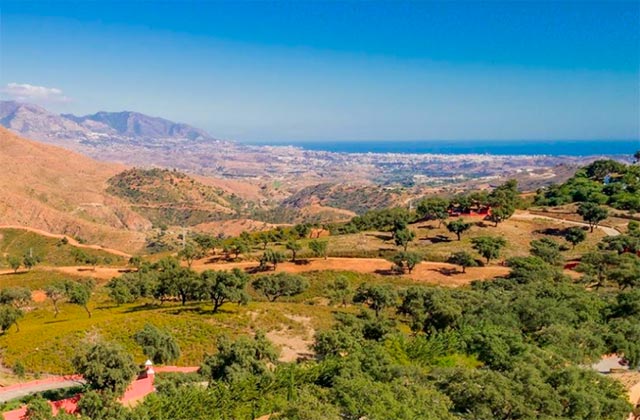 If you want to go on this fantastic route we recommend that you download the route from your Wikiloc to your mobile device. It has an average difficulty road, 47 kilometres long. So if you dare ride a bike to the exclusive area of La Mairena, grab a helmet and start pedalling. During the tour you will enjoy with the beautiful landscapes and vegetation Ojen has to offer. When you reach your destination, do not forget that one of our most famous artists owns a house there: Julio Iglesias. Who knows? Maybe you come across him. Enjoy this route and exercise during your holidays.
6. San Pedro Alcántara – Istán – Río Verde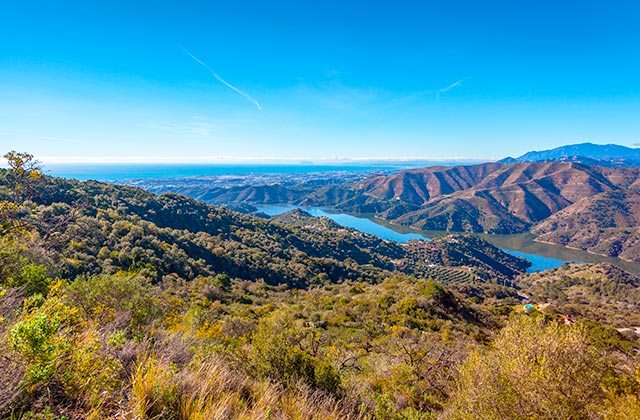 This route has a moderate difficulty and a length of 65 kilometres. You can also download the route from Wikiloc. The starting point is the Hipercor San Pedro Alcántara and you have to head for the road to Istan. It is a mountain road, with many turns. At one point on the road you find Istan spring and from there is an area for resting. After that you get to the Rio Verde area where you have to take special care on the road due to humidity. You keep pedalling until you find the Port of Scrimmage, where you can get wonderful views. Once you find the source of the Hoyo del Bote waterfall, you can stop to rest and we head back to San Pedro. Along the way you'll encounter beautiful landscapes and vegetation, waterfalls and views for taking pictures. Do you dare?
7. Marbella- Cueva Santa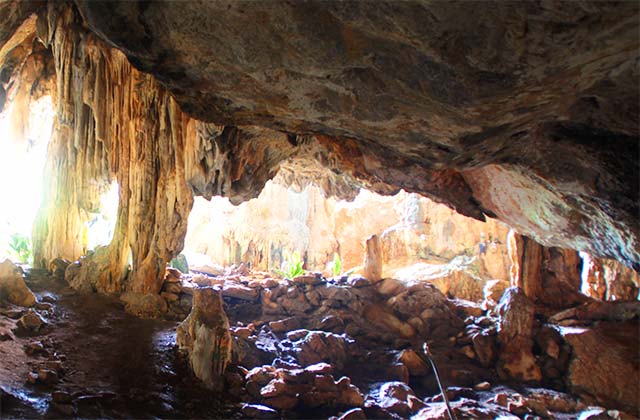 This route has a moderate difficulty and a length of 50 kilometres. The tricky part is that the ground, has many ups and downs. On your way you will find very significant points of interest such as the Camino de los Pescadores, the Fuente Santa, Puente del Tejar, Puerto de Oojén and Camino de Istan. Again nature and fresh air will comfort your way. Once you reach Cueva Santa it is time to start the return route. Do not worry because you can download it from Wikiloc.
Tips and suggestions for cycling in Marbella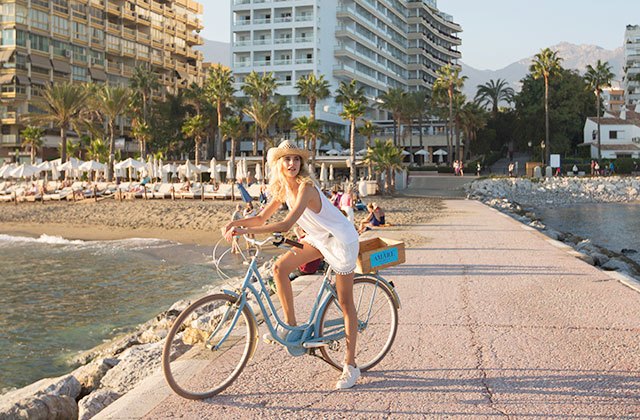 Choose the Right Bike

Depending on your plans, you might need a road bike for smoother roads or a mountain bike for rougher terrain. Make sure your bike is in good condition before starting your ride.

Safety Comes First

Always wear a helmet.
Use appropriate safety equipment, such as reflective clothing and lights, especially when riding in low-light conditions.
Follow traffic rules and signals.

Plan Your Routes

Marbella offers a variety of cycling routes, from coastal rides to mountain trails.
Plan your routes based on your skill level and preferences.
Research local cycling maps and GPS apps to help you navigate.

Hydration and Snacks

Carry enough water and stay hydrated, especially in the warm Mediterranean climate.
Pack energy bars or snacks to maintain your energy levels during longer rides.

Local Bike Shops

Familiarize yourself with local bike shops in Marbella in case you need repairs or supplies during your ride.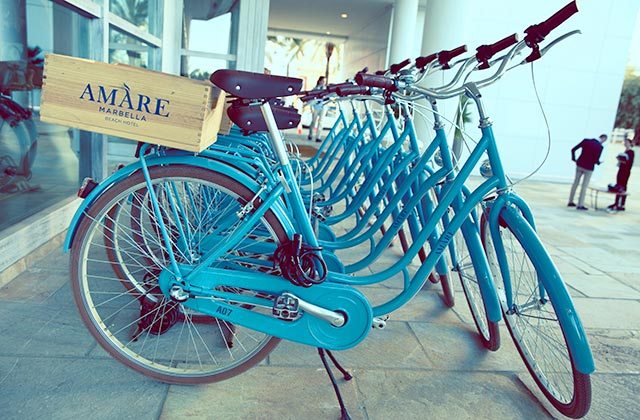 Weather Awareness

Check the weather forecast before heading out, as the climate can be quite warm during the summer months.

Join Group Rides

Marbella has a cycling community, and joining group rides can be a fun way to meet locals and explore new routes.

Explore the Coast

Consider cycling along the picturesque coast of Marbella, enjoying beautiful views of the Mediterranean Sea.

Inland Routes

Explore the scenic inland areas and nearby mountains, such as the Sierra de las Nieves, for more challenging rides.

Respect Nature and Wildlife

If you ride in natural areas or protected reserves, be respectful of the environment and wildlife. Stick to designated trails.

Take Breaks

Don't forget to take breaks to relax and appreciate the stunning landscape around you.

Stay Informed

Learn about cycling events, races, or festivals that may be happening in Marbella during your visit. These occasions can be excellent opportunities to experience the local cycling culture.

Bike Rentals

If you didn't bring your own bike, Marbella has several bike rental shops where you can find a suitable bicycle for your needs.

Plan for Maintenance

Carry basic tools and supplies like a spare tube, tire levers, and a mini pump in case you need to perform minor bike repairs.

Enjoy Local Cuisine

Marbella is known for its cuisine. Plan your rides to include stops at local cafes and restaurants to savor delicious Mediterranean dishes.
More bicycle routes in Marbella
WHERE TO STAY
If you decide to come to Marbella and want to discover it by bicycle, stay at El Fuerte Marbella or Amàre Beach Hotel Marbella . Both complexes have exceptional locations in the centre of town and the first line on the beach, only a few steps away from the historic centre, in an area full of shops and restaurants with terraces.