Native Products Of Malaga: The Secret of Ojen Anis That Its Founder Took To His Grave
Travelling is not just about visiting a location, but about getting to know a place. Gastronomy and local products are fundamental components of an area's culture we should see when we visit. So, today I want to present the origin of a "glass of Ojen", an anis prepared in the wonderful mountain village perched just over Marbella and overlooking the Mediterranean Sea.
It was 1830 when Pedro Morales first distilled his famous drink: The Ojen Anis. This "aguardiente" (as it is known in this area) was known not only in Spain, but across the globe. In fact, a "glass of Ojen" is a commonly known phrase.
After making his fortune outside of town, the spirit's creator, Pedro Morales, came back and decided to create the best anis possible, coming up with his own delicious formula. This recipe began with the best wine from muscat grapes, picked from the vineyards that surrounded Ojen and ironically added an herb known as "aniseed".
Ojén anis became so well known that there were many artists who even mentioned it in their works. Such is the case of novelist Camilo José Cela, a Nobel laureate, who repeatedly mentions in his book The Hive.
Other historical figures, like Anita Delgado Briones, Maharani of Apurtala, a Malaga artist married to an Indian prince in Paris, used to order a glass of Ojén.
Even Picasso, in his cubist period, immortalised a brandy bottle with the legend "Ojen" in his "Spanish Still Life", from 1912, now in the Museum of Modern Art Dascq. Villeneuve Daix France.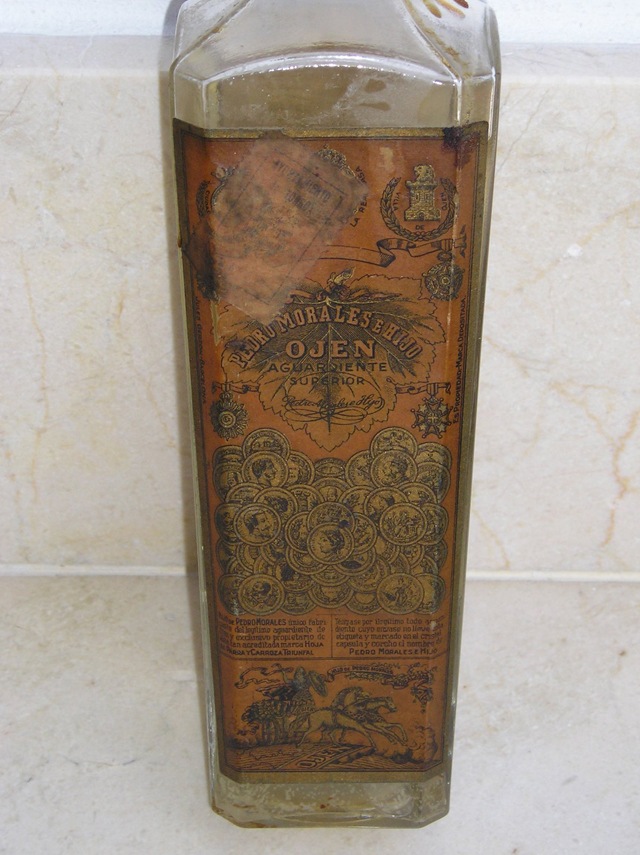 A Secret, Forever
However, unfortunately, a disease called phylloxera afflicted the grape vines used to produce this special spirit, making it virtually disappear. The spirit's creator, jealous of this exact formula kept it safely guarded away. And while his descendants claim to possess the secret formula, the truth is, it's unlikely the could ever reproduce that truly special flavour.
In Ojen, several bottles have been safely stored away in a small museum in the remains of the old distillery. We recommend a visit and if you're lucky, you might be able to savour a taste of this precious liquor. Its worth a shot to try your luck! 😉