Visit Fuengirola. Guide of things to see and do in this location of the Costa del Sol
Located in the amazing Costa del Sol, Fuengirola is a clear example of what Andalusia is all about. This place offers its visitors an extensive coastline full of incredible and beautiful beaches. Fuengirola has been a tourist destination for many years, which is why it now features countless services and a great tourism infrastructure, among which we can count equestrian centers, golf courses, restaurants and leisure centers.
Even considering all of the above, one of the characteristic that best define Fuengirola is its effort to preserve the remains of the civilizations that inhabited this land in the past, the greatest example of which is the Arabic Castle of Sohail.
Fuengirola is especially famous amongst tourist for the large number of restaurants and places for entertainment. From the typical Andalusian Tapas bar and the restaurants to eat fried fish, to places where one can enjoy British fried food, all of which make Fuengirola a very popular place for eating out.
For all of the above, and for many other reasons, Fuengirola is a place you should definitely visit. That is why we offer you a guide of things to see and do during your visit.
Curiosities about Fuengirola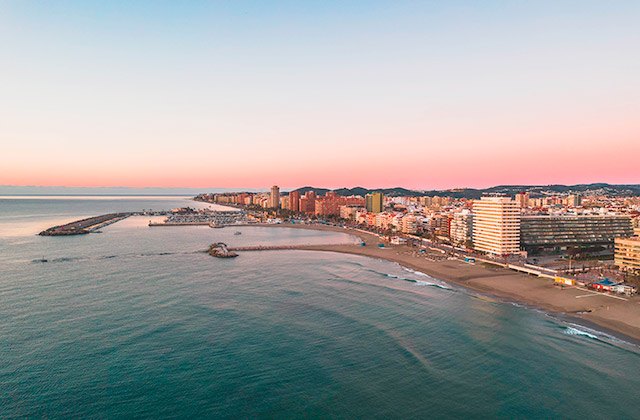 Fuengirola is a city located on the Costa del Sol in Spain, in the province of Malaga. It is known for its beaches and lively nightlife.
The history of Fuengirola dates back to the Roman era, and numerous archaeological remains have been found in the area, such as villas and baths.
The municipality of Fuengirola has an area of 10.25 km² and a population of around 80,000 inhabitants.
In the center of Fuengirola is the Sohail Castle, a fortress built by the Arabs in the 10th century and rebuilt in the 20th century. It is currently used as a space for cultural events and concerts.
It is one of the most popular tourist destinations in Spain, with more than 8 million visitors per year. The city has a wide range of accommodation, from luxury hotels to tourist apartments.
One of Fuengirola's most popular attractions is its promenade, which stretches for 8 kilometers and offers stunning views of the Mediterranean Sea.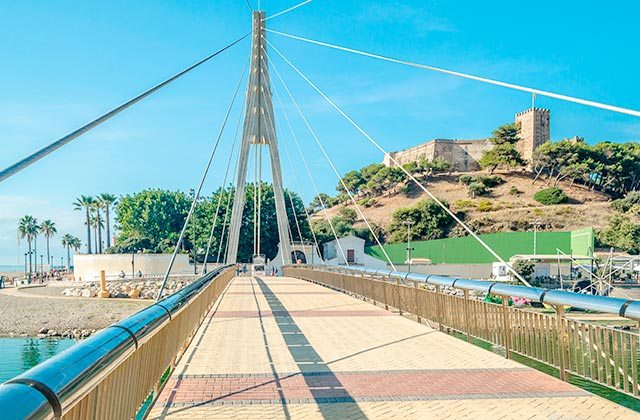 In the center, there is a food market where you can find fresh products such as fruits, vegetables, meat, and fish. There is also a flea market on Saturdays.
The beach in Fuengirola is known for its golden sand and clear and calm waters. Additionally, it has a wide range of services, such as sun loungers and umbrellas, showers, toilets, and beach bars.
During the summer, Fuengirola hosts numerous festivals and cultural events, such as the Beer Festival, the Flamenco Festival, and the Summer Festival.
It is also home to Bioparc Fuengirola, a zoo that focuses on the conservation of African fauna and has been awarded for its design and commitment to sustainability.
The city has a large international community, with residents from over 100 different countries. This is reflected in the wide range of international restaurants and the presence of international schools.
Fuengirola has been chosen several times as one of the cleanest cities in Spain.
How to get there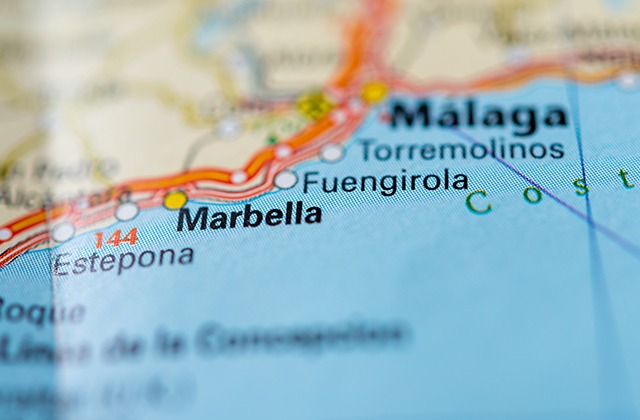 Fuengirola, same as Marbella or Torremolinos, is one of the preferred choices for tourists who are looking to spend their vacations at Costa del Sol. Fuengirola is located 25 km away from Malaga airport, and there are numerous ways to make it there in less than 30 minutes.
By Bus
Riding the bus can be a good idea since you will get a better view of the beautiful landscapes; however, if you are carrying too a lot of luggage, it may be a little uncomfortable. There are a few bus stops in Fuengirola, but the trip could take you a little over half an hour.
By Taxi
From Malaga airport, you may easily take a taxi to Fuengirola; the average price is 24 euro.
You could also use a private taxi or a van. This is a good choice if you do not wish to rent a car and you are traveling with a group of people.
Taxi Transfers
Car Rentals
By Train
From Malaga airport, there is a train station nearby that will take you to Fuengirola's old town. It runs every 30 minutes, and the station is right across a bridge from the airport's arrival terminal.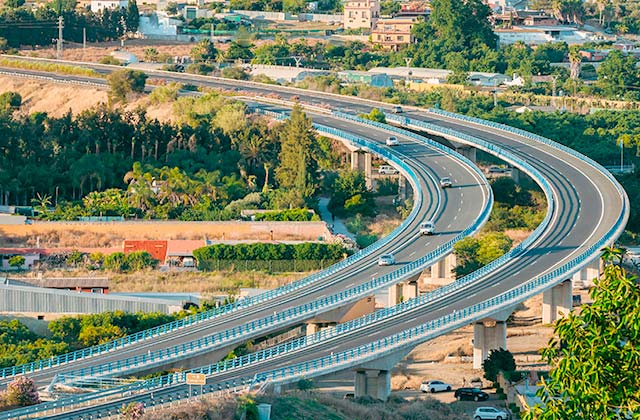 By Car
Renting a car may be your best choice if you are thinking of moving around considerably, something we recommend given that Costa del Sol has a lot to offer. To reach Fuengirola from the airport or from Marbella, you have to follow the A-7, a highway that runs through the entire coast, connecting all its cities. There are paid sections, called AP-7, that help you take some time off your journey, especially during the summer, when there is more traffic.
Here is a list of some car rental companies:
Car Rentals
What to see
Castillo Sohail (Sohail Castel)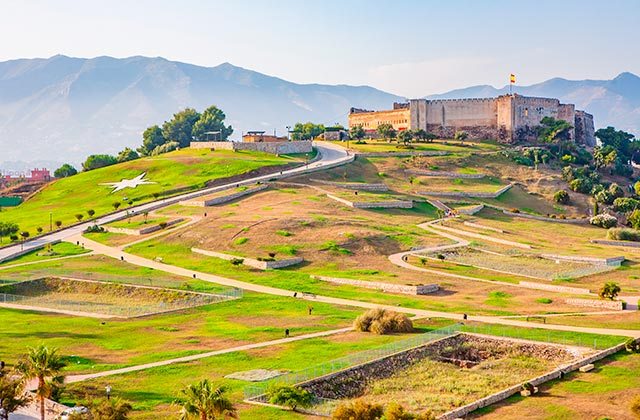 Working hours: (opened starting on September 14th) Wednesdays to Sundays, 10:00 to 14:30.
The Sohail Castle is located at the mouth of the Fuengirola River, atop a small isolated hill that rises 38 meters above sea level. This magnificent geographical location allowed, even in ancient times, the continuous population of the hillsides by Punics and Romans.
On top of the ruins of their initial settlements, during the time of the Caliphs, a first town was built. Later, in the twelfth century, the Almoravids built a defensive structure of irregular floor plan. In 1485, the castle was occupied by the Christian army.
Since then, the military structure entered a process for readapting its architecture. The entrance that featured a curve was substituted for a direct entrance, one of the watchtowers was eliminated to build a platform for cannons and the angle of southeastern external wall was reoriented, to become an embrasure, after it was blown up by the army of Napoleon during the War of Independence.
The renovations performed in the last few years by the Escuela Taller del Ayuntamiento de Fuengirola (Fuengirola's City Hall Workshop School) have made it possible for the Sohail Castle to become once more a meeting place for the people of Fuengirola, with the glory of its history, and as a space to hold various cultural events, such as the famous Festival Ciudad de Fuengirola (Festival of the City of Fuengirola), the Mercado Medieval (Medieval Market) and the Fiesta de la Cerveza (Beer Festival).
Parque Yacimiento Romano (Roman Settlement Archeological Park)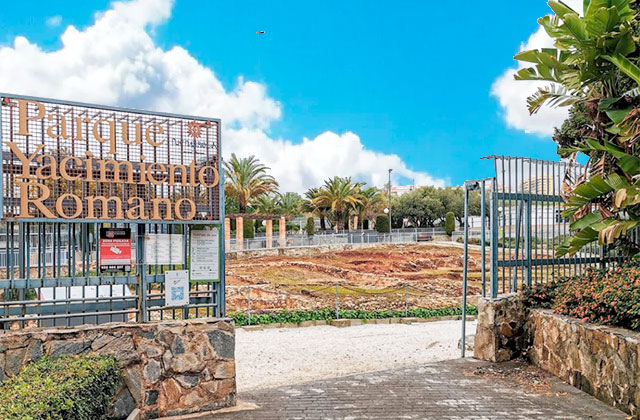 Imagen extraída de costadelsoloccidental.com
The discovery of this roman settlement was made in the 1970s. It is an important archeological site that includes a salting facility, a pottery workshop and baths, dated between the first and fifth century AD.
Close to the salting facility, from which the pillars are preserved, and next to the pottery workshop, there is a building for baths where we can appreciate the architectural details and the decoration of a private bath in a Roman villa. The interpretation center of the Roman baths rebuilds, at scale, the different rooms inside the Roman baths.
Fuengirola Beaches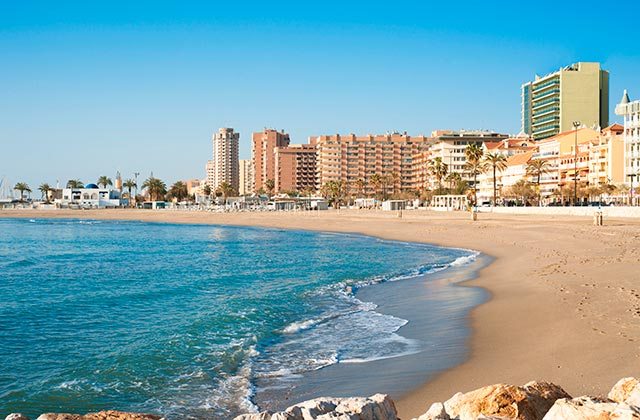 Fuengirola is in front of the Mediterranean Sea. Its 8 km of beaches connected to the metropolitan area are certified with a "Q" for tourism quality, certification granted by the Spanish Institute for Tourism Quality (Instituto para la Calidad Turística Española, ICTE) and earned for the excellent preservation of the quality of the water and the sand.
There are 7 beaches in Fuengirola: Carvajal, Torreblanca, Las Gaviotas, Los Boliches, San Francisco, Sta. Amalia and El Egido.
The best Costa del Sol beaches
Paseo Marítimo (Seafront Promenade)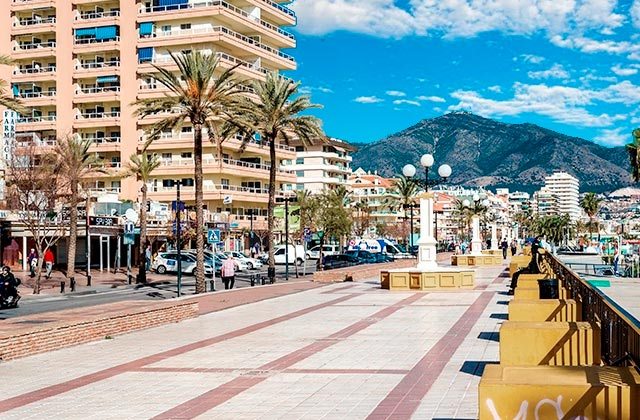 Fuengirola is in front of the Mediterranean Sea, its eight kilometers of coastline are flanked by its exceptional Paseo Marítimo (Seafront Promenade), opened to the sea as a giant balcony that is always full of life with the presence of locals and tourists.
Town centre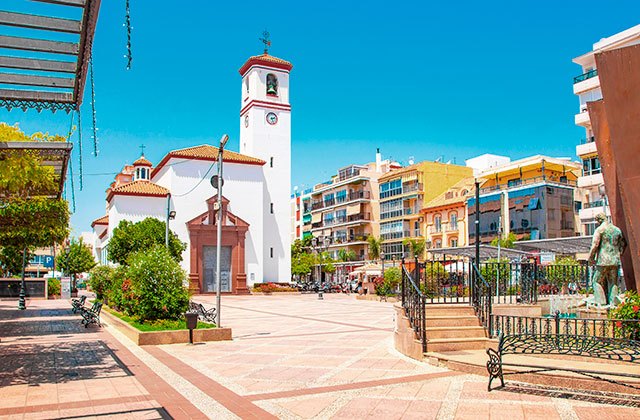 The metropolitan area of Fuengirola emerges and expands from the Iglesia del Rosario church and the Plaza de la Constitución (Constitution Square). Although modernized, it still preserves the structure of its typical streets and traditional buildings.
Los Boliches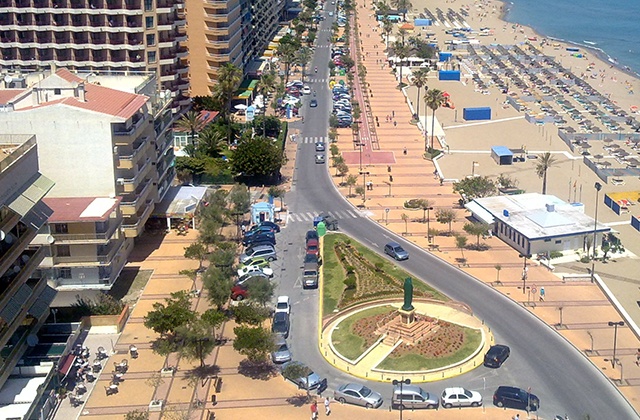 The practice of the traditional fishing art of "Boliche" gives its name to this urban location, which has become a thriving developed tourism hub that successfully combines its traditional corners with modern infrastructure.
Bioparc Fuengirola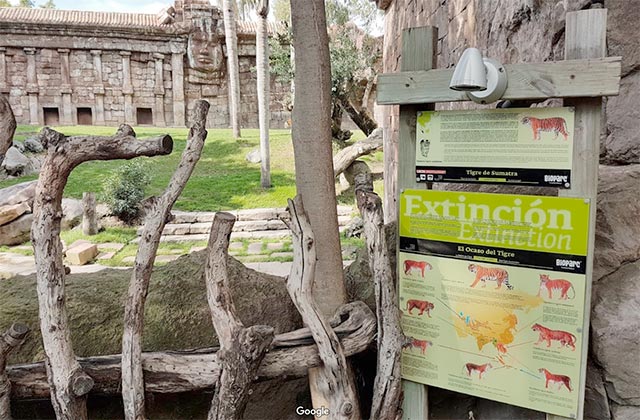 This place is famous for having a natural setting for the animals. Here you will be able to enjoy a tropical forest with rivers, exuberant vegetation and waterfalls given that its focus is preserving tropical species and others adapted to the tropical forest habitat, mainly from Asia, Africa and the islands of the Indo-Pacific.
That is why you will be able to see Nile crocodiles, lemurs playing around an ancient Baobab tree or the Sumatra tigers bathing next to the Angkor Wat. There are two tours every day, one in the morning and one in the afternoon.
Centro Cultural & Art Gallery Studio 33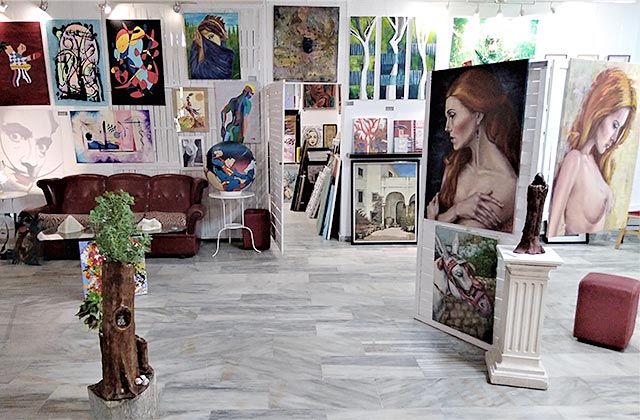 Nuevo Centro Cultural & Art Gallery Studio 33 en Fuengirola!! You can enjoy incredible works made by local and international artists, workshops and interesting events. Free admission.
Google Maps
What to do
Shopping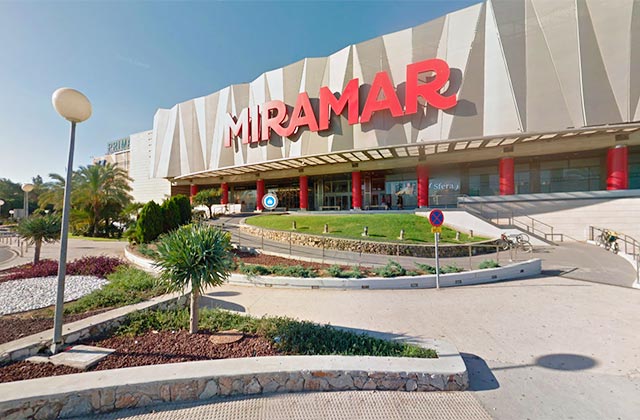 Fuengirola, besides being a beautiful coastal town where visitors can enjoy the sun for most of the year, is also a great place for leisure activities and shopping given that, since 2004, it features one of the largest malls of the entire Costa del Sol.
In Centro Comercial Miramar mall, you will find everything you are looking at in any of its numerous stores; it also features bars and a cinema complex where you can enjoy the latest movies, some of them in their original version.
Golf Courses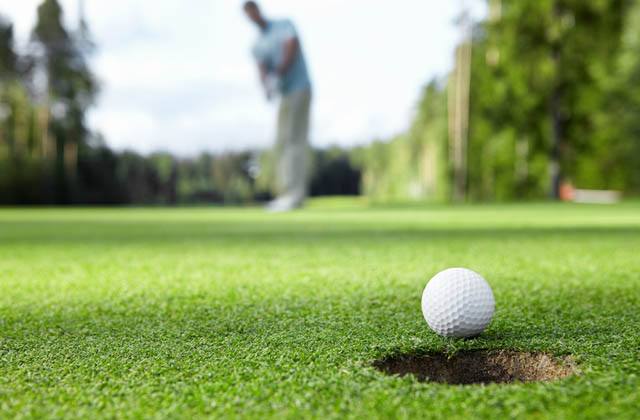 Just ten minutes away from Fuengirola's old town, there are six 18-hole golf courses, in addition, in a 30 km radius, there are other twenty perfectly equipped golf courses.
Mijas Golf, 18 holes. Phone 952476843
La Cala, 3×18 holes. Phone 952669033
Torrequebrada, 18 holes. Phone 952442742
Miraflores, 18 holes. Phone 952931960
Miraflores Golf Academy. Phone 952932876
La Noria Golf, 9 holes. Phone 952494923
Santana Golf, 18 holes. Phone 902517700
Alhaurin Golf, 18 holes. Phone 952595970
La Siesta Golf, 9 holes. Phone 952933362
Cabo Pino Golf, 9 holes. Phone 952850282
Artola Golf, 9 holes. Phone 952831390
Parador Golf, 18 holes. Phone 952381255
Lauro Golf, 18 holes. Phone 952412767
Santa María, 18 holes. Phone 952831036
Santa Clara, 9 holes. Phone 952850111
Eating out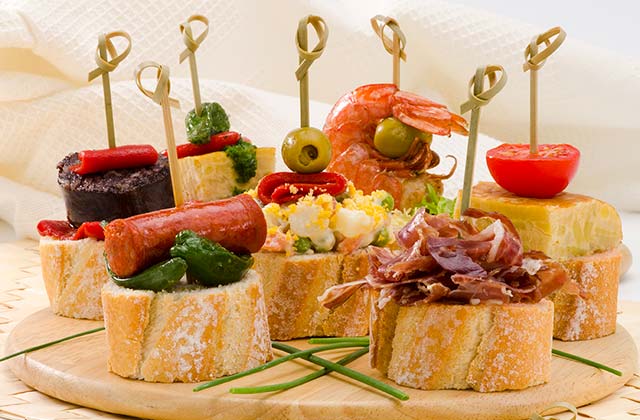 Fuengirola is the perfect place to go out for tapas; here are some of the best places to enjoy a great glass of wine or a refreshing beer while tasting the most delicious tapas.
Tapas
BODEGA El Tapeo Andaluz
P.º Marítimo Rey de España, 81, 29640 Fuengirola, Málaga
+34 952 581 279
Mesón de Andrés
C. San Pancracio, 16, 29640 Fuengirola, Málaga
+34 952 593 660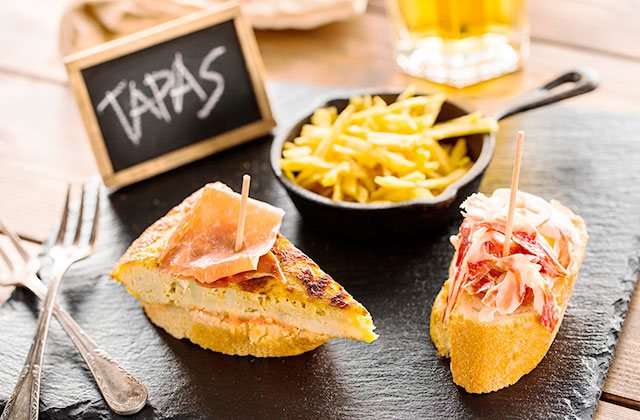 La Marmita
Pje. Pedroza, 2, 29640 Fuengirola, Málaga
+34 722 712 300
Bodega Charolais
C. Larga, 14, 29640 Fuengirola, Málaga
+34 952 475 441
En tiempos de María Castaña
C. San Pancracio, 23, 29640 Fuengirola, Málaga
+34 667 616 510
Restaurante Tipi Tapa
C. Málaga, 4, 29640 Fuengirola, Málaga
+34 951 311 630
Chiringuitos
Chiringuito Oasis Fuengirola
P.º Marítimo Rey de España, 132, 29640 Fuengirola, Málaga
+34 952 661 068
Chiringuito El Lotero
P.º Marítimo Rey de España, 147, 29640 Fuengirola, Málaga
+34 644 495 911
Restaurante Botavara
P.º Marítimo Rey de España, 4Bis, 29640 Fuengirola, Málaga
+34 952 465 040
Rancho Playa
P.º Marítimo Rey de España, 51, 29640 Fuengirola, Málaga
+34 952 475 479
Restaurante Los Marinos Paco
P.º Marítimo Rey de España, 158, 29640 Fuengirola, Málaga
+34 952 661 320
Fuengirola Nightlife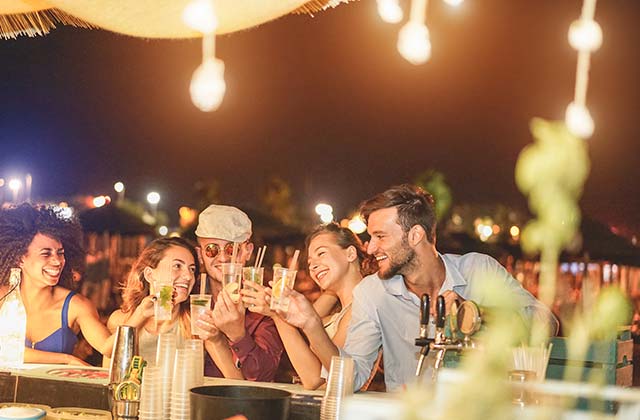 No matter if you like rock, pop or hip-hop, if you are more into dance music or if what you enjoy is flamenco, Fuengirola is the perfect place for you to go out and party when the sun goes down. In fact, during the summer months, the number of parties in Fuengirola grows exponentially. Try to get used to having an afternoon nap because here the parties start late and last until your body gives out.
We must say that most of the fun in Fuengirola converges between the puerto deportivo (marina) and the paseo marítimo (seafront promenade), which is a good place to hang out and meet with friends.
NightLife. This Fuengirola club features a VIP area and a large dancefloor. The vibe is for young people under 30 and it opens on Saturdays. Google Maps
Dry Martini. A great variety of gin and tonics. A place to enjoy nice drinks at the deck or indoors, any day of the week starting at 10:00 a.m. Google Maps
Heaven's Gate. A club where the Djs play all kinds of music, which is visited by people of all ages, it is located in the seafront promenade, near the Fuengirola port. Google Maps
The charm of the Malaga interior: the 22 prettiest towns in the province
Where to stay
If you decide to come to Fuengirola, do not hesitate to stay at Fuerte Hoteles. El Fuerte Marbella a historic establishment on the Costa del Sol, now transformed to 5 stars, is the Marbella hotel that best combines casual luxury, an exclusive and welcoming atmosphere and the sheer comfort offered by its location on the city centre's beachfront, which offers stunning sea views right across Marbella's seafront promenade.