For the bold only: look at the best Costa de la Luz nudist beaches
More and more people are opting for nudist or naturist tourism holidays. Indeed, there is nothing more pleasurable than the experience of enjoying a swim completely nude. What's more, naturism is a whole life philosophy and this is well known on the Costa de la Luz. This beautiful coast that bathes Cádiz and Huelva provinces is an ideal setting for those who practice nudism or naturism.
Both the nudist beaches of Cádiz (officially, there are currently no naturist beaches in Cádiz) and the nudist and naturist beaches of Huelva are a booming lure for those who enjoy a holiday in the nude while their skin comes into direct contact with the air and the sea water, enabling them to destress and fully enjoy their social life and holiday.
It is true that on many of these beaches we find some people completely nude and others wearing beach clothes, with both ways of life coexisting in perfect harmony. Indeed, the Costa de la Luz offers possibilities for all tastes. Beach plans with the family, your partner or with friends on the Cádiz and Huelva coasts are possible regardless of your life philosophy.
So what about you? Do you dare to swim nude on this beautiful coastline?
If you have decided that your plans for this summer are "in the nude", here are two nudist and naturist beach selections for Cádiz and Huelva, so you don't have to worry about anything.
Just get naked and relax.
Cadiz nudist beaches
Sotogrande beach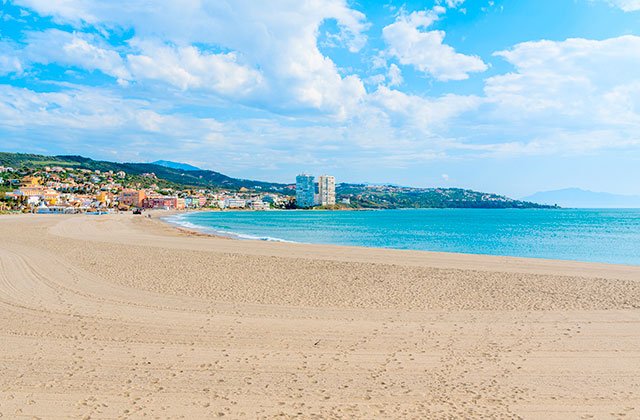 This beach is located next to one of Cádiz's most exclusive areas. It is one of the best known beaches and therefore where we can enjoy an extensive offering of restaurants and leisure in general. If the plan is to have fun, meet people, practice nudism or do several sports, Sotogrande Beach is one of the most visited in Cádiz with high quality amenities. Are you bold enough to stroll along this San Roque beach?
Cañuelo Beach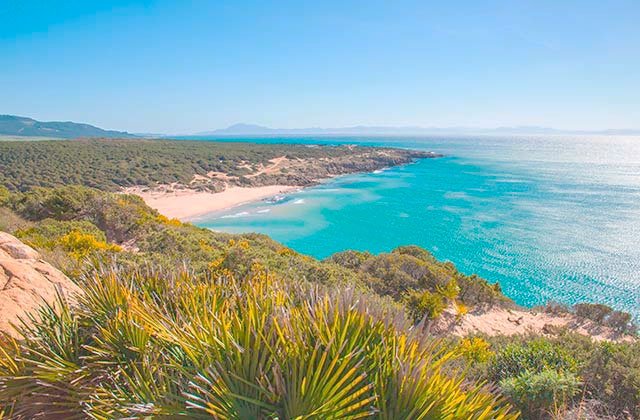 El Cañuelo is one of the essential beaches of the Cadiz coast, although its access is only possible on foot, since it is hidden among pine trees that protect it from the prying eyes of the mass tourist, so here you can leave the swimsuit in the backpack and let the sun bathe your entire body. In addition, this beach is totally lacking in services, although this is one of the things that makes it so special because in return the place offers a perfect refuge in the days of the East.
Bolonia beach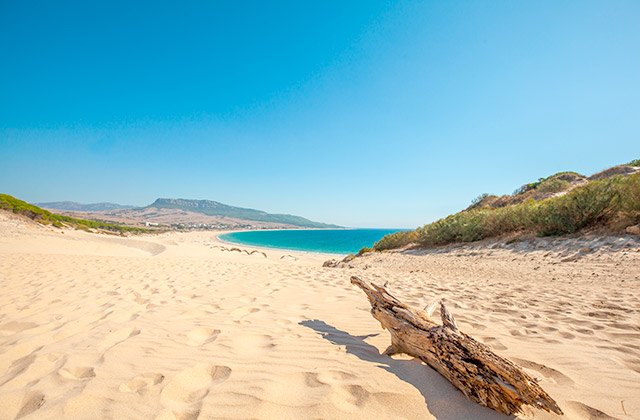 The fabulous Bolonia beach with its sand dunes and pines, in the province of Cádiz, has a nudist area on its left-hand side. This part is known as El Chorrito ("the Trickle"). You can walk along pristine sands until you lose all track of civilisation.
Don't be surprised if you see someone covered in mud. Further along, there are slate rocks which, when mixed with the water, forms a therapeutic mud which you can smear on yourself. At only 130 metres west of the city, there is an ecological treasure: The Duna de Bolonia Natural Monument. This area is also ideal for those who want to try nudism discreetly.
ZAHARA DE LOS ATUNES BEACH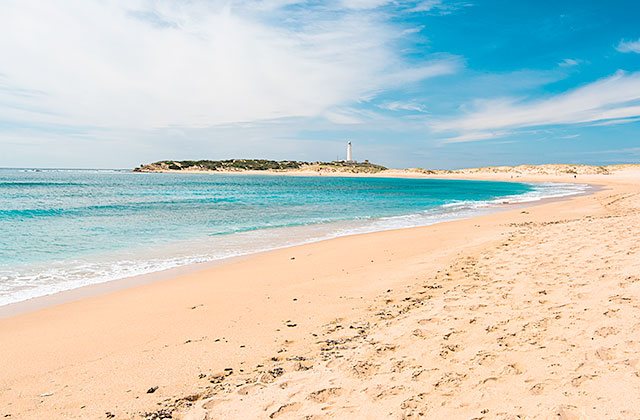 There is no more idyllic place than Playa Arroyo Cañuelo, near Zahara de los Atunes in the province of Cádiz. Here we can find green pines, golden sands, clear calm water and no buildings to break the unique environment. To reach this impressive nude beach, take the road from Zahara to Cabo de Gracia, pass through the Atlanterra built-up area and leave the car in the car park near the Camarinal lighthouse. From there, you will have to go down a path through the pine forests. This beach is part of the Natural Park del Estrecho.
CAÑOS DE MECA BEACH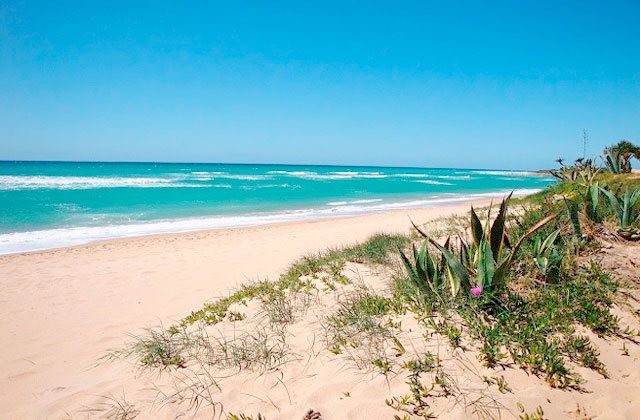 The beach at Los Castillejos in Caños de Meca, in the province of Cádiz, has a bohemian and hippie feel which takes us to a romantic past. This stretch of pristine beach is protected by the pine forests of the Natural Park of Barbate, La Brena and Marismas. Wear good shoes for walking over rocks and reach an area known as Las Cortinas, famous for the natural waterfalls that plunge down the cliff. North of Canos de Meca is another popular place for nudists: the area of the Trafalgar Lighthouse cliffs, La Playa del Faro. On the other side of the lighthouse the beach stretches several kilometres and has a new name: Playa de Trafalgar, Zahora, La Palmar. At a total of 7 kilometres long, it is unspoilt and clothing is traditionally optional, although there are more nudists at the lighthouse end.
CALA DEL ACEITE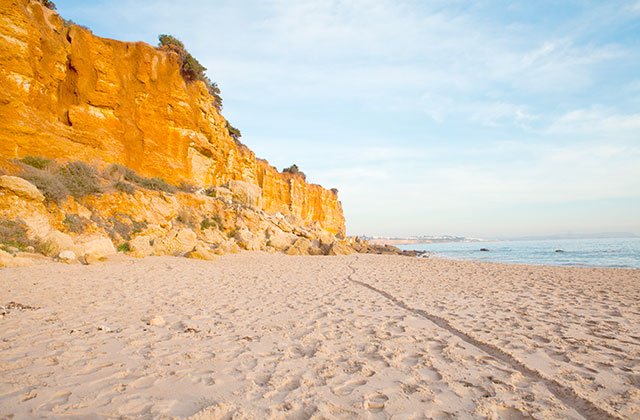 In contrast to the wide and windy beaches on the Costa de la Luz, to the north of Conil de la Frontera, there are many protected and isolated coves where nudists can find an ideal space to practice naturism. The La Cala de Aceite campsite has an area dedicated to naturism but you may very possibly not find anyone nude, at least not during the summer months. Access is available from the road between the Roche residential area and Conil de la Frontera.
Faro de Trafalgar beach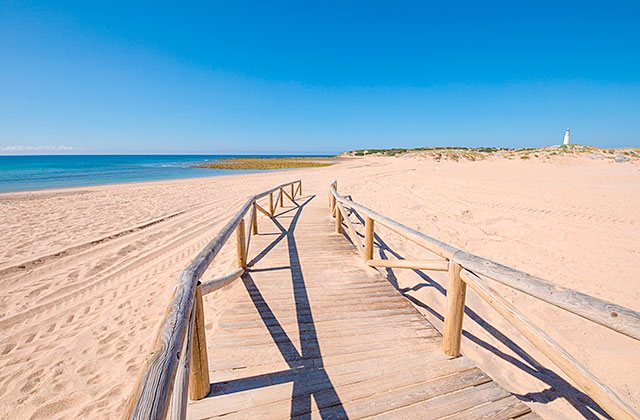 With fine golden sand and crystal clear waters, this beach in Cádiz is located in Barbate. It is one of the best known beaches and also has an important cultural history with a beautiful lighthouse in honour of the 1805 Battle of Trafalgar.
With a long stretch of sand, we recommend taking food and water, since the area has no additional amenities and you have to take precautions due to the currents, but it is without a doubt an idyllic local setting for practicing nudism.
Los Bateles beach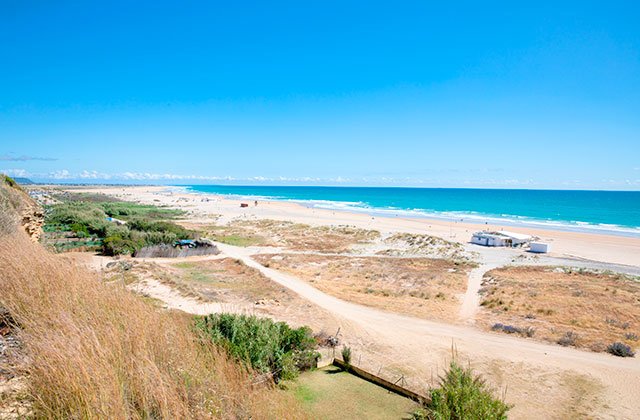 If you are looking for more peace and quiet, this beach is located in Conil de la Frontera but far from the crowds. It is ideal for anyone who wants to practice nudism, since it offers you a more relaxed setting. What's more, it is a totally virgin fine sandy beach.
This beach also offers the chance to practice windsurfing and kitesurfing, since the wind that is sometimes stronger. If after a swim or a stroll along its extremely long shores you have worked up an appetite, you will find some refreshment stalls to enjoy a bite to eat.
Playa de Camposoto
This beach offers two very different possibilities due to the enclave where it is located: the less wild area and the more natural one on the other side. This beach is special in San Fernando, since it forms part of the Cádiz Bay Natural Park and preserves its semi-wild part due to its history. It is known as one of the highest quality beaches in Cádiz province, making it even more special, and because the nudist area is located next to a bunker.
Huelva nudist beaches
LA MATA NEGRA O LOS ENEBRALES BEACH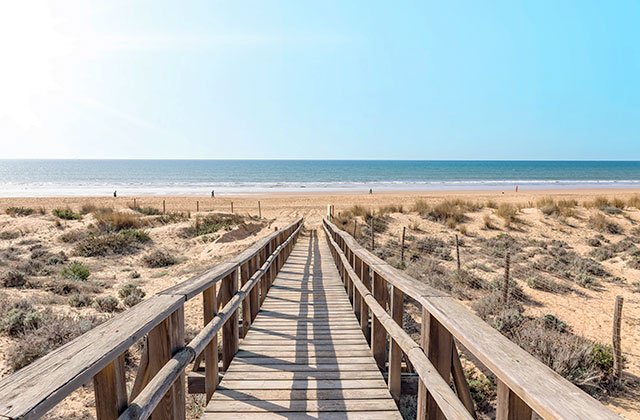 The Mata Negra beach is located between the los Enebrales Natural Park in Punta Umbria and the fantastic and protected Marismas del Odiel natural area, all located in the province of Huelva. This beach is frequented by people who practise nudism as there is an area dedicated to this purpose.
A wide and quiet beach where you can enjoy nature, the sea and long walks which will delight you. Its occupancy rate is low so you will never find large crowds which makes it a perfect beach to go to as a couple, with friends, family or individually.
FLECHA DE NUEVA UMBRÍA
If you visit this beautiful beach, we assure you that you won't regret it. It is kept immaculate and is embraced by both the Piedras river and the refreshing waters of the Atlantic. Given that it is in the natural landscape and completely lacks any services, it is so beautiful that there are always plenty of bathers on the coast.
The fact that Nueva Umbría lacks any services makes this a perfect place for those new to naturism. You won't feel like the rest of bathers are looking at your and so you will find it much easier to undress for the first time on a beach. We recommend that before taking your clothes off, you walk along the beach for a while and choose the beach area that you find most comfortable. Nudists usually prefer the central area of the beach and especially the area that lies between the Terrón highway and the ferry port which runs between El Rompido and Nueva Umbria.
Rompeculos beach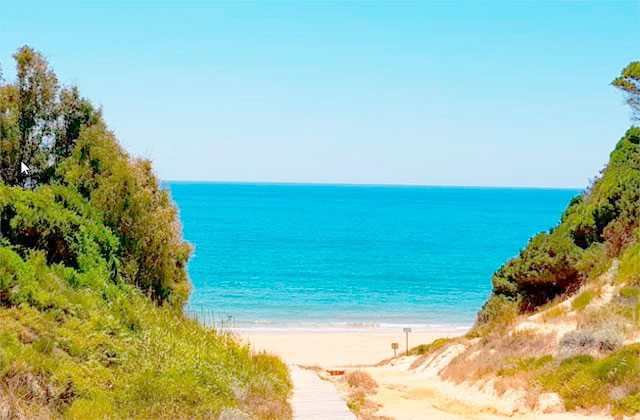 Rompeculos Beach is located in Mazagón, Matalascañas in Huelva. It is a beach well known for its residents and is accompanied by a natural landscape of beautiful and vivid colours.
Despite its odd name, this beach is a favourite for nudists and is frequented by both residents and tourists. His name was given in the nineteenth century, because there is a somewhat irregular channel which broke the line of the sand dunes and opened the way to the beach.
This beach is mostly visited by those who practise nudism (also called naturism) as it is one of the most famous nudist beaches in Huelva.
Castilla beach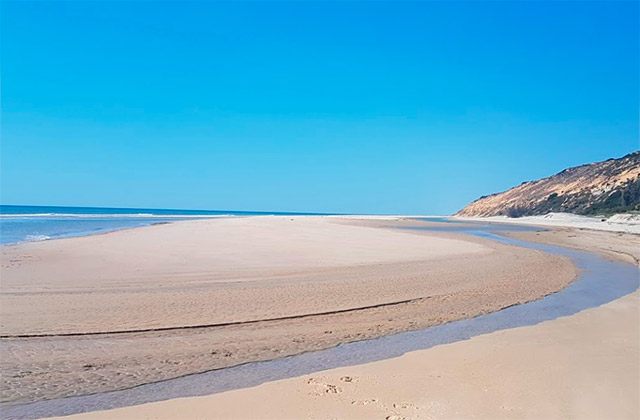 The Castilla beach belongs to the natural space wonderful Doñana park in Almonte, Huelva. It is around twenty kilometres long. It's a, rustic, unspoilt secluded beach, located in one of the most treasured places on the coast of Huelva.
Although the whole beach is officially nudist, going nude is not compulsory here. Any tourist can come to this beach and enjoy its waters, its sun and its landscapes.
Cuesta Maneli beach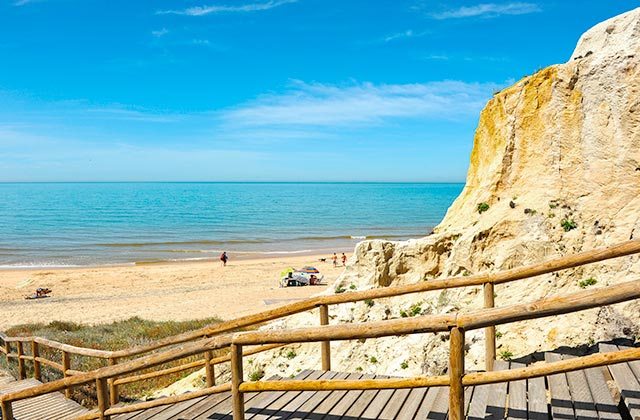 Cuesta Maneli is one of the virgin beaches that is located in an enviable natural space: Doñana. Due to its location, Cuesta Maneli Beach offers a vegetation and landscape that will make the experience of swimming nude even more gratifying and higher quality. It has a carpark before the entrance and you reach the beach via a walkway in order to protect the space, enabling you to enjoy the views and the ecosystems that this beach offers. The area's flora and fauna make this beach a unique environment on the Huelva coast.
TIPS AND SUGGESTIONS TO ENJOY THE COSTA DE LA LUZ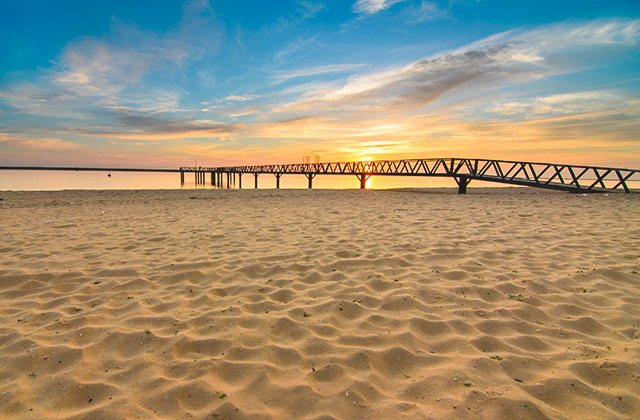 Offering a plan is easy when you have soooo much to choose from. And more if what we are choosing from is a: PARADISE. The Costa de la Luz is one of Andalusia's coastal strips par excellence which is chosen each year by thousands of tourist from Spain and around the world.
Indeed, this enclave offers us not just beach tourism, but also a series of mountain, gastronomic and cultural tourism opportunities, making your holiday on the coast different, fun and relaxed.
EVERYTHING in one place.
So that you have all the information and your beach plan is ideal, here are some recommendations and tips so that your days on this coast are memorable.
VILLAGES, CITIES AND NATURAL ENVIRONMENTS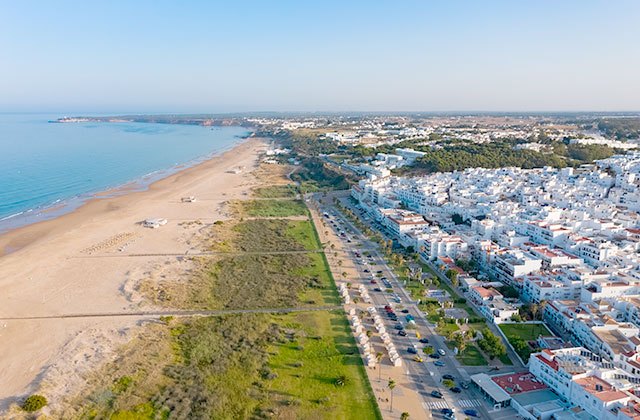 Getting to know new places, a change of scene and getting to know other cultures is ALWAYS a plus. On the Costa de la Luz there are some that you absolutely cannot miss.
Zahara de los Atunes, Barbate, Vejer de la Frontera, Tarifa, Conil de la Frontera and Puerto de Santa María are just some of the most charming villages in Cádiz province. Their alleyways, their history and the enclave are just some of the reasons to visit, along with their unrivalled beaches.
Aldea de El Rocío (Almonte), Matalascañas, Bollullos del Condado, the mouth of the River Piedras, Lepe and, of course, Doñana National Park are just some of the environments par excellence that are a must see in Huelva province.
The most charming Cádiz villages. Which is your favourite?
Huelva: 22 beautiful villages with a special charm
GASTRONOMY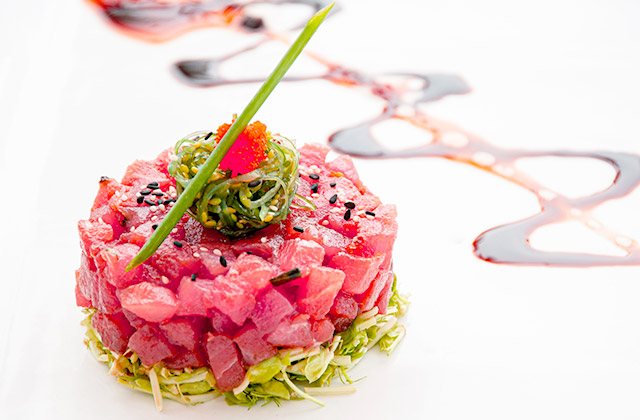 In order to work up an appetite and after a visit or a day on the beach, eating (and drinking) well is an absolute necessity.
Whose mouth does not water with the thought of a prawn fritter or some Huelva prawns accompanied by some Jerez sherry?
Not to mention all the fried fish, the Almadraba tuna, all the fresh fish from the area (sea bream, sea bass…), rice with lobster, traditional stews, cuttlefish balls, crayfish…
The Costa de la Luz has endless restaurants, tapas bars, refreshment stalls and the best of gourmet cuisine.
The culinary offering is so extensive, varied and high quality that you will not be able to stop trying any of those delicacies.
Time to eat: restaurants where you can enjoy the best Almadraba tuna
Huelva and its Andalusian gastronomy: seafood, top range ham, strawberries and treasures from the sea and the land
Do you practice nudism? 7 Malaga beaches to enjoy the sun in the most natural way
ACCOMMODATION
Fuerte Hoteles is the best hotel chain to stay in if you visit southern Spain. The chain has branches where you can enjoy the best of each area throughout Andalusia, in addition to its services. It boasts over 60 years of experience and gives you the time to discover these unspoilt beaches on the Costa de la Luz. Conil and El Rompido are some of the destinations bathed by this part of the Andalusian coast where you can find these incredible hotels.