25 things to see and do in Nerja and Torrox, the city of Europe's Balcony
Nerja is one of the most important cities in Eastern Costa del Sol and one of the most popular tourist destinations in Andalucia. It became famous internationally thanks to the TV series Verano Azul (Blue Summer) and features wide beaches where you can have a rest. This gorgeous town in Malaga has a special charm oozing from its streets, and has one of the most prominent monuments of Prehistoric Europe, the Caves of Nerja.
Do not miss this opportunity with all the activities to do in Nerja and its neighbour town Torrox, known for having the best climate of Europe. You will love the experience, and that's why we want to recommend 25 things you must take into account when visiting this destination.
Things to do in Nerja
1. Enjoy the view from the Balcony of Europe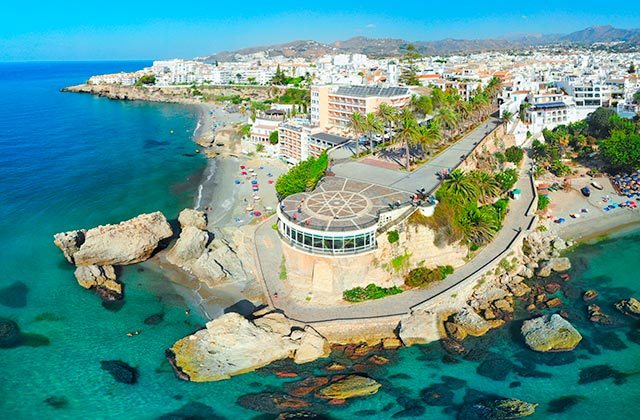 If you want to experiment a feeling of freedom, don't think twice and have a good look through the Balcony of Europe. An endless Mediterranean Sea unfolds at your feet, as if there was nothing else on the other side. Hence the name, since you feel like you have reached the end of the continent being there. Don't hear about it, experience it yourself!
2. Relax in the beaches of Maro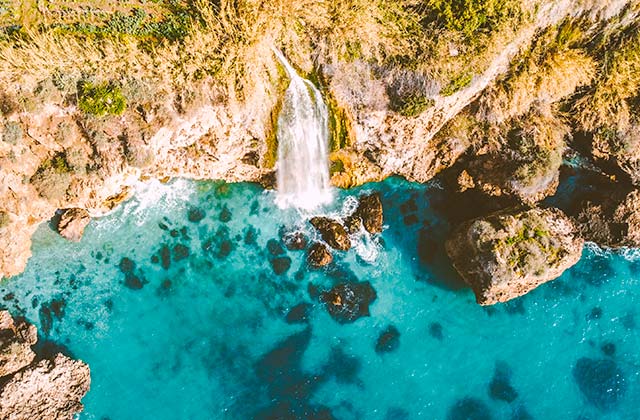 These beautiful coves along Maro Cerrogordo stand out with its cliffs and rock formations that give the place a very wild appearance, bewitching everyone who visits it. A place loaded with romanticism and bathes by the waters of the Mediterranean Sea which you cannot miss if you want to relax in a very natural environment.
Maro Natural Park – Cerro Gordo, route through the wild beaches Nerja hides under the cliffs
3. Travel back to Prehistory at the Caves of Nerja
If you like art, you must visit the Caves of Nerja. The stalactites and stalagmites formed through the years will take you to another world to discover the origins of men. Here 42,000-year old seal pictures have been found, which could be considered the first works of art for Humanity.
4. Have a paella at Chiringuito el Ayo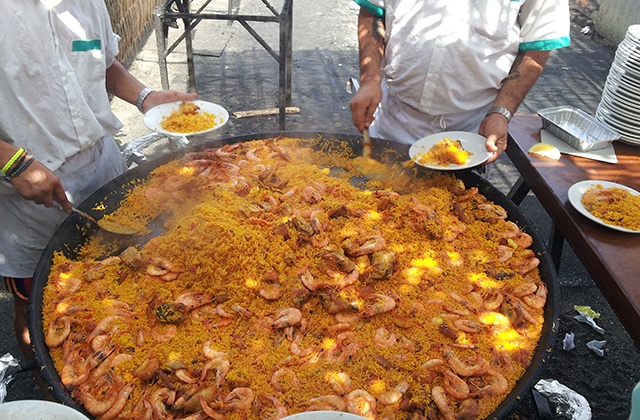 There is nothing like eating paella in Chiringuito el Ayo de Nerja. This establishment is very famous in town due to its close connection with the famous TV series "Blue Summer" where the protagonist, "Chanquete" would come to try their dishes. Are you going to miss this opportunity?
Chiringuitos (beach bars) in Nerja and Torrox Costa where you will lick your fingers.
5. Drive a quad bike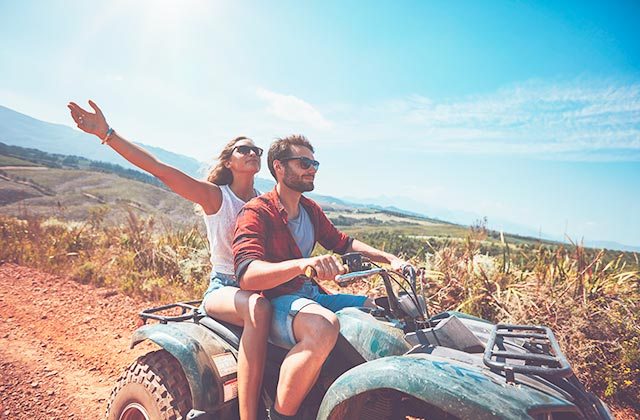 In Nerja you have the chance to drive a quad bike to discover the wildest landscapes of the city and part of the comarca of Axarquia. An excellent plan to enjoy nature and live an authentic adventure.
6. Try organic products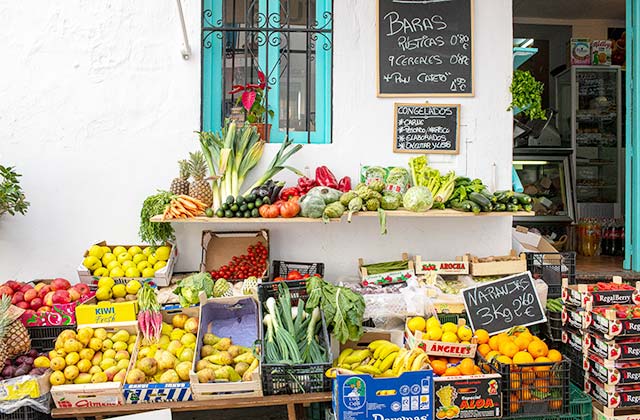 If you like tropical fruit you are lucky: you are located in Axarquia. Mangos, avocados and custard apple are some of the delicious fruits you will find in organic markets spread throughout Nerja, Torrox, Torre del Mar and Rincón de la Victoria. Do not leave without trying organic jam, mango flavoured.
Know the markets, trails and themed markets in Malaga's Axarquia: local and indigenous purchases
7. Wandering around the historical centre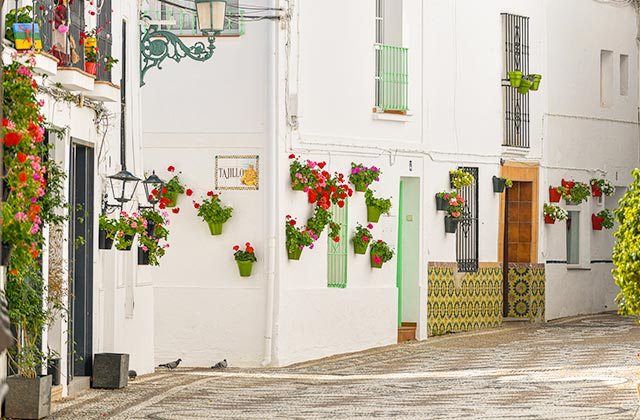 Nerja is a beautiful city with a very colourful historical centre built in 1487, with narrow streets and white façades. While you walk around the town you'll see many squares where you can seat, and many examples of Andalucian religious architecture at its best.
8. Shopping in Nerja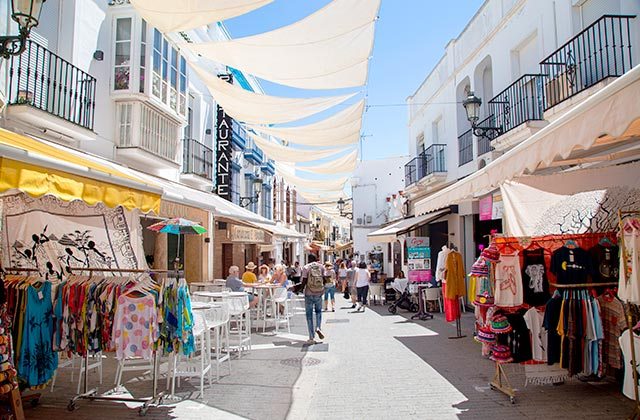 In the narrow streets of Nerja, near the Balcony of Europe, there are many establishments where you can find local products in addition to many hand crafted objects. The city has no major shopping centres so this area still retains the flavour of old trade and markets.
Shopping in Nerja. The most delightful shops next to the Balcony of Europe
9. Enjoy sardine espeto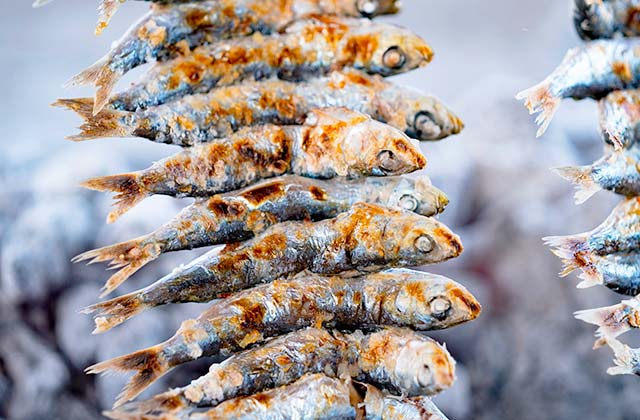 The prize for good espetos in the Easter coast of Costa del Sol is given to Chiringuito Mauri in Nerja. At the seaside you will see a garden with views of the Mediterranean Sea, the perfect spot to enjoy this typical food from Malaga. Do not miss this great way of cooking sardines.
Espetos: the best way to eat sardines, Andalucian cuisine
10. Bike riding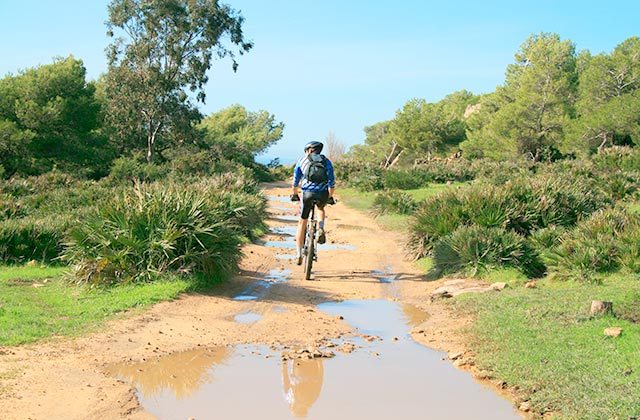 Riding a bicycle in Torrox and Nerja is very easy because they are places where you will find bike paths equipped for your ride, or for training if you really want to do intense sports. Sierras de Tejeda and Almijara are those places in Eastern Costa del Sol to do intense physical exercise with your mountain bike.
11. Paragliding
If you have never tried paragliding and you want to do it in Nerja, do not worry. You have two options: do it with an instructor or join one of the courses offered. The cliffs of Maro and Cerro Gordo are used by skilled gliders while there are other enclaves flatter for beginners.
12. Chillar River Route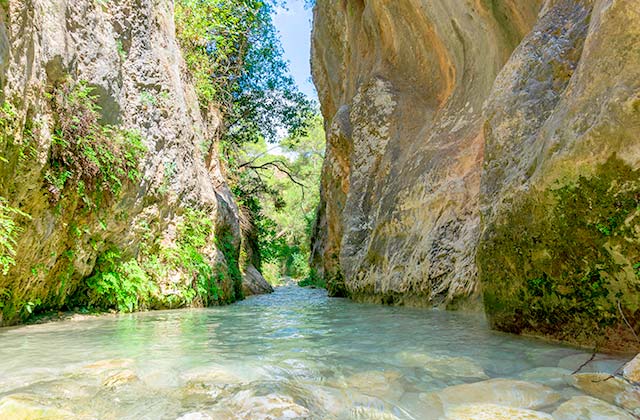 One of the most famous and refreshing routes in the province of Malaga is the Rio Chillar route. Get your water proof shoes and get into its waters. You will find beautiful images in your path as well as waterfalls and reservoirs to have a swim. Take on this path that will fill your lungs with fresh air. This route is ideal to do with the family due to its easy paths.
13. Discover the route of Blue summer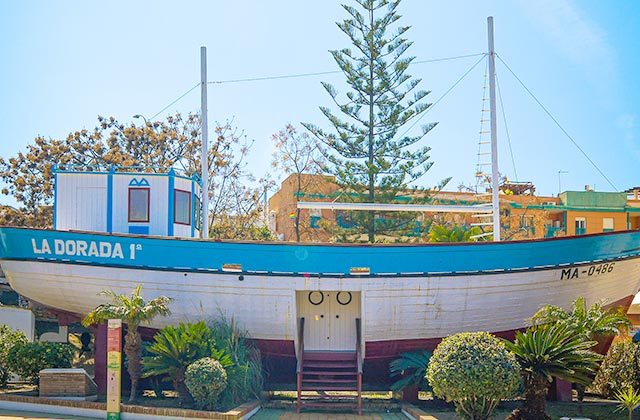 Another option you have in Nerja is to do the route of the famous television series Blue Summer. Hop on your bike as the actors did and follow the guide that will be narrating the stories of this production along with the history of the city.
Discover Nerja through ten key points along the route of the legendary series "Verano Azul" ("Blue Summer")
14. Taste the local wines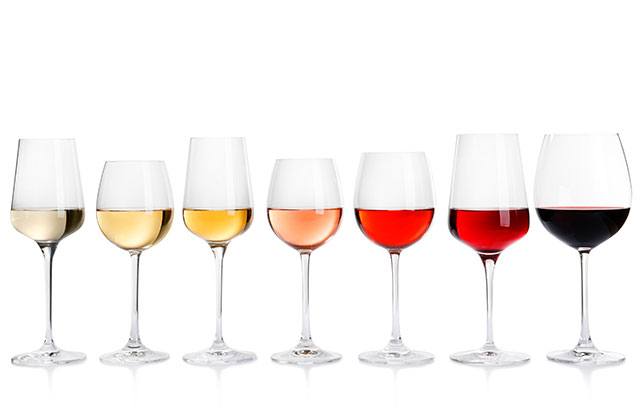 Axarquia is known for the quality of its wines. Here the grapes and the local products derived from it are cultivated here. Therefore you can do wine tasting in the cellars of the city or in the region of Nerja.
15. Diving in Torrox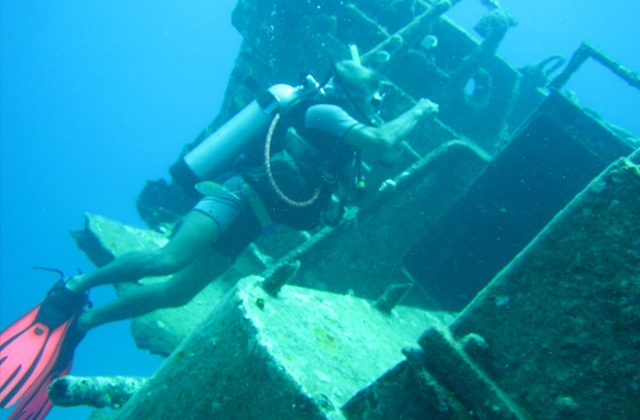 If you want to discover a different experience in Torrox you can immerse yourself in the Mediterranean Sea for diving. Do not worry if you don't know because a guide will teach you the basic features to help you get you started in this sport. The flora and fauna will leave you impressed when you see so much beauty around you.
The best places to scuba dive, dive or snorkelling in Andalucia
16. Experiencing a kayaking route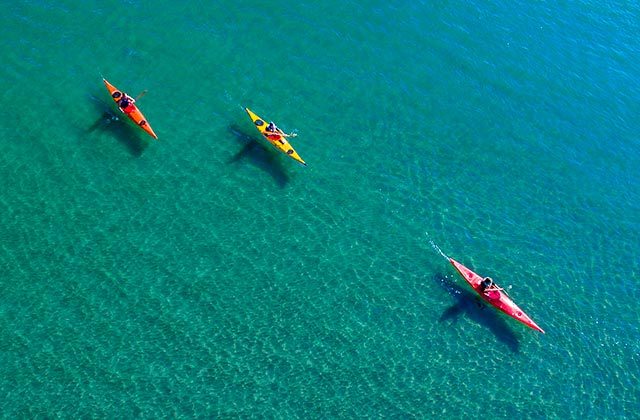 The adventurous spirit is not left behind if you are in Nerja. Here you have the opportunity to explore many kayaking routes that you will also be able to enjoy with your children. Maro Beach, Emerald Lake, The Route of the Pirates or a visit to the waterfall are some of the areas through which you can navigate with your oars in this fun craft.
17. Dinner at La Rompiente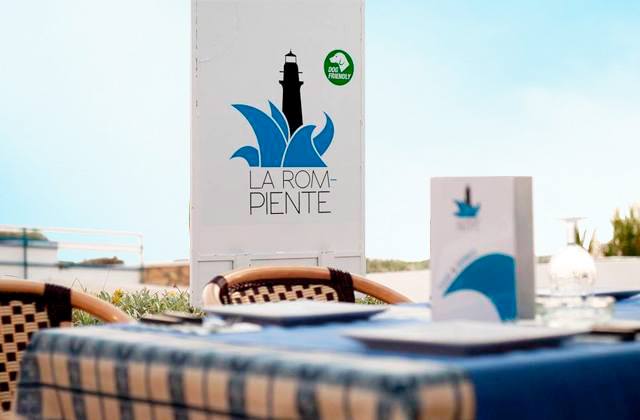 In Torrox Costa you can enjoy a special and charming dinner. La Rompiente is a restaurant specialised in Mediterranean cuisine with great charm and amazing views. A cozy atmosphere and a pleasant service that will leave you amazed. Enjoy a fine dinner to round up a fantastic day in this destination.
18. Enjoy the  nightlife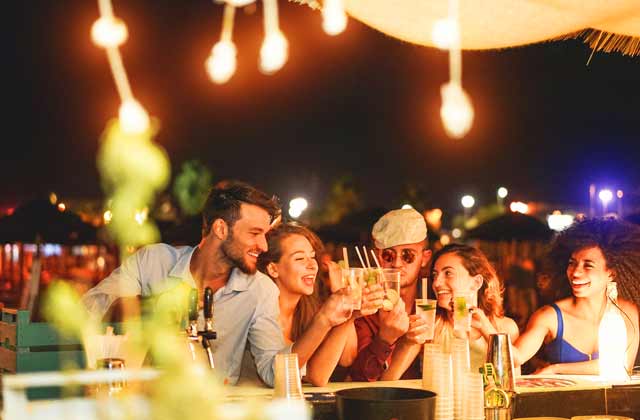 If the town of Nerja has something in the evening are its varied contrasts. In the easternmost town of Costa del Sol the environments breathing throughout the day are numerous, but the spell of the night makes it different.
Nerja nightlife. A night out on the town.
19. Enjoy a mojito on Torrox promenade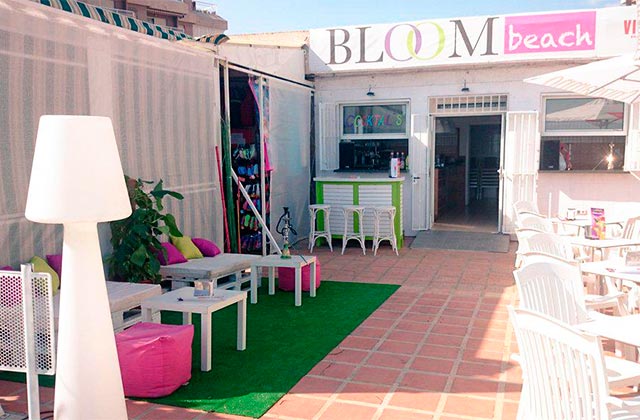 In the middle of Torrox's coastline marina we find Bloom Beach, a small simple bar where you can taste a refreshing mojito as you lose yourself looking at the sea. During the day, cold coffee is the speciality of the place, whereas at sunset, cocktails become the protagonists of the night. A great place to have a mojito and relax.
Discover ten places to refresh with the best mojitos in Aldalucia
20. Travel by boat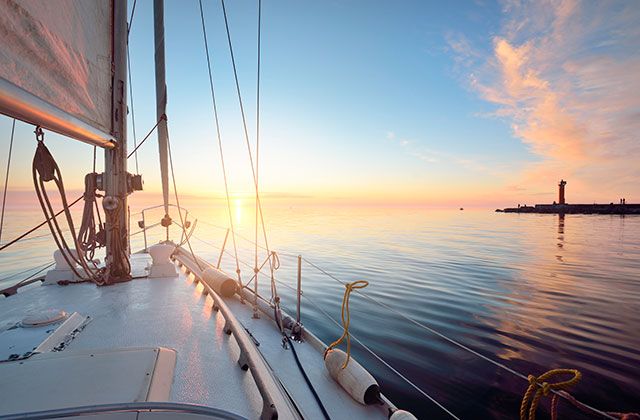 One of the things you can do in Nerja is to travel by ship. This is especially exciting if you are travelling with a group of friends. A captain will control the vessel while you jump into the sea to have a swim, sunbathe on the deck or enjoy the views this special spot in the coast of Neja has to offer.
21. Visit Torrox´s lighthouse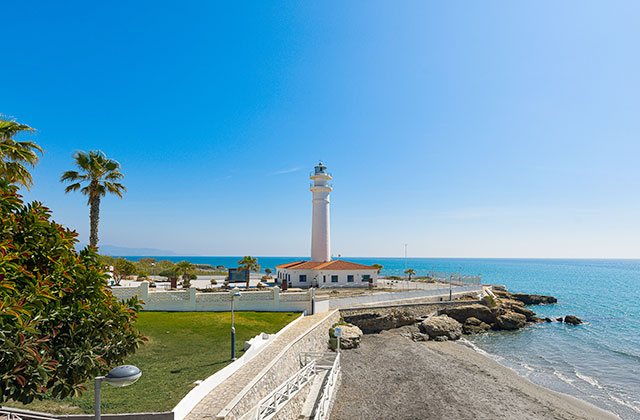 In Torrox Costa, next to a promontory towards the sea, we can find a lighthouse that was put into operation for the first time in 1864. This lighthouse is formed by a 23 metres-high stonework circular tower that ends in a double gallery lantern. As a curiosity, Torrox's Lighthouse is the only one assigned for public-cultural use since inside it we can find the marine museum.
22. Church of El Salvador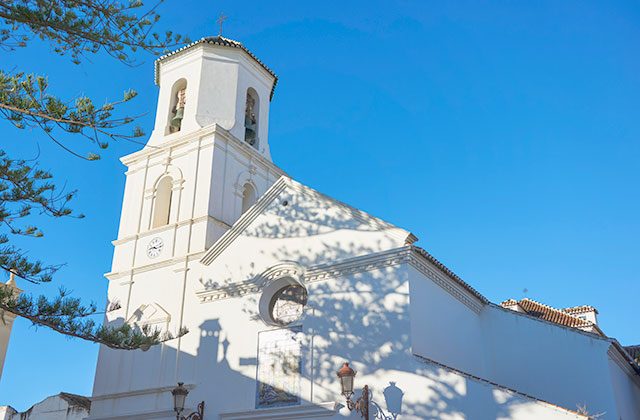 It is the main church of Nerja, located between Plaza Cavana and the promenade of the Balcony of Europe, very close to the descent to the beach of the Hall and next to a large tree called Cerote. Inside you can see the mural of the Incarnation, a work of Aurelio Teno. In addition it is one of the few temples with images of the three Archangels it is remarkable to indicate that San Miguel is the pattern of Nerja.
23. Ascend to la Maroma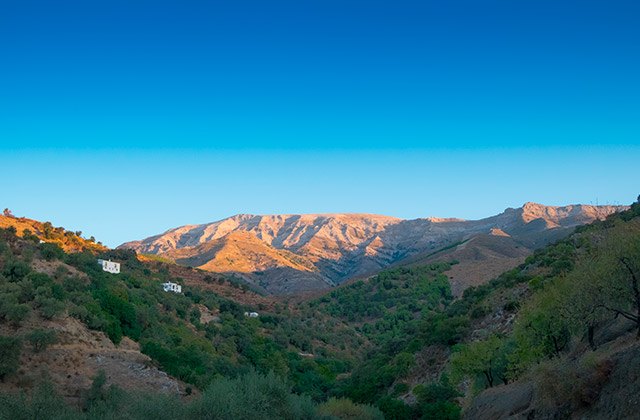 For lovers of climbing and high mountain, Torrox offers you La Maroma. This peak with its 2,065 m of altitude belongs to the Sierra Tejeda and is a relatively difficult trail but that has many interesting things to see. During the ascent, we will be able to see the different bioclimatic levels that coexist here, each of which has a multitude of vegetal species that are very difficult to see in other spaces within this same park.
24. Roman villa of Torrox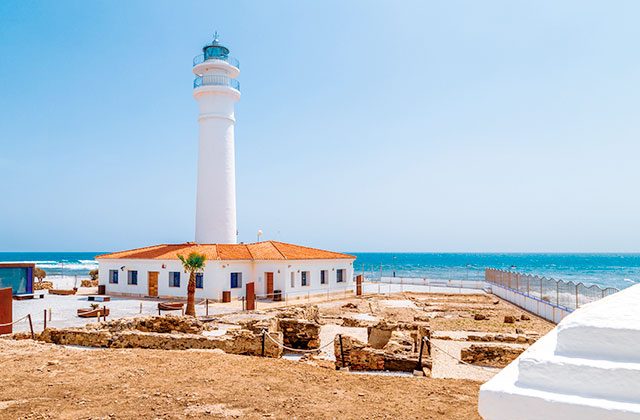 Torrox's Lighthouse Archaeological Area is a site from the first to the fourth century AD, which is formed by a curing factory, a villa, a necropolis, ceramics production kilns and baths.
We recommend that you also take your time to see the mosaics as they are especially rare and are in a splendid state of conservation. We also highlight the state of conservation of part of the Roman road. Visit this spot and we assure you a great trip to the most distant past of Malaga's East Coast.
Archaeological sites that will transport you to Andalucia's Roman Empire
25. Visit the Aguila Aqueduct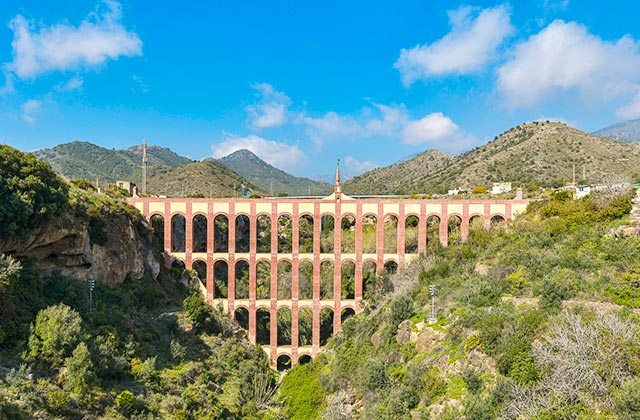 This spot is also known as Puente del Águila and is located in the Barranco de la Coladilla. This construction was built two centuries ago to carry water to the mills of the Sugar Factory of San Joaquin de Maro and it is formed by four floors of superposed arcs that cross a great unevenness of ground.
It is quite difficult to find because it is located on the side of the road when we head to Maro, so we leave the exact location so you do not miss it.
WHERE TO STAY
In order to enjoy the Axarquia in Malaga, there is nothing better than going to Fuerte Hoteles. Olée Holiday Rentals apartments are located in the perfect spot in eastern Costa del Sol, between Torrox and Nerja, typical Andalucian towns with the best weather in Europe. This type of accommodation offers relaxing moments and a great number of activities and places to visit. The complex has air conditioning, a wide hall with satellite TV and a modern kitchen equipped with an oven, dishwasher, washing machine and drier. Some features a terrace and beautiful views of the Mediterranean Sea.