The best places to scuba dive, dive or snorkelling in Andalucia
Are you thinking about scuba diving in Andalucia? Excellent, then exploring the Andalucian scuba diving environment is one of the most unforgettable experiences you will have. Andalucia boasts spectacular corners where you can discover beautiful Mediterranean corals and unique cliff fauna. All you have to do is load up the air tank and know where it is best to go underwater. Whether you are an expert snorkeller with all the gear, you want to try a direct immersion without diving gear or you are one of those who say that diving in Andalucia is the best, southern Spain is home to enormous diversity in the depths of the Mediterranean Sea and Atlantic Ocean, as well as archaeological remains born of the great battles that have been waged in the sea throughout history. Don't think about it, just come to snorkel in Andalucia. You won't regret it!
Diving followers have been increasing, since it means to approach the unknown, a beauty we are not used to, and a peace that can only be felt underwater. An unforgettable experience to share with amazing aquatic fauna and flora that awaits us. If you feel like a fish in water, it is time for you to discover the essential spots in the subaquatic Andalucia and the best diving areas, which include Cabo de Gata, Almuñecar, Nerja, Estepona, Tarifa, Conil and El Rompido. Discover the interesting marine life in Andalucia in the spring, autumn and summer, and always under the supervision of experienced divers: 
Cabo de Gata – Níjar, Almería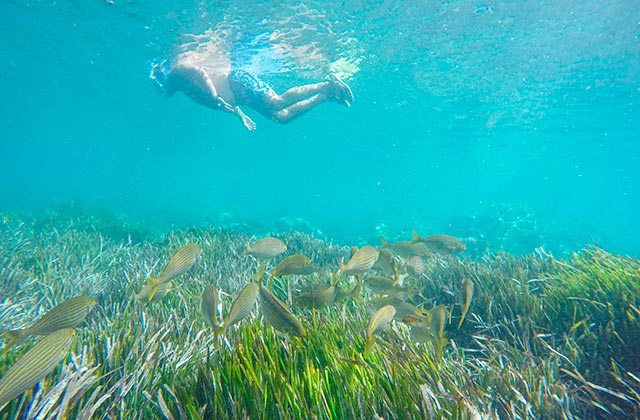 The natural geopark Cabo de Gata Nijar is the most protected area of the Mediterranean coast, where there is an incredible contrast between the marine and terrestrial space. Its pristine beaches and crystal clear waters make it the perfect place for snorkelling and diving in spectacular volcanic cliffs and reefs as those found in Punta de los Muertos and Mesa Roldán. The most outstanding enclaves of this natural space are the seabed formed by extensive meadows of sea grasses, authentic underwater forests which hosts a large amount of marine wildlife. There are a lot of options if we want to explore under the sea, from diving in La Isleta or San Jose to boat trips to hidden coves such as San Pedro or kayak practice.
Costa de la Luz, Conil de la Frontera – Cádiz
Cadiz and Costa de la Luz have more than 200 km of wonderful unspoilt beaches. as a result of an explosion of nature facing the Atlantic, boasting a sprinkling of white villages, dunes and pines. Under this wild environment, in the depths Cape Trafalgar lie hundreds of ships of high archaeological value, the result of countless battles that took place in the area. Its location between currents and levant and ponente winds set the perfect conditions for scuba diving in an ecosystem with a variety of marine species. Among others we can name the immense tunas, Amberjack, grouper, and if we're lucky, dolphins and whales.
Axarquía, Costa del Sol Oriental: snorkelling in Torrox and Nerja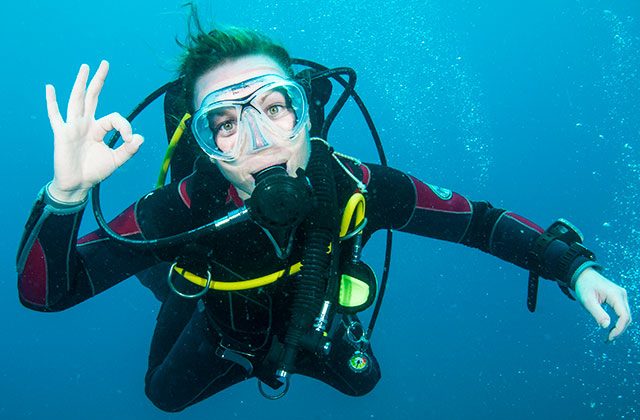 As stated in its official site Andalucia.org, Axarquia rises from the sea to heights that reach 2,000 meters, filled with vines and olive trees that look out to a calm Mediterranean Sea with pacific beaches and hidden coves. In this context, eastern Costa del Sol offers many choices both for diving and snorkelling. Good examples are Torrox Costa and Nerja, places with very little current activity and therefore ideal for beginners practising these sports. Beaches like Calaceite, Los Tres Picos, Cueva de la Virgen, Burriana or Marina del Este are some of the most popular ones. In these areas we can see underwater species such as octopus, eels, sunfish and with a little luck also dolphins in depths dotted with coral, under water ranging from 15 degrees in winter and 23 in summer. Algarrobo Costa Beach is also a good place for snorkelling because of its gravel floor.
Cliffs of Maro – Cerro Gordo, Malaga and Granada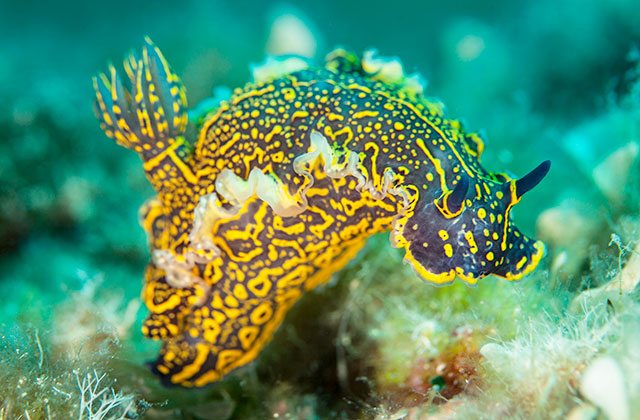 The Nature Reserve Cliffs of Maro – Cerro Gordo, also between Axarquía -specifically in Nerja- and therefore Costa del Sol, are well worth a paragraph about diving. Their 14 kilometres of hidden coves beneath cliffs create a unique natural environment full of small beaches of uncommon beauty, mostly pebble. 1,415 rocky hectares hide underneath the water, home to a rich biodiversity and unique rock formations and caves, large posidonia beds, home to sponges, corals, molluscs and lobsters that share habitat with fish such the grouper or the Moray eel.
Bahía de Algeciras/Los Alcornocales – Cádiz
The parks in the Strait of Gibraltar and Los Alcornodales are unique locations in the world for being situated between two continents and two seas. La Linea de la Concepción, Gibraltar and Algeciras are good spots to explore the seabed that make the Intercontinental Biosphere Reserve of the Mediterranean Andalucia (Spain) – Morocco. Beyond the rich marine biodiversity, Algeciras has a unique immersion, which leads to the image of the Virgen de la Palma, its patron, located in a shallow sandy cove. Another favourite spot for divers is the Las Diaclasas reef in Punta Carnero, only suitable for more experienced divers due to sea currents.
El Rompido – Costa de la Luz, Huelva
Costa de la Luz extends up to Huelva from the mouth of Guadiana river to Guadalquivir, a place where pristine beaches, dunes, marshes, pine groves, marinas and fishing villages such as El Rompido, Isla Cristina and Punta Umbria coexist. The latter offers good diving spots along the river Odiel, although you must take into consideration the fact that the rainfall muddies the seabed. Another of the most outstanding diving areas is Golden Stone, a mile off the coast in front of the lighthouse El Rompido, where an underwater mountain range is inhabited by rays and torpedoes.
Marbella and Estepona, Costa del Sol
Costa del Sol, with Marbella and Estepona as the starts, has become internationally known for its sunny weather and beaches, its bustling party nights and rich cuisine. What is not very much known is the calm and peace that lies beneath the sea. One of the main points for diving is Estepona, mainly the area known as 'Tubo Beach' area, which is reached by boat (about 6km from the city towards Gibraltar). Within this environment we find a fantastic underwater life on rocky bottoms littered with spider crabs, eels and crabs. Another place you should not miss is Placer de Bóvedas, named by many experts one of the top ten areas for diving in Spain. It is a 6km reef from the coast of San Pedro de Alcantara (Marbella) and is suitable only for experienced divers. Throughout its one-kilometre extension. we can observe large groupers that swim among attractive marine canyons and valleys. Other interesting areas are the Punta de Calaburra and Cabopino.
Cantarriján – Costa Tropical, Granada
The Costa Tropical is a feast for the senses, with the peaks of Sierra Nevada as background. It hosts great beaches and small coves ideal for scuba diving among other sports, where the town of Almuñecar and Motril have a privileged place. One of the most beloved underwater worlds by divers is the rocky reef of La Chucha (Motril) with funds riddled with algae forests and rich wildlife that inhabits it; a perfect place to take lessons of underwater photography. On the other hand, La Herradura (Almuñecar) is also among the top ten diving sites in Spain, due to its fauna diversity and the archaeological remains resulting from historical battles. One of the most favourite places is the Cantarriján beach, where wearing goggles and snorkel is essential for lovers of amateur snorkelling.
Bahía de Cádiz
The Bay of Cadiz Natural Park is another maritime and land area you cannot miss. The Gaditana capital has a shallow marine, where the marshlands of Toruños, Sancti Petri and Trocadero all converge, surrounded by salt lakes and small lakes. A complex marine system that can be explored by boat or diving along its extensive sea grass beds. The floor of the Bay of Cadiz has a high biological diversity, a place where fish and shellfish live together, many of them have turned the gastronomy of Cadiz in Andalucia a culinary reference. It is also interesting to see the great amount of bird species on the surface of the sea.
Tarifa, el Estrecho
Along the Bay of Algeciras, el Estrecho is a magnificent coastline marked by the force of the wind and an underwater cave plagued with a rich biodiversity between the Mediterranean Sea and the Atlantic Ocean. A natural spectacle that culminates with the migratory path of whales, dolphins, turtles and sharks between European and African waters, which also houses extensive seagrass beds, hiding sponges and molluscs. The village that stands out in this area is Tarifa, which has plenty of diving spots for all levels of diving with the possibility to observe octopus, moray eels, groupers or breams. Cala de Poniente, Cala de Levante or Las Piscinas are some of the most popular, although you can not miss Punta Marroquí and the wreck of San Andrés.
Snorkelling tips for beginners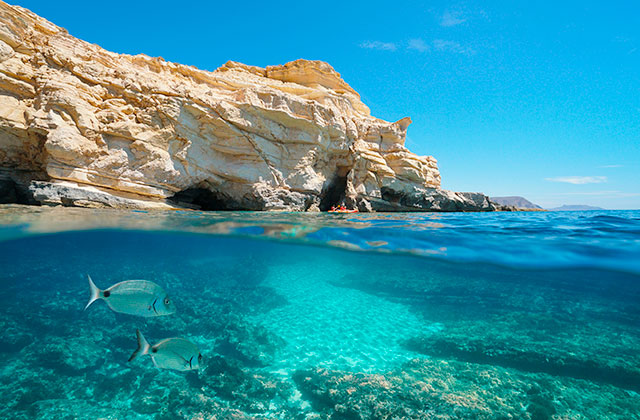 Be well prepared. Snorkelling is not like other sports. You need training that teaches some basic notions.

Never snorkel alone. This is the main rule of this sport and it is so important that even the most experienced professionals follow it to the letter.

Don't hold your breath. Remember that you have a team who will provide you with the air you need. Holding your breath in these circumstances can cause lung injuries.

Ascend slowly. Whenever you are underwater and want to come to the surface, you need to do so slowly.

Equalise your ears. The change in pressure you experience when you snorkel is usually noticed in the ears and it is a very uncomfortable feeling. To prevent it, you need to make the pressure of your ears equal to the pressure of the water (to do this, all you need to do is block your nostrils with your fingers and breathe through the nose until you notice a small pop).

Keep your goggles clean. Your snorkelling goggles might fog up when you are underwater. To prevent this, rub the inside of the lens with a finger covered in saliva.

Be cautious. In snorkelling, you need to be very cautious, since following the rules will keep you alive.
What are the best beaches in Andalucia?
15 of the best surfing beaches under the andalusian sun
WHERE TO STAY
The Hotel Fuerte El Rompido is one of the most beautiful hotels in Costa de la Luz for its spectacular location on a hill that dominates the natural setting of Río Piedras. To this we must add an aesthetic Andalucian architecture that harmonizes with its surroundings. An ideal place to rest and to practice sports surrounded by nature. A 14-kilometre pristine beach which is accessed by boat is one of the best experiences for the guests of this hotel.