Flecha del Rompido: a spectacular natural paradise in Huelva
La Flecha del Rompido is a fabulous example that shows that Huelva's geography is full of whims that nature has been spreading at will and becoming a marvel. Real spectacles that decorate this province turning it into an authentic natural landscape museum, which can be enjoyed beyond mere visual contemplation.
At the mouth of the Piedras River we find one of those beautiful places: the Flecha del Rompido, one of the most impressive beaches of El Rompido, a natural place located between the municipalities of Lepe and Cartaya. This beach of Huelva has become over time one of the wonders of Huelva. Not in vain in 2008 was one of the candidates for the Seven Wonders of Huelva in the category of nature and has recently been declared an area of tourist interest.
La Flecha del Rompido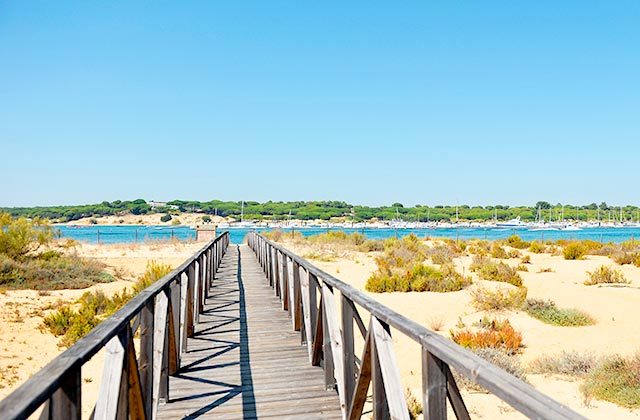 Flecha del Rompido is a representative set of coastal sand formations that characterize the Huelva coast, classified geologically as a mesotidal coast.
The Flecha is a unique structure around the Andalusian coast, a unique stretch of sand over 13 kilometres long that runs parallel to the coast and separates the Piedras River from the Atlantic Ocean. In the eighteenth century, it became a spit.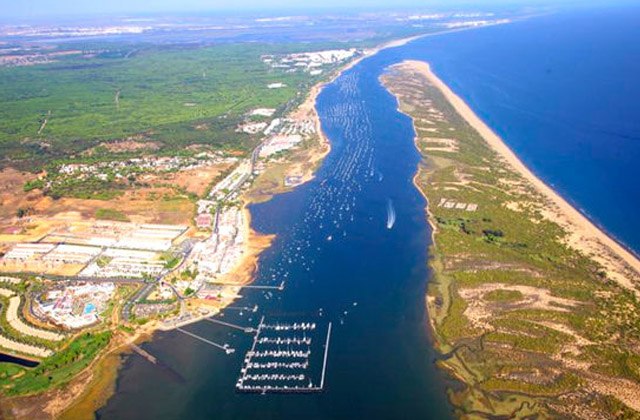 The Flecha extends an average of 30 meters per year and the rising tide causes the creation of natural lagoons that now make up the famous Marimas del Río Piedras and Flecha de El Rompido Natural Park, shared by the municipalities of Cartaya and Lepe.
Some tips to protect this natural area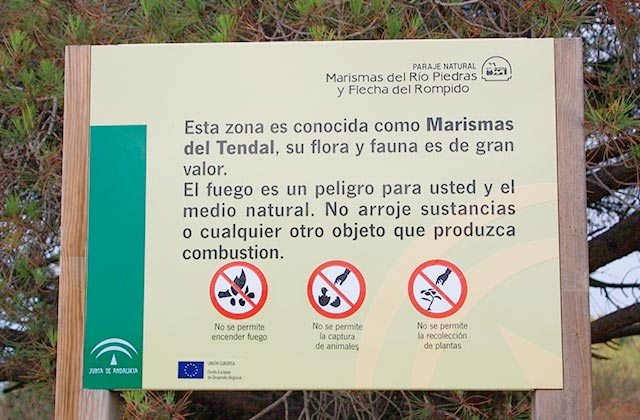 If you are going to visit a natural environment you should be aware that you must minimize your impact on the space in which you are going to be since it is very important to preserve the integrity of its natural values and characteristic landscapes. That is to say that your preservation depends to a large extent on your attitude and behaviour.
For this reason here we give you some tips so that you and future visitors can enjoy nature with all the guarantees.
Respect the signs, panels, mandatory itineraries and temporary or permanent restrictions that exist.
Respect flora and fauna. Do not start vegetation or collect its fruits, flowers and seeds, in the same way you should not bother the animals because they think they are in your home and you visit.
Do not dirty the natural environment. We should not leave any residue or food, because, in addition to dirtying the space, it modifies the feeding habits of the animals.
Do not carry out actions that may endanger the natural environment, for example do not throw cigarette butts to the ground, as well as being able to cause fires, they take many years to decompose.
6 tips to go to the beach at Flecha del Rompido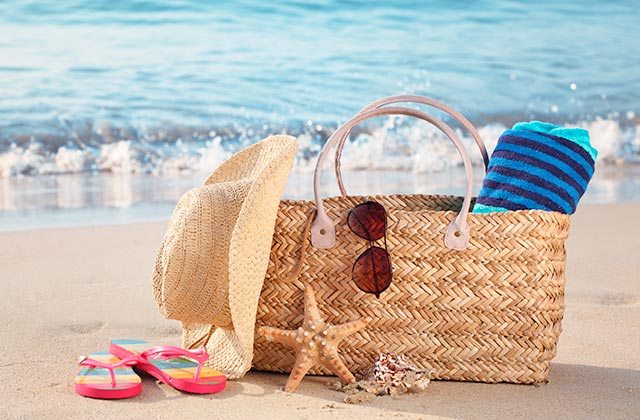 We all want to enjoy lying on the towel, take a sun bath, or freshen up in the sea on a warm summer day. That's why we offer you this list so you can stop worrying if you forget something or not to enjoy the perfect beach day:
Check the ferry schedules. This way you can choose the time of arrival and you will save waiting and queuing.
Put on some sun block before leaving, but remember that you must renew the anti-burn armour after leaving the water.
Take water and some food, remember that you go to a beach declared a Natural Area, so the beach bars are a bit far away and hydrating is very important.
Carry the essential. It is about enjoying, so with an umbrella, towels and a small bag with water and some food (as we have said) should be enough.
Disconnect yourself. You are in a natural paradise surrounded by the sea so enjoy the surroundings without thinking about work.
First nudist beach in Huelva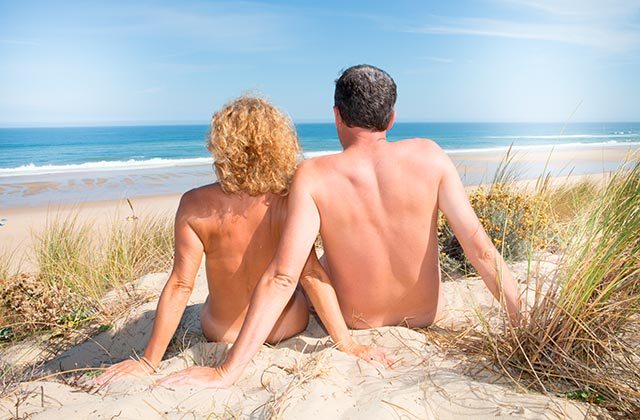 In 2001, the beach became the first official nudist beach in the province of Huelva and is marked as such. It even has an association (Anudenu) which works all year round to raise awareness for visitors about maintenance in perfect condition.
Another curious fact is that, depending on which side of the beach the visitor is located, they can enjoy the Piedras River or the Atlantic Ocean. Simply choose the location you want on one side or the other of the Flecha.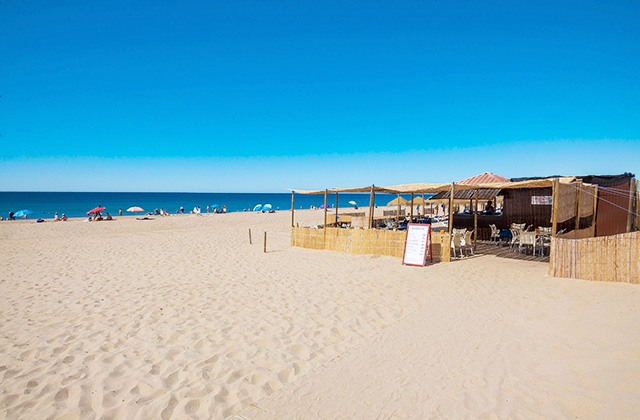 Other beaches
The pristine beaches that are generated around this natural phenomenon, such as New Umbria or Caño de la Culata, are among the best in Andalusia and even are considered the best preserved in Europe.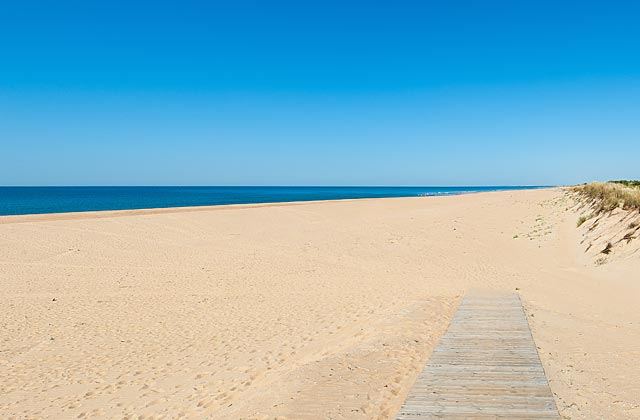 "Nuevo Portil" beach
The beach of Nuevo Portil points to the sea from one of the most beautiful viewpoints of the Costa de Luz. This beach is formed by fine golden sand is surrounded by a dune from where we can enjoy a fabulous panoramic view of the arrow of El Rompido. One of the most characteristic things about this beach is that it is almost virgin since there is little urban density although if you are a golf lover here there are several golf courses for you to take some holes if you wish.
San Miguel beach
On this beach you can enjoy fine golden sand and calm waters that make this beach the perfect place to take a dip. It is also connected to the virgin beach of the littoral arrow by services of boats and barges in high season.
If you have the opportunity to come to this area, we can only recommend that this is one of the points that should be visited.
Los Enebrales beach
Los Enebrales is an isolated beach located a few kilometres from El Rompido and surrounded by the beautiful Los Enebrales Natural Park, making it ideal for hiking. On this beach you will not find much influx of visitors but what you will enjoy is golden sand and crystal clear waters.
Nueva Umbría beach
This beach is located in the municipality of Lepe a few kilometres from El Rompido, is a virgin and isolated beach that is located in the Natural Area of Marismas del Río Piedras and Flecha de El Rompido, so besides being able to give you a good dip you can enjoy a good time hiking through unsurpassed landscapes.
In addition, the beach of Nueva Umbría due to its scarce infrastructure, among other characteristics, make it the perfect place for the practice of nudism-naturism. In conclusion it is the ideal place to enjoy nature and to get lost.
Flora and fauna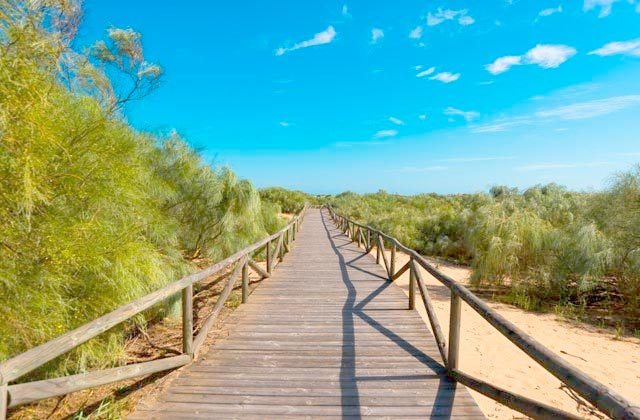 White sands, marsh ecosystems, estuaries and mobile dune systems come together to host a unique habitat, with flora and fauna characteristic of this environment. They make the Marismas del Río Piedras y Flecha del Rompido Natural Park an highly important ecological and environmental location, unique thanks to its biodiversity.
Also, with respect to birds, the spoonbill has found this area to be a good place for wintering and reproduction. The unmistakable oystercatcher is one of the wader species which has found the Flecha del Rompido y Marismas del Odiel Natural Park to be the perfect habitat, as well as cormorants and various species of gulls. In terms of more sedentary birds, you can see the white stork and the Montagu's harrier, while migratory birds breeding in this space are the marsh harrier and the cattle egret.
Sights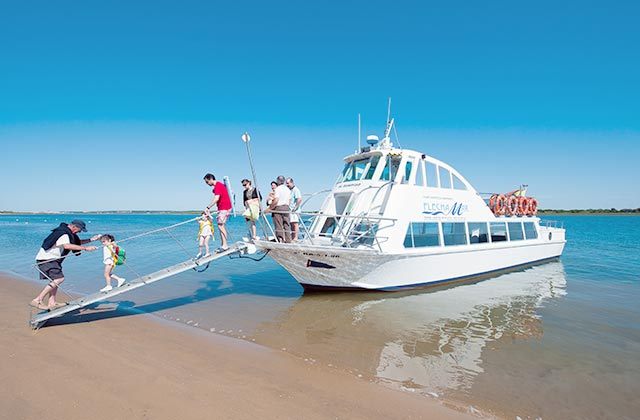 Access to the Flecha beach can only be done by boat, because you have to cross the mouth of the Piedras. A recommended walk of about ten minutes in length is a great treat for the senses.
This is made possible by ferries operating on the Piedras River between April and October, with different regular lines that carry passengers from the beaches of El Rompido, Nuevo Portil and El Portil, to the Flecha.
There are also many nautical, aquatic and recreational activities that take place around Flecha del Rompido, such as diving, which allows you to discover the natural wealth that is also found on the seabed of this wonderful destination.
27 things to see and do to have a dream holiday in El Rompido
Top Beaches on the Costa de la Luz
ACCOMMODATION
Fuerte Hoteles is the best hotel chain to stay in if you visit southern Spain. The Hotel Fuerte El Rompido is one of the most beautiful hotels in the area thanks to its spectacular location on a hill the overlooks the natural landscape of the Piedras River. On top of this, the Andalusian architecture is in perfect harmony with its surroundings. An ideal place to rest and practise sport surrounded by nature.