Enjoy the last tropical forest in Europe: Los Alcornocales Natural Park
Andalusia is a box of surprises and you will be amazed by many of them. Did you know there is a tropical forest in Cádiz? Los Alcornocales Natural Park breaks the rule of beach and Sun in Cadiz. This is the last bastion of this type of landscape which remains in Europe, apart from having the native flora of Andalusia. If you are on holidays in Costa de la Luz, go deep into this forest which will take you to other latitudes and times. Enjoy the littoral and nature in a single destination.
THE LAST JUNGLE IN EUROPE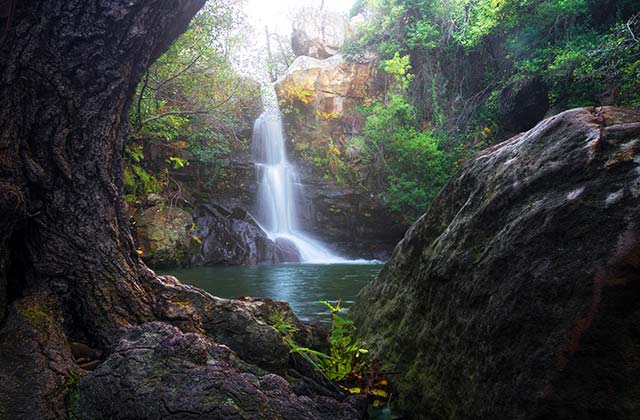 Quaternary ice ages ended with the European forests. When the ice melted again, the dry Mediterranean climate prevented these forests from recovering their original extension. However, in the provinces of Cadiz and Malaga this subtropical forest within Los Alcornocales Natural Park managed to survive the climate phenomenon.
HUMIDITY AND MIST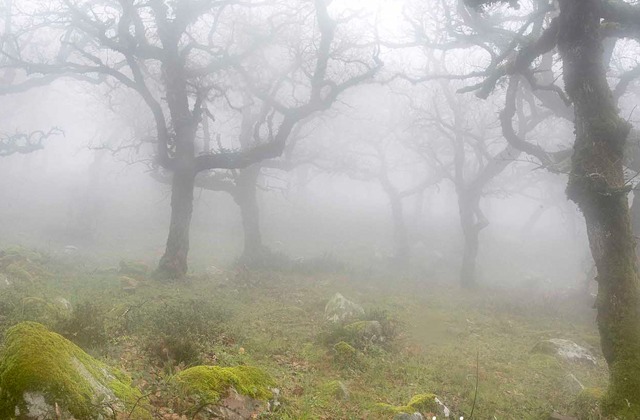 One of the main characteristics of this Andalusian forest is the humidity coming from the coast, which accumulates and creates mist forests in narrow and deep valleys called canutos. This resulted in the preservation of the vegetation from the Cenozoic era. An example of this is the Laurel Forest, characterised by smooth and shiny leaves, which take advantage of humidity and scarce light filtered through the Alder that surround these misty valleys.
VEGETATION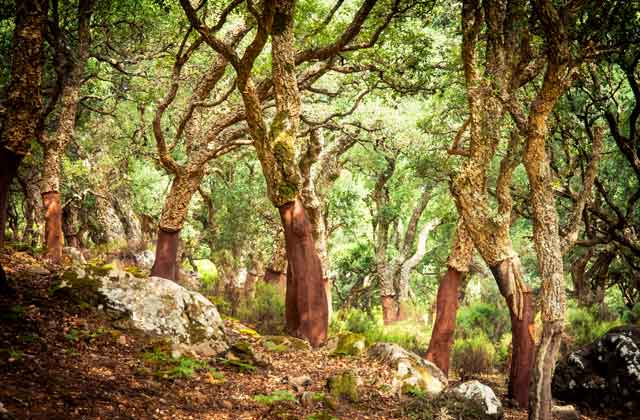 Sandstone soils have favoured the thick cork ground (the largest in the world), and also house Andalusian gall oaks in the wetter areas. Cork forests provide shelter, welfare and resources to all species. A curious fact to note is that the cork which is extracted from forests provides almost half of the production of the entire country.
In turn, in higher grounds, rocks stick out and pebbles appears in the scanty soil, stunted dense thicket of various species adapted to soils rich in metals like aluminium, among which aromatic species are common.
On the other hand, since the beginning of time, acebuchal appears in clay soil and lower grounds to make way for pasture to feed the livestock in the area.
FAUNA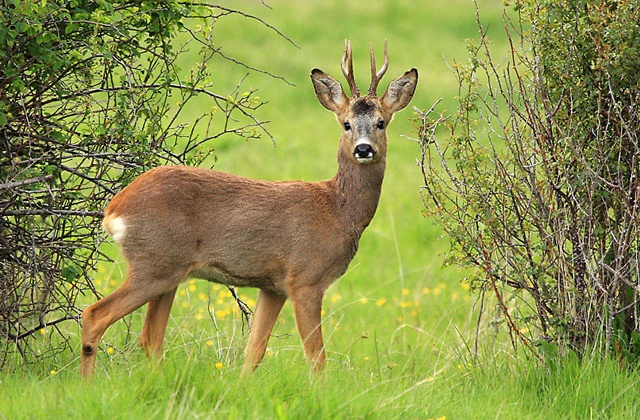 This richness of vegetation goes together with a wide variety of species. Wildcats, foxes, ungulates, otters, mountain goats, hawks, owls, vultures and eagles live together in this this protected space with all those migratory birds that travel annually between Africa and northern Europe. It also runs the Moorish Mediterranean scrub, native to the land and a symbol of big game, as well as the roe, the deer and carnivores such as genets and especially mongoose badgers. In turn, between the scent of prehistoric laurel, the beauty of the hornbeam blossoms, elegant durillos and hollies, you will walk through this kind of jungle accompanied by the sounds of the dipper, kingfisher and skillful warblers and finches, which hide among the ferns. Don't hesitate and live this experience that you will never forget.
THINGS TO DO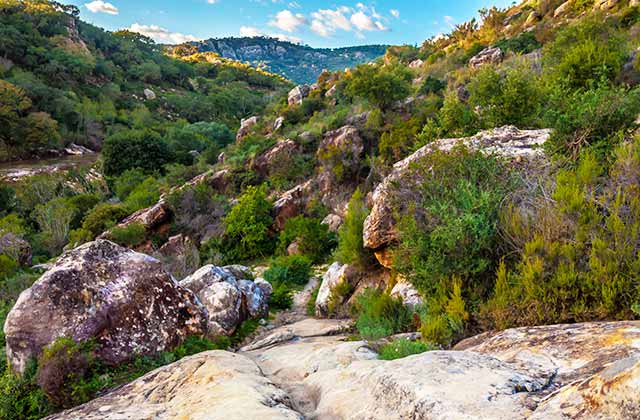 This rainforest is an ideal place to visit and enjoy diverse activities such as collecting mushrooms and practising outdoor sports. Mycology is widespread in the area and mushroom lovers meet to conduct workshops to gather this delicacy. Athletes also have a place in this area. Besides hiking trails, they can choose mountain biking and caving.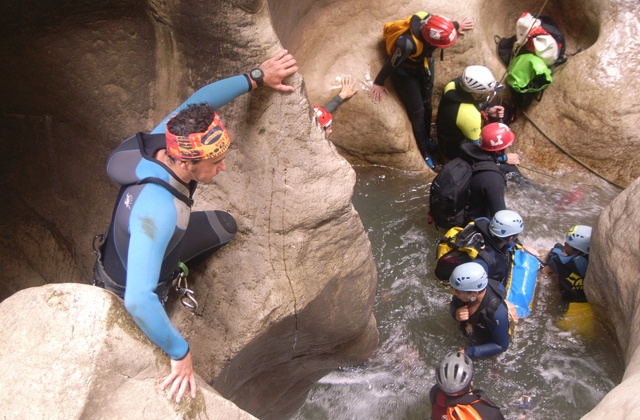 It is worth mentioning the climbing activities at the peak of Picacho or Aljibe caving in the Ramblazo-Motillas enclave or canyoning in Buitreras Gorge, one of the few areas prepared for this risky practice because of its uniqueness, also declared a Natural Monument. For the more traditional visitors we recommend routes on horseback, as the ones found in La Almoraima.
THE SPANISH FIR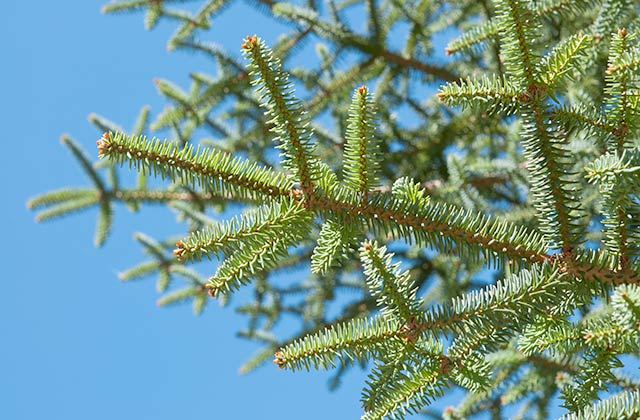 If you really liked the tour round Los Alcornocales National Park, you cannot miss another Andalusian species that lives nearby. It is the Spanish fir, a centenary fir tree located in the western mountains of the Betic Mountain Range, such as Sierra de Grazalema, Ronda and Bermeja. The Spanish firs are usually found in rainy, misty places, not very hot.
NEARBY TOWNS TO VISIT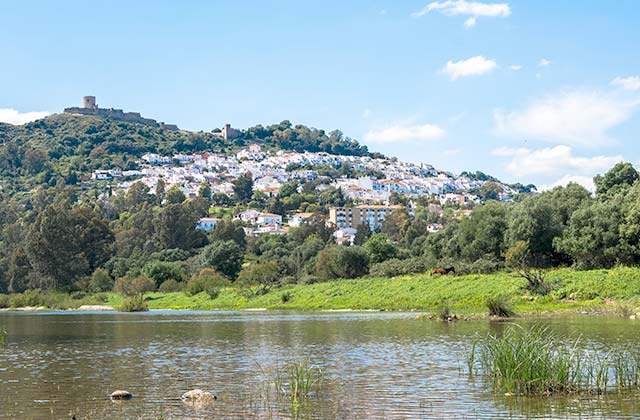 If you enjoyed the visit to Los Alcornocales Natural Park, do not hesitate to visit the white villages that comprise it. These locations ooze artistic and cultural heritage which, in turn, make them charming. So we recommend that you approach Jimena de la Frontera, Alcalá de los Gazules or Castellar de la Frontera, to name a few. In addition, coastal villages are near the rainforest, so you can also enjoy the sun and the beach as well as water sports such as surfing and sailing.
Curiosities about Los Alcornocales Natural Park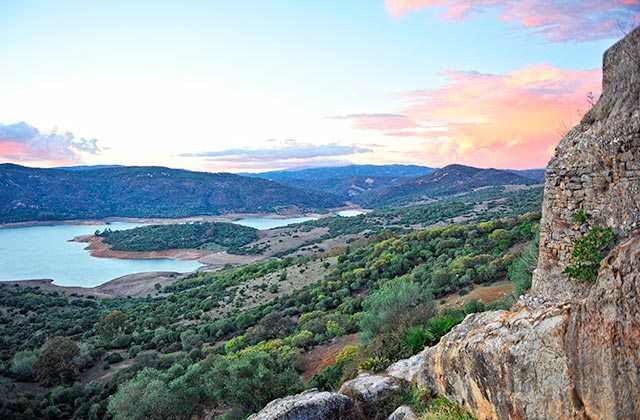 Cork Oak Forests: This park is famous for its extensive cork oak forests, some of the largest and best-preserved in Europe. Cork oaks are emblematic trees of the region, and their bark is used to obtain cork, a material widely used in the industry.
Biodiversity: Los Alcornocales harbor a great diversity of plant and animal species. It's estimated that there are more than 1,300 plant species in the park, including many endemic species. It's also home to various species of mammals, birds, amphibians, and reptiles.
Resting Area for Migratory Birds: The park is an important resting point for many migratory birds crossing the Strait of Gibraltar between Europe and Africa. It's a key location for birdwatching, especially during migration seasons.
Microclimates: Due to its topography and geographical location, Los Alcornocales presents a wide variety of microclimates. This results in diverse habitats that in turn support a wide range of species.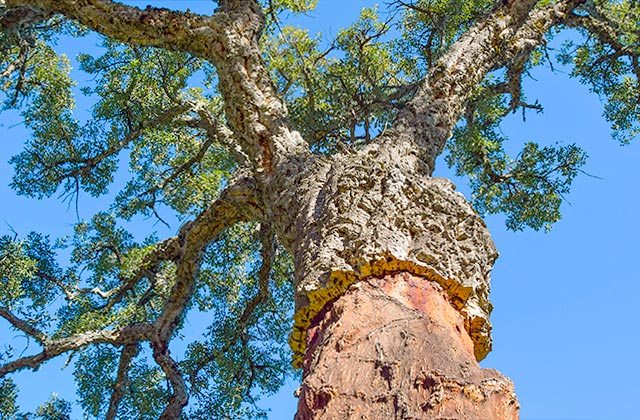 Hiking Trails: The park features a network of trails that allow visitors to explore its natural beauty and discover its most remote corners. Some routes lead to viewpoints with impressive panoramic views.
Recreational Activities: Los Alcornocales are not only ideal for nature lovers but also for those interested in outdoor activities such as hiking, cycling, rock climbing, and birdwatching.
Conservation: The park is an important protected area that aims to preserve both its biodiversity and natural landscapes. Conservation measures have been implemented to ensure the sustainability of ecosystems and the fauna and flora that inhabit them.
Cultural Impact: Throughout history, Los Alcornocales have played a significant role in the lives of local communities. From cork harvesting to cultural and festive traditions, the park has left its mark on the region's identity.
What are the natural wonders of Andalucia?
WHERE TO STAY
If you are looking for accommodation to enjoy Los Alcornocales Natural Park, we recommend you stay at Fuerte Conil Resort. This hotel is the perfect option to relax and rest after a day in contact with nature. During your stay you will have the comfort and tranquillity only a chain of hotels with 60 years experience can provide. Located oposite one of the most beautiful beaches in Spain, La Fontanilla Beach, only 5 minutes away on foot from the centre of Conil de la Frontera, this hotel inspires familiarity. An ideal choice for a perfect destination.