The best restaurants in Costa del Sol, the most authentic products of these roadside restaurants
Apart from pleasing tourists with their beautiful landscapes, the roads of Malaga offer local souther Spanish cuisine. A drive gives you the opportunity to get to know every corner of Malaga and, in turn, make spectacular stops to replenish energy and taste the recipes of the land. If you're thinking about doing a road trip in this privileged destination of Spain do not miss this top ten list of restaurants you'll find along the way, its origins and its products.
CHARACTERISTICS AND HISTORY OF ROADSIDE RESTAURANTS
Roadside restaurants have special characteristics: the personalised and simple treatment, the quality of the products and in numerous occasions, the views it offers. A clear example are those restaurants that are located near parks. Clean air and good food in a unique blend. Generally, these facilities have the typical products of each area and the preparation of the recipes is done by hand.
Roadside restaurants, better known as stalls came about the same time that the tracks themselves. Their origin go back to the mythical Roman roads, where every so often a tavern would be built so that troops could rest there, as well as merchants and the animals themselves. We have inherited this tradition in Spain. On the roads there are many stalls that are more than a place of rest and feeding for passing drivers or travellers. Over the years they have acquired a reputation for the quality of their food and there are many who come exclusively to eat at these places even though they are far from the city asphalt.
CATALOGUE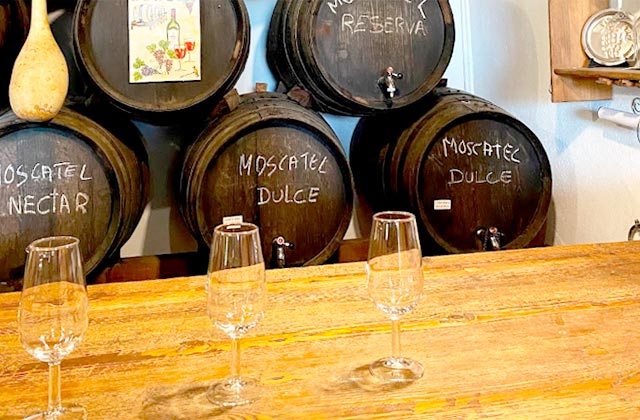 In the province of Malaga you'll find these restaurants that use all the local products. Among them, of course, there are always bottles of Malaga sweet wine, recognized as exceptional internationally. Also the local goat cheese, raisins from Axarquia and chestnuts from Valle del Genal. Depending on the area you visit, you may have greater access to one or the other but, normally, these establishments often do have all of these products.
SOME OF THE BEST STALLS OF MALAGA
LOS MONTES (MÁLAGA)
Málaga Mountains is a mountain range located about five kilometers north of the city of Málaga. The road that runs through this place is Colmenar, where a large number of roadside restaurants are located,also offering a superb natural landscape, they will provide you with one of the best recipes of the area: the dish of Montes de Malaga. You'll be able to taste buttery loin "colorá" with chips, chorizo, eggs, black pudding and spices. Although you have a wide range of possibilities to choose from, the restaurant Venta Los Montes is one of the oldest and most prominent of the area.
VENTA BARRANCO, OJÉN
Barranco stall is located in an exceptional landscape. Ojen road has some landscapes full of vegetation. If you decide to make a stop along the way it's very tempting to try its grilled meat. Here are typical products of this small town in Costa del Sol such as liquor or wine. Ojén is surrounded by several viewpoints from where you can observe typical Andalusian white houses, so if you fancy after dinner, we recommend you take a walk through this beautiful town.
LA BUTIBAMBA, MIJAS
Stall La Butibamba in La Cala de Mijas is one of the most famous in Costa del Sol. Its loin in lard causes long queues to book a table. This star product mixed with potatoes, egg, sausage and peppers is the most requested combination by diners. Do not wait to get to Cádiz Motorway to try it, come and taste it. It's not only meat that is offered, but also other specialities made with fish.
RESTAURANT LA RUTA DEL IBÉRICO, BENALMÁDENA
This restaurant has a common denominator: their products are Iberian. If you travel along the old 340 motorway, known as the road to Costa del Sol, stop at Benalmádena and enjoy a plate of ham, loin and chorizo. Its cheese are from another world, all of them seasoned with great wines. The difference in this roadside restaurant compared to the rest is that prices are higher.
LA TORRE, MIJAS
La Torre is not known by that name if you live in Costa del Sol. Popularly called La Paca, it refers to the name of its owner, an example of how locals know each other well. Here you will be treated as if you were at home and you can try all kinds of Mediterranean dishes made with local products.
ALBERTS BAR GRILL RESTAURANTE, MARBELLA
Alberts Bar Grill Restaurant is located on the National Highway 340 in the area of ​​Puerto de Cabopino in Marbella. We recommend you try their starters to warm-up, for example, fried squid or tiger prawns with pil pil. Its grill is excellent and has all kinds of meats, basic for stalls, but with international spirit.
LA MORENA, MIJAS
On Sundays La Morena gets crowded with families that decide to spend the day together. The friendly atmosphere and good service offered is mixed with home-made dishes and desserts, making you feel like going to visit your parents at the weekend and staying for dinner. Drivers are often seen eating here because they feel welcomed. A charming place with lovely people.
MOLINO BLANCO, ANTEQUERA
Molino Blanco restaurant is also a museum of traditions and customs, located in Antequera, 15 minutes away from Torcal, with landscapes of unparalleled beauty where you can taste typical dishes of Antequera and Andalusian cuisine. In this sense, among the dishes we can recommend Antequera baton, white garlic, home-made stew and grilled meat. For dessert, you must try bienmesabe, a historical dessert that was made in the convents of Antequera centuries ago.
RESTAURANT CASA PACO, ALHAURÍN
In this stall there is a characteristic use of fish and seafood in their recipes. If you are driving and want to make a stop along the way treat yourself with this delicious food. But good seafood is not all you can find here. If you fancy grilled meat you can taste it here too.
RESTAURANT TANINO, MÁLAGA
Tanino Restaurant is not really a roadside restaurant, but we decided to include it because it is in Cádiz motorway and it is a different option given its sophisticated décor. The menu focuses on modern Mediterranean cuisine with international influences, including pastas, pizzas, Argentine beef and grilled fish, even fusion and Indian cuisine.
Discover the best tapas in Malaga
WHERE TO STAY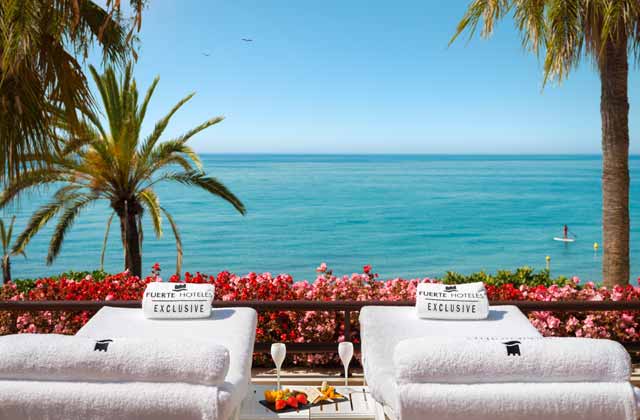 If you are on a road trip arounf Malaga or are attracted by roadside restaurants, the best option for accommodation is Fuerte Hoteles. The chain has hotels along Costa del Sol. 60 years experience are the best guarantee. Marbella or Torrox are some of the spots where you can find these great hotels.