The best 12 restaurants to enjoy the best Climate in Europe
If you don't eat in Axarquía, you will never know what Andalusia tastes like. Because the most typical Andalusian cuisine is present in every bar or restaurant. Whatever your taste may be, Torrox and Nerja have a wide variety of establishments and restaurants focused on tourists and popular among locals.
We are travelling to the beautiful Axarquía in order to discover the best places to have tapas. A delicious route that will make you enjoy many flavours.
Restaurante Miguel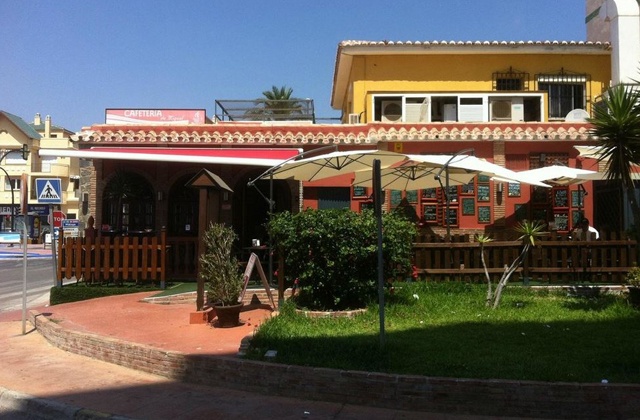 At Restaurante Miguel you will be able to try excellent stews and the best barbecues, meat and quality fish. Creative season starters with local touches. Restaurante Mmiguel is perfect for groups and to go with children. In Malaga, they are popular with family meals, and vegetarian cuisine also has its fame within the establishment.
El Buen Tapeo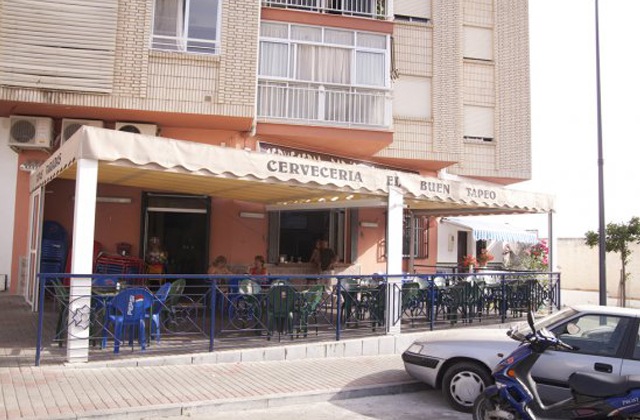 In El Buen Tapeo you'll find a place to enjoy the best tapas, as well as a variety of grilled and seafood. Good value for money and a wide variety of tapas. A no-frills bar with traditional Andalusian cuisine, exceptional tapas at very reasonable prices and a family atmosphere that will make you go back again and again.
Bar 'El Rubio'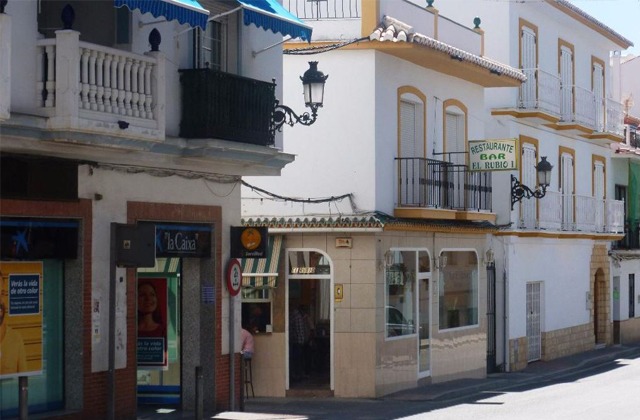 Restaurant Bar 'El Rubio', which initially started as a tapas bar with a small dining room where you could eat a menu of homemade food accompanied by "fish" from the coast, became a reference point for locals and visitors.
Nowadays it still keeps the same recipes. The two brothers have a variety of coffees and breakfasts available to the public as well as its great variety of tapas and menus. 'El Rubio' has an attractive outdoor terrace and a large indoor dining room, suitable for all kinds of meetings and celebrations, to have lunch or dinner comfortably, or just to enjoy some tapas with friends or family.
Bar Dolores El Chispa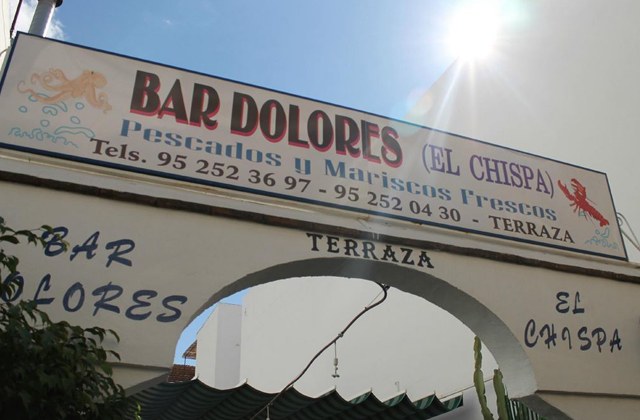 Bar Dolores (EL CHISPA) is a landmark in the town of Nerja, a cozy bar with family atmosphere combined with good service. The ingredients are really fresh and the cooking is completely traditional. Each day offers fresh seafood of the day caught in the Nerja coast.
Bar-Restaurante El Pulguilla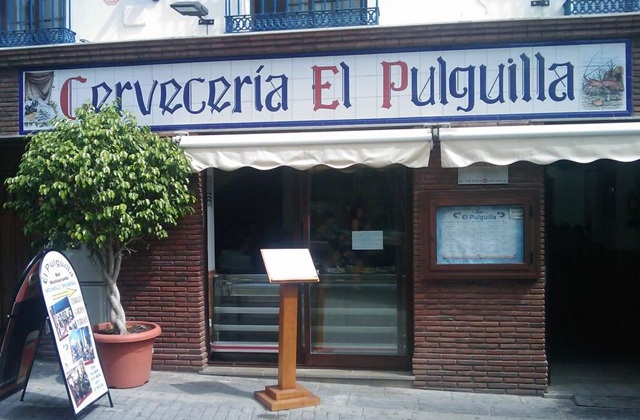 A few meters away from Balcon de Europa, the symbol ofNerja, we find Bar-Restaurante El Pulguilla, in the heart of Nerja. With access on foot along Cristo Street, or by car along Huertos de Carabeo. Enjoy the best fried seafood without leaving the old town of Nerja.
Very spacious inside with a large decorated lounge and a splendid terrace. Here you can try a variety of fried fish, the great specialty of the house. All this accompanied by the best wines and the best service.
Marisquería La Marina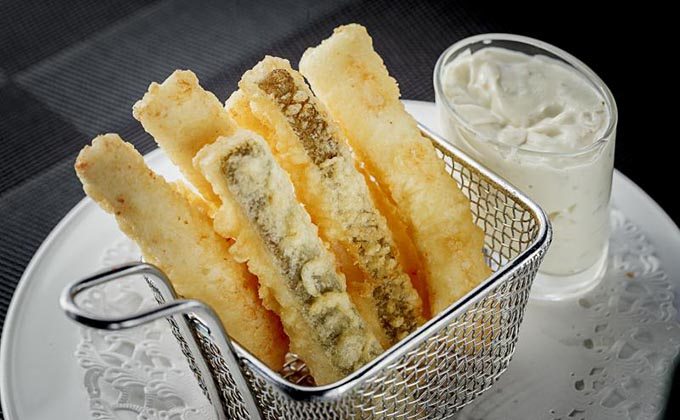 The Marina is the ideal place to sample fried fish or typical dishes from the Malaga coast, and a variety of shellfish and seafood in our spacious bar-restaurant or on our large outdoor terrace place. The appearance of this place is the work of a magnificent team of restoration professionals who put all their love and honesty in offering the best experience.
Mesón Patanegra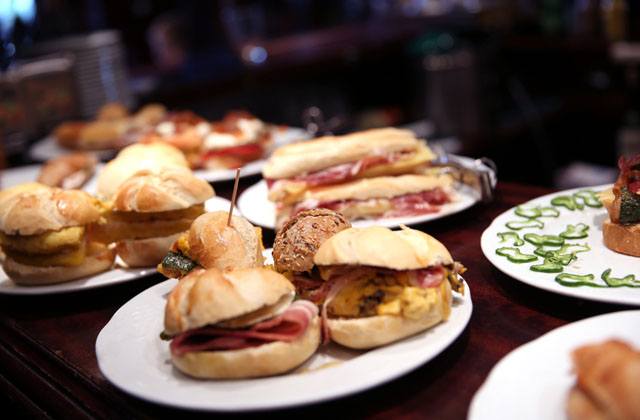 A large kitchen is hidden in this secret restaurant in Nerja. At first glance, its façade does not give away the great secrets of its kitchen, it seems more like an inn. Its interior is comfortable and traditional, very correct but without glare. A small bar and a terrace complement the style.
A small wine cellar, and attentive and fast service make this inn a restaurant where you will always leave satisfied and with a nice and strange feeling of not having overpaid for good quality food and products, treated with sincerity and honesty.
Chiringuito Pepe Oro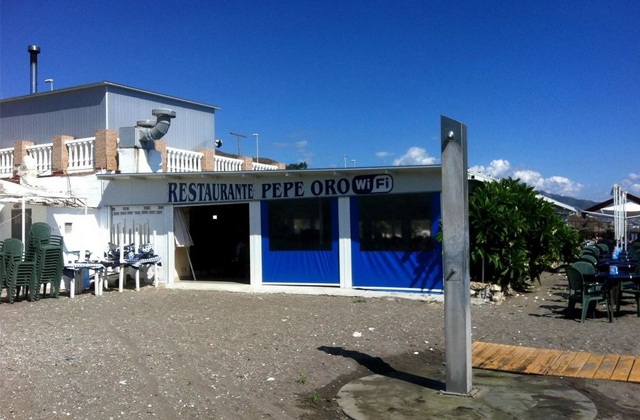 The beach bar Pepe Oro is a perfect place to relax and to be with friends, to sit down facing the sea and enjoy a long and relaxed conversation. In a fantastic microclimate, with a familiar and relaxed atmosphere, a Mediterranean and seafood-oriented menu, the Chiringuito Pepe Oro offers all the necessary inducements, to be applauded and celebrated by those who have been lucky enough to visit it.
Fresh fish of the day and seafood are the basis of its cuisine. There's also rice dishes and exquisite Paellas. Their skewered sardines are very popular too, going with the perfect roast to the delight of locals and the many tourists who visit the place, mainly in summer. The friendliness and professionalism of its owners and the staff complete the perfect evening. With Chiringuito Pepe Oro you always leaving with a wish to return.
Pepe Rico I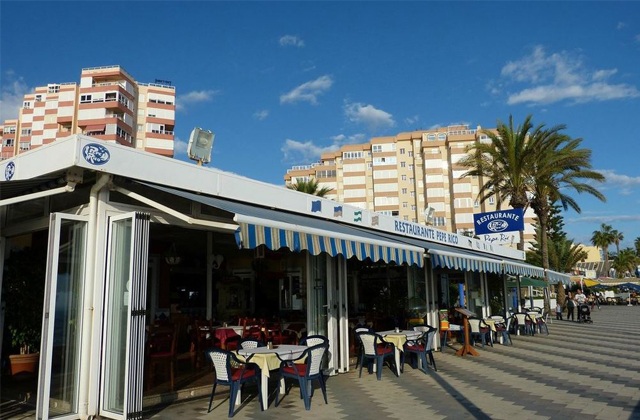 The restaurant is renowned for its excellent cuisine, fine wines and friendly service, all combined with a charming environment and the possibility to enjoy a typical and refreshing Andalusian patio during warm and hot days, and even the outdoor terrace facing the pedestrian street.
La Restinga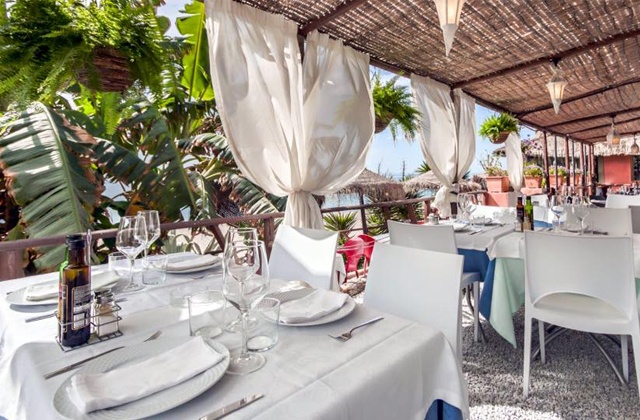 Charming beach bar on Vílchez beach. The setting, atmosphere and history make this place a place worth the visit. It is best to order grilled sardines with a good pint of beer, although the gastronomic proposal is varied, its strength lies in its variety of fish and shellfish.
El Picadero

The restaurant El Picadero opens in front of Torrox. Bathed by Mediterranean waters and receiving air currents from the Costa del Sol, this gastronomic retreat is characterized by simple and traditional cooking.
In the restaurant El Picadero it is the local product who stars in the culinary bet. From Gambas al pil pil, grilled tuna and fried fish to meat and fish such as Pork sirloin steak to green pepper and Orange Sole. Do not miss the specialties they offer for rice and paellas.
The restaurant El Picadero has a privileged terrace to help you fight the heat during the summer months and also serves as a meeting point to have a bear with friends and enjoy the sea view.
Chiringuito Almanzor

A snack bar with a nice view and a cuisine based on the simplest treatments on the one hand, and social attraction that products such as skewers, grilled fish or wood oven generate, fish in salt (represented by bass or bream), flavoured with rations and beer, soft drinks and summer red wine in one of the most exclusive environments of  Torrox.
WHERE TO STAY

In order to enjoy the Axarquia in Malaga, there is nothing better than going to Olée. The Flats in Olée Holiday Rentals are located in the perfect spot in eastern Costa del Sol, between Torrox and Nerja, typical Andalusian towns with the best weather in Europe. This type of accommodation offers relaxing moments and a great number of activities and places to visit. The complex has air conditioning, a wide hall with satellite TV and a modern kitchen equipped with an oven, dishwasher, washing machine and dryer. Some features a terrace and beautiful views of the Mediterranean Sea.