Visit the food markets in Málaga and enjoy its people and the freshest products
A common way to get to know the people from a destination is through their markets. Discover Malaga with the route we suggest and enjoy the food, the hospitality and the history of each establishment. These public spaces are the essence of tradition and the locals do not hesitate to shop at these places with fresh, traditional and top-quality products. Are you brave enough to live this experience of scents and colours? Do not miss any of our suggestions.
1. ATARAZANAS FOOD MARKET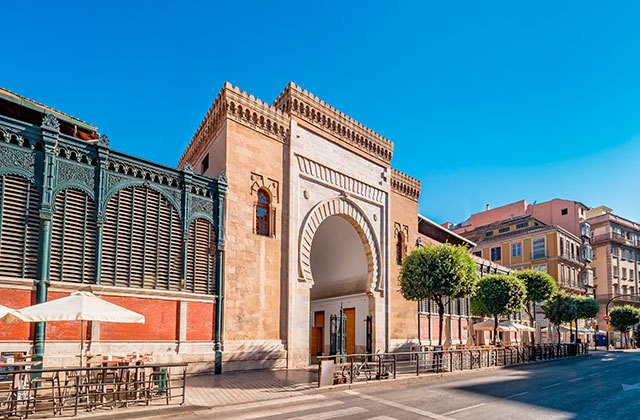 The Food Market in Atarazanas, Malaga represents one of the most popular meeting points of the capital of Costa del Sol and has an impressive Mudejar architectural style. This food market is the largest in the city, with shops inherited from parent to child, creation generations of shopkeepers. Enjoy the light that filters through the back window representing the city of Malaga and buy all kinds of fresh products while talking with neighbours who come to this mythical place in Malaga.
2. HUELIN MARKET
The Market of Huelin is the second biggest market, after Atarazanas. This traditional neighbourhood of Malaga is an example of industrial and marine development. If you would like to buy fresh products, do not hesitate to come to this market because the variety of products is very wide. Experience the friendliness of its shopkeepers and dive into the depths of Malaga idiosyncrasies.
3. CIUDAD JARDÍN MARKET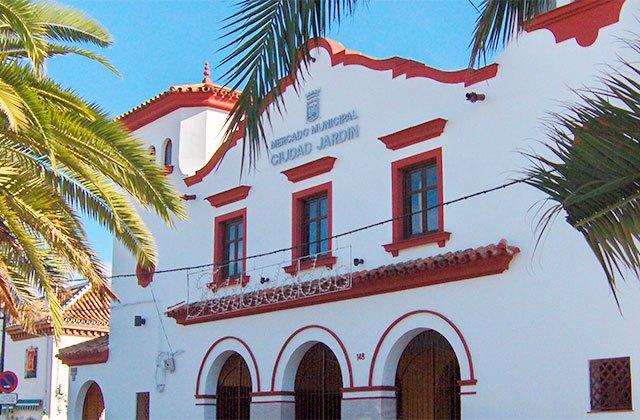 The Market of Ciudad Jardin is an icon of identity of this Malaga neighbourhood. Since 1953 when it opened its doors, this facility houses the efforts of hundreds of merchants to provide the best products to their neighbours. Go over their stands and look for spices in Nuria Rico grocer's, the freshest sardines in Pedro's fishery or juicy meat at the butcher El Gallo de Oro, among other 180 stands.
4. EL CARMEN MARKET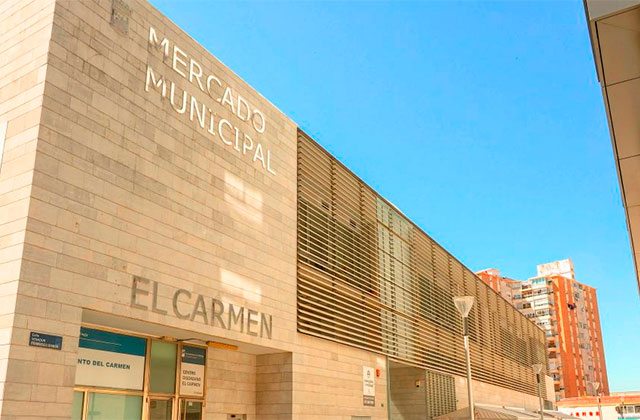 If you want to buy fish in a good in a friendly place, come to El Ccarmen market. This space is located in El Perchel, one of the oldest fishing neighbourhoods of the city. Wander its corridors and enjoy the smell of fresh produce. Neighbours greet each other and keep long conversations within a very friendly atmosphere. If you delve into its history you will discover that in the past fishermen used hangers to dry their fish, hence the name of the neighbourhood (El Perchel= The Hanger).
5. EL PALO MARKET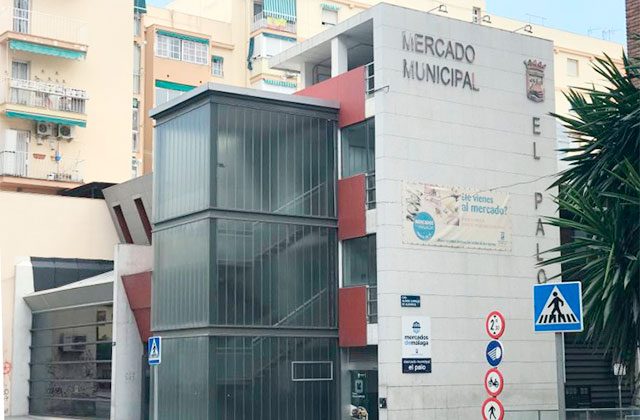 In the east of Malaga there is another neighbourhood with character and seafaring tradition: El Palo. Its market is worth a visit due to the wide range of products that it offers. Food, florists, oil, fruits and vegetables, wine cellar, frozen products and pickles are some of the goods you will find on this site, apart from the well known fishmongers and seafood shops. If you fancy a taste of the sea, get the tips from the professionals who are always willing to help with a smile on their faces.
6. CARRANQUE MARKET
Certainly the difference between a market and a big commercial area is the treatment. In our route through the markets of Málaga, we cannot forget the Carranque Market, which specialises in shopkeepers full of sympathy. As a good coastal city and the capital city of Málaga, this building also houses exquisite fish taken daily from the sea as its flagship good.
7. PLAZA DE TOROS LA MALAGUETA MARKET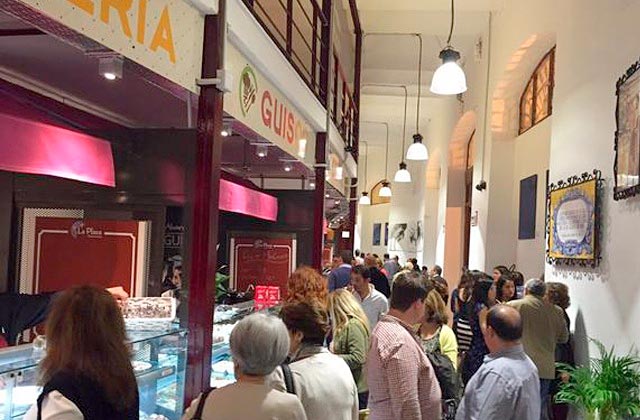 Observing the beauty of la Malagueta bullring you'l be able to also enjoy its fantastic gourmet market, the first that was opened in the town. Unlike others, its décor is more sophisticated and has 24 stands that promote, above all, the brand "Taste Malaga". This categorization is sponsored by the County and houses the most typical and best quality products across the province.
8. BAILÉN MARKET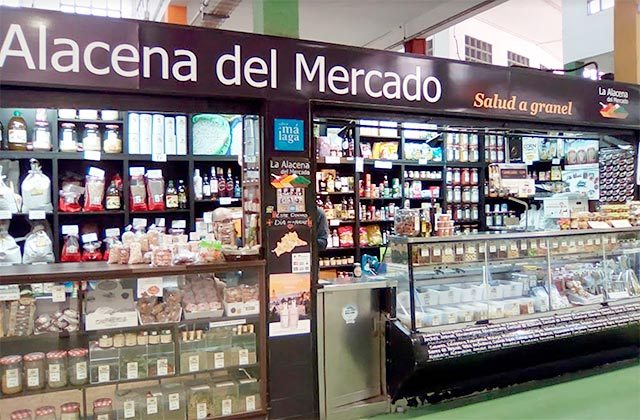 With a history of over 50 years of experience behind it, the market of Bailen gives you the opportunity to purchase fresh produce from Malaga. If you like sweet this is your market. The bakery and confectionery have a wide selection of small bites of sugar you'll love.
9. SALAMANCA MARKET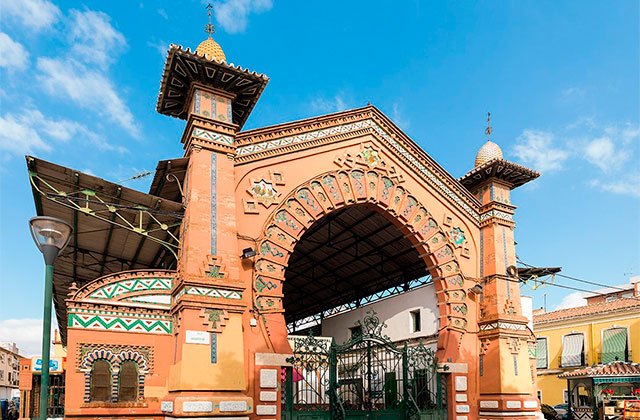 Salamanca Market is located in the neighbourhood of El Molinillo, in the downtown district. It is a Moorish-style building with a single nave and identical façades on both sides, covered by a metal structure. It is interesting to visit this market, not only because of its products but also for the beauty of its architecture. All the exotic decoration is seen in its façades and since this space was part of the setting of the American film Lost Command, you cannot miss this opportunity.
10. PORTADA ALTA MARKET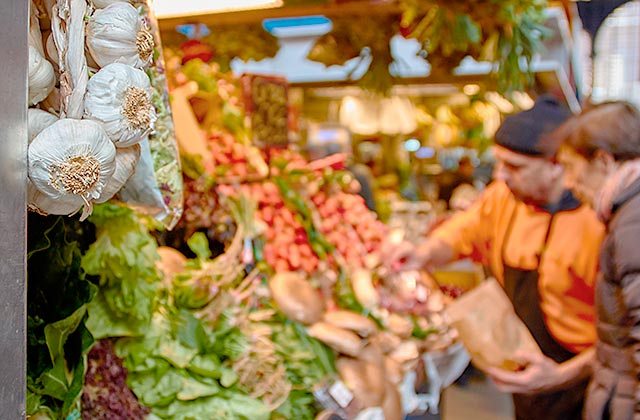 Finally, and because we don't want you to miss any historical town of Malaga, we recommend Portada Alta Market in Cruz de Humilladero. This is a humble but very cozy place. There are no major architectural works but the place retains the essence of Malaga in just a dozen stands. Traders struggle every day to offer the best of themselves and of their establishments. If you like fruit, do not hesitate to buy it here. Enjoy the simplest things in Malaga first hand.
A STREET MARKETS EVERY DAY OF THE WEEK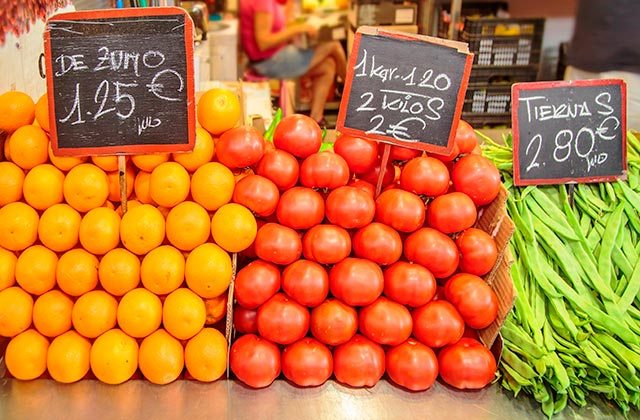 As you can see in Costa del Sol we have markets for everyone, in every municipality and every day of week
Monday
Market of Marbella at Marbella Fairgrounds (Google Maps). It approximately has 365 stends where you will find everything from fresh fruit and vegetables to clothes and shoes.
Tuesday
Fuengirola street market in Fuengirola Fairground (Google Maps). This is considered as one of the best and biggest markets in Andalusia, since it has more than 470 stands. There you will find any kind of thing you are looking for.
Wednesday
Mercadillo de La Cala de Mijas in La Cala Fairground (Google Maps). It is also considered one of the best in Costa del Sol since the prices are quite reasonable and has about 114 stands.
Market La Paloma at the fairgrounds of La Paloma in Benalmádena (Google Maps). There are all kinds of second-hand goods and it is a fairly international market.
Thursday
Mercadillo de Torremolinos at Torremolinos Fairground (Google Maps). It has about 230 stands and it also sells everything from groceries to souvenirs and clothing.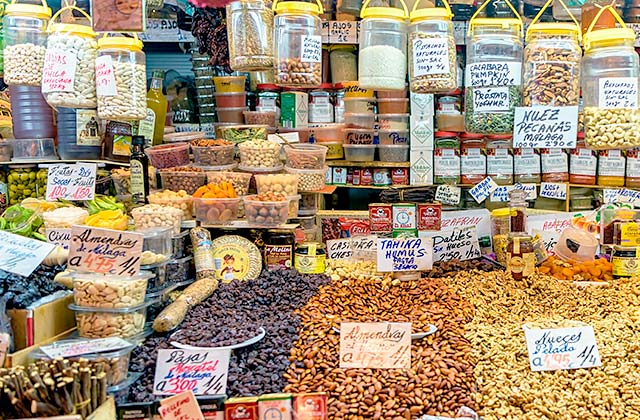 Friday
Market La Paloma at the fairgrounds of La Paloma in Benalmádena (Google Maps). It has about 150 stands with all kinds of items.
Saturday
Market of Las Lagunas in Camino Campanales (Google Maps). Las Lagunas despite belonging to Mijas Costa, is not far away from Fuengirola. It is basically a market specialized in fruits and vegetables, but where you can find textiles and other products such as supplements. It has around 100 stands.
Mercadillo de La Cala de Mijas in La Cala Fairground. It is the same market that also operates on Wednesday in the same place.
Puerto Banus Flea market is located near the bullring (Google Maps). There you will find souvenirs, fresh fruit and vegetables, spices, clothing, shoes, crafts, jewellery and more. There are many who say that this is a market of great quality.
Sunday
Market at the Hipódromo Costa del Sol in Mijas Costa (Google Maps). This is a second-hand goods market, and its dimensions are also much smaller compared to Saturday markets at Fuengirola.
WHERE TO STAY
The best option to stay in Costa del Sol, spend time near the Mediterranean Sea and visit the markets of Málaga is undoubtedly, Fuerte Hoteles. The chain features branches where you can enjoy all of our services and the best each region has to offer. 60 years experience are the best guarantee. Marbella and Torrox are some of the sites where you can find these amazing hotels, an exceptional starting point for your private tour through the cities of Málaga.