Family Holidays: Kids Weekend In Conil de la Frontera
When planning ahead for this year's All Saints Puente (Halloween), or long weekend, the question of what to do with the kids can be a difficult one. We suggest booking a trip to Conil de la Frontera this November 1st, 2nd and 3rd for an ideal event for younger guests of Fuerte Hoteles – the birthday of our mascot, Forti.
For its 8th birthday, Forti has organised a themed weekend designed for children to have a great time, complete with a long list of activities (always under the supervision of our monitors), while parents enjoy a well deserved rest.
The celebration, which will take place at  Hotel Fuerte Conil – Costa Luz, revolves around a great big party with fun games and workshops for children. Forti 's Birthday has already become a tradition in many families, arriving from Andalucia , Extremadura, Madrid and elsewhere in Spain year after year.
This year, the festivities include a themed SPA day that is both fun and educational about the marine world, including the centrepiece, the 'Neptunia Gran Fiesta Birthday for Forti' on November 2nd. However, the celebration will begin on Friday with two different programmes, starting with them 'Mini Forti' for kids aged 4 to 7 and 'Maxi Forti' for children aged 8 to 12.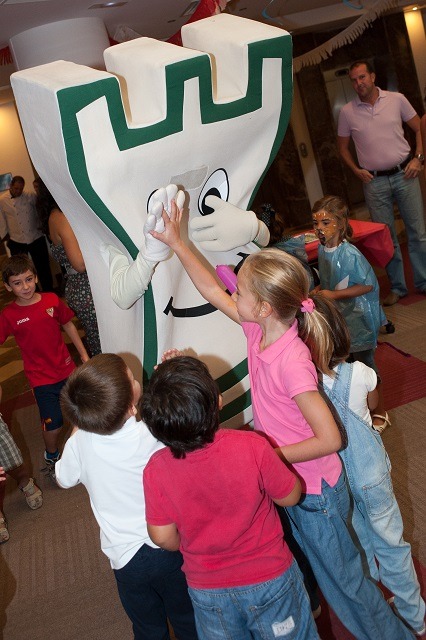 They will have fun activities like workshops where kids can make crafts, gymkhanas, parades, competitions, puppet shows and other children's shows, all following an under the sea theme. Following this year's theme closely, the activities include the 'Decorate the Aquatic Space' workshop, the 'Neptune Parade', and the 'Magic Puppet Show'. The can also take part in photo contests and make new friends at the Forti Disco and Forti Dinner, all while their parents enjoy some rest. Check here for the full program.
Find out here what packages are available for the Forti Birthday Weekend at the Fuerte Conil-Costa Luz, where children stay free.
Forti Club
Fuerte Hoteles always takes its smaller guests into consideration so it came up with the Forti Club, with a programme of activities aimed at children aged 4-16 years old where participants learn while they are having fun.