Thirsty? If You Travel To Andalucia, Don't Forget To Try One Of Our 15 Local Beers
Find out more about malts, hops and wheat. Andalusia is world famous for the superior quality of its wines, but what about beer? Has the delicacy of barley really been forgotten? The answer is no. Indeed, Andalucian beers have a quality that merits a more discerning palate. It is no longer just a light, cool drink you have occasionally, but rather a gourmet option that also has an important place on the table. Drunk from a small bottle, 200 ml glass, 330 ml glass or the popular half-pint glass. A few properly poured glasses of beers from Andalucia with a delicious tapa are the best accompaniment to a day of rest.
Don't miss the examples of authentic beers from Andalucia we will show you, since we suggest a refreshing tour to get to know this region while you enjoy your new favourite drinks. The flavour is out there, so be sure to try them.
Interesting Facts About Andalucian Beer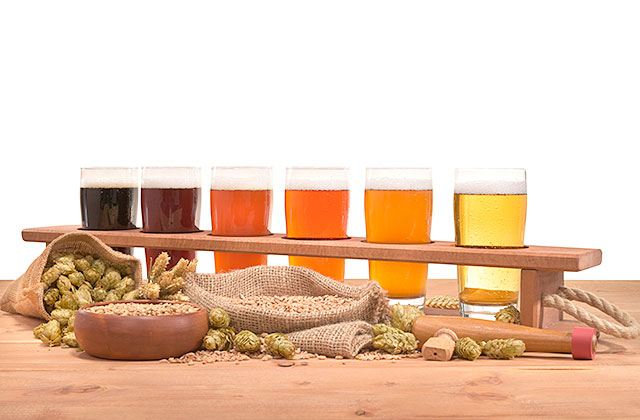 Southern Spain has a beer tradition dating back to the 19th century, when the first breweries were founded in Andalusia.
The most famous beer in Andalucia is Cruzcampo, founded in Seville in 1904. Its founder, Tomás Osborne, is said to have traveled to England to learn the beer-making technique and brought it back to Spain. It is a light and refreshing beer, ideal for the region's warm climate.
Another very popular beer in Andalucia is Alhambra, originating from Granada. This beer is characterized by its smooth taste and floral aroma.
In Málaga, Victoria beer is very popular. It is made with spring water and is characterized by its balanced and smooth taste.
Andalucian beer is usually consumed in bars and restaurants, accompanied by tapas or typical dishes of the region, such as pescaíto frito or salmorejo.
In Andalucia, there is also a tradition of brewing artisanal beer in small quantities. Many of these craft beers are inspired by Andalucian culture and gastronomy.
Another interesting fact is that in Andalucia there is a tradition of drinking "cañas," which are small beer glasses. In some places, the caña is served with a free tapa, such as a small portion of ham or cheese.
Andalucian beers
1. Taifa Toast (Sevilla)
This Pale Ale is 100% handmade and created with all natural ingredients without any preservatives or additives. It is made in the truly rustic corner of Sevilla, the Triana district. You can find it in the Municipal Market, where, along the way, you can buy fresh food to prepare a delicious dish to accompany this fresh, sparkling, Spanish flavour.
2. Son, Craft Beers (Cordoba)
A hallmark of craft beer is the yeast sediment left in the bottom of the bottle, which is why we recommend that you store the bottle upright and not pour it out completely. For a fine example of this type of brew, try 'Son', which is not yet a major Spanish brand, but stands as one of the country's finest from a brewer's point of view. This Cordovan beer is ideal to serve with fine fish because of its acidity. In its relatively short history, 'Son' has already set a new standard among brewers.
3. Alhambra (Granada)
is Granada beer is the most consumed brew in the eastern part of Andalucia. Started in 1925, this beer has carved out an important niche among the country's many "blonde" beers. This brewer is also well known for organising cultural events. If you pass through Granada, don't miss out on the chance to sip this fine local flavour in the shadow of one of the world's most visited landmarks, the Alhambra.
4. Far West (Almeria)
Blonde with sweet notes, this beer is indigenous to Almeria  and its name brings to mind the period when western genre films used the Almeria desert as a backdrop. It is a true pleasure to enjoy the view of the Mediterranean Sea with a good tapas and a chilled Far West. Among the varieties made by this brand, you can find a "Red Wine Ale", offering a vinous, spicy taste.
5. Cruzcampo (Sevilla)
Cruzcampo is one of the leading beer brands in Spain. Two brothers from a family of entrepreneurs were the founders of the brew, originally calling it "La Cruz del Campo". Since then, this Sevilla-born beer has emerged as one of the few Spanish brands to break into the international market. If you pass through the Andalucian capital, try to stop for a visit to the area where the factory is located, as it offers a wide range of restaurants to find delicious dishes to accompany this beer.
6. Victoria (Malaga)
This Malaga beer was named after the patron saint of the city. Its existence has always been linked to the capital of the Costa del Sol, made clear by the beer's slogan: "Malagueña and Exquisite". It provides the ideal accompaniment to sitting on the beach, enjoying fried fish the area is so well known for – a most sought after experience for visiting tourists. If you find yourself in the province, don't hesitate to stop off to try this beer that aims to capture the essence of Malaga.
7. Tierra de Frontera (Jaen)
This unfiltered, unpasteurized craft beer originated in the area around Jaen, featuring natural re-fermentation with bottle gasification. Many grooms include this brew in pre-wedding festivities, complete with a custom label for the event. There are two ways to take it. The first is shaking the bottle so you drink the yeast with the beer. The second is to slowly serve it into the glass to avoid mixing. What your taste, this will prove an excellent choice so when in Andalucia, make sure that you try it.
8. Maier (Cadiz)
For centuries, beers have been made just about everywhere, in neighbourhoods and cities around the world, in homes, small factories and micro breweries, allowing each to develop its own taste and personality. In this humble way, this Cadiz brew was born in the mid-nineteenth century and has retained its traditional flavour to this day. If you really want to experience this beer in all its essence and glory, let it first settle before pouring it into a glass that has been dampened with water.
9. Mammooth (Granada)
This young beer was created in 2009 in Granada. The entire range of this brand goes through double fermentation. First, the beer is stored in stainless steel tanks for eight days before being bottled for one month, which allows the carbon to originate naturally. This has proven to be a great challenge for the new company, but a true treat for discerning palates.
10. Rebeldía Beer (Malaga)
This project is just a few years old and the product of a self-employment effort conceived in the "La Casa Invisible", a place that supports new business development. In its first year of operation, these young entrepreneurs have worked to improve their beer with the help of brewers from across Andalucia who have dedicated their time to helping entrepreneurs. If you travel to Malaga, be sure to try this young brew that is slowly making a name for itself in the region's business landscape.
11. Destraperlo (Cádiz)
Destraperlo is a fun Cádiz beer. Its logo is a donkey holding an ear of wheat in its mouth and its slogan is "The densest beer." Destraperlo has been on the market for a little over four years, though it has many more years behind it, since Tomás, the master brewer, has been perfecting his recipes for around 10 years, and it is thanks to this that this beer has such a particular taste and characteristic personality.
The first two Destraperlo beers that Cooperativa Comando Cervecero brought to the market were La Rubia, a smooth and very drinkable beverage, and La Colorá, a much more special drink, since its ingredients include sugar cane and beets. While its beer is more particular, they also have a dark beer called Andalusí Robust Porter for the winter season. We recommend you visit its factory, since it is quite something to see how they are made and you can also taste them.
12. Desiderata (Seville)
Desiderata is the achievement of the desire of brothers Santiago and Enrique García-Casarrubios, its creators, which is what is behind the name Desiderata, meaning desired things in Latin. Their yearning was always to manufacture an artisanal natural beer, but using the most modern means and elements.
If you want to try this brand, we recommend you enjoy its Desiderata Caramelo y Pasas, a high fermentation beer made with four different types of malt that give it that golden amber colour that is so characteristic and aroma of caramel and raisins. It is no exaggeration to say that it is one of the best Andalusian beers.
13. La Axarca (Málaga)
Axarca beer is a totally new style of beer, so it is defined as Malagan topical pale ale. This definition is justified because its aroma and flavour are reminiscent of tropical fruits and Malagan is for its character and origin. It has the Malagan genius for doing things differently. La Axarco does not leave you indifferent, since we can assure you that each time you try it you will find a new hue. And if you know Málaga and you drink this beer far from this land, it will make your memory transport you to these unforgettable landscapes.
14. Savis (Málaga)
Savis is an artisanal beer brand from Marbella. The most original thing about this brand is that it is manufactured using natural ingredients, ancient recipes and water from the Mijas subsoil. All this combined means that this beer has a very special taste, a body with character and high, but very well-controlled bitterness that make it ideal for pairing with barbecues, poultry and salads.
15. FOLKS BIER (HUELVA)
The Aracena Sierra is the base that gives life to Folks Bier, a family company that was born eight years ago and today continues to learn and experiment with different recipes.
Something that really stands out about this brand is that it is 100% artisanal and 100% manufactured with local produce, such as Aracena Sierra honey. Its beers are also not pasteurised or filtered and their carbonatation is natural, with no additives or preservatives, enabling these beers to gain character over time.
Types of most common beers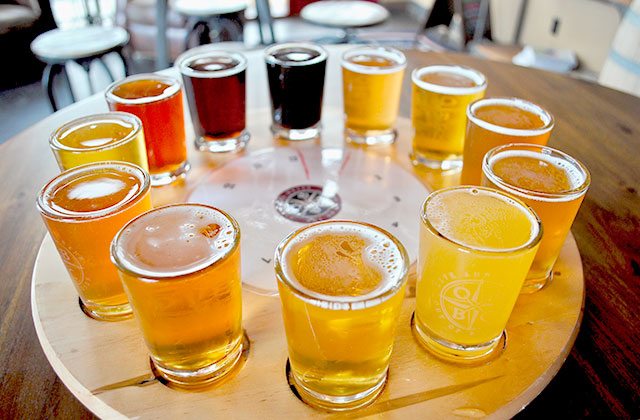 Lager: This is the most popular type of beer worldwide. It is characterized by having a smooth, fresh, and crisp taste. It is fermented at low temperatures and low fermentation yeast is used.
Ale: This type of beer is fermented at warmer temperatures than lager and high fermentation yeast is used. It has a stronger and fruitier taste, with more pronounced notes of malt and hops.
Pilsner: It is a type of German lager beer, characterized by a bitter taste and a bright golden color. It is made with a specific blend of malt and hops.
Stout: It is a dark beer, with an intense and complex taste. It is made with dark malts, which give it its characteristic black color and a taste of coffee or chocolate.
Porter: It is a type of beer similar to Stout, but with a less bitter and smoother taste. It is made with toasted dark malts and can have notes of chocolate and coffee.
IPA (Indian Pale Ale): It is an American-style beer with a very bitter taste due to the high hop content. It can have citrus or floral notes and is characterized by its amber color.
Wheat (Weissbier): It is a German-origin beer made with wheat malt and high fermentation yeast. It is characterized by having a smooth and fruity taste, with notes of clove and banana.
Lambic: It is a type of Belgian beer fermented with wild yeast and left to mature in oak barrels. It is characterized by its acidic and fruity taste, with notes of apple, cherry, and plum.
So, now you know. If you travel to Andalucia for a break this year, fine wine is not the only thing to try – beer is now on the menu for you to enjoy. This is all enhanced by the region's superb climate and delicious cuisine. This is something you should not miss if you decide to visit Andalucia.
Where to stay in Andalucia?
The best accommodation option is Fuerte Hoteles from where you can enjoy, in addition to its amenities, the best of each Andalucian geographical point. Its 60+ years' experience are the best guarantee and an exceptional starting point for each experience you want to have in the region. Conil, El Rompido and Torrox are some of the enclaves where you can find this amazing accommodation.