Engage your five senses in these restaurants with the best views in Andalucia
Sitting down at a table to enjoy good food is one of the greatest pleasures in life and if you add impressive views, the end result is almost paradise. In Andalucia, there are some restaurants that are a treat for all your senses and which transport you to a world of sensations. If you're travelling around the south, remember these restaurants which are essential visits due to their views and quality food.
Málaga
Restaurante El Lago, Marbella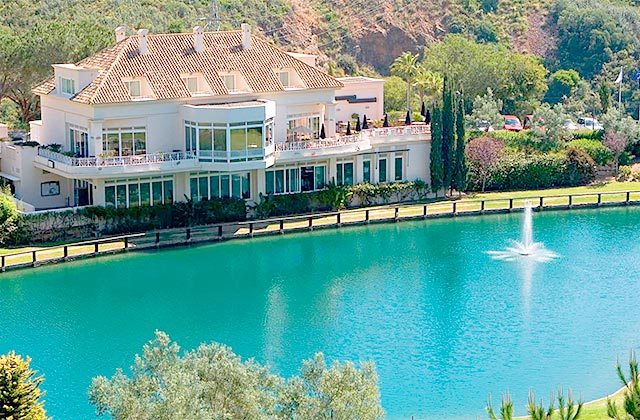 Two suns in the Repsol Guide and one Michelin star guarantee the quality of this restaurant in Marbella which boasts fantastic views. Located in the Elviria area of Marbella, it is surrounded by a beautiful lake and golf course which are easy on the eye and clearly demonstrate the essence of the Costa del Sol. It opens in the evenings, so lighting plays an important role in this delight for the senses. It has available a daily menu at lunch as well. This restaurant is unmissable, and has water which reflects your image as clearly as a mirror.
Restaurante El Lago Marbella
Urb. Elviria Hills
Avda. Las Cumbres, s/n
29600 Marbella, Málaga
Albacara Restaurant, Ronda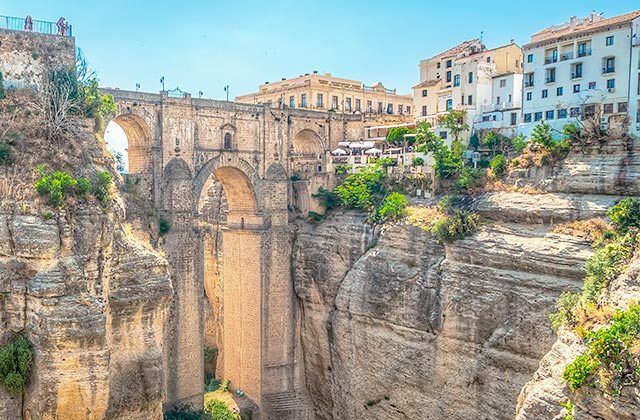 Unique views of the Tajo de Ronda: that's what the Albacara restaurant offers with one of the most privileged locations in one of the most beautiful cities in Andalucia. This rock gorge creates a feeling of depth and freedom, and eating on the terrace of this property is to deny these heights. Do not miss this Mediterranean cuisine in the heart of the province of Málaga in a uniquely beautiful environment.
Restaurante Albacara
Calle Tenorio, 8
29400 Ronda
Málaga
Google Maps
La Cúpula of Benalmádena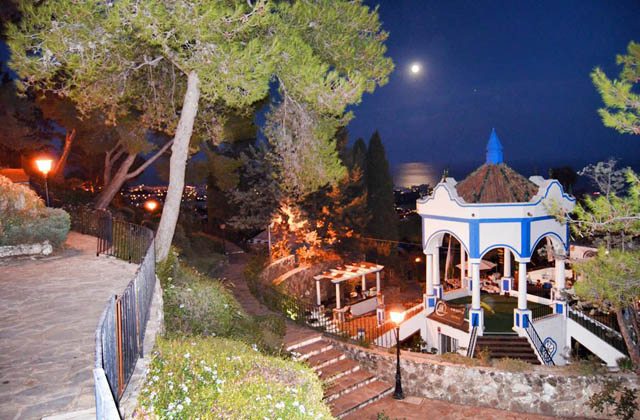 At the top of Benalmádena lies a charming lounge that offers you the chance to have a drink and something to eat while you look over the Costa del Sol. With minimalist decor combined skilfully with different colours, this property is one of the most valued in tourist forums along the Málaga coast. In this case we also recommend going there in the evening for dinner and then having a nice walk in the Benalmádena village and its traditional Andalucian streets.
La Cúpula Lounge
Calle de Maestro Santos Mareca, s/n
29639 Benalmádena
Málaga
Restaurante El Higuerón, Fuengirola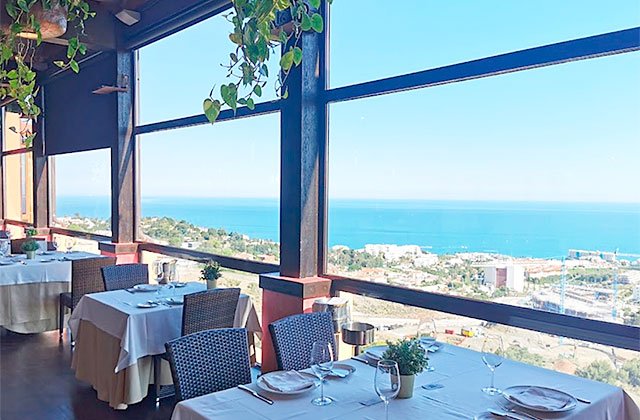 With floor to ceiling windows, the Restaurante El Higuerón in Fuengirola gives you one of the most breath-taking views of the Costa del Sol. The romantic atmosphere that surrounds it makes it a perfect place to invite your partner. The half rustic, half elegant decor adds to the feeling of well-being given by having the Mediterranean Sea at your feet while enjoying a good meal.
Venta El Higuerón
Autovía del Mediterráneo, Km 3.100
29640 Fuengirola
Málaga
Parador de Gibralfaro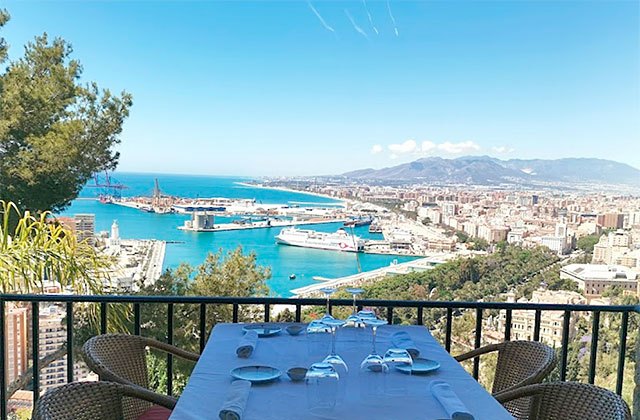 When night falls and Malaga's street lights come on, from the Gibralfaro Parador, you can see how the city looks like a pile of embers going out in the Mediterranean Sea. This is one of the most visited places in the capital of the Costa del Sol, and the food on offer has a great Andalucian tradition as well as being made with local products.
Parador de Málaga-Gibralfaro
Camino de Gibralfaro, S/N
29016 Málaga
Nikki Beach in Marbella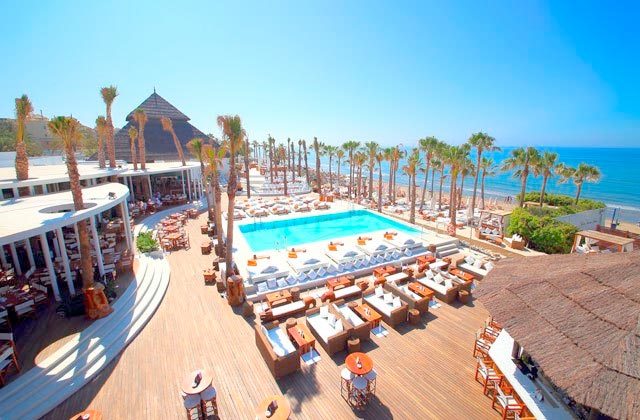 This beach club, in addition to other services such as massages, catering on yachts and atmospheric shows, has a restaurant with a wide variety in its menu from which you see the Mediterranean in all its glory. Moreover, if you want to relax, the waiters bring you what you ask for to your sun lounger, which is a spectacular two by two bed. This is one of the most exclusive and reclaimed sites in Marbella and many celebrities from the worlds of film, fashion and television come here.
Nikki Beach Marbella
Playa Hotel Don Carlos
Carretera de Cádiz, Km 192
29600 Marbella, Málaga, Málaga
Refectorium El Campanario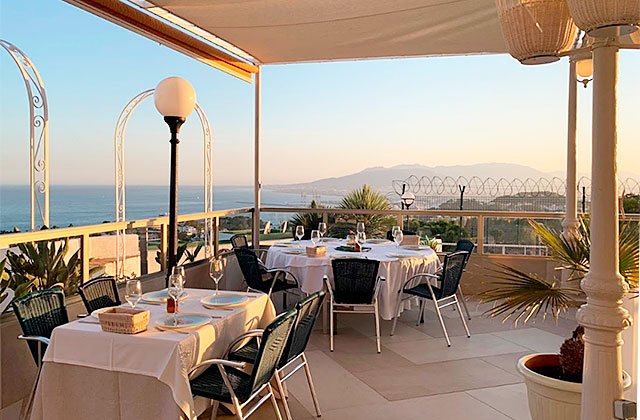 The el refectorium el Campanario restaurant is located in one of the best residential areas of Malaga as is the Cerrado de Calderón, despite appearing to be difficult to find this hidden temple of culinary excellence, it is worth to lose yourself in its streets. It is small and its walls have the same blue color as the sky of this incredible city.
In Summer, like other terrace restaurants, they open a terrace whose views you can see on the picture. If you like good Mediterranean food with subtle touches of modernity and a quite generous wine list, don't hesitate.
Refectorium El Campanario
Paseo de la Sierra, 36,
Urb. Cerrado de Calderón
29018 Málaga
Cádiz
Restaurante El Mirlo de Tarifa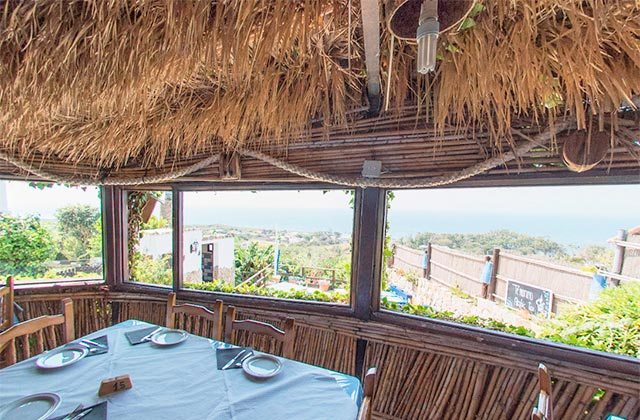 El Mirlo is a small restaurant located in the military zone of Punta Paloma. The location is unbeatable as it is on top of a cliff and has some impressive views. You can go down to the beach and feel the fine white sand on your feet, and see the crystal clear waters around here in the background. From the terrace, you can see the horizon which stretches to Morocco. Do not miss this landmark establishment which has become an essential meeting for lovers of the sea.
Restaurante El Mirlo
Detrás de Playa Valdevaqueros, Carretera dirección Punta Paloma.
Tarifa
La Jaima Meccarola, Caños de Meca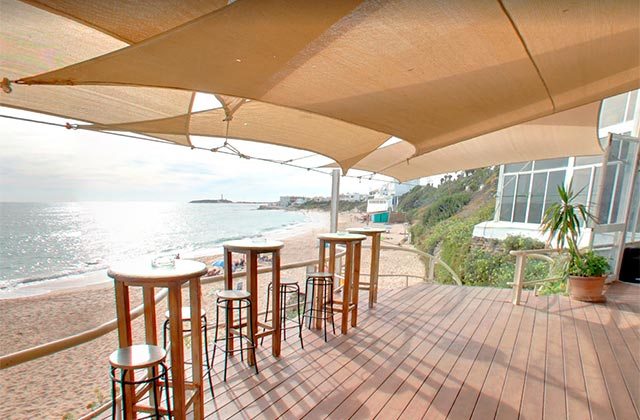 This place retains a special magic, even ignoring the spectacular sea views it offers. Sunset is one of the best times to enjoy this Moorish-inspired restaurant across the Strait of Gibraltar. Relaxing with a mint tea while watching the horizon is one of the pleasures that we recommend. Spend an unforgettable day with your partner and take advantage of the romantic ambience that surrounds the place.
La Jaima
Pago los Caños de Meca, 62
11159 Los Caños de Meca
Cádiz
 La Torre in El Palmar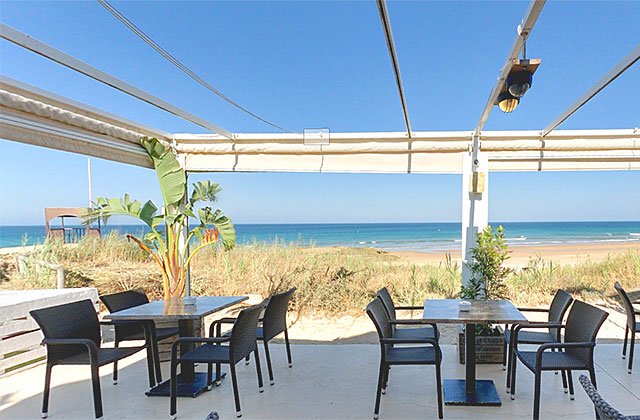 The best sunset in Andalucia on the beach in El Palmar. La Torre is a restaurant for you to enjoy at any time of day with both family and friends. Its views transport you to another dimension and are very relaxing. Its menu includes everything from the rice and fresh fish you would expect next to the sea, to combinations of Mediterranean and Asian food.
La Torre
Av. Océano Atlántico s/n
11159 El Palmar
Cádiz, Spain
Pantalan G, El Puerto de Santa María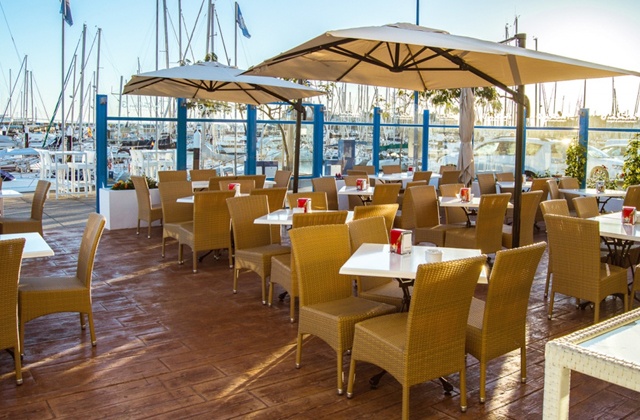 The Pantalan G restaurant is a large property that you will find in the Cadiz town of El Puerto de Santa Maria, located in puerto Sherry, where you will enjoy fantastic views of the sea.
The proposal of Pantalan G restaurant, besides using the finest raw materials, responds to the talent and creativity of chef Paloma Arjona. From tapas to large dishes, you can enjoy Fried calamari, Grilled octopus on hummus, Cod cheeks in green sauce and Duck breast on ground of boletus with red berries wine sauce.
Has a cellar with great national references, wines with D.O. Tierra de Cádiz, sparkling wines and champagne, while the conclusion is in charge of, for example, the traditional style Tiramisu. The Pantalan G restaurant offers a wide and beautiful terrace to enjoy the good climate of Cadiz. You will return!
Pantalán G
Av de la Libertad s/n, Puerto Sherry
11500 El Puerto de Santa María, Cádiz
Huelva
Chiringuito Larena, El Rompido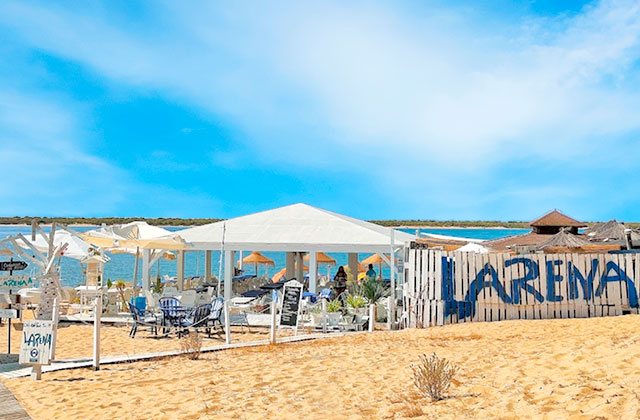 This legendary beach bar on the Huelva coast offers an impressive view the natural beach of El Rompido. You can see wild and untouched vegetation all the way to the marshes of Huelva while you try the seafood snacks, breathe the sea breeze and see the Atlantic Ocean on the horizon. The establishment is open 21 hours a day with several different rooms, restaurant, chill out in the evening and live music several days a week.
Chiringuito Larena
Playa de San Miguel, s/n
El Rompido, Cartaya
Thebussem Isla Canela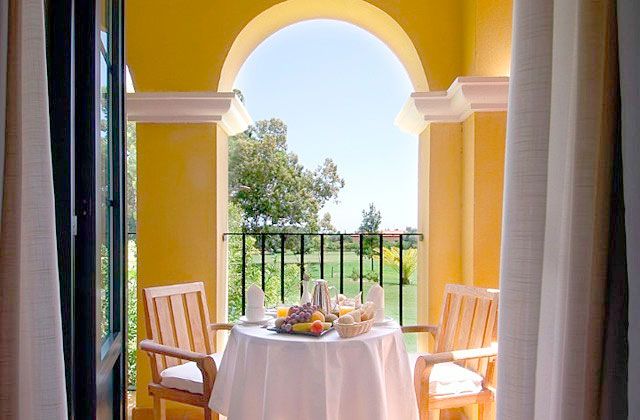 You have been dreaming of a place like this. It is your time and your opportunity to try Huelva restaurants. In Isla Canela restaurant you'll enjoy one of the most charming spots of Huelva magic. See the spectacular glass tower from where you can admire the Guadiana river and Portugal.
In this evocative spot its gastronomy opens up to your five senses, with signature cuisine where the Mediterranean and the world embrace in such memorable dishes like the boletus ravioli and foie sauce or the baby squids with its ink with rice crust.
Isla Canela, also, places at your disposal its dream facilities where you can lose yourself in the nature, enjoy its golf course or stay in its luxurious hotel. Stop dreaming, you've found it. Book and enjoy.
Thebussen
Hotel Isla Canela Golf
Calle Golf Nte., s/n, 21409
Ayamonte, Huelva, Huelva
Casa Ramos, Niebla

Casa Ramos, is located in one of the most emblematic places of Niebla, opposite the Castle, from its terrace you can enjoy great views, one of the best preserved castles in Andalusia. Its restaurant offers an exclusive environment in which waits for you a menu with fusion creations. Flavors from the Mediterranean, South America, Asia and Europe will surprise you. Dishes like the Low temperature roasted lamb Moroccan style, the Yellow Thai curry with prawns from Huelva and the Pieces of roasted wagyu with wrinkly potatoes and mojo picón (spicy sauce).
Casa Ramos
Calle San Lorenzo, 1
21840 Niebla, Huelva
ACCOMMODATION
If you want to enjoy the restaurants with the best views, we recommend Fuerte Hoteles. This chain has stores in all these magical and dreamy places which will awaken your senses. Hotels and apartments with excellent service and quality according to Tripadvisor, and supported by over 60 years of experience, they are the best choice for unwinding and experiencing this experience. Conil, Grazalema, El Rompido or Torrox are some areas where you can find great accommodation.