If you prefer fresh water do not miss the 20 most amazing natural pools of Andalucia
With the arrival of summer and the high temperatures traditionally experienced in this region at this time of the year, the best thing you can do is enjoy excellent lakes, pools, reservoir or inland beaches where you can take a dip in fresh water. Natural pools in Andalusia are full of vegetation where you can enjoy the sun and the peace and quiet of the summer. Natural pools in Malaga such as the Chorro or the Cueva del Gato in Benaoján. Here are a number of tourist attractions that will make you forget about the beach during summer.
1. Fuencaliente Spring, Huescar (Granada)


Among the natural pools of Granada, one of the most attractive can be found next to the locality of Huéscar, situated in the district of the same name and of which it is the capital. Huéscar is located in a beautiful enclave next to the Sierra de la Encantada and on the banks of the River Barbatas, near places such as the San Clemente Reservoir and Rodríguez Penalva Park.
In addition to this wonderful natural setting, it has a historic legacy with monuments such as the Santa María la Mayor Collegiate, the Cantera de San Valentín Tower and the Ánimas Bridge. Its popular architecture, especially its cave houses, is also of great interest.
In the town's outskirts, inhabitants enjoy a fantastic natural pool; a lake that forms the Fuencaliente spring, with crystal clear waters that flow at 18° and on whose banks a lawn has been cultivated for sunbathing comfortably.
Around the pool an entire recreational area has been created, with tennis courts, gardens, a basketball court, parking and even a bar restaurant.
2. La Poza de los Patos, Nerja (Malaga)


One of Malaga's natural pools is located in one of the main tourist parts of the Costa del Sol, a locality that is known precisely for its beautiful beaches. We are talking about the municipality of Nerja.
Nerja is one of the most popular tourist destinations on the Malagan coast. Everyone knows about the beauty of its 8.5-mile-long coastline, where you can find beaches as attractive as Caletilla or Playa Del Chorrillo.
What many don't know is that at Nerja's municipal limits there is also a fantastic natural pool located in a very beautiful setting, where you can bathe in the middle of nature.
This pool comprises water from the River Chillar, which in the vicinity of Néjar forms some impressive gorges known as Los Cahorros, that get so narrow at this point of the river that if you stretch out your arms, you can touch both walls.
Further on, the river forms an attractive pool that is called Polo de los Patos, whose waters are clean and cool, making them ideal for bathing. The scenery at the enclave is gorgeous, particularly its exuberant vegetation, as well as the lovely waterfall that is formed by the waters from the River Chillar. An ideal enclave in summer for staying cool and spending a pleasant day with family or friends.
3. La Poza de los Huevos, Mijas (Malaga)


One of Malaga's most hidden natural pools is probably the one known as Poza de los Huevos, which is located in the outskirts of the locality of Mijas.
Located in the heart of the Costa del Sol, the municipality of Mijas, as we all know, receives significant tourist numbers from the Andalusian coast. It is located in a beautiful enclave between the Sierra de Mijas and the Mediterranean coast and its beautiful beaches also have a number of leisure amenities.
It is a pretty town of white houses, where you can see monuments that form part of its historic legacy, such as the Virgen de la Peña Hermitage or its Muralla Gardens. In addition to its splendid beaches, there is a pretty natural pool in the outskirts that is not very well known called Poza de los Huevos, where you can bathe in the middle of nature in a peaceful setting. This pool is formed by the River Las Pasadas as its passes through the site.
It is said that this pool was used in antiquity as baths, since its waters that spring from an existing upwelling on the left bank of the river contain a large amount of manganese, a mineral with many benefits for asthma that helps heal skin wounds. Nearby, you will find other pools that are also suitable for bathing, many of which are formed at the feet of attractive waterfalls.
4. Arcos Reservoir, Arcos de la Frontera (Cadiz)


We're all familiar with the very beautiful beaches located in Cádiz province that, along with its pretty villages and exquisite seafood based gastronomy, have made it one of the main points of tourist interest. But we should also know that inland beaches can be found in Cádiz, located in pastoral regions such as the one situated next to the locality of Arcos de la Frontera.
Arcos de la Frontera is an attractive white municipality located in the District of the Sierra de Cadiz, in a beautiful natural setting in which countryside alternates with hills. Here you can see places as interesting as Arcos Castle which has been declared an Asset of Cultural Interest, Mayorazgo Palace and so-called Peña de Arcos, a great view point that has been declared a Natural Monument.
Next to the locality is the Arcos Reservoir, which has been declared a Natural Site and Special Protection Area for Birds. The crystal clear waters are ideal for bathing in summer, as well as for practicing different sports such as water skiing, sailing, rowing and kayaking. The reservoir also has a very peaceful area for fishing, with optimal conditions.
5. Inland Beach in Bornos, Bornos (Cadiz)

In Cádiz province, you will also find an attractive inland beach in Bornos, at the reservoir of the same name, that is supplied by the waters from the River Guadalete. Bornos is located in the district of the Sierra de Cádiz and is a town with a great historic legacy. No wonder it has been declared a Complex of Historical-Artistic Monuments. When you take a stroll along its picturesque cobbled streets and around its surroundings, you will find monuments such as the Santa María del Rosario Monastery, the Los Ribera Castle Palace, the Fontanar Tower and Sangre College, a 16th century building of great beauty, among many others.
Its natural legacy does not lag behind. The Bornos Reservoir has been declared a Natural Site, as well as a Special Protection Area for Birds. It is very well known because of the so-called Lake Festival that takes place at this site each year, a historic date for rock that has been taking place since 1980.
Its clean, clear waters are ideal for bathing and the area is also fishing heaven for enthusiasts. Given that the town is located on the banks of the reservoir, visitors have access to all types of services and can spend an unforgettable day here.
6. Los Bermejales Reservoir, Arenas del Rey (Granada)

Next to the locality of Arenas del Rey, you will find one of Granada's inland beaches situated at the Los Bermejales Reservoir.
Arenas del Rey is a small municipality that is home to around 1,200 people and forms part of the district of La Alhama. It has two small districts, Fornes and another that is situated on the same banks of the reservoir and bears its name, Pantano de Bermejales.
The town is located 2,844 feet above sea level and is only 30 miles from Granada, the provincial capital.
The reservoir is one of its main tourist attractions; an ideal zone for bathing in summer that attracts a good number of bathers, both from neighbouring localities and travellers who have decided to spend a few days relaxing in the area.
The reservoir is supplied by the waters from the River Cacín. Slides have been installed in the clean, clear waters of its bathing zone. You can also practice water sports, such as rowing, or hire a paddle boat to take a relaxing spin around the reservoir while gazing at its beautiful surroundings and abundant vegetation.
7. Playita de Arroyomolinos, Zahara de la Sierra (Cadiz)

Playita de Arroyomolinos is located in the outskirts of the beautiful locality of Zahara de la Sierra, a quiet town that is home to some 1,600 people and situated in the northeast of Cádiz province.
Zahara de la Sierra is situated among the beautiful sites of the district of the Sierra de Cádiz, forming part of the Sierra de Grazalema Natural Park. Its white houses are spread out over the hillside of the Sierra del Jaral and is located between two rivers: Guadalete and Bocaleones.
The locality, despite its small size, has a great architectural legacy, such as its castle with Arabic origins, its Nazari Town and its church, among other monuments of interest. Its natural legacy is just as impressive, with the so-called Verde Gorge, where, in addition to this majestic site, you can also see the Garganta Hermitage.
Near the town, you will find a wonderful inland beach, known as Playita de Arroyomolinos, nestled at the foot of the Sierra de Monte Prieto and just 984 feet from the famous Susto Cave, around which a great recreation zone has been created that is a wonderful place to spend a summer's day with family or friends.
This is an artificial beach that was created by taking advantage of the fact that a river runs through the zone, and is an ideal place for jumping into its clean waters. Different amenities have been installed, such as deckchair, table and chair hire, a kids play area, restaurant and chiringuito. You can also hire a horse to tour the area. An area, called El Bosque Suspendido, has recently been installed with zip-lines, steps and other activities and is a true adventure and acrobatic park in the trees.
8. Central Square Cañaveral de León (Huelva)

In the heart of the Sierra de Aracena Natural Park and Picos de Aroche inhabitants of Cañaveral de León (Huelva) have the perfect beach and high temperature alternative. In the center, a lagoon is an oasis for its 500 residents but also quite a tourist attraction.
Retiro perfect place to unwind, resfrecarse or enjoy these magnificent views. 8,000 cubic meters of water from a spring water that makes this place a Site of Cultural Interest. What better place to sunbathe, get a selfie or escape the heat, taking a dip.
9. San Nicolás Beach, San Nicolas del Puerto (Sevilla)

Within the limits of the Andalusia region, you will find many areas where you can bathe surrounded by nature, and one of these is an attractive inland beach in Seville, known as San Nicolás Beach.
This beach is located in the locality of San Nicolás del Puerto, in the middle of the Sierra Norte de Sevilla Natural Park. Its clean waters come from the River Rivera del Huéznar and are ideal for bathing. In summer it is usually very popular. It has a chiringuito and is a great place to have a lovely day out.
Just over one mile from the locality and beach, the same river forms several waterfalls and pools of clear, cold water, with abundant vegetation all around, creating idyllic scenes that you must visit if you are in the area. They are known as the Huéznar Waterfalls and have been declared a Natural Monument, but bathing in them is prohibited.
10. Rules and Béznar reservoirs, Granada

With the Sierra Nevada and its snowy peaks in the background, to the east is the entrance to the paradise that is Las Alpujarras granaínas. The scene in the foreground is one of a windsurf at top speed on fresh water. Even though the tropical coast is just a short way away, the Rules Reservoir has become one of the favourite enclaves of local windsurfing aficionados, who think that Cádiz is too far away and enjoy the constant spectacular wind throughout the summer.
11. El Chorro (Málaga)
El Chorro is a village belonging to Alora next to a dam on the Guadalhorce River, in the province of Málaga. It is one of the main rock climbing centers in Europe as it is located next to Los Gaitanes Gorge where you can also find El Caminito del Rey, known for being notoriously dangerous and also for its beauty. Here you can give yourself a relaxing bath surrounded by breathtaking views.
12. Bolonia (Cádiz)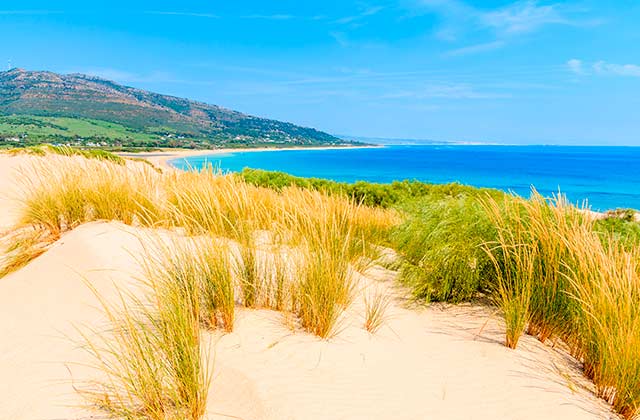 Bolonia is a place best known for its fine sand beach and crystal clear waters, what few people know is that a few meters away there is also a natural fresh water pool completely isolated from the world. If you decide to go, do not forget to bring some snacks because there are no facilities and no service areas there. You will have to access walking and on the way you will find this spectacular place surrounded by dunes.
13. Chillar River, Nerja (Málaga)
The nature lovers are well aware of the route through the Chillar River near Nerja, where sports and contact with nature are its main attraction. In one of the ascents of the river is a large water reservoir where the daring hikers make a stop to bathe in this natural pool covered with rocks. In the top part, almost at the end, is another reservoir with waterfalls to cool down in after the exercise. Do not miss this place that will leave you with your mouth open.
14. Mouth of the Guadalhorce River, Malaga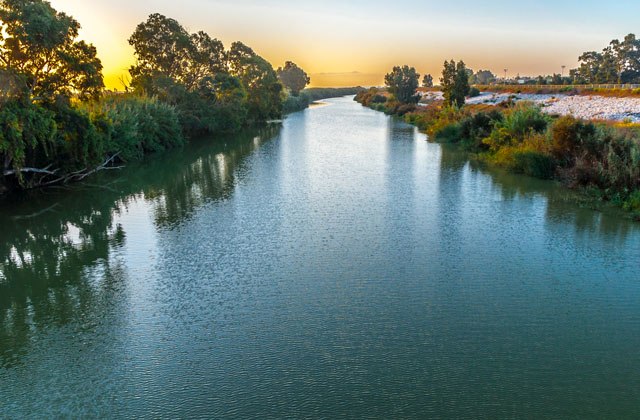 The Guadalhorce River is a stream full of orange and lemon scents that runs through the heart of Malaga, it gives water to terraced fruit trees and plantations of vegetables and flows into the sea. With its Access on the part of Guadalmar, this natural pool is one of the most comforting of Malaga with a great extension, possessor of great emotions. That final extension makes it possible to swim in a unique atmosphere.
15.
Cueva del Gato, Benaoján (Malaga)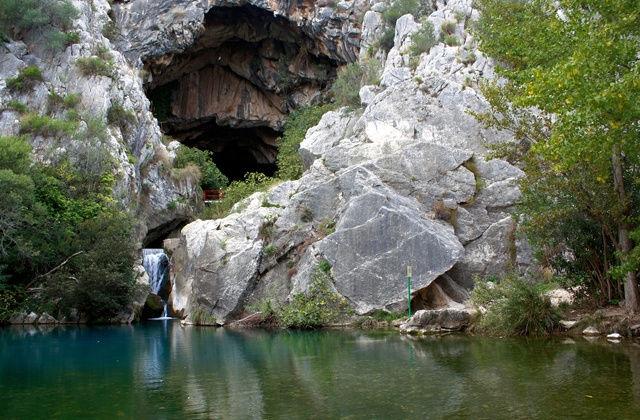 Benaoján is an idyllic spot that is a very short distance from Ronda. The natural pool located in front of Del Gato Cave boasts crystal clear and freezing cold water. Its water springs from an underground complex that runs for 5 miles. This natural landscape is a beautiful place to have a picnic and spend a pleasant day. It is easy to get to and there is a lot of space for parking.
16. La balsa de Cela, (Almeria)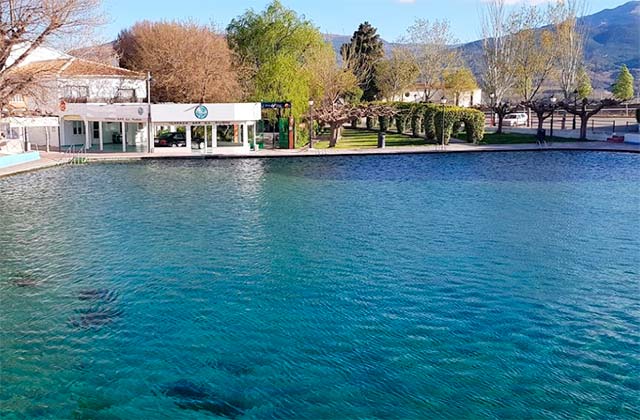 It is a thermal water spring located on the boundary of the municipality of Lucar, and at an altitude of 720 meters above sea level. The waters emerge naturally with a constant flow of 42 liters per second and a temperature that is maintained in the different seasons of the year between 22ºC and 24ºC. These waters have medicinal properties for different types of diseases. The neighbors have been responsible for fixing it up with all the details and it even has some stairs to access it. This natural pool goes from 50 centimeters to 2 meters deep.
17.
Charco del Canalón, Istán (Malaga)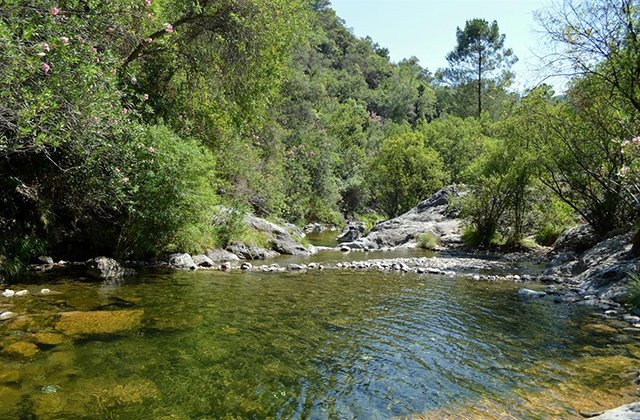 This natural pool is located in the middle of Valle del Río Verde and offers an amazing route that runs inside the water. Here you can enjoy several pools, and it is the ideal spot to spend a pleasant day with the whole family. In conclusion, it is a beautiful landscape with crystal clear waters that you will enjoy like a child with new shoes.
18. Las Chorreras, Verde River (Granada)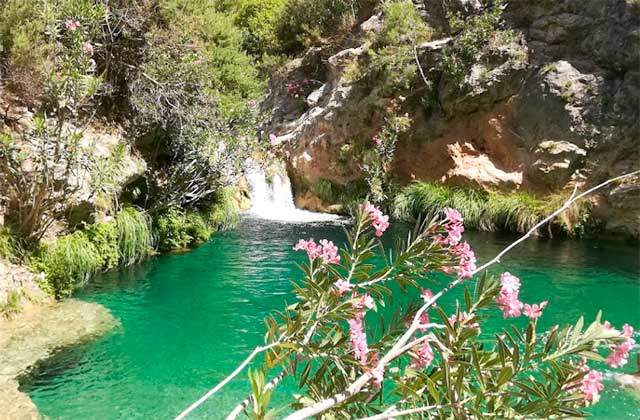 In the Verde River, going down the steep slope of Los Chortales, we will soon find a very quaint place known as "Las Chorreras", where a waterfall of about 25 meters high falls into a large pothole or panhole where the water becomes gentler. Here you will be able to take a good bath surrounded by walls of limestone rock. From the right of the waterfall you can access to a small hole that has been left between the wall and travertines, inside which are karst formations, stalactites and stalagmites. As for the fauna, of the bird community we should mention species such as the partridge, the kestrel, the finch and the dartford warbler. Among the mammals, the fox.
19. The Hedionda Casares Baths (Malaga)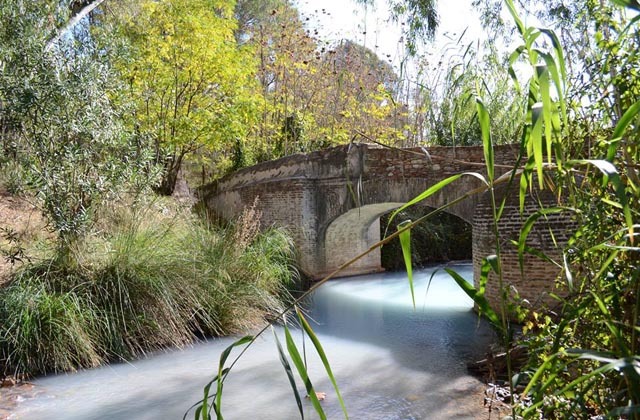 Julius Caesar ordered to condition the baths of the Hedionda after verifying the curative properties of its waters. Tens of visitors submerge in them every day and they serve as spa or natural spa to all the neighbors. Its main property is based on the improvement of the skin, and many people with this type of problems have approached this place to improve their pathologies. A natural bath that serves as a therapy for your body and which you cannot miss if you travel to the Costa del Sol this summer.
20.  Pozas naturales Alhama  (Granada)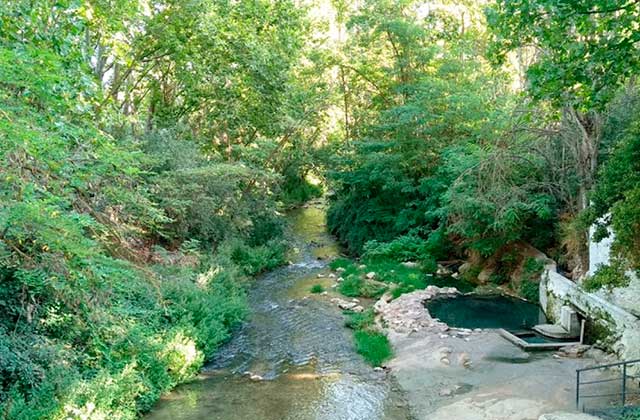 In Alhama there are some free access natural pools that are very requested by the bathers. There are three hot springs: the first which is made of cement is the hottest, right where the water flows at more than 40ºC. The other two below lose some of the temperature but have the advantage of being made with stones from the river itself. It will be very difficult to find the lonely place, as they often have quite an influx of people at all hours, though we recommend that you go first thing in the morning or even before dawn because there is no better gift for your sight to behold as the sun comes out while you are waiting for it quietly immersed in the pools.
Recommendations for bathing safely in rivers and natural pools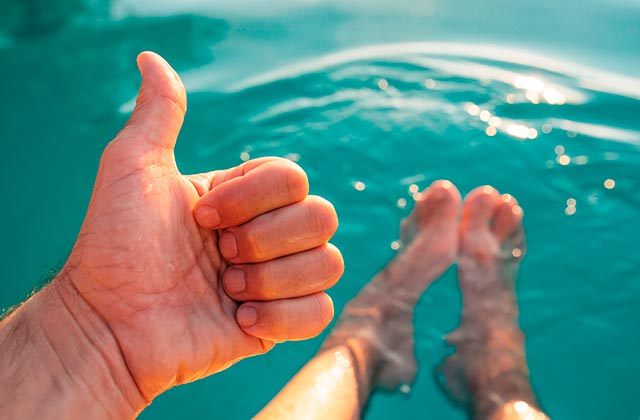 Be extremely careful because there may be currents and/or whirlpools that can drag you along.

If you are one of those people who jump from the rocks into the water, first check how deep the water is because the rocks at the bottom could do you some real harm and safety always comes first.

It is very important to use special footwear for the water, thereby preventing potential slips, wounds or cuts.

Another factor to take into account is that most of these natural bathing zones lack supervision, so don't risk bathing in a zone you are not familiar with.

While the zone may appear clean and free from animals and vegetation, don't forget that you could bump into animals such as hedgehogs, fish or water snakes.
You know, if what you're looking for is fresh water do not hesitate to take a dip in one of the ten natural enclaves that will refresh you while nature is embracing you.
WHERE TO STAY
The best accommodation option if you are looking for peace and quiet and the chance to enjoy nature at one of these natural pools is without a doubt Fuerte Hoteles. The chain has establishments where you can enjoy the amenities and the best that each part of Andalusia has to offer. With over 60 years' experience, they offer the best guarantee for dedicating your time to pure relaxation and enjoying a natural setting. Marbella, Conil, Grazalema, El Rompido or Torrox are some of the enclaves where you can find these amazing accommodations near all of these fresh water pools that we recommend.