The Iberian Cured Ham Route in Huelva, the most authentic taste of Spain. We Tell You All Its Secrets
One of the hallmarks of Spain is undoubtedly ham. This gem has become the demand of all those who visit this land and you can't help but try it, together with a good wine. There is nothing better than this appetiser for warm summer weather and fine dining al fresco on a terrace.
But if you want to taste and experiencing the best of this Spanish product, why not take the Jamón Ibérico Route which gathers routes running through the provinces of Badajoz, Cáceres, Huelva, Cordoba and Salamanca. Farms, restaurants, shops, museums, interpretation centres and other related businesses all take part.
If you're thinking of coming to Spain, come and see for yourself the flagship product of its cuisine and experience something unique.
Curiosities about Iberian ham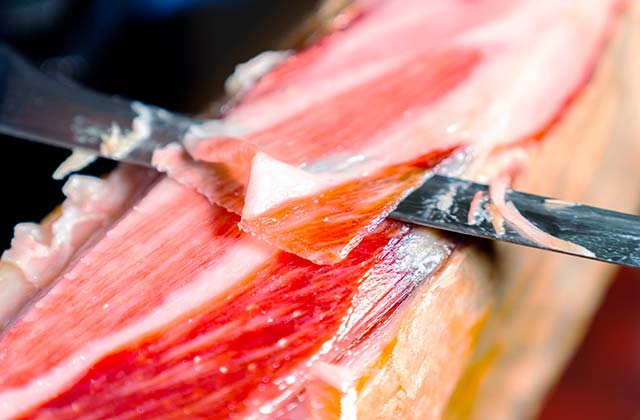 Iberian pig breed: Iberian ham comes from the Iberian pig, a native breed of the Iberian Peninsula, also known as "pata negra" pigs. These pigs are raised in extensive wooded areas and are primarily fed on acorns, which contribute to the flavor and quality of the ham.
Denomination of Origin: Iberian ham is protected by different denominations of origin in Spain, which establish the characteristics and quality of the product. Some of the most recognized denominations are Jamón de Huelva, Jamón de Guijuelo, and Jamón de Extremadura.
History and tradition: The production of Iberian ham has a long tradition in Spain, dating back several centuries. Curing methods and breeding techniques have been passed down from generation to generation, thus preserving the quality and know-how.
Curing process: Iberian ham is naturally cured for a period that can vary from 24 months to 48 months, depending on the quality and type of ham. During this process, the hams are hung in special drying rooms where temperature and humidity are controlled to achieve optimal curing.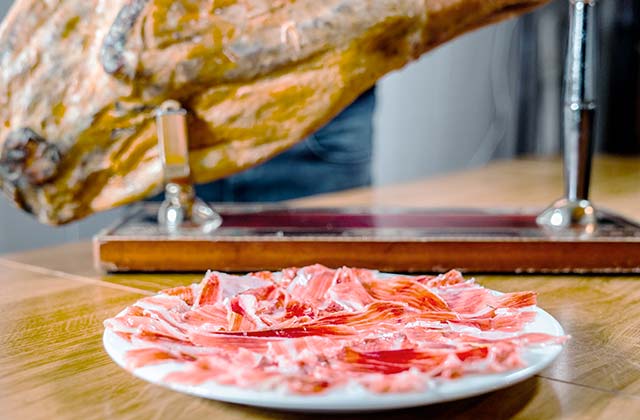 Quality labels: Iberian hams are classified into different categories based on the pig's diet and breed purity. The most common labels are "Cebo" (pigs fed with feed), "Cebo de campo" (pigs fed with feed and pastures), and "Bellota" (pigs fed on acorns and pastures).
Ham carving: Iberian ham must be carved precisely and delicately to enhance its flavor and texture. Professional ham carvers are highly valued in Spanish culture, and there are competitions and contests to showcase their skill.
Nutritional value: Iberian ham is a source of high-quality proteins and contains monounsaturated fats, similar to those found in olive oil. It is also rich in B vitamins and minerals such as iron, zinc, and magnesium.
Traditional consumption: In Spain, it is common to enjoy Iberian ham in thin slices, served on a platter or placed on bread. It is also used as an ingredient in tapas and traditional Spanish dishes.
Exportation: Iberian ham is highly appreciated internationally and is exported to numerous countries. Its quality and prestige have led to a significant increase in demand in markets such as the United States, Japan, and China.
Jamón ibérico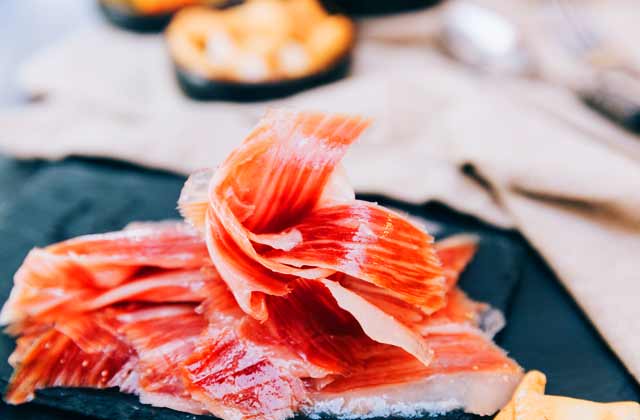 Jamón ibérico is a luxury, haute cuisine product which comes from the Iberian pig. The pig must be at least 50% pure to be given this name.  Breeding must also take place under an extensive regime where the animal is free to roam wooded pastures where they can move freely and have physical exercise. It also has the sustenance to keep the pig during montanera (this period of roaming), and finally the curing of the ham, which usually lasts between 8 and 36 months, taking longer the larger the size of the piece and the most acorns the pig ate. These are the features of this product which you can find in the south-eastern part of Spain, more than anywhere else.
Jabugo Route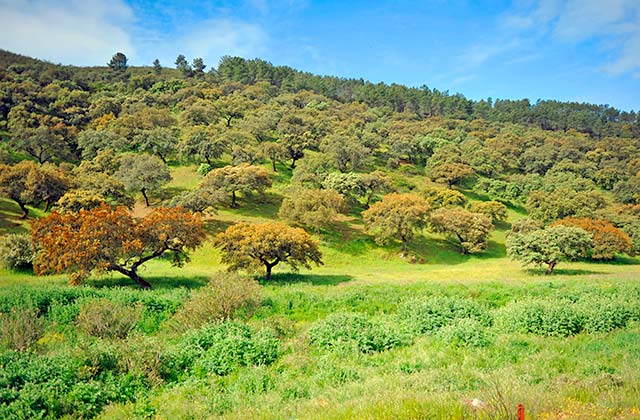 This journey through the most traditional flavours of Spain is focused, especially in the regions of Extremadura and Andalusia. It is in the province of Huelva where we find one of the most valuable examples of the world which carries its own name.  It comprises 31 integrated municipalities in the development and maturation area in the regions of Sierra de Aracena and Picos de Aroche, and Cuencas Mineras. Much of the land is Natural Park and World Biosphere Reserve. Here, Iberian pigs are bred from which Jabugo hams are made.
Dehesa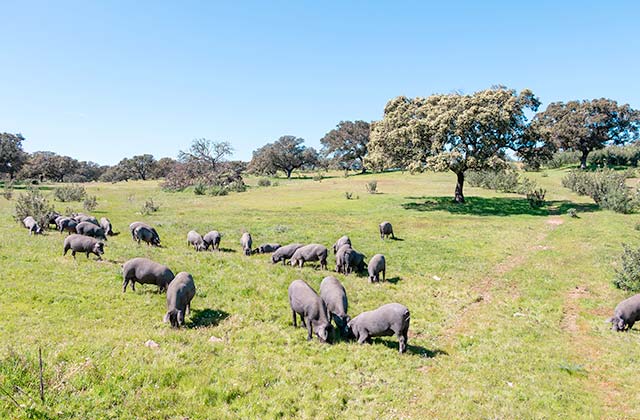 Without the dehesa, jamón ibérico would not exist. This special forest environment is what gives the ham its special features.  The pigs can roam and exercise in a perfect environment filled with holm oak and cork trees.
The Huelva Natural Park in Sierra de Aracena and Picos de Aroche is one example of an environment in which these animals are raised. If you decide to do the Jamón Ibérico Route, don't forget to come to this place where you can also enjoy hiking or other activities where you are in touch with nature.
If what you like is cultural tourism, be sure to explore the mountain villages and discover their heritage. Don't miss the group of monuments at Almonaster la Real (composed of the castle, the church and the mosque), Cortegana Castle (one of the best preserved in the area), or the Sancho IV fort in Cumbres Mayores.
The dryers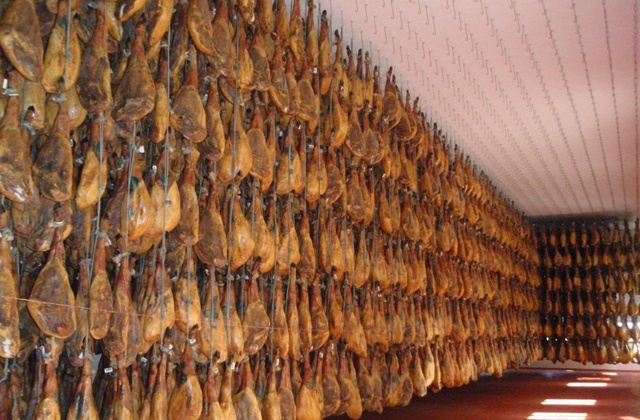 The manufacturing process of jamón ibérico is slow and laborious. Once the parts are cut, next is the salting process. This technique involves placing the pieces of ham on top of each other separated by salt in a salting chamber, remaining there about one day per kilo of weight at temperature between 1°and 5°C, and a humidity of around 80 or 90%.
The pieces are then washed to remove all traces of salt, and left for 60 to 75 days in a cool and moist so that it is distributed among the meat. After that the ham must be aged in the cellars for at least 18 months.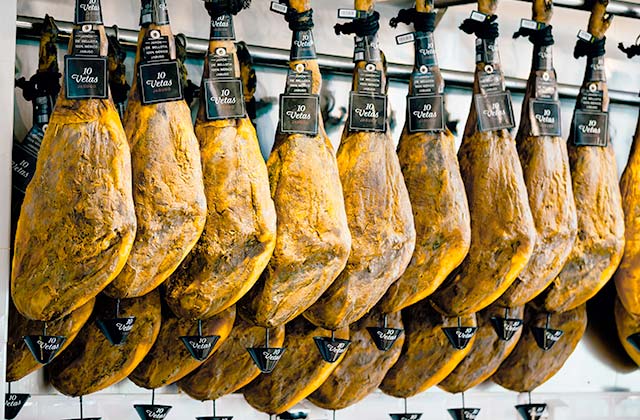 Both the drying and maturation of these pieces of ham with denomination of origin are carried out while taking advantage of the microclimatic conditions found in Sierra de Huelva, as both the dryers and the storage areas are natural, and the moisture and temperature conditions must not be controlled by artificial means.
If you want, during this tour through Huelva and its jamón, you can visit a dryer to see the healing and drying process first-hand.
If you want to discover the taste of Spain, come to the province of Huelva. An exceptional natural environment where you can fill your lungs with fresh air and discover the charm of good Spanish dining.
Learn about different types of ham. 100% acorn-fed Iberico ham is the best
How to carve the best slices of ham. We're pleased to introduce you to the best ham carver in Spain
ACCOMMODATION
To enjoy the Jamón Ibérico route and especially ham from Huelva, there is no better place to stay than the Hotel Fuerte El Rompido. It's located on a hill that dominates the natural setting of Río Piedras. On top of this, the Andalucian architecture is in perfect harmony with its surroundings. An ideal place to rest and practise sport surrounded by nature. There is a virgin beach 14 kilometres which can be accessed by boat which has become one of the best experiences for guests of this hotel. Aside from the ham, you can also enjoy yourself in this famous seafood spot in Huelva. A total of 297 rooms make up this hotel, each one equipped with safe, satellite TV, free Wi-Fi internet, air conditioning and bathroom with hairdryer.