19 Andalucian recipes to warm you up
Cold, rainy short days are approaching and soon our body will start to demand heat, and a good way to provide it is through food. Andalucian winter dishes form part of the gastronomic tradition of southern Spain. Andalucian dishes served in a bowl (Andalucian broths, soups and stews), nice and hot, are a perfect gastronomic option when the temperature starts to fall and the rain and snow start making an appearance. Andalucian winter food has its origin in the obligatory seasonal cuisine of yesteryear, when all the markets sold was local seasonal produce. In winter, this included chestnuts, oranges, artichokes, cauliflower, broccoli, fennel, lettuce, endive and the famous cold cuts and meat products from the slaughters around San Martín.
Today the markets have all kinds of gastronomic produce at any time of the year. But the pot roasts, broths and all kinds of stews of Andalusia continue to dominate stoves when winter comes around, especially in those parts of our community where the winter cold is felt more.
Andalucian winter food has evolved over time. The traditional bases remain, but new cooks keep reinventing many of Andalusia's stews. What has hardly changed are the ingredients. Pulses, vegetables, meat, fish, cold cuts, potatoes, spices and, of course, extra virgin olive oil.
Today we have a selection of dishes that are ideal for winter; gastronomic proposals that will help you maintain an appropriate body temperature and are also absolutely delicious. Don't miss out!
Winter Andalucian recipes
1. Puchero (Casserole)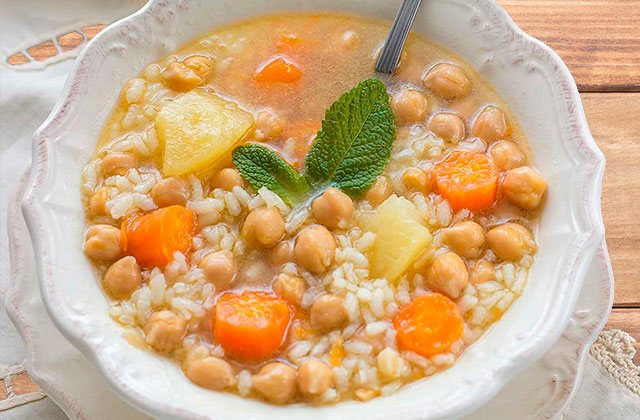 This is the winter dish par excellence in Southern Spain. The "puchero" is made from chickpeas as the base ingredient; depending of the Andalucian region, it takes more or less soup. In Malaga, it is more diluted, and a handful of rice is usually added. In Huelva, it is cooked with plenty of vegetables. In Cadiz, pork is combined with veal, and in Granada, it takes a lot of bacon. Meat, vegetables and legumes are mixed with salty bones to prepare this typical dish that will not leave you indifferent. Apart from exquisite, this casserole is versatile, because if you have any leftovers on the following day, you can take the chickpeas, smash them and fry them, and then prepare what is known as "ropa vieja", a well-known typical dish of the Spanish postwar era.
2. Gazpachuelo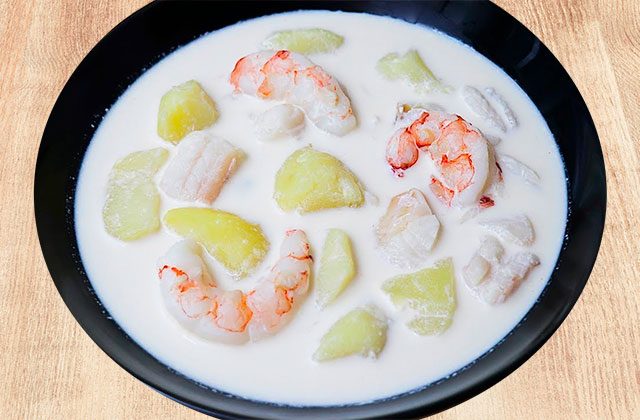 Gazpachuelo is a hot soup original from Malaga, and for many years it has been a main course for fishermen in winter. It is a fish soup with a mayonnaise garnish based on garlic, egg yolk and olive oil. It is customary to dip one's bread in it, and, when served really hot, it can help you keep your body temperature throughout the entire day. If you come to Costa del Sol and decide to have a fish/seafood-based menu, this recipe could be your first option.
3. Lentils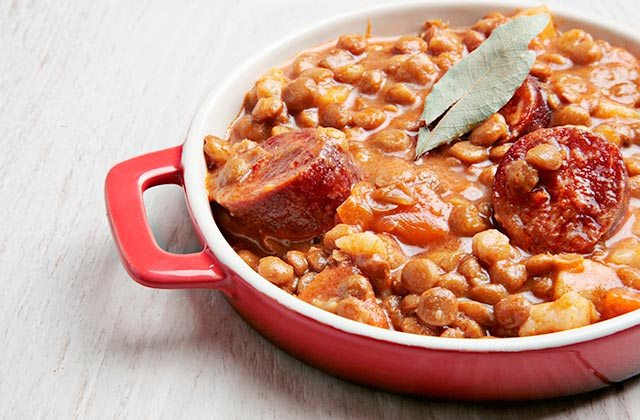 Although they are famous all throughout Spain, in Andalucia they are cooked very often and in a special way, having become a typical dish in Southern restaurants. The good Andalucian cured pork sausages like the "chorizo" and "morcilla" have been included in large amounts as another ingredient to this dish. The secret to prepare tasty lentils is to simmer them over low heat, even better when done on a charcoal fire. If you are coming to the South, do not miss them!
4. Bean Soup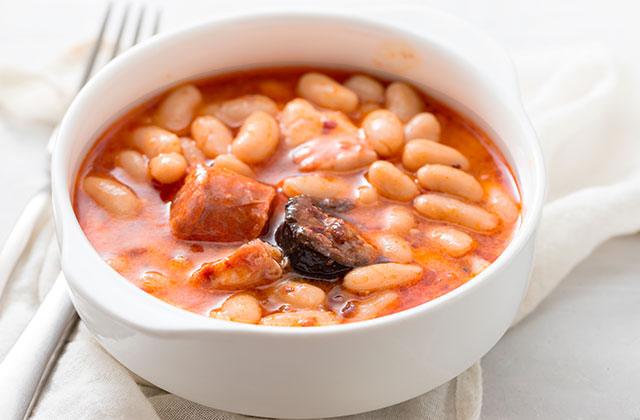 Beans are very popular in Spain, particularly in Asturias, where we can find the famous "fabada" (bean stew with Spanish sausage). But the taste of beans in Andalucia is different than in the rest of the country. Here we cook the popular "bean soup", a winter dish par excellence to warm us up. In Malaga, it is customary to make it with pinto beans. A famous attraction are the roadside stands of Ojén, Alhaurín de la Torre and Mijas, where you can taste the most traditional and home-made flavors.
5. Stewed Potatoes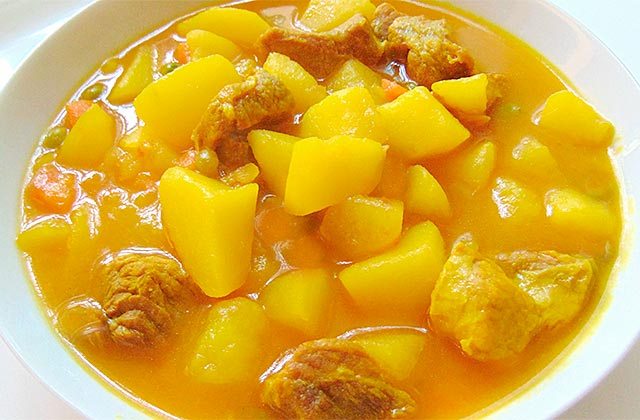 Stewed potatoes or the "guisaillo de papas", as Andalucians call it, is another example of winter gastronomy. It is usually prepared with veal, and it takes a fair amount of sweet paprika and ground black pepper. Potatoes are very efficient at retaining heat, so this dish is ideal if we're down with the flu. If you ever get chilled, do not hesitate to try this recipe, as it helps you relieve congestion.
6. Picadillo Soup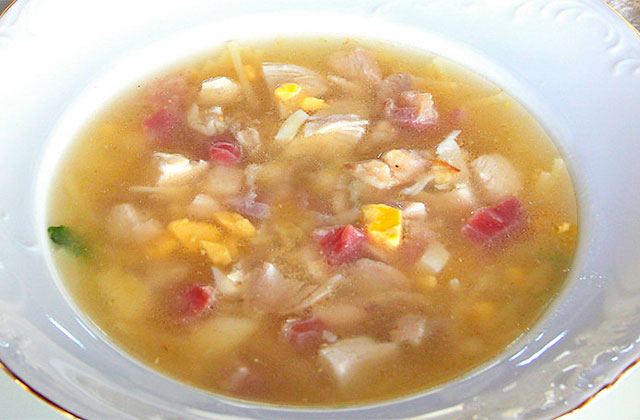 This is a typical Andalucian soup, specially widespread in the areas of Almería and Seville. It is prepared with poultry meat, usually chicken, finely chopped together with a hard-boiled egg. It also takes thin and small ham chunks. Apart from being the ideal dinner for cold nights, it is a customary dish served in Christmas-Eve and Christmas as a starter, before turkey.
7. Rice with Broth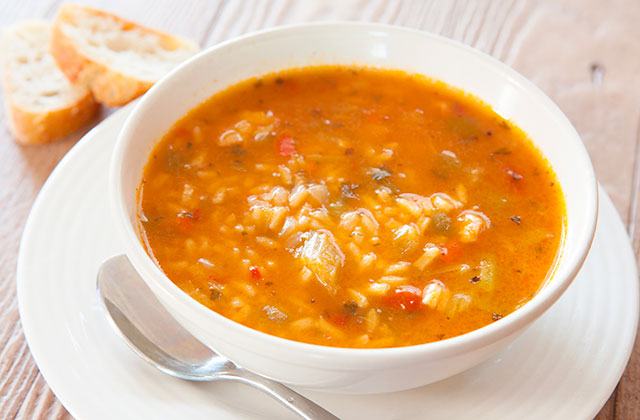 If you are travelling to Andalucia, do not miss the rice with broth. This typical dish is commonly resorted to in cold days, and is prepared in a very similar way as the Valencian "paella". We make a fried sauce with chicken, pepper, onion, garlic and tomato, and then add the rice with three times its volume of water. This provides a more loose appearance, producing a broth which can then be prepared with noodles. An unbeatable plan for rest days: a good meal and a good nap.
8. Chicken Soup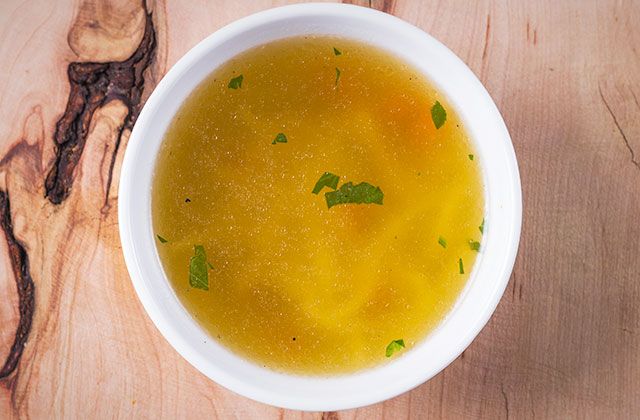 Chicken soup is very popular in Andalucia, and several recipes are derived from it. It is usually served in a clay cup to preserve heat, and if you want you can add thin soup noodles. But this is not all: on the following day, with the meat used for this dish we can prepare the famous home-made croquettes. This is an ancestral culinary tradition passed on by the Arabian people of Al Andalus, and which you cannot miss if you are touring the South.
9. Noodle Casserole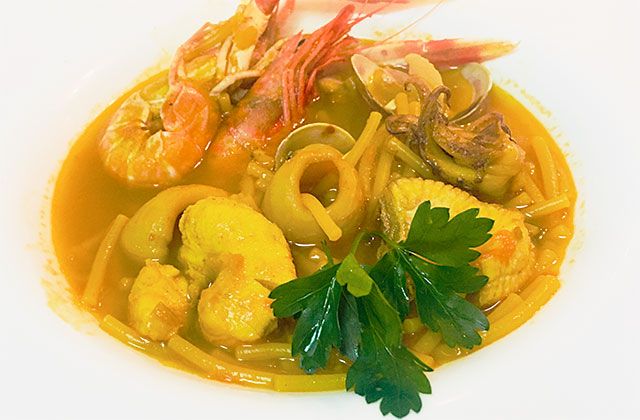 The seafaring tradition present in a large part of Andalucia has resulted in many recipes with seafood as the main ingredient. That is the case with the noodle casserole, one of the most ordered dishes in restaurants and inns at this time of year. Malaga capital provides very good examples of this tasty delicatessen, and the areas of El Palo, Cadiz and Huelva are also exponents of this culinary trend, where small prawns are combined with thick noodles. Write down this recipe and prepare your spoon to enjoy its delicious flavor.
10. Arranque caliente (Hot Starter)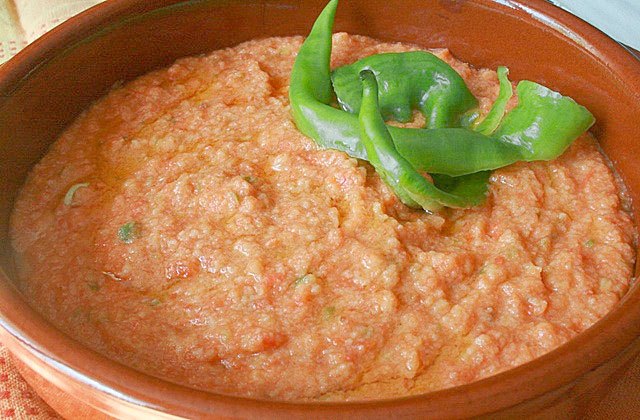 This dish is typical from Rota and the province of Cadiz in general, being closely linked to peasants. It is a sort of hot gazpacho, originating from the poorer neighbors, who used it to warm up before a heavy day of work. Nowadays you can taste it in restaurants and inns; its tomato base makes it rich in properties and vitamins.
11. Potaje de vigilia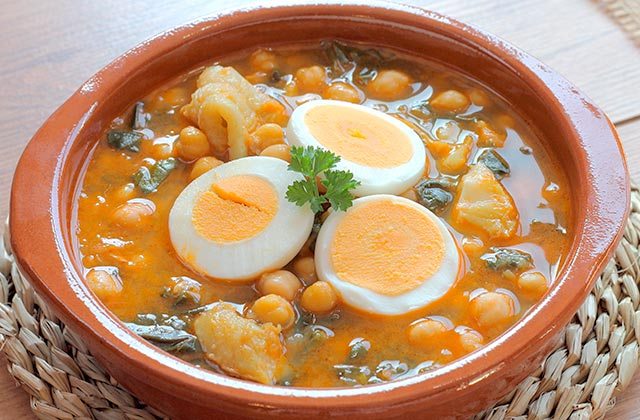 There are several versions of so-called potaje de vigilia. The ingredient that cannot be left out in all the recipes for this broth is the chick pea, and the one that will never appear is any kind of meat. It is the ideal broth for days when you need to abstain from eating meat in accordance with the precepts of the Church. The most traditional recipe for what is also called potaje de cuaresma has chick peas, chard or spinach, cod and boiled egg. In some cases, a few slices of toasted bread or croutons are also added.
12. Potaje de tagarninas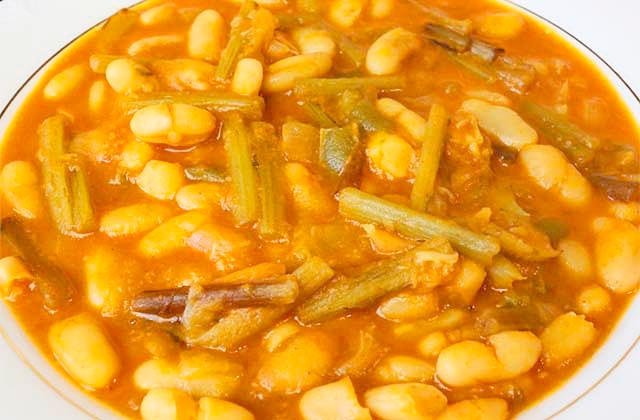 This is another of Andalucia's lent dishes. A traditional recipe from the Cádiz municipality of Algodonales and that we can enjoy in many restaurants in Cádiz province. The two basic ingredients of this broth are chick peas and oyster plants. It also includes black pudding, cumin, cloves, beans, potatoes, paprika and bread. Oyster plants are also known as golden thistle.
13. Berza jerezana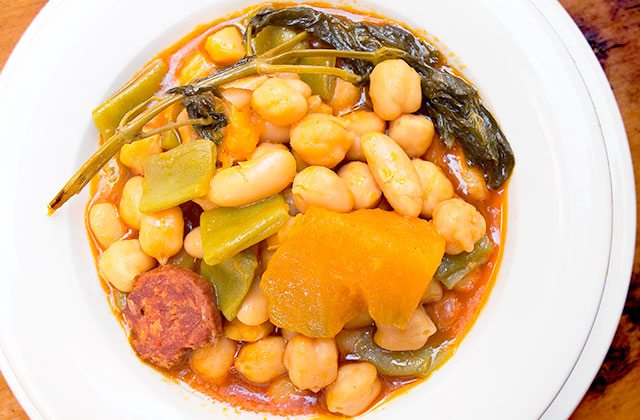 This is another of the traditional vegetable broths of Andalucian cuisine. Berza Jerezana is one of the most famous versions. It can be prepared with oyster plant collards or with chard fronds. In any case, the most abundant ingredients in this Andalucian stew are pulses and meat. Beans, chick peas, veal, pork, fresh bacon, black pudding and chorizo. An ideal dish to ward off the cold.
14. Tripe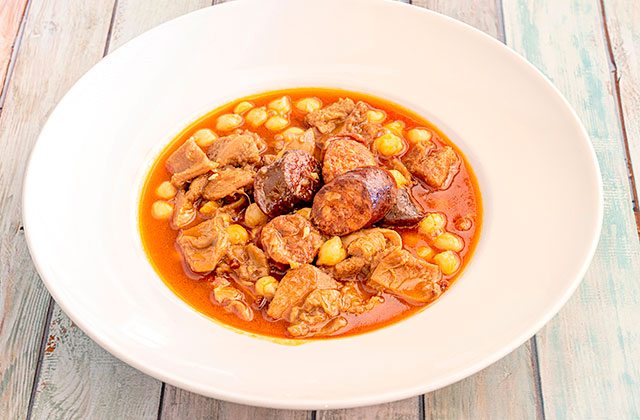 Tripe is another of Andalucia's winter recipes. Callos a la madrileña (tripe cooked with chilis) is the most famous, but in Andalucia, we can find versions of the tripe recipe in almost every one of its eight provinces. The ingredient that makes the difference in this Andalucian recipe is chick peas, which are not present in callos a la madrileño.
15. Sopas perotas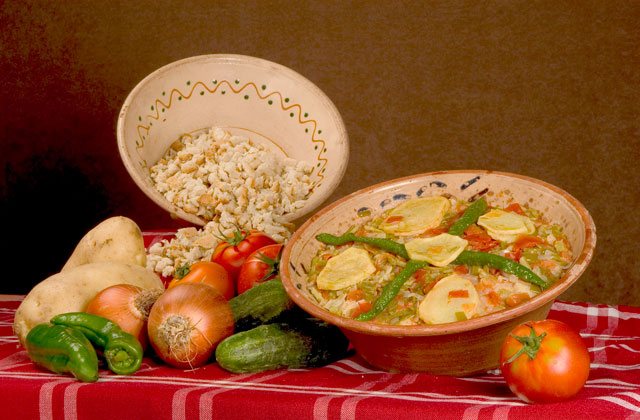 This is a traditional dish from the Malagan municipality of Álora. It even has its own festival day: Day of the Sopas Perotas that is celebrated in early October. Like other Andalucian recipes, it came about in the field, at the hand of day labourers. They used all the ingredients they had within reach. Stale bread, tomato, onion, garlic, pepper, potato, asparagus, oil and salt. They accompanied it with seasonal fruits such as orange or grape, and in some cases with cucumber, too.
16. Olla gitana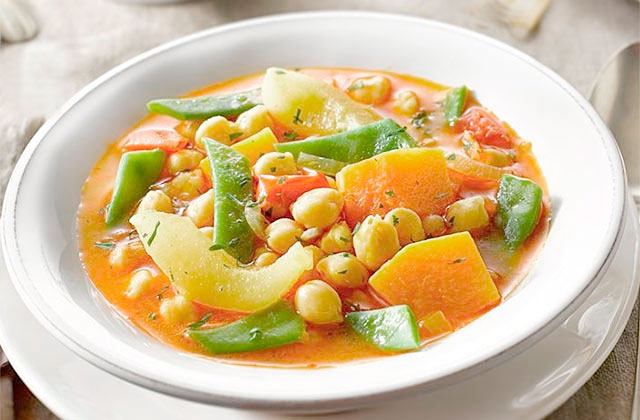 This stew is a traditional dish in the eastern region of Andalusia. It is a vegetable stew in whose preparation the pear plays an important role. This dish arose due to the fact that eastern Andalusia enjoys abundant orchards and produces a lot of green beans, tomatoes, courgettes and other vegetables.
17. Olla de San Antonio
Olla de San Antonio, olla de trigo con hinojo or sometimes only olla de trigo, is a very famous stew eaten in Almería province. Its preparation involves the use of wheat. Chickpeas and different meats, all aromatised with wild fennel. This soup is a winter dish and must be served very hot. Its name comes from the fact that while it is eaten throughout winter, it is tradition to eat it on San Antonio Abad Day (17th January).
18. Potaje de hinojo
The pout of hyneles of Graná, is a luxury for the senses, this stew is the Essence of Alpujarreña served in a dish, it is the aroma of the mountain and the taste of the recipes always. Unfortunately it is a practically unknown production in the rest of Spain, mainly because its elaboration involves the use of an ingredient such as fresh fennel shoots, a product that is practically not marketed outside the province of Granada.
19. Catshark broth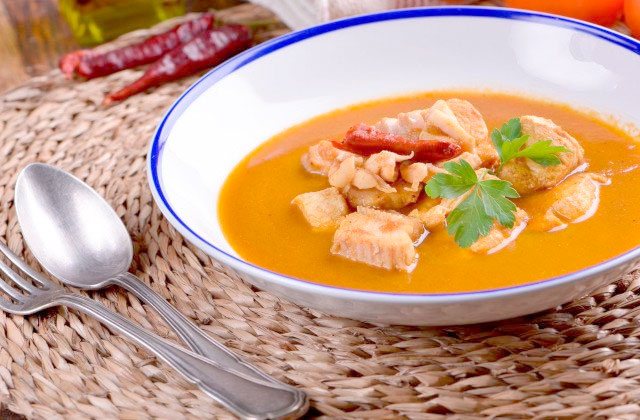 Catshark broth is a tasty spicy soup that is characteristically eaten in Malagan taverns and bars. The catshark is a small halibut that is traditionally used to prepare seafood stews, one of the most traditional delicacies of the whole of Malaga.
Your spoon is the main protagonist in all these recipes to relieve the feared winter cold. If you are touring around Andalucia, do not hesitate to try out these dishes: they will warm you up in an exquisite way. Soups, casseroles and broths for you to experience the most genuine Andalucian cuisine.
We offer you the 12 most refreshing recipes of Andalucia
WHERE TO STAY
If you wish to discover Andalucía, don't hesitate to stay at the best hotels. Without a doubt, the best option is Fuerte Hoteles. The chain has facilities where, apart from the regular services, you can enjoy the best of each spot in the Andalucian geography. Its over 60 years' experience is the best warranty so you can devote your time to discovering these unusual corners. Marbella, Conil, Grazalema, El Rompido or Torrox are some of the places where you can find amazing accommodation facilities near the spots we have recommended for you.