Chestnuts, the gourmet nut of Andalusian autumnal flavour
The different ochre tones and the casings in the shape of sweet hedgehogs on the ground each year reveal the arrival of autumn in Andalusia with chestnuts. It has been one of the products most deeply rooted in our cultural and gastronomic tradition for many centuries. This product garners a lot of attention in the region, not only because of the many recipes, but also due to the different chestnut festivities that welcome this nut. Huelva and Málaga are the two Andalusian provinces with most tradition and the smell of roasted chestnuts envelopes their streets. If you travel to southern Spain in October, be sure to check out a chestnut recipe, since it is a classic element of this time of year that encompasses more than its flavour.
WHERE TO FIND THE BEST CHESTNUTS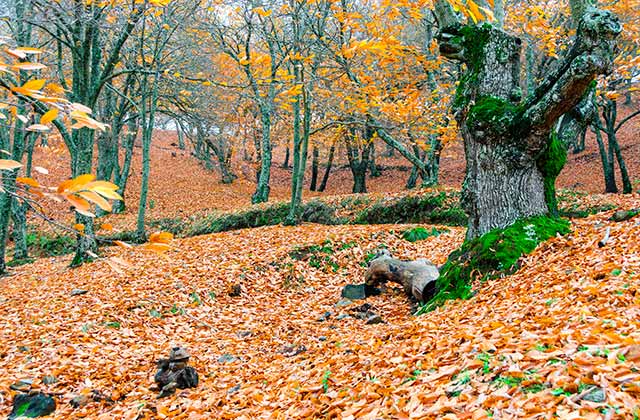 The place par excellence where the chestnut is the queen is undoubtedly the Genal Valley in the province of Malaga. The variety is known as pilonga and it is such a delicacy that it is exported to most of Europe as a "delicatessen". Don't miss this snack, come and visit Cartajima, Pujerra and Igualeja.
The par excellence area in Huelva for tasting this delicacy is the Sierra de Aracena. A very interesting activity you can try, especially if you travel with your children, is the Cerro del Castaño Road. Throughout this low-difficulty path you'll find countless amount of chestnut trees with their beautiful colour ranging from orange, yellow and ochre and besides, if you carry a bag, you can collect the prized chestnuts at this time of year. This attractive scenery is complete when you see the Iberian pigs feeding on acorns.
CHESTNUT FESTIVAL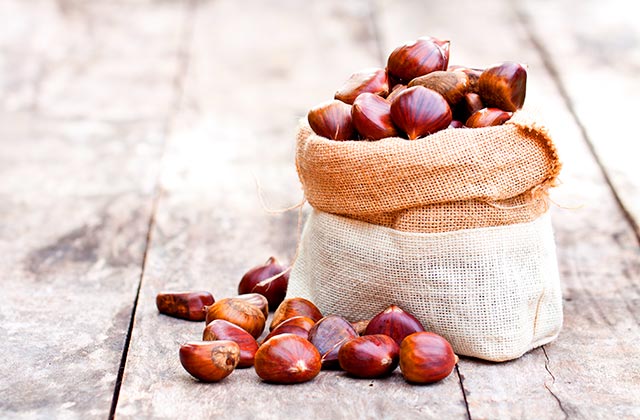 As is the case with other fruits, when the chestnut harvesting season arrives, many Andalusian towns whose local economy is based on chestnut dress up for a party. For example, this happens in Fuenteheridos in Huelva.
But without doubt, the chestnut festival par excellence in Andalusia is in Pujerra (Malaga). Visitors from the country and abroad who love the gastronomy based on pilonga chestnut get to this small charming village and enjoy this festive day. The main attraction is known as Tostón de Pujerra, where kilos and kilos of roasted chestnuts are given to the public. Besides, whoever attends this celebration can also enjoy other recipes with this fruit as a protagonist. Rice, croquettes, stews and sweets are put on the table to honour the beloved pilonga. If you visit this town at this tie of the year we recommend you also try the mistela (fortified wine), a local coffee-based liqueur with brandy, cinnamon and sugar that accompanies Chestnut throughout the day.
Hiking routes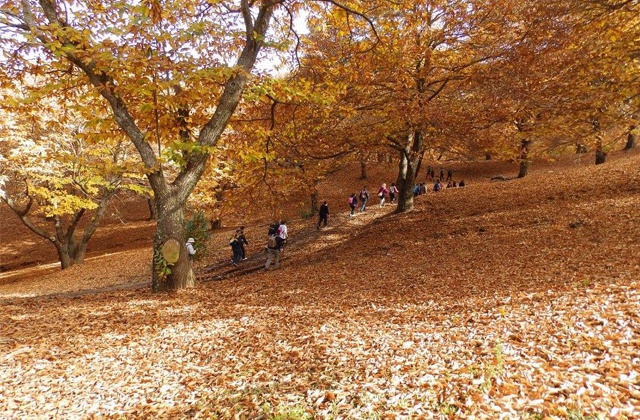 Valle del Genal: the chestnut route
We start the route in Parauta and begin heading to Cartajima, walking through the "copper forest" among madrones, cornicabra olive trees, chestnut trees, oak trees and sumacs, until we reach Igualeja, where we can see the birth of the River Genal. This route is recommended for November and December, which is when you can enjoy the ochre colours of the vegetation.
Chestnut route in Huelva
This route runs through the National Park of Aracena y Picos de Aroche and starts at the Cabildo Viejo de Aracena Visitors' Centre, which is located in a 16th century building. Here you will find a lot of information on the local arts and crafts and gastronomic heritage, and after your visit, the route starts through the wonderful surrounding natural landscape.
ROASTED CHESTNUT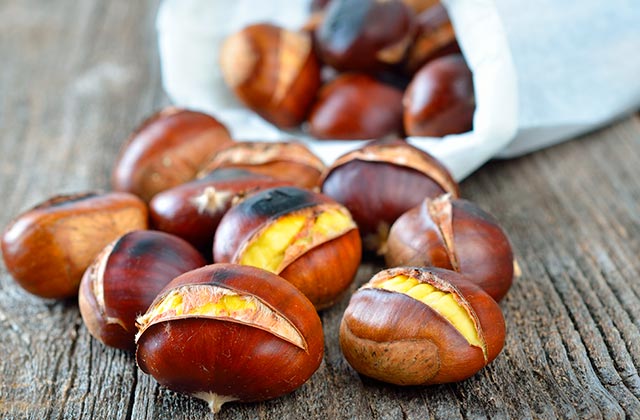 The roasted chestnut is the most common formula when eating this product in Andalusia. In any corner you can find a place in autumn with a stove and a pot to cook them and sell them in typical cardboard cones. Tip: if you're walking through an Andalusian town and you smell their intoxicating scent, buy one and sit on a bench to peel your chestnuts while looking at your destination while tasting this Andalusian fruit.
But do not worry, you can also cook them at home. You take the chestnuts and make an incision in the shell. Heat the oven to 180 degrees and let it pre-heat for 15 minutes. When the time is up, place the chestnuts in the oven for half an hour to roast them and they're done! Your autumn dish is ready to be served.
CHESTNUT RECIPES
The chestnut, especially the pilonga chestnut, is used for a variety of both sweet and savoury recipes. We'll show you some of the easiest ones in case you decide to put on an apron and show your chef skills. Here is a menu based on this product.
1. Chestnut cream and ham
If you want to cook for four people you need 200 grams of chestnut (once peeled), half a leek, a small onion, 650 grams of ham broth, olive oil, black pepper, thyme and salt.
In a pan pour some olive oil to fry the onion and leek with a little salt. Then add the chopped chestnuts and add the spices as preferred. After that you pour the ham broth and let it boil. When the chestnuts are tender, take the ingredients off the pan and grind everything. The result is a delicious cream ideal for autumn evenings.
2. Risotto with mushrooms and chestnuts
This recipe is a delicacy for rice lovers. Put a pan to heat-up with a splash of extra virgin olive oil, add the chopped onion and the garlic cloves with a pinch of salt, all moderately. After this you add the chestnuts and spices while you heat chicken stock in another pan (you can get it in any supermarket).
Add the mushrooms and incorporate the rice, lightly frying it until the rice grain changes colour. Pour some white wine and let it evaporate over medium heat.
At this point begin to pour the chicken stock gradually, i.e. in spoonfuls for the rice to absorb it until it acquires the right texture for risotto. If you wish you can add a bit of Parmesan cheese on top, and then it will be ready to serve.
If you cook for four people, you will need half a white onion, two cloves of garlic, 20 blanched and peeled chestnuts, 250 grams of mushrooms, 350 grams of rice, 150 grams of white wine, two sprigs of rosemary, black pepper, 900 grams of broth poultry and parmesan cheese.
3. Chestnut cake
Finally for dessert you can prepare a chestnut cake. For this recipe you need 120 grams of sugar, 60 grams of cake flour, 60 grams of peeled roasted chestnuts, two eggs, 120 grams of sunflower oil, 7 grams of baking powder, a pinch of salt and vanilla essence.
The first thing you have to do is to pre-heat the oven to around 200 degrees. Take the roasted chestnuts, peel them and mix them with sifted flour and yeast. At the same time, beat eggs with sugar (depending on how sweet you are). Add a bit of oil and incorporate it to the flour mix we had before. Move it around gently while adding a pinch of salt and vanilla.
Pour everything in a cake mould and only wait 20 to 30 minutes to have your chestnuts dessert on the table. Did you like the menu? Well if you feel like cooking do not worry because the restaurants located in the areas we mentioned have these and many other recipes for your enjoyment, so that you don't have to wear your apron.
4. Chestnut muhammara
This is a roasted red pepper and chestnut dip, the recipe for which is originally from Aleppo. It is a delicious starter that is nutritional and very healthy.
5. Chestnut, chickpea and kale stew
This recipe is a reinterpretation of a tried and tested stew in which the potatoes are replaced with chestnuts and the kale replaces green cabbage. It is not a commonly prepared stew, but its flavour is quite peculiar, so why not give this recipe a go.
6. Sweet chestnut cream
Like roasted chestnuts, sweet chestnut cream is an amazing source of energy. It is perfect for incorporating into breakfasts and snacks. It is also used as a filling for things like fritters, puff pastries, etc.
Some amazing curiosities about chestnuts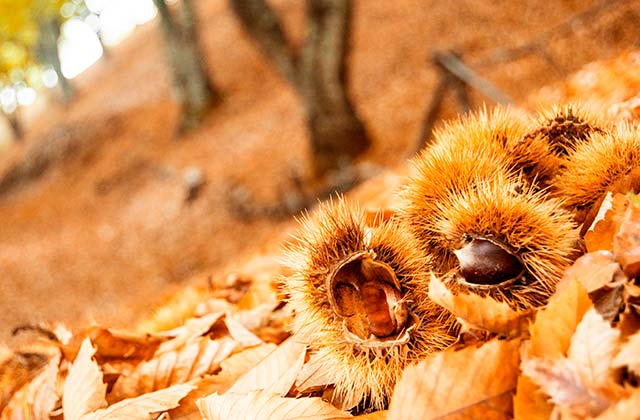 It looks like a cereal, but it is actually a nut.

The chestnut is almost all water, giving it a very low calorie content.

They are rich in fibre, which means that they regulate your intestinal flora.

Chestnuts stand out because their protein fraction contains all the amino acids a human being needs.
WHERE TO STAY
If you want to enjoy the taste of Andalusian chestnuts, stay in the best hotels. The best option certainly is Fuerte Hoteles. The chain has places where you can, in addition to its services, enjoy the best of each part of Andalusia. 60 years experience are the best guarantee. Marbella, Conil, El Rompido, Estepona, Grazalema or Torrox are some of the places where you can find these great hotels.