Chestnuts, the gourmet nut that tastes of an Andalusian autumn
The different ochre tones and the shells that look like cute little hedgehogs on the ground reveals each year in Andalusia that autumn has come with its chestnuts. It has been one of the most deeply rooted products in our cultural and gastronomic tradition for many centuries. This product is everywhere in the region, not only for the multiple recipes, but also for the different chestnut festivals that welcome this nut. Huelva and Malaga are the two Andalusian provinces with more tradition and the aroma of roasted chestnuts fills their streets. If you travel to southern Spain in October do not miss the chestnut recipes, since, aside from its flavour, it is a classic feature of this season.
WHERE TO FIND THE BEST CHESTNUTS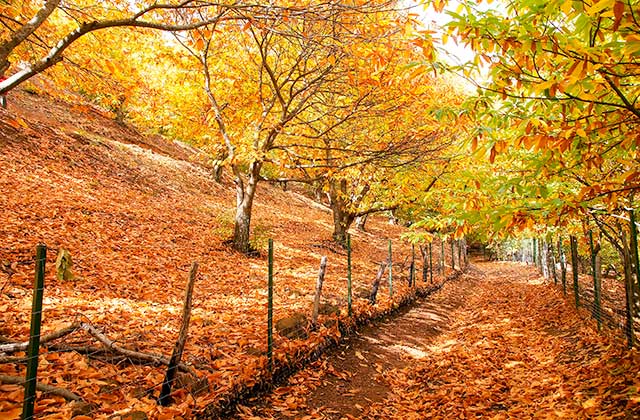 The place par excellence where the chestnut is the indisputable queen of the party is undoubtedly the Genal Valley, in the heart of the Serranía de Ronda, an ochre paradise where over 70% of Andalusian chestnut production is centred. In Genal, any of its municipalities will offer you an unforgettable experience, an example of which are the municipalities of Cartajima, Pujerra and Igualeja, which contain dense chestnut and pine forests and which with the arrival of autumn focus all their efforts on the traditional chestnut collection and celebrate in November the day of this nut.
Another Andalusian area where you can enjoy this delicacy is the Sierra de Aracena y Picos de Aroche Natural Park (Huelva), where the chestnut grove occupies 3% of its surface area and stretches out between Aracena and Almonaster la Real, forming an unforgettable image during the whole year, but one that is especially magical with the arrival of autumn.
CHESTNUT FESTIVAL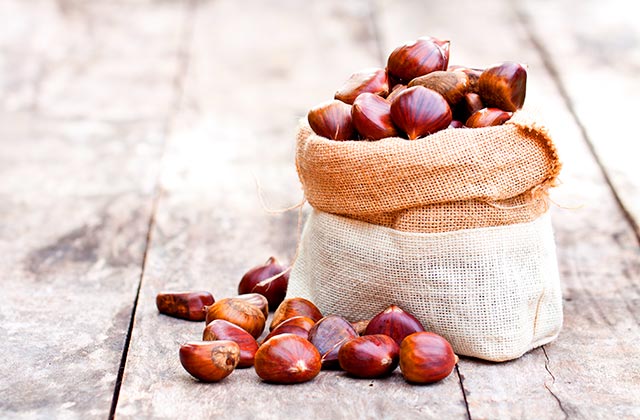 The chestnut festival is a celebration that is held in several parts of Malaga province, especially in the localities of Pujerra, Alcaucín and Genalguacil.
The festival is held at the end of this nut's harvest, which is the most important product in the area's economic system. It is held in early November and is where traditional dishes such as tostones are prepared and liquors such as mistela (a liquor made from coffee, brandy, cinnamon and sugar) are drunk, and you can also try other dishes where the undisputed star of the show is the beloved chestnut.
Hiking routes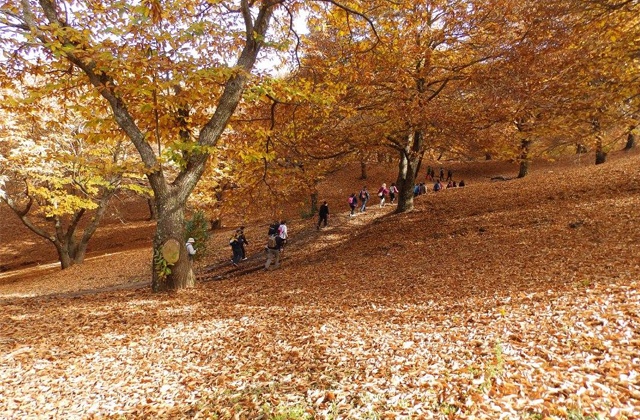 Valle del Genal: the chestnut route
We start the route in Parauta and begin by heading towards Cartajima, and walk through the copper forest amidst madrones, olive trees, chestnut trees, oak trees and sumacs until we reach Igualeja, where we can see the spring of the River Genal. We recommend doing this route in November and December, which is when you can enjoy the ochre colour of the vegetation.
Chestnut route in Huelva
This route runs through the Aracena y Picos de Aroche National Park and starts in the Cabildo Viejo de Aracena Visitor Centre, which is located in a 16th century building. Here you will find a lot of information on both the area's artisanal and gastronomic heritage and your visit is the start of the route through the wonderful natural setting that will surround you.
How to peel chestnuts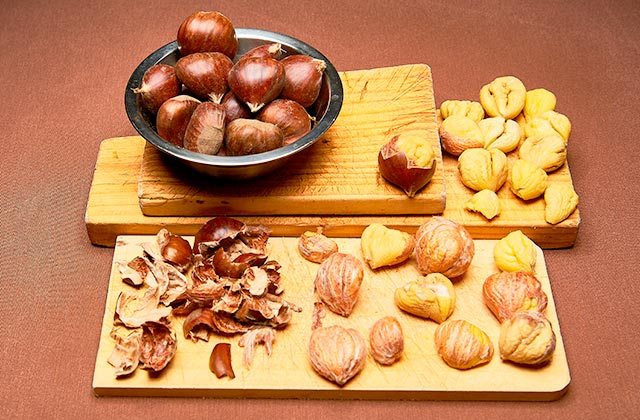 Blanching
The blanching technique is carried out by putting them in boiling water (the water should be boiling when we put the chestnuts into the pan) for a few minutes and then quickly stop the cooking with very cold water. The skin can be easily removed while the chestnuts are still hot. We just recommend that the chestnut cooking time be closely monitored so that it does not overcook.
In the microwave
It is enough to score each chestnut with a knife (if you do not do this the nut can break) and put them in groups of six for no longer than 20 seconds at maximum temperature. Remember that, as with the previous technique, they have to be peeled while they are hot.
Chestnut Recipes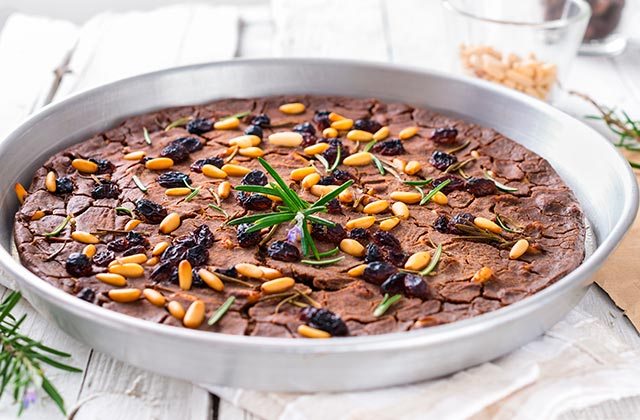 Chestnuts are a very versatile gastronomic product. We can use them to prepare numerous dishes, both sweet and savoury, and we can use them to thicken broths, prepare tarts, flans, cream and many other preparations. Here are some suggestions based on this product.
ROASTED CHESTNUT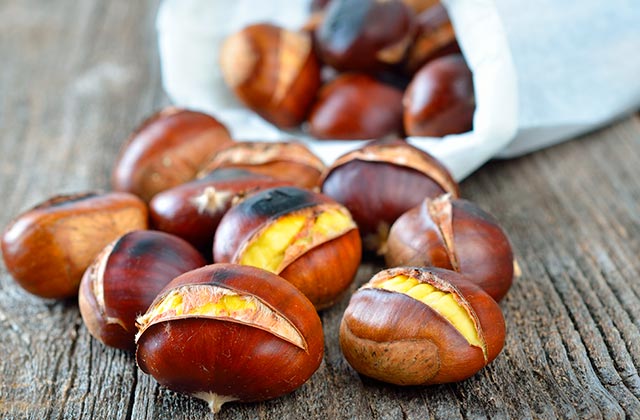 Roasted chestnut is the most common form of eating this product in Andalusia. In any corner in autumn, you will find a stall with an oven and a pot to prepare them and sell them in the traditional cardboard cartons. A tip: if you are walking through an Andalusian city and their intoxicating aroma reaches you, buy some and sit on a bench to peel your chestnuts and plan your destination with the flavour of this nut that is so Andalusian.
You can also cook them at home. Pick the chestnuts up and score the shell. Put the oven on at 180 degrees and let it heat up for 15 minutes. When this time has passed, put the chestnuts in to roast for half an hour and they're done! Your autumn dish is ready to serve.
Autumn risotto with seasonal produce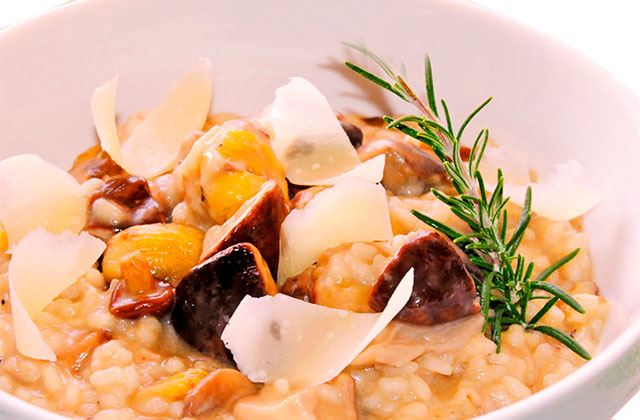 Mushroom and chestnut risotto is a very comforting dish, especially thanks to the autumnal aroma that it brings. Putting in cooked chestnuts along with the courgettes and mushrooms gives it an amazing texture that contrasts very well with the other ingredients. Be sure to try it.
Baked rice with ribs, mushrooms and chestnuts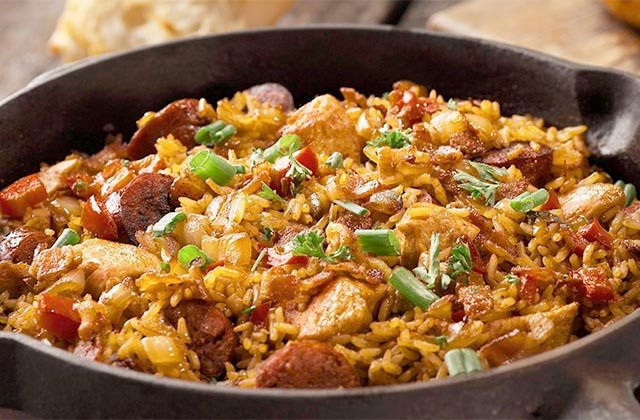 The recipe for baked rice with ribs, mushrooms and chestnuts is the last recipe we have selected for this compilation of chestnut recipes, which as you will have observed, includes both sweet and savoury recipes. It is a rice dish cooked in a paella pan with a very interesting taste.
Chestnut cream and ham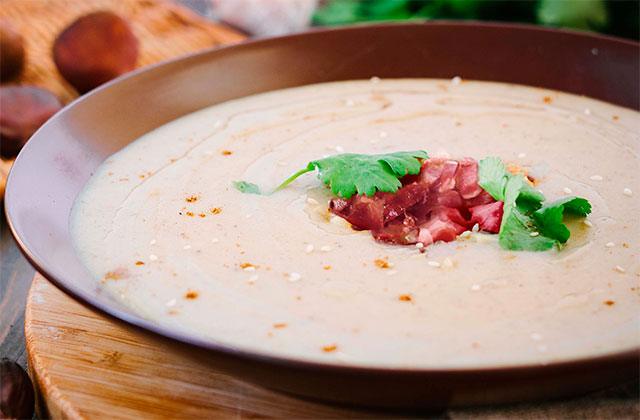 If you want to cook for four people you need 200 grams of chestnut (once peeled), half a leek, a small onion, 650 grams of ham broth, olive oil, black pepper, thyme and salt.
In a pan pour some olive oil to fry the onion and leek with a little salt. Then add the chopped chestnuts and add the spices as preferred. After that you pour the ham broth and let it boil. When the chestnuts are tender, take the ingredients off the pan and grind everything. The result is a delicious cream ideal for autumn evenings.
Risotto with mushrooms and chestnuts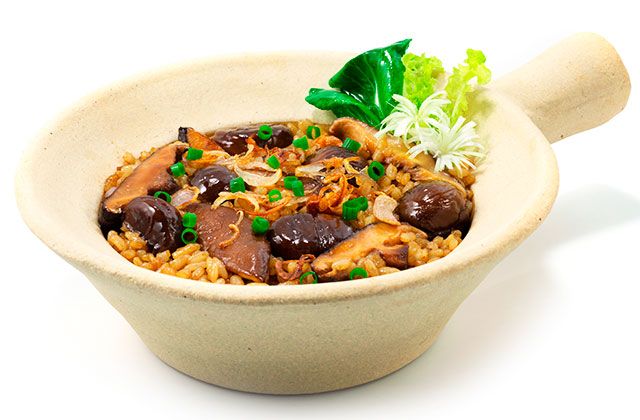 This recipe is a delicacy for rice lovers. Put a pan to heat-up with a splash of extra virgin olive oil, add the chopped onion and the garlic cloves with a pinch of salt, all moderately. After this you add the chestnuts and spices while you heat chicken stock in another pan (you can get it in any supermarket).
Add the mushrooms and incorporate the rice, lightly frying it until the rice grain changes colour. Pour some white wine and let it evaporate over medium heat.
At this point begin to pour the chicken stock gradually, i.e. in spoonfuls for the rice to absorb it until it acquires the right texture for risotto. If you wish you can add a bit of Parmesan cheese on top, and then it will be ready to serve.
If you cook for four people, you will need half a white onion, two cloves of garlic, 20 blanched and peeled chestnuts, 250 grams of mushrooms, 350 grams of rice, 150 grams of white wine, two sprigs of rosemary, black pepper, 900 grams of broth poultry and parmesan cheese.
Chestnut sponge cake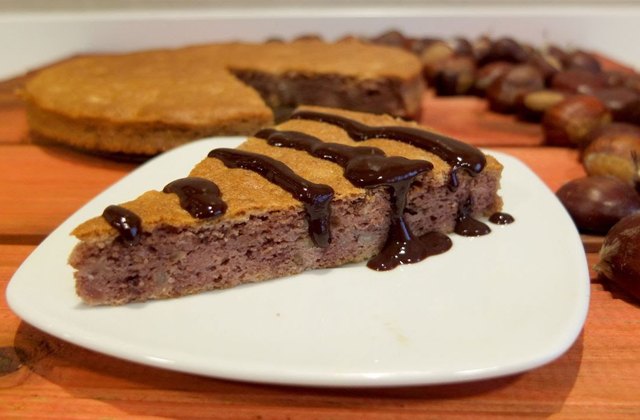 The chestnut sponge cake is a delightfully light cake made with cooked chestnuts and corn flour instead of normal flour, and its texture is unforgettable.
4. Chestnut muhammara
This is a roasted red pepper and chestnut dip, the recipe for which is originally from Aleppo. It is a delicious starter that is nutritional and very healthy.
Chestnut, chickpea and kale stew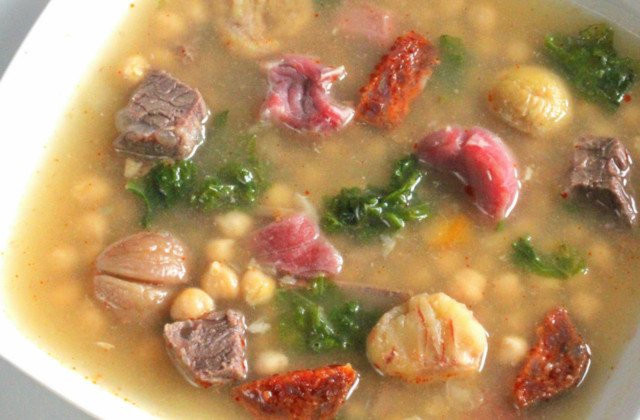 This recipe is a reinterpretation of a tried and tested stew in which the potatoes are replaced with chestnuts and the kale replaces green cabbage. It is not a commonly prepared stew, but its flavour is quite peculiar, so why not give this recipe a go.
Sweet chestnut cream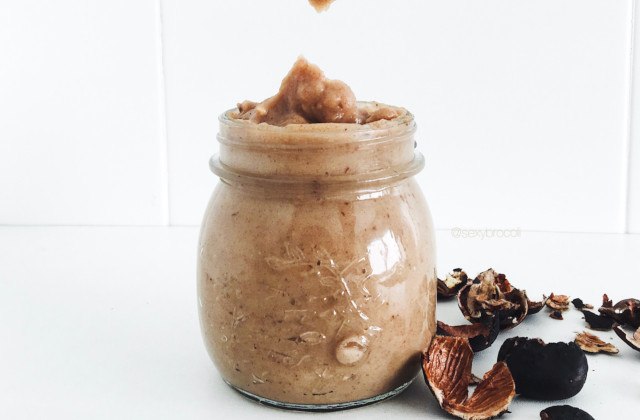 Like roasted chestnuts, sweet chestnut cream is an amazing source of energy. It is perfect for incorporating into breakfasts and snacks. It is also used as a filling for things like fritters, puff pastries, etc.
Chestnuts in syrup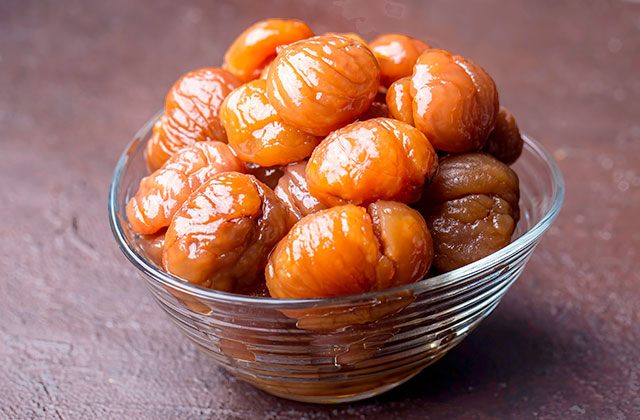 This sweet homemade preserve can be used to make fillings, garnishes and many other recipes.
With all these suggestions, when you feel like cooking with this ingredient, you will definitely not be short of ideas.
Some amazing curiosities about chestnuts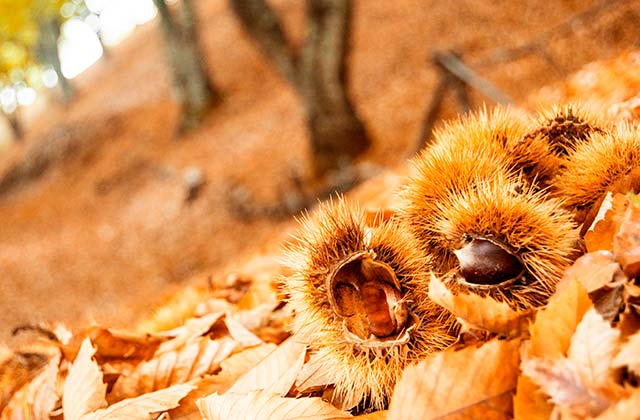 It looks like a cereal, but it is actually a nut.

The chestnut is almost all water, giving it a very low calorie content.

They are rich in fibre, which means that they regulate your intestinal flora.

Chestnuts stand out because their protein fraction contains all the amino acids a human being needs.
Pilonga chestnuts: the finest autumn treat in the Genal Valley
WHERE TO STAY
If you want to discover and enjoy the flavour of chestnuts in Andalucia, be sure to stay at the best hotels. The best option is undoubtedly Fuerte Hoteles. The chain has establishments where you can enjoy, in addition to their amenities, the best of each geographical area of Andalucia. Its 60 plus years' experience are the best guarantee. Marbella, Conil, El Rompido, Grazalema and Torrox are just some of the enclaves where you can enjoy this amazing accommodation.