The best restaurants in Marbella where to enjoy a delicious paella
Paella is, without a doubt, an art form and although it is not native to Andalusia, this dish is so universal that we can find it on the menus of thousands of restaurants all over the world, which is why this dish, which has taken Andalusian gastronomy to the highest level, is, since 2021, together with flamenco, an Intangible Cultural Heritage of Interest.
Paella is the most international dish of our gastronomy and although the traditional one is Valencian, each restaurant prepares it with its own particular touch. That is why none is the same as the previous one. Dry rice dishes, more or less traditional paellas, rice dishes with broth or broth, with lobster or honey with an infinite number of ingredients; seafood rice dishes or inland rice dishes with rabbit… The variety is enormous.
Although this delicious rice dish can be enjoyed all over Spain, eating a good paella in Marbella is one of the pending tasks for any visitor to this coastal town. Rice is one of the most popular dishes in towns with a fishing tradition such as Marbella, where restaurants have top quality raw materials to cook this authentic delicacy in the best way.
So if you are wondering where to eat paella in Marbella, don't worry because here you will find the best paella restaurants.
Where Does the Paella Come from?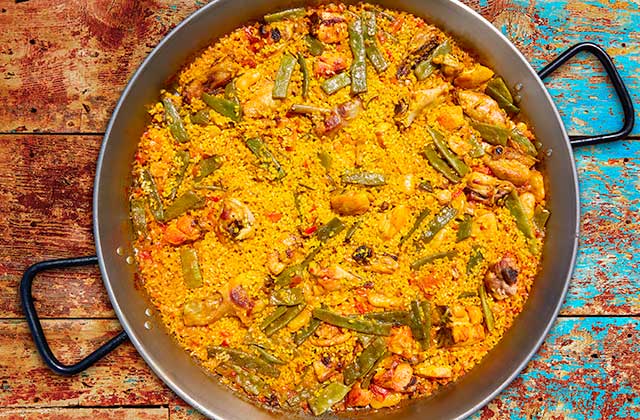 History of the Paella
The paella was born on the rural areas of Valencia, circa the 15th and 16th centuries, as a response to the need of the peasants and shepherds of having a meal that was easy to prepare using the ingredients that were closer to them in the countryside. They usually ate it in the afternoon.
It is unknown if the seafood paella was born at the same time, but next to the sea there were different ingredients that allowed this delicious variation to come to existence.
On the early days, paella ingredients were birds, rabbits or hares, the fresh vegetables that were at hand, rice, saffron and olive oil. This was all mixed in the paella with some water and it was cooked slowly using a fire made with wood from orange trees, which provided flavor and its characteristic scent.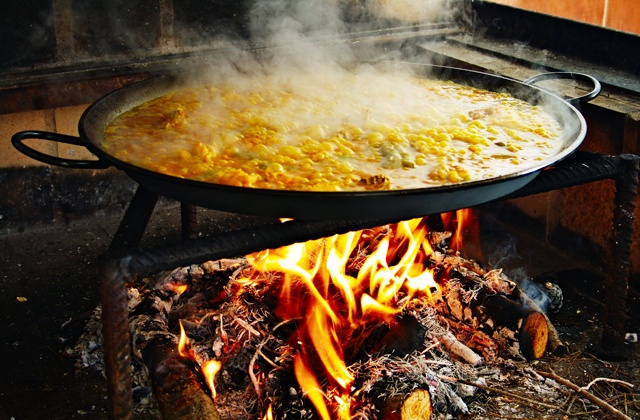 The Word "Paella"
The word "paella" has been given many origins over the years. There are many theories. The first is that paella comes from Latin. Also, some believe that "paella" comes for the Arabic word "baqiyah".
It is possible that "paella" is an Arabic word because the rice was brought to Spain by the "Páramos" in the 8th century. "Páramos" is the name given to the inhabitants of the north of Africa.
Another theory is much more romantic. The legend says that a man prepared a paella for his girlfriend in order to win her heart. In Spanish, "Paella" could be the product of the phrase "for her", which would be "para ella" and in short "pa'ella". Although this theory may be just a romantic and beautiful story, there is some truth to it. In Spain, cooking is generally a woman's job. However, the paella is traditionally prepared by men.
There is not Just One Recipe
Paella is one of those dishes that admit practically any ingredients, each cook adds its personal touch and no paella is the same as the next. There is not a recipe to unify the great diversity of possibilities this dish has.
Peasants used to add the snails they found on the countryside; Valencian paella can also have rabbit, duck, chicken, beef, tomatoes, beans, peppers, zucchini and onions. Saffron was added later to give it more flavor and a stronger scent.
There a plenty who prefer the paella prepared with fish and shellfish and even the mixed ones, dry paellas, soupy rice, this dish allows any combination.
Where to Have the Best Paella in Marbella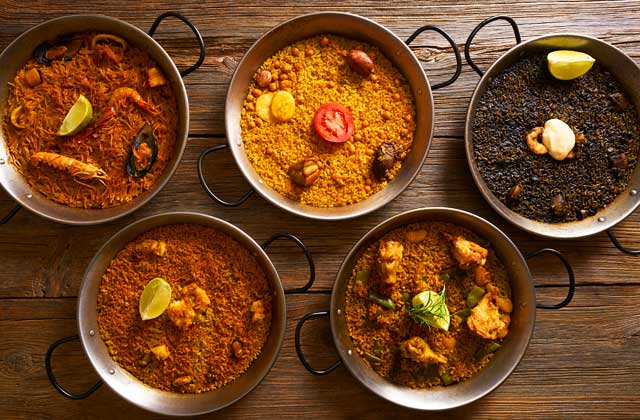 Sundays are days to relax, because the following day is the start of a long wait until the following weekend. The best way to finish the week is eating something delicious, and to do that… What better than finding Marbella's best paellas?
Soleo Marbella

It is an exclusive restaurant located right on the beachfront. It is the perfect setting to relax in front of the sea while enjoying a menu with a great choice of rice dishes such as "Paella de la Costa" or "Black Rice with mushrooms, cod and carabinero" and "Mussels and seafood rice", they are also specialists in the traditional "espetos" (fish skewers).
La Ola Marbella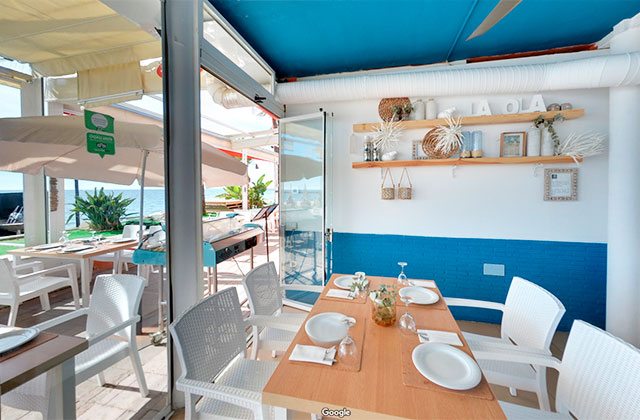 Local, fresh and quality products, that is the raw material with which they work in La Ola Marbella, a restaurant located on the Paseo Marítimo in Marbella. This restaurant is considered one of the best places to eat paella in the city. The restaurant offers a wide variety of rice dishes, but stands out especially for its paella. The seafood paella is one of the most popular options, although there are also other varieties such as the vegetable paella or the mixed paella with meat and seafood.
Restaurant La Bocana (Benabola)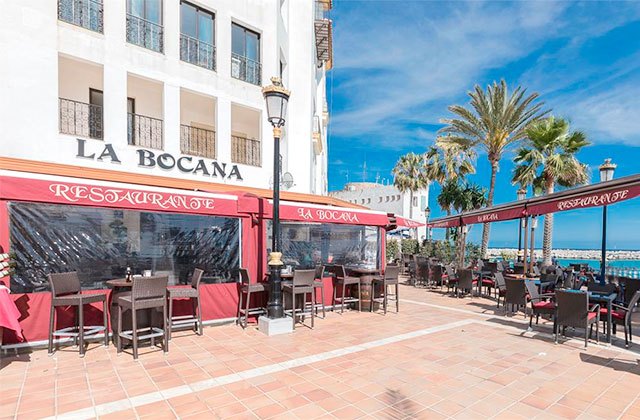 La Bocana Restaurant is a wonderful place to enjoy a delicious paella in Marbella. This establishment is located in the Benabola marina, and offers stunning views of the Mediterranean. The seafood paella is one of the house specialities. Their secret: the best quality ingredients and knowing how to listen to the crackling of the rice when it is cooking to know when it is just right.
Restaurant El Cortijo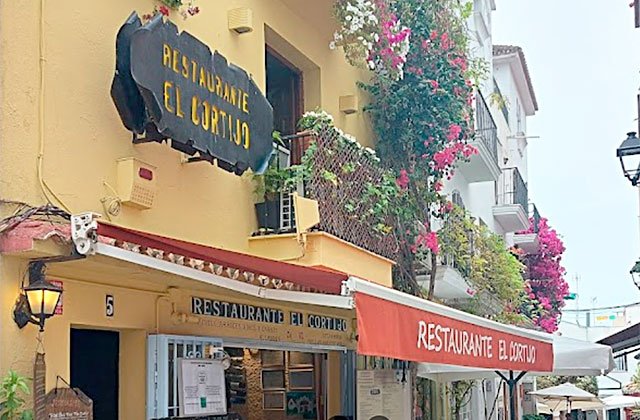 El Cortijo Restaurant is an excellent choice if you are looking for an authentic Spanish dining experience. This restaurant is located in the centre of Marbella and serves traditional dishes from the region of Andalusia. The secret of their paellas and rice dishes is the fumet, which is slowly handmade with vegetables, seafood and fish, all fresh and high quality ingredients.
Restaurant los Tres Pepes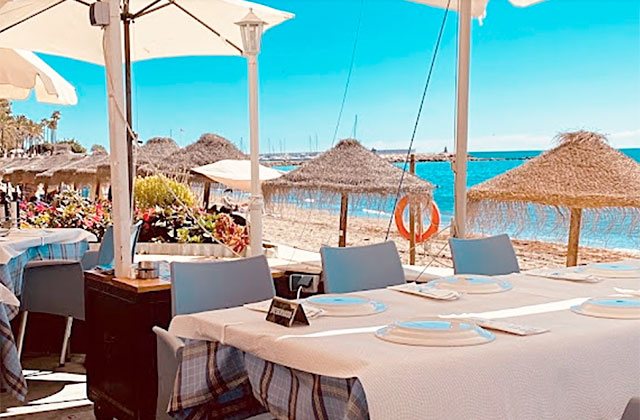 Located near the Plaza de los Naranjos, Restaurante los Tres Pepes is another excellent place to enjoy paella in Marbella. This cosy restaurant offers a wide variety of Spanish dishes, but paella remains a firm favourite with its customers. You can choose between a seafood paella, a mixed paella or a paella with meat.
Chiringuito Los Tony's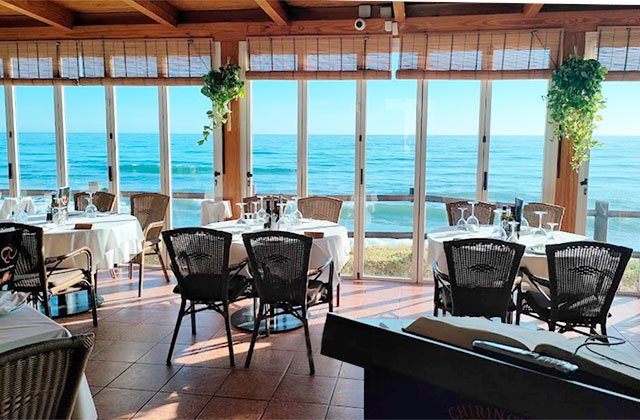 If you're looking for a more casual and relaxed experience, head to Chiringuito Los Tony's. This chiringuito is located on the beach in Marbella and is a popular place to enjoy a paella in the open air. The ingredients are fresh and the preparation is of high quality, making paella one of the most popular dishes with diners.
Paella's y Más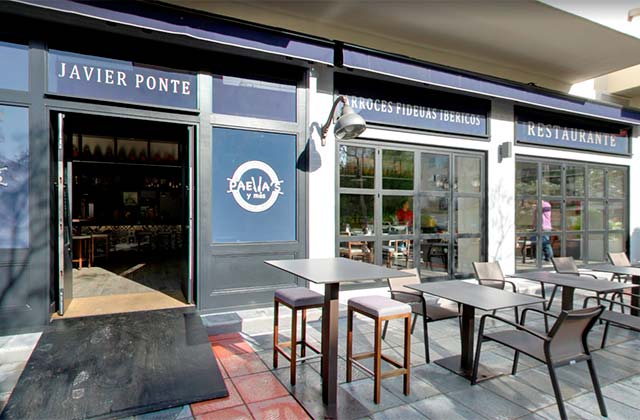 The Paella´s y Más restaurant is a place that pleases all palates. This Spanish restaurants aims at fulfilling all of its customer's expectations offering more that paellas and fideuás. Without forgetting the passion for Valencian rice, the chef wants also to satisfy those who come looking for Iberian cold meats and Iberian acorn-fed ham; making beef and fish the hosts of a good table and accompanying the evening with wine from its own cellar.
The space and the decor are as ambitious as its premise. The restaurant Paella's y Más features a bar that welcomes customers, an interior hall for passionate dinners, different rooms for parties and celebrations and an exterior deck to enjoy what this gastronomic beast has to offer.
El Patio del Mariscal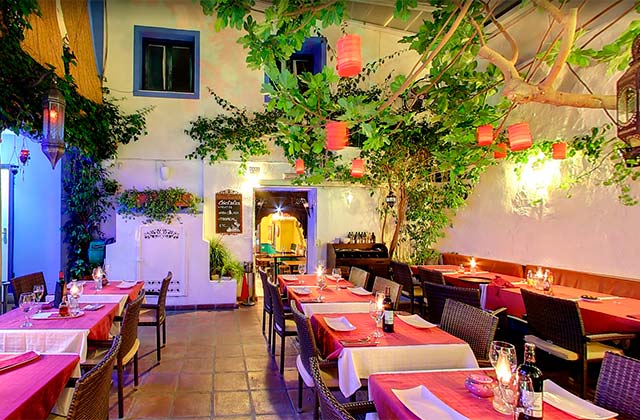 This restaurant has a traditional Andalusian courtyard over 200 years old. In this beautiful setting, you can enjoy dishes as delicious as Andalusian gazpacho and the characteristic Málaga style fried fish, though if you decide to visit this establishment, you should know that its paellas are exquisite, so be sure to come to El Patio del Mariscal.
La Barraca de Amparo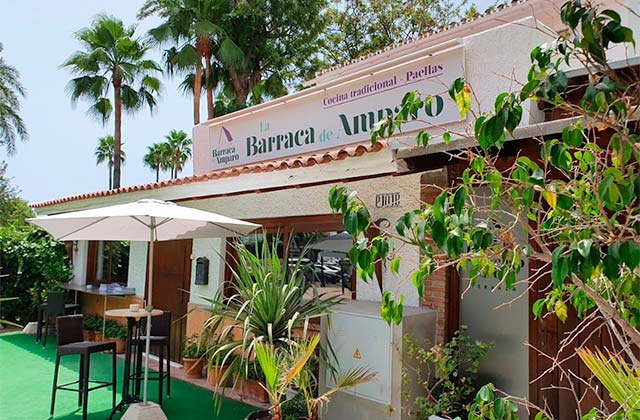 It has been many years since the kitchen of La Barraca is under the guiding hand of Amparo, always in a family environment that continues until today.
Diners can choose between fish and beef in different variations, although, without a doubt, the choice par excellence in this establishment is everything related to rice, which will always be served at its right point (no matter where you are at with your appetizers). Arroz a banda; black rice (although I did not have it this time, I can clearly remember how delicious it was the last time I had it); regular paella or its extraordinary soupy rice, whether with lobster or with red shrimp, the latter being our choice for today. Lobster, red shrimp or other shellfish can also be added to any other kind of rice you choose.
Los Mellizos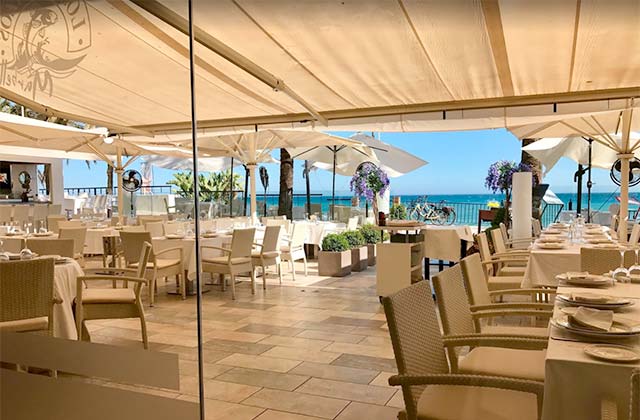 The Los Mellizos restaurant is an institution of the Paseo Marítimo de Marbella (Marbella Seafront Promenade). Its essence is mainly Mediterranean. Grilled meats, salted fish and specially the rice dishes will win you over. This is the perfect place to eat one of those famous seaside rice dishes. The menu also includes various options for vegans, vegetarians and gluten intolerant people.
A terrace with a capacity of up to one hundred diners and a private room for more intimate parties await your visit. It will all be accompanied by the finest Spanish wines and the priceless view of the sea.
Basilio Beach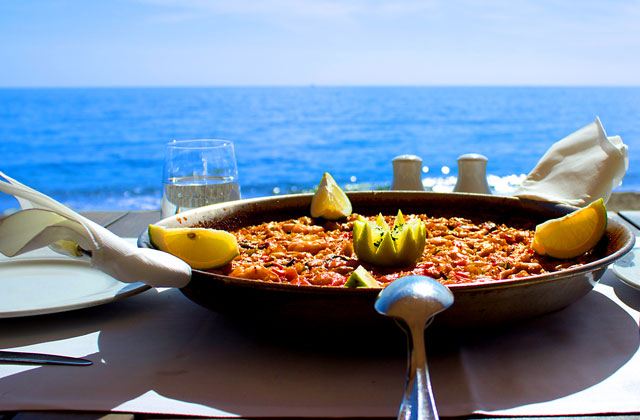 A privileged location with a magnificent view of the Fontanilla Beach, in Marbella, which can be appreciated from Basilio Beach's terrace.
Rice, fish and shellfish are the menu's main characters. The restaurant separates itself from the rest because of their fish skewers: sardine, sole, octopus, red mullet, sea bass, gilt-head bream or turbot. Do not leave without having a Paella de la casa (house paella) or the Parrillada de marsicos (grilled shellfish mix).  The desserts are also an exquisite treat for your palate.
Sharing certain similarities with the traditional beach bars, this outdoorsy establishment differentiates itself in the elegance and comfort departments.  Its spectacular terrace, over grass and with white furniture, features some superb views. All of these elements make it the perfect place to have an outstanding lunch or dinner. Will you give it a try?
La Lonja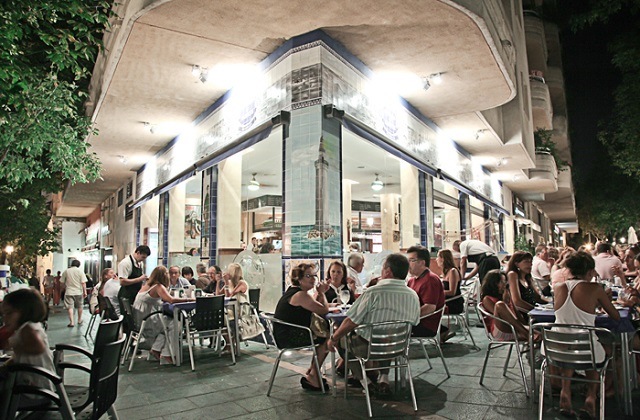 La Lonja restaurant is located just a few steps away from the marina. It privileges the grilling techniques, carried out by an expert cook who will glorify the flavor of any seafood. We have to mention its rice dishes, which are essential to its culinary ideas. Delicious indeed.
What differentiates La Lonja is a select cellar, which includes Andalusian wines as well as wines from the rest of Spain. It also features a large terrace that makes you feel lucky of eating there.
La Red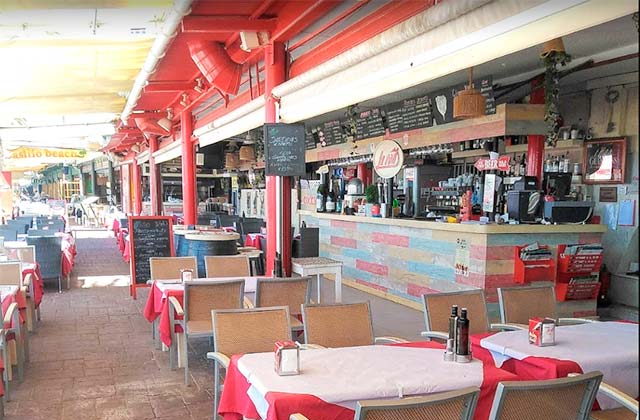 La Red restaurant is located in the Paseo Marítimo de Marbella (Marbella Seafront Promenade), a few meters away from some waves that would love to make their way to a table to taste the delicious rice and fresh fish that are served there.
A sangria or a nice beer will be a fine companion as you work your appetite with some tapas from La Red. The rice with lobster, the Paella and the Arroz a banda or black rice are better when shared with someone. A sirloin from Argentinian cows, a monkfish casserole and the fantastic fish skewers are enough to fulfill the expectations of even the most demanding palates.
Marbal-la (Chiringuito Pepes)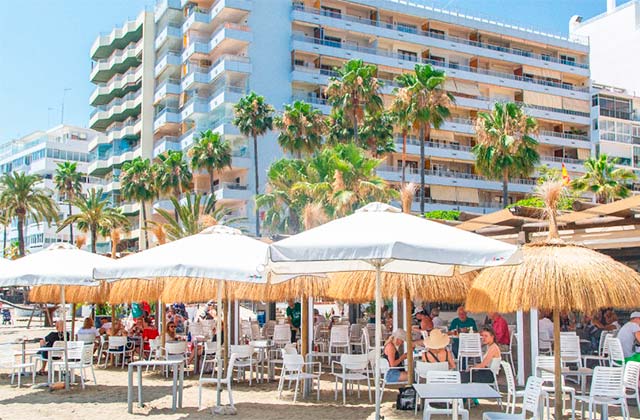 The Chiringuito Pepes Bar restaurant is one of Marbella's mythical places. It is located right at the beach of the marina, it is the ideal place if you wish to enjoy a day of sun and have a delicious paella without leaving the comfort of a hammock.
You can start the experience by ordering some anchovies and clamps as appetizers to later have any one of their excellent fish, although the signature dishes are the sardine skewers and all kinds of rice dishes, especially the paella.
The experience of eating top-quality dishes in a natural environment such as this succeeds anybody's expectations. You should call ahead to make a reservation, the place is usually full.
Restaurante Perla Blanca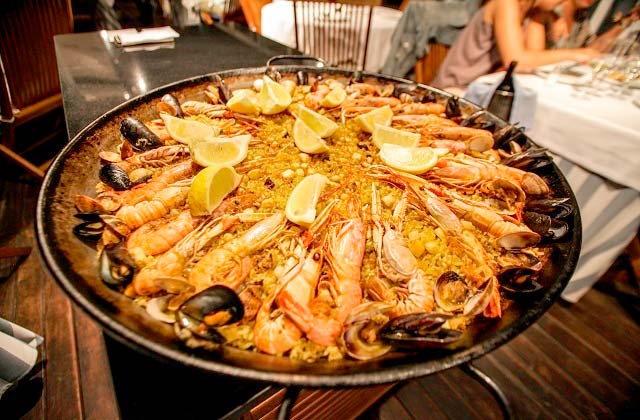 Perla Blanca offers Mediterranean cuisine focused on rice and shellfish. Some of the signature dishes are the soupy rice, the paellas and the fishes: à la Roteña, baked and salted.
The Perla Blanca restaurant, with more than 40 years of experience, is ideal to have group dinners.
In short, Marbella is a fantastic place to enjoy a delicious paella, and these restaurants are some of the best places to do so. Don't hesitate to try each of them and find out which one is your favourite. Bon appetit!
Curiosities about paella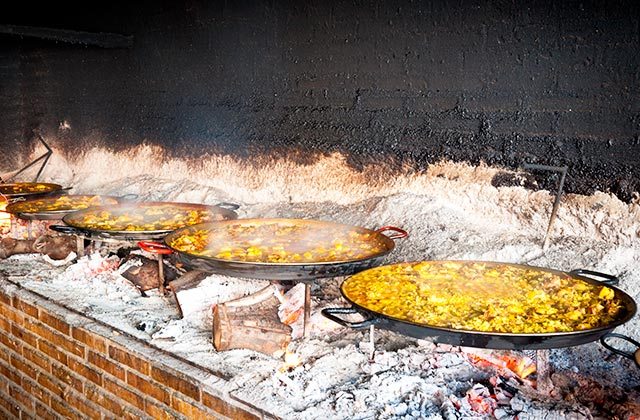 According to the Royal Spanish Academy, paella is a "rice dish prepared with meat, fish, seafood, vegetables etc. that is characteristic of the Valencian region in Spain," in addition to the "frying pan in which paella is made." You surely knew that, but here are some curiosities about this famous dish that you likely did not know…
Name: Paella comes from the Latin word "patella," which is the name of the cooking vessel used for it. That's why the rice cooked in it was called "arroz de paella" (paella rice).
Origin: Paella has its roots in the Valencian Community, especially in the Albufera area near the city of Valencia. Originally, it was a peasant dish cooked outdoors using local ingredients.
Utensil: Paella is cooked in a wide and shallow pan called a "paellera." This pan has two side handles and a flat base that allows for even heat distribution.
Type of rice: Although there are more than 6,000 varieties of rice, the most commonly used for paella are Senia, Bomba, Bahía, and Albufera.
Traditional ingredients: Traditional Valencian paella is prepared with rice, olive oil, chicken, rabbit, green beans, garrofón (a large bean variety), tomato, red bell pepper, saffron, and chicken broth. However, there are many regional variations, and each chef can add their personal touch.
Holiday dish: Due to its laborious preparation and the fact that its ingredients were considered a luxury, it became the star dish of celebrations, hence the origin of "paella on Sundays."
WHERE TO STAY
If you decide to come to Marbella, make sure you stay at Fuerte Hoteles. El Fuerte Marbella a historic establishment on the Costa del Sol, now transformed to 5 stars, is the Marbella hotel that best combines casual luxury, an exclusive and welcoming atmosphere and the sheer comfort offered by its location on the city centre's beachfront, which offers stunning sea views right across Marbella's seafront promenade.