Enjoy Christmas with the best Andalucian Christmas dishes
During Christmas time we cannot stop mentioning the delicious dishes with which each Andalucian home celebrates this family festivity. In these dates the best Christmas dishes, typical of Andalucia, are prepared as a celebration for the holidays. There are many traditional dishes that are part of the cultural and sentimental legacy of this incredible land and with any of them we will be able to surprise and satisfy the most demanding palates. The good Andalucian cuisine can be enjoyed in each recipe, in each appetizer and in each wine that is consumed at this time.
If you travel to the south of Spain at the end of December do not hesitate to get your gastronomy and try all the Andalucian Christmas dishes. Starters such as Iberian ham, deer sausage croquettes or seafood, such as Sanlúcar shrimp or white prawns from Huelva, have a special recognition and whet our appetite, exceptional starters and a long list of delicacies that do not you can lose
Discover its Arab origins and its varied flavours in this list of the ten typical Christmas dishes in Andalucia
Grilled Prawns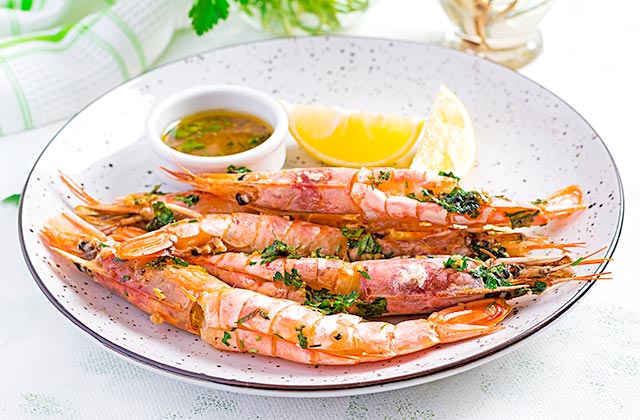 In all Andalucian households, a dish of grilled prawns has to be on the table for Christmas Eve. This simple recipe is the starting point of the Christmas feast. Such is its popularity at these parties that the people in charge of cooking them buy then and freeze them with time in advance, since nearer the time prawns are sometimes difficult to find due to the big demand for this product. The peeling speed is an important factor. This delicacy is the first to disappear from the table, so if you are distracted, your cousins, uncles or brothers can leave you without them in the funniest and tastiest competition of the last days of the year.
Stuffed eggs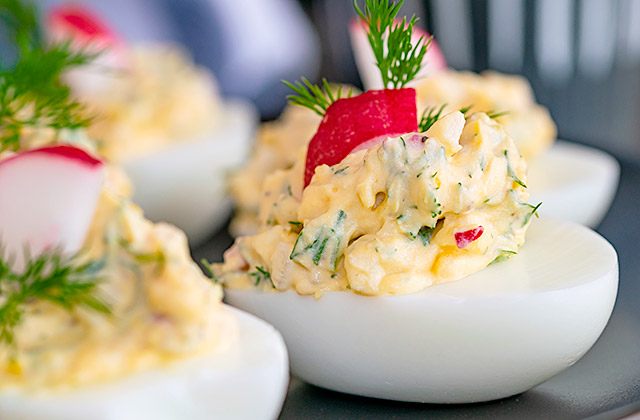 Preparing stuffed eggs is easy, and something that everyone likes. It is usually placed as a starter on Christmas Eve or Christmas dinner. The base are boiled eggs, which are often stuffed with a filling similar to potato salad and with tuna as the base, although we can include other ingredients. They are also great for decoration, since you can arrange them so that they resemble a Christmas tree. You can find them at any bar or restaurant, so if you come to the south at this time of year, do not hesitate to try them.
Ham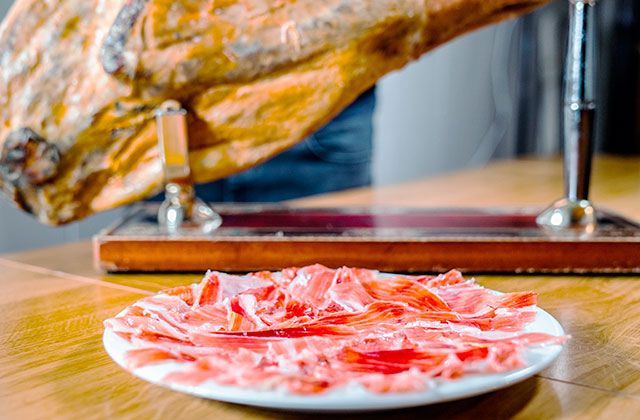 There is no Christmas table in Andalucia without a good plate of ham. The Spanish delicacy by excellence is one of the focuses in large dinners, as well as being the perfect starter. In Andalucia we are fortunate to have great examples of this gift from the pork such as Iberian ham from Jabugo or white Trevelez ham. Whatever your choice, it will be successful, because if you're in the south this Christmas will be your best gift.
Do you know the varieties of cured ham? We invite you to become an expert of the king of the table in Spain
Cheese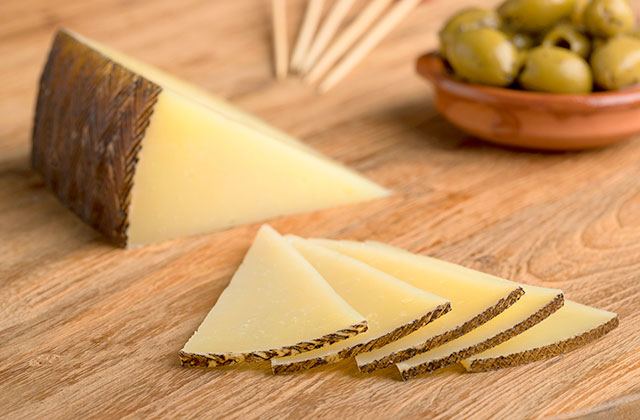 Christmas is coming and with it family dinners and meals, and cheese is a very special part of these moments, either as an appetizer, at a board, main dish or even dessert.
Who never prepared a board of cheeses with fresh or dried fruits for Christmas? But there are also other dishes to succeed with. And who doesn't like a good appetizer? The Andalucians cannot resist them, and if they are made of cheese even less.
Discover the ten places to eat native Andalucian cheese
Clams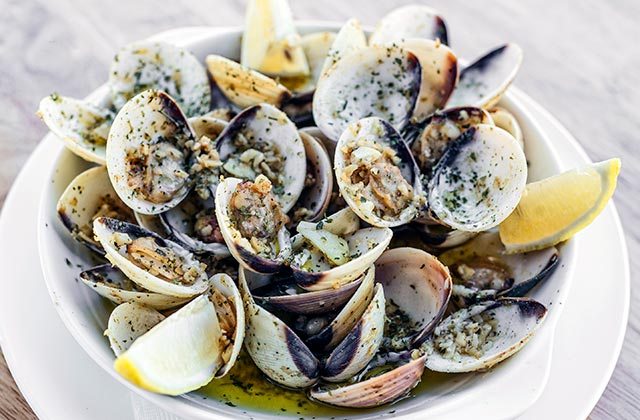 Few things are better than a good clam topped with lemon, with its deep-sea flavor. The clam is, also, very grateful in cuisine, since it can be the only star – raw or stewed -, or a perfect company for other dishes.
Essential spots to try the best fish and seafood in Andalucia
Picadillo soup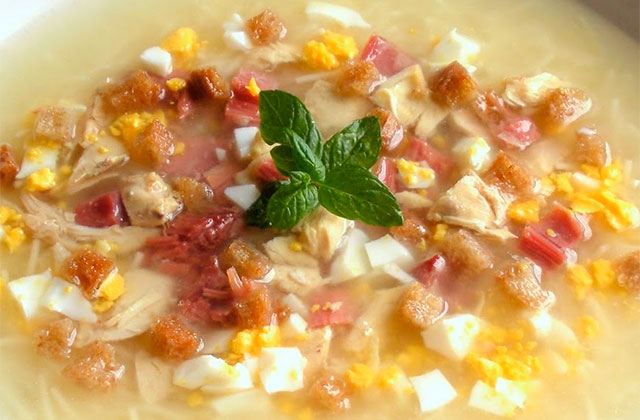 In many houses of Andalucia, it is usual to start the Christmas Eve dinner with a plate of soup. This is the best way to activate your appetite, and the favourite type of soup is the picadillo soup, a broth-based soup with noodles, pieces of ham, boiled egg and fried bread cubes. It is ideal to serve as a first course at Christmas dinner or on Christmas Day.
7 traditional winter dishes in Andalucia
Vichyssoise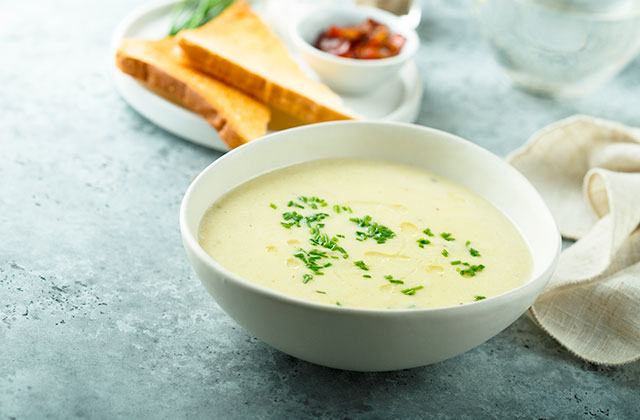 Vichyssoise is a cold cream of leeks (although you can also try it with zucchini and apple) traditional of the French cuisine very soft and delicious, it is usually taken cold with croutons although we can also take it hot, what is sure is that if you decide serve this dish for sure you will conquer your diners.
Gazpacho and salmorejo, the most famous summer soups in Andalucia
Stuffed turkey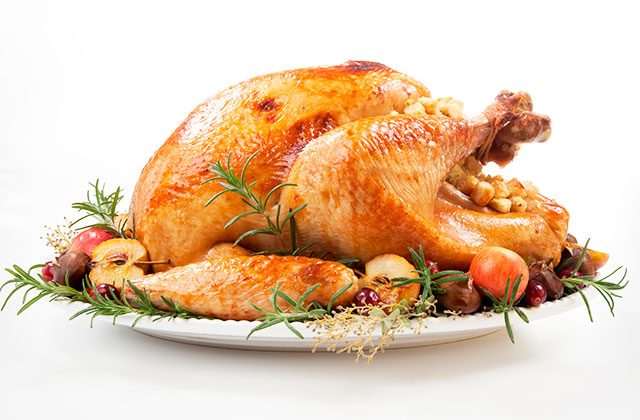 The recipe par excellence in Andalucian Christmas tables is stuffed turkey. Its look and majestic preside most tables on Christmas Eve. The dish has a contrast of flavours thanks to all the ingredients that it carries within it, such as prunes, raisins or apples, which contrast with the texture of the meat. In addition, its copper colour after being cooked and the decoration with mixed lettuce, oranges or grapes make it the most colourful piece on the table. Currently there are restaurants that prepare stuffed turkey for those who want to take it home and already cooked on the 24th. A certainly delicious tradition.
Lamb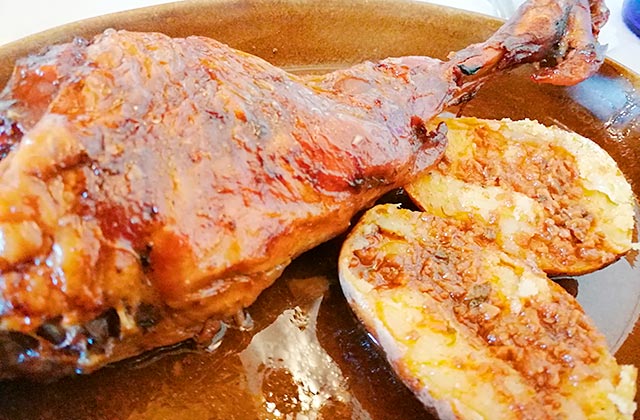 The recipe for Baked Lamb is ideal for family or friends meetings, because it is a preparation intended for several people. In southern Spain, who does not choose turkey, goes for lamb. Many families season it with honey, giving it a unique sweet taste, and others do so with white wine. Lamb is another option that restaurants offer pre-prepared so that people can take home. So if you fancy this option, just enjoy this meal in the most family-oriented night of the year.
Suckling pig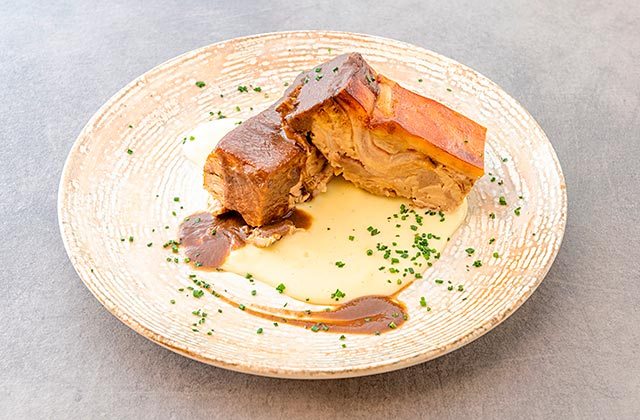 Roasted suckling pig is one of the roasts par excellence. This roast is very popular in Christmas, so it is a Christmas food that will be present in many houses since it is a safe bet.
Sorbets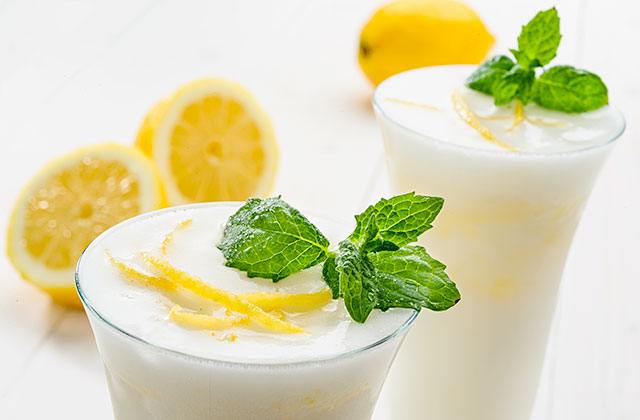 The sorbets are perfect to lighten the hearty Christmas meals. They are digestive drinks, ideal to serve between dishes and as dessert or at toast time.
Sea bass with violet potato and toasted shallot cream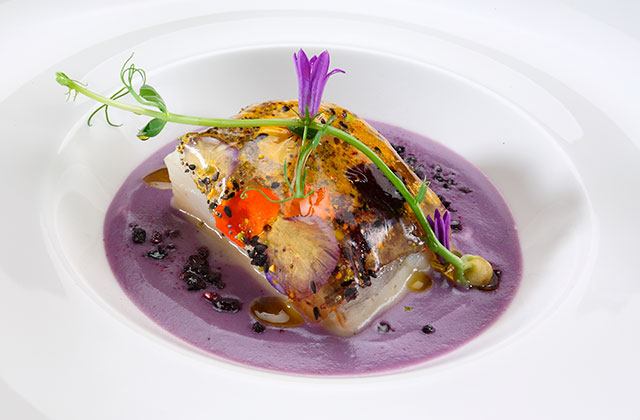 Sea bass is perfect for this time of the year since it is a fish with a very tasty meat, in addition to just making it grilled it is more than enough to get all its flavour and if it is also combined with a delicious onion cream and with a Violet potato crunch, you will suck your fingers.
Cod with mushrooms and glazed onions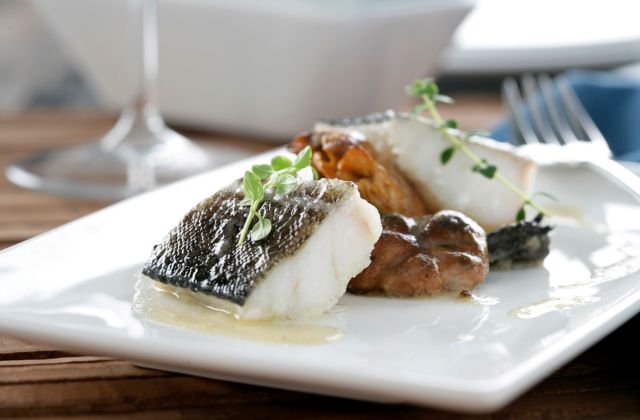 Although it is thought that mushrooms taste better with meat, do not hesitate to accompany the fish the same or even better, thus offering a delicious, healthy and very light dish such as cod with glazed French onions.
Hake stuffed with spinach with mussel's sauce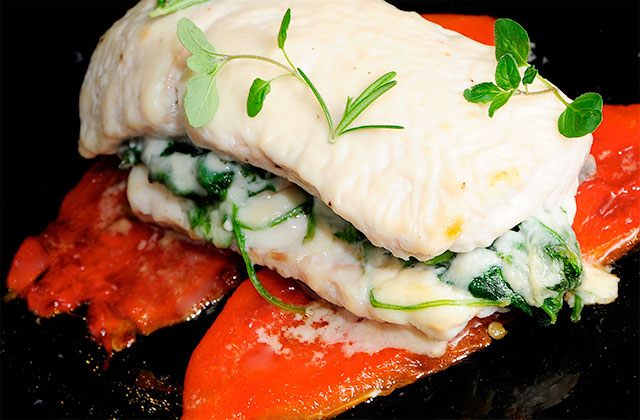 Hake is a white fish that stands out for its flavour and texture and if we also add a filling made with fresh and quality products, and a mussel sauce that enhances the flavour of the dish, the taste of the sea, the result is a very juicy recipe that will be a success at your table.
Anise or wine donuts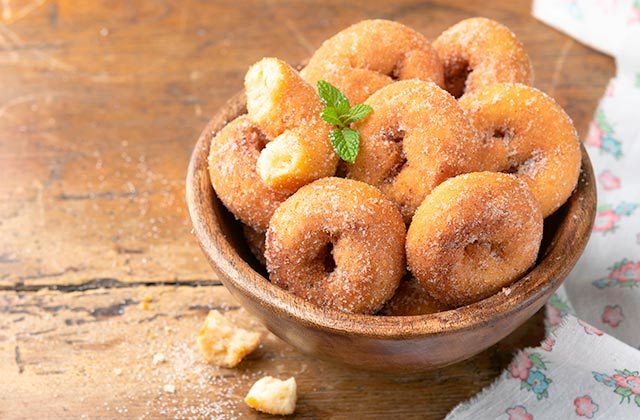 Wine bread rolls are one of the typical Christmas sweets. Grandmothers are responsible for their preparation at home. If your Christmas destination is Andalucia you should not miss this typical snack. You can find them at any supermarket or bakery. Normally they are kept in a basket and after every coffee or dessert the whole family gets their own. The little kids keep three of these bread rolls to offer to the Three Kings on the night of the 6th January.
Mantecados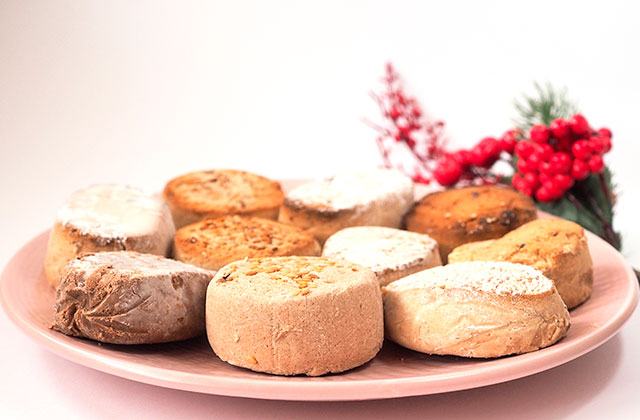 Born in the heart of Andalucia, the Christmas sweets have spread throughout Spain, becoming the typical Christmas product. It is a mix of lard with a wide variety of different flavours. Antequera and Estepa are home to these delicious sweet snacks that are also completely handmade in most of its factories and bakeries. Hundreds of visitors come every year to these two towns to buy their own and be able to please their families during the holidays. Enjoy your trip and sweeten the palate.
The Route of Mantecado: the sweetest taste of Andalucia for Christmas
Nougat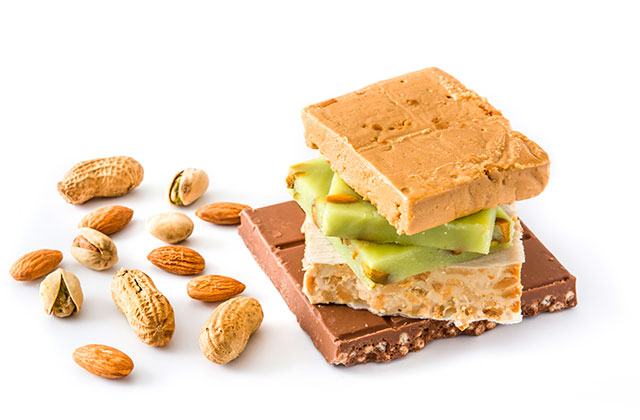 Made with almonds, honey, sugar, chocolate and fruit, among other ingredients, have turned into object of worship for all sweet teeth. The offer is wide and each region has a traditional recipe, but the star of the parties, without a shadow of a doubt, is the nougat, whose flavor is appreciated all over the world. There are many kinds of nougat, however, we cannot go without trying the one from Jijona, of soft texture, and the one from Alicante, which is hard. Its taste wins you every time.
Typical Christmas sweets in Andalucia
Borrachuelos and yolks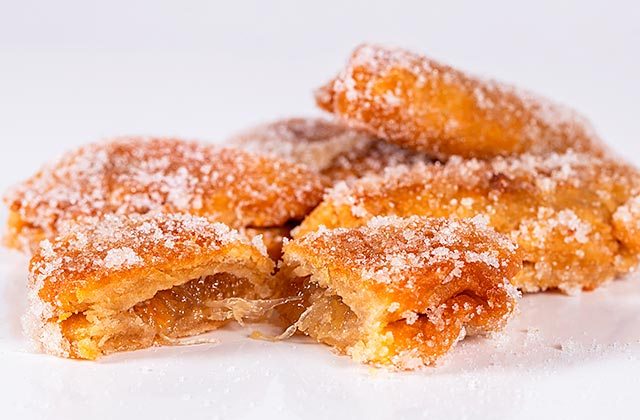 All around the Costa del Sol and the province of Malaga you will find other typical Christmas dishes. One of the most representative pastries of many Malaga villages is the borrachuelo. Of Andalucian origin, the borrachuelo is a kind of sweet dumpling often filled with spaghetti squash and coated with sugar or honey. And if you are looking for an even sweeter flavor, one of the best-known specialties in the province are the Tagus yolks.
Hojaldrinas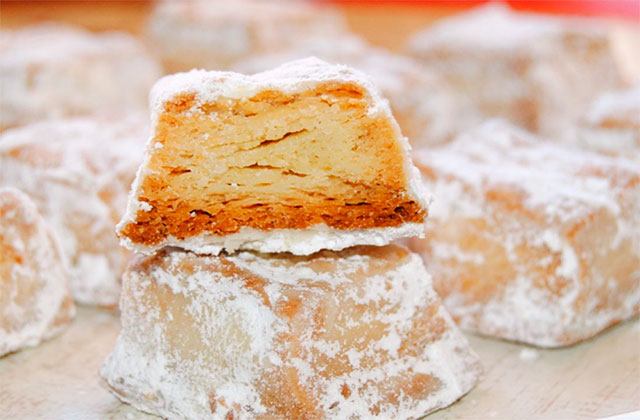 Even though the wine bread rolls and the borrachuelos are very good, the hojaldrinas are irresistible. They are lighter and with a soft orange flavor.
The hojaldrinas are traditional Christmas sweets. They resemble mantecados or polvorones, but with a flaky texture that makes them very special. They are usually rectangular of about 2 cm. thick and covered with icing sugar.
Pestiños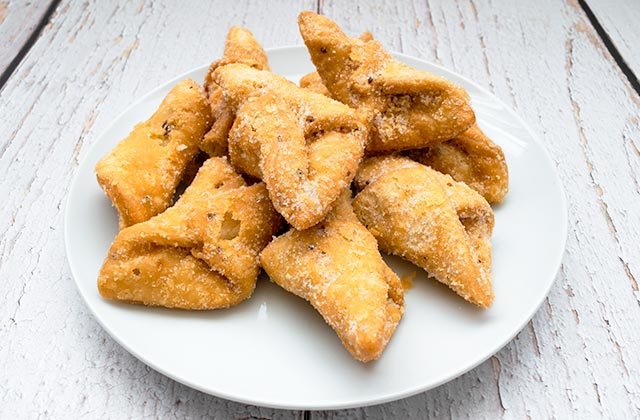 This sweet is ideal both for breakfast as for snacking or dessert in special occasions. It is made with a flour dough and then fried in olive oil and finally covered in honey. The dough is usually flavored with sesame. Its size and shape is variable, although it generally tends to be a square of dough with two opposite corners folded toward the center.
They are also made with sugar, as an alternative to honey.
Wine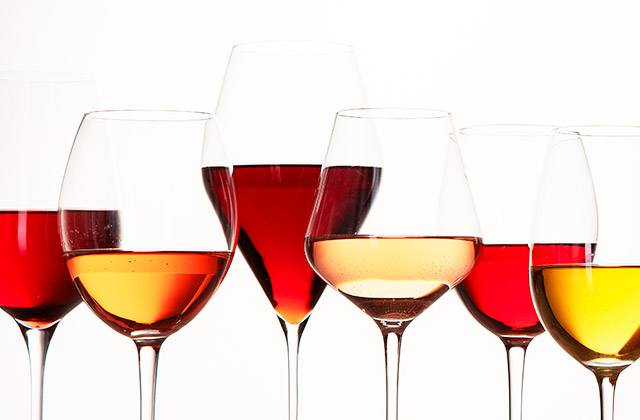 While choosing the right menu for Christmas is important, wine is not far off. At the company dinner, Christmas Eve, and during all the meals, it is very important to choose the right wine. In Andalucia we have very good wines for every table. We recommend visiting Dimobe winery in Axarquia, which produces a wide range of wines, with Largar de Cabrera dry standing out, young red wine or vintage.
The Andalucian wine, a culture of life
Cava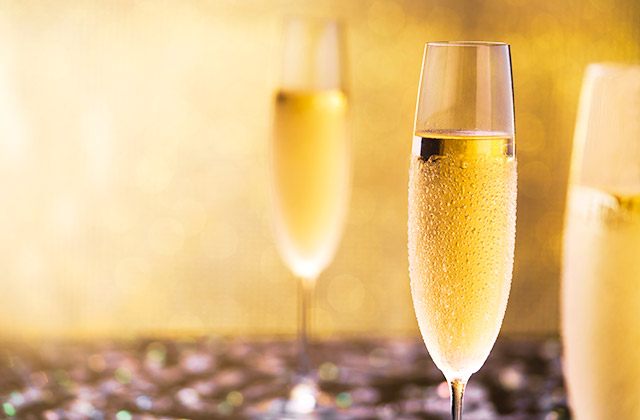 Cava is known as the Spanish champagne, and it is the drink used to toast to the New Year. Along with the grapes that marked each of the twelve strokes, it is the star of the dawn from December 31st to January 1st. It is customary to place a gold ring in the cup so that the following 365 days are lucky. The bubbling of every sip will give you the best gift of the New Year.
WHERE TO STAY
If you want to discover the taste of Christmas recipes in Andalucia, do not hesitate to stay in quality hotels. The best option, without a doubt, is Fuerte Hoteles. The chain has establishments where you can enjoy the best of each point of Andalucian geography. They are the best guarantee to devote your time to discover these jewellery for the palate. Marbella, Conil, Grazalema, El Rompido or Torrox are some of the enclaves where you can find these incredible accommodations.